Abstract
Zygotic genome activation (ZGA) is the first transcription event in life1. However, it is unclear how RNA polymerase is engaged in initiating ZGA in mammals. Here, by developing small-scale Tn5-assisted chromatin cleavage with sequencing (Stacc–seq), we investigated the landscapes of RNA polymerase II (Pol II) binding in mouse embryos. We found that Pol II undergoes 'loading', 'pre-configuration', and 'production' during the transition from minor ZGA to major ZGA. After fertilization, Pol II is preferentially loaded to CG-rich promoters and accessible distal regions in one-cell embryos (loading), in part shaped by the inherited parental epigenome. Pol II then initiates relocation to future gene targets before genome activation (pre-configuration), where it later engages in full transcription elongation upon major ZGA (production). Pol II also maintains low poising at inactive promoters after major ZGA until the blastocyst stage, coinciding with the loss of promoter epigenetic silencing factors. Notably, inhibition of minor ZGA impairs the Pol II pre-configuration and embryonic development, accompanied by aberrant retention of Pol II and ectopic expression of one-cell targets upon major ZGA. Hence, stepwise transition of Pol II occurs when mammalian life begins, and minor ZGA has a key role in the pre-configuration of transcription machinery and chromatin for genome activation.
This is a preview of subscription content
Access options
Subscribe to Journal
Get full journal access for 1 year
$199.00
only $3.90 per issue
All prices are NET prices.
VAT will be added later in the checkout.
Tax calculation will be finalised during checkout.
Rent or Buy article
Get time limited or full article access on ReadCube.
from$8.99
All prices are NET prices.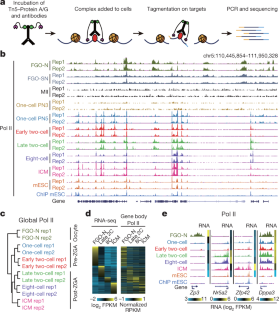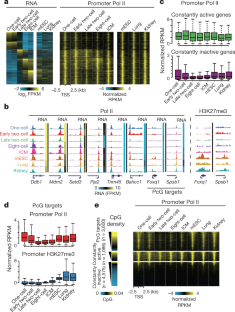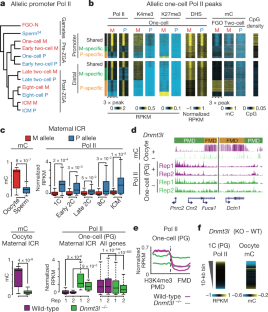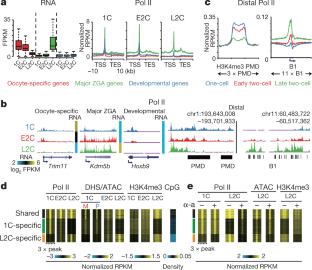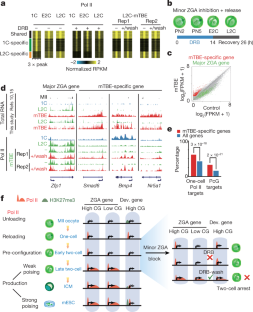 Data availability
All data have been deposited to GEO with the accession number GSE135457.
Code availability
Software and code used to analyse these data are listed in the Nature Research Reporting Summary and are all publicly available.
References
1.

Aoki, F., Worrad, D. M. & Schultz, R. M. Regulation of transcriptional activity during the first and second cell cycles in the preimplantation mouse embryo. Dev. Biol. 181, 296–307 (1997).

2.

Roeder, R. G. 50+ years of eukaryotic transcription: an expanding universe of factors and mechanisms. Nat. Struct. Mol. Biol. 26, 783–791 (2019).

3.

Matsui, T., Segall, J., Weil, P. A. & Roeder, R. G. Multiple factors required for accurate initiation of transcription by purified RNA polymerase II. J. Biol. Chem. 255, 11992–11996 (1980).

4.

Zhou, Q., Li, T. & Price, D. H. RNA polymerase II elongation control. Annu. Rev. Biochem. 81, 119–143 (2012).

5.

Nechaev, S. & Adelman, K. Pol II waiting in the starting gates: regulating the transition from transcription initiation into productive elongation. Biochim. Biophys. Acta. 1809, 34–45 (2011).

6.

Core, L. & Adelman, K. Promoter-proximal pausing of RNA polymerase II: a nexus of gene regulation. Genes Dev. 33, 960–982 (2019).

7.

Kwak, H., Fuda, N. J., Core, L. J. & Lis, J. T. Precise maps of RNA polymerase reveal how promoters direct initiation and pausing. Science 339, 950–953 (2013).

8.

Adelman, K. & Lis, J. T. Promoter-proximal pausing of RNA polymerase II: emerging roles in metazoans. Nat. Rev. Genet. 13, 720–731 (2012).

9.

Jukam, D., Shariati, S. A. M. & Skotheim, J. M. Zygotic genome activation in vertebrates. Dev. Cell 42, 316–332 (2017).

10.

Abe, K. et al. The first murine zygotic transcription is promiscuous and uncoupled from splicing and 3′ processing. EMBO J. 34, 1523–1537 (2015).

11.

Kwasnieski, J. C., Orr-Weaver, T. L. & Bartel, D. P. Early genome activation in Drosophila is extensive with an initial tendency for aborted transcripts and retained introns. Genome Res. 29, 1188–1197 (2019).

12.

Blythe, S. A. & Wieschaus, E. F. Zygotic genome activation triggers the DNA replication checkpoint at the midblastula transition. Cell 160, 1169–1181 (2015).

13.

Vastenhouw, N. L. et al. Chromatin signature of embryonic pluripotency is established during genome activation. Nature 464, 922–926 (2010).

14.

Schultz, R. M. The molecular foundations of the maternal to zygotic transition in the preimplantation embryo. Hum. Reprod. Update 8, 323–331 (2002).

15.

Abe, K. I. et al. Minor zygotic gene activation is essential for mouse preimplantation development. Proc. Natl Acad. Sci. USA 115, E6780–E6788 (2018).

16.

Kaya-Okur, H. S. et al. CUT&Tag for efficient epigenomic profiling of small samples and single cells. Nat. Commun. 10, 1930 (2019).

17.

Carter, B. et al. Mapping histone modifications in low cell number and single cells using antibody-guided chromatin tagmentation (ACT-seq). Nat. Commun. 10, 3747 (2019).

18.

Wang, Q.H. et al. CoBATCH for high-throughput single-cell epigenomic profiling. Mol. Cell 76, 206–216 (2019).

19.

Ku, W. L. et al. Single-cell chromatin immunocleavage sequencing (scChIC-seq) to profile histone modification. Nat. Methods 16, 323–325 (2019).

20.

Skene, P. J. & Henikoff, S. An efficient targeted nuclease strategy for high-resolution mapping of DNA binding sites. eLife 6, e21856 (2017).

21.

Abe, K., Inoue, A., Suzuki, M. G. & Aoki, F. Global gene silencing is caused by the dissociation of RNA polymerase II from DNA in mouse oocytes. J. Reprod. Dev. 56, 502–507 (2010).

22.

Zuccotti, M., Piccinelli, A., Giorgi Rossi, P., Garagna, S. & Redi, C. A. Chromatin organization during mouse oocyte growth. Mol. Reprod. Dev. 41, 479–485 (1995).

23.

Tokoro, M. et al. Deposition of acetylated histones by RNAP II promoter clearance may occur at onset of zygotic gene activation in preimplantation mouse embryos. J. Reprod. Dev. 56, 607–615 (2010).

24.

Inoue, A., Jiang, L., Lu, F., Suzuki, T. & Zhang, Y. Maternal H3K27me3 controls DNA methylation-independent imprinting. Nature 547, 419–424 (2017).

25.

Wu, J. et al. The landscape of accessible chromatin in mammalian preimplantation embryos. Nature 534, 652–657 (2016).

26.

Wozniak, G. G. & Strahl, B. D. Hitting the 'mark': interpreting lysine methylation in the context of active transcription. Biochim. Biophys. Acta. 1839, 1353–1361 (2014).

27.

Gross, D. S. & Garrard, W. T. Nuclease hypersensitive sites in chromatin. Annu. Rev. Biochem. 57, 159–197 (1988).

28.

Zheng, H. et al. Resetting epigenetic memory by reprogramming of histone modifications in mammals. Mol. Cell 63, 1066–1079 (2016).

29.

Smith, Z. D. & Meissner, A. DNA methylation: roles in mammalian development. Nat. Rev. Genet. 14, 204–220 (2013).

30.

Nguyen, V. T. et al. In vivo degradation of RNA polymerase II largest subunit triggered by α-amanitin. Nucleic Acids Res. 24, 2924–2929 (1996).

31.

Peaston, A. E. et al. Retrotransposons regulate host genes in mouse oocytes and preimplantation embryos. Dev. Cell 7, 597–606 (2004).

32.

Dubois, M. F., Nguyen, V. T., Bellier, S. & Bensaude, O. Inhibitors of transcription such as 5,6-dichloro-1-β-d-ribofuranosylbenzimidazole and isoquinoline sulfonamide derivatives (H-8 and H-7*) promote dephosphorylation of the carboxyl-terminal domain of RNA polymerase II largest subunit. J. Biol. Chem. 269, 13331–13336 (1994).

33.

Huynh, K. D. & Lee, J. T. Imprinted X inactivation in eutherians: a model of gametic execution and zygotic relaxation. Curr. Opin. Cell Biol. 13, 690–697 (2001).

34.

Jung, Y. H. et al. Maintenance of CTCF- and transcription factor-mediated interactions from the gametes to the early mouse embryo. Mol. Cell 75, 154–171.e5 (2019).

35.

Zhang, B. et al. Allelic reprogramming of the histone modification H3K4me3 in early mammalian development. Nature 537, 553–557 (2016).

36.

Shirane, K. et al. Mouse oocyte methylomes at base resolution reveal genome-wide accumulation of non-CpG methylation and role of DNA methyltransferases. PLoS Genet. 9, e1003439 (2013).

37.

Wang, L. et al. Programming and inheritance of parental DNA methylomes in mammals. Cell 157, 979–991 (2014).

38.

Xu, Q. et al. SETD2 regulates the maternal epigenome, genomic imprinting and embryonic development. Nat. Genet. 51, 844–856 (2019).

39.

Ferguson-Smith, A. C. Genomic imprinting: the emergence of an epigenetic paradigm. Nat. Rev. Genet. 12, 565–575 (2011).

40.

Wang, C. et al. Reprogramming of H3K9me3-dependent heterochromatin during mammalian embryo development. Nat. Cell Biol. 20, 620–631 (2018).

41.

Veselovska, L. et al. Deep sequencing and de novo assembly of the mouse oocyte transcriptome define the contribution of transcription to the DNA methylation landscape. Genome Biol. 16, 209 (2015).

42.

Dahl, J. A. et al. Broad histone H3K4me3 domains in mouse oocytes modulate maternal-to-zygotic transition. Nature 537, 548–552 (2016).

43.

Ge, S. X. Exploratory bioinformatics investigation reveals importance of "junk" DNA in early embryo development. BMC Genomics 18, 200 (2017).

44.

Xu, Q. & Xie, W. Epigenome in early mammalian development: inheritance, reprogramming and establishment. Trends Cell Biol. 28, 237–253 (2018).

45.

Eckersley-Maslin, M. A., Alda-Catalinas, C. & Reik, W. Dynamics of the epigenetic landscape during the maternal-to-zygotic transition. Nat. Rev. Mol. Cell Biol. 19, 436–450 (2018).

46.

Hsu, H. T. et al. Recruitment of RNA polymerase II by the pioneer transcription factor PHA-4. Science 348, 1372–1376 (2015).

47.

Chronis, C. et al. Cooperative binding of transcription factors orchestrates reprogramming. Cell 168, 442–459 (2017).

48.

Yue, F. et al. A comparative encyclopedia of DNA elements in the mouse genome. Nature 515, 355–364 (2014).

49.

Inoue, A., Akiyama, T., Nagata, M. & Aoki, F. The perivitelline space-forming capacity of mouse oocytes is associated with meiotic competence. J. Reprod. Dev. 53, 1043–1052 (2007).

50.

Schmid, M., Durussel, T. & Laemmli, U. K. ChIC and ChEC; genomic mapping of chromatin proteins. Mol. Cell 16, 147–157 (2004).

51.

Picelli, S. et al. Full-length RNA-seq from single cells using Smart-seq2. Nat. Protocols 9, 171–181 (2014).

52.

Brind'Amour, J. et al. LTR retrotransposons transcribed in oocytes drive species-specific and heritable changes in DNA methylation. Nat. Commun. 9, 3331 (2018).

53.

Percharde, M. et al. A LINE1–Nucleolin partnership regulates early development and ESC identity. Cell 174, 391– 405 (2018).

54.

Zalzman, M. et al. Zscan4 regulates telomere elongation and genomic stability in ES cells. Nature 464, 858–863 (2010).

55.

Langmead, B. & Salzberg, S. L. Fast gapped-read alignment with Bowtie 2. Nat. Methods 9, 357–359 (2012).

56.

Ramírez, F. et al. deepTools2: a next generation web server for deep-sequencing data analysis. Nucleic Acids Res. 44, W160–W165 (2016).

57.

Trapnell, C. et al. Differential gene and transcript expression analysis of RNA-seq experiments with TopHat and Cufflinks. Nat. Protocols 7, 562–578 (2012).

58.

Xi, Y. & Li, W. BSMAP: whole genome bisulfite sequence MAPping program. BMC Bioinformatics 10, 232 (2009).

59.

Zhang, Y. et al. Model-based analysis of ChIP-Seq (MACS). Genome Biol. 9, R137 (2008).

60.

Quinlan, A. R. & Hall, I. M. BEDTools: a flexible suite of utilities for comparing genomic features. Bioinformatics 26, 841–842 (2010).

61.

Schug, J. et al. Promoter features related to tissue specificity as measured by Shannon entropy. Genome Biol. 6, R33 (2005).

62.

Dennis, G., Jr et al. DAVID: database for annotation, visualization, and integrated discovery. Genome Biol. 4, 3 (2003).

63.

McLean, C. Y. et al. GREAT improves functional interpretation of cis-regulatory regions. Nat. Biotechnol. 28, 495–501 (2010).

64.

Liu, S. et al. From 1D sequence to 3D chromatin dynamics and cellular functions: a phase separation perspective. Nucleic Acids Res. 46, 9367–9383 (2018).
Acknowledgements
We thank members of the Xie laboratory for discussions and the comments; the Animal Center and Biocomputing Facility at Tsinghua University for support; S. Gao and X. Kou for B6D2F1/J mice; and X. Shen, T. Li and X. Ji for reagents. This work was supported by the National Natural Science Foundation of China (31988101 to W. Xie), the National Key R&D Program of China (2019YFA0508900 to W. Xie and Y.Y., 2019YFA0110001 and 2017YFA0102802 to J. Na), the National Natural Science Foundation of China (31830047, 31725018 to W. Xie and 31970819 to J. Na), the Tsinghua-Peking Center for Life Sciences (W. Xie), and the Beijing Municipal Science and Technology Commission (grant Z181100001318006 to W. Xie). B.L. is supported by postdoctoral fellowships from the Tsinghua Shuimu Scholar. Q.X. and Q.W. are supported by postdoctoral fellowships from the Tsinghua-Peking Center for Life Sciences. W. Xie is an HHMI international research scholar.
Ethics declarations
Competing interests
S.F., F.Z., J. Nie, and C.Q. are employees of Vazyme Inc. The other authors declare no competing interests.
Additional information
Peer review information Nature thanks Samantha A. Morris, Keji Zhao and the other, anonymous, reviewer(s) for their contribution to the peer review of this work.
Publisher's note Springer Nature remains neutral with regard to jurisdictional claims in published maps and institutional affiliations.
Extended data figures and tables
Supplementary information
Supplementary Table 1: Sample information. The sample information includes source name, developmental stage, cell number, experiment type, spike-in DNA, treatment, genotype and antibody for all samples.
Supplementary Table 2: Genes ectopically expressed in mTBEs. Genes ectopically expressed in mTBEs (minor-ZGA blocked embryos) are included.
About this article
Cite this article
Liu, B., Xu, Q., Wang, Q. et al. The landscape of RNA Pol II binding reveals a stepwise transition during ZGA. Nature 587, 139–144 (2020). https://doi.org/10.1038/s41586-020-2847-y
Received:

Accepted:

Published:

Issue Date:
Further reading
Benjamin J. Patty
Sarah J. Hainer

Nature Protocols (2021)

Yuting Liu
Jiangping He
Jiekai Chen

Cellular and Molecular Life Sciences (2021)
Comments
By submitting a comment you agree to abide by our Terms and Community Guidelines. If you find something abusive or that does not comply with our terms or guidelines please flag it as inappropriate.