Abstract
Minichromosome maintenance proteins (MCMs) are DNA-dependent ATPases that bind to replication origins and license them to support a single round of DNA replication. A large excess of MCM2–7 assembles on chromatin in G1 phase as pre-replication complexes (pre-RCs), of which only a fraction become the productive CDC45–MCM–GINS (CMG) helicases that are required for genome duplication1,2,3,4. It remains unclear why cells generate this surplus of MCMs, how they manage to sustain it across multiple generations, and why even a mild reduction in the MCM pool compromises the integrity of replicating genomes5,6. Here we show that, for daughter cells to sustain error-free DNA replication, their mother cells build up a nuclear pool of MCMs both by recycling chromatin-bound (parental) MCMs and by synthesizing new (nascent) MCMs. Although all MCMs can form pre-RCs, it is the parental pool that is inherently stable and preferentially matures into CMGs. By contrast, nascent MCM3–7 (but not MCM2) undergo rapid proteolysis in the cytoplasm, and their stabilization and nuclear translocation require interaction with minichromosome-maintenance complex-binding protein (MCMBP), a distant MCM paralogue7,8. By chaperoning nascent MCMs, MCMBP safeguards replicating genomes by increasing chromatin coverage with pre-RCs that do not participate on replication origins but adjust the pace of replisome movement to minimize errors during DNA replication. Consequently, although the paucity of pre-RCs in MCMBP-deficient cells does not alter DNA synthesis overall, it increases the speed and asymmetry of individual replisomes, which leads to DNA damage. The surplus of MCMs therefore increases the robustness of genome duplication by restraining the speed at which eukaryotic cells replicate their DNA. Alterations in physiological fork speed might thus explain why even a minor reduction in MCM levels destabilizes the genome and predisposes to increased incidence of tumour formation.
Access options
Subscribe to Journal
Get full journal access for 1 year
$199.00
only $3.90 per issue
All prices are NET prices.
VAT will be added later in the checkout.
Tax calculation will be finalised during checkout.
Rent or Buy article
Get time limited or full article access on ReadCube.
from$8.99
All prices are NET prices.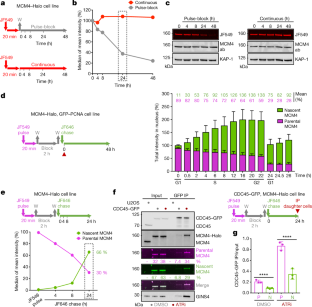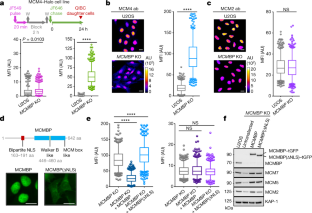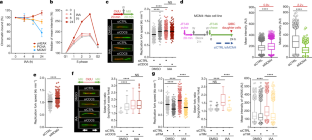 Data availability
Primary imaging data in Figs. 1d, 2d, 3b–d and Extended Data Figs. 1a, e, 4f, 5e, g, 6b, 7c, 9c have been deposited at the European Bioinformatics Institute (EBI) BioStudies database (https://www.ebi.ac.uk/biostudies/) with accession number S-BSST445 and made accessible as an open resource. All data are available from the corresponding author upon reasonable request. Source data are provided with this paper.
References
1.

Deegan, T. D. & Diffley, J. F. MCM: one ring to rule them all. Curr. Opin. Struct. Biol. 37, 145–151 (2016).

2.

Burkhart, R. et al. Interactions of human nuclear proteins P1Mcm3 and P1Cdc46. Eur. J. Biochem. 228, 431–438 (1995).

3.

Walter, J. & Newport, J. W. Regulation of replicon size in Xenopus egg extracts. Science 275, 993–995 (1997).

4.

Köhler, C. et al. Cdc45 is limiting for replication initiation in humans. Cell Cycle 15, 974–985 (2016).

5.

Liang, D. T., Hodson, J. A. & Forsburg, S. L. Reduced dosage of a single fission yeast MCM protein causes genetic instability and S phase delay. J. Cell Sci. 112, 559–567 (1999).

6.

Orr, S. J. et al. Reducing MCM levels in human primary T cells during the G0→G1 transition causes genomic instability during the first cell cycle. Oncogene 29, 3803–3814 (2010).

7.

Sakwe, A. M., Nguyen, T., Athanasopoulos, V., Shire, K. & Frappier, L. Identification and characterization of a novel component of the human minichromosome maintenance complex. Mol. Cell. Biol. 27, 3044–3055 (2007).

8.

Kusunoki, S. & Ishimi, Y. Interaction of human minichromosome maintenance protein-binding protein with minichromosome maintenance 2–7. FEBS J. 281, 1057–1067 (2014).

9.

Kuipers, M. A. et al. Highly stable loading of Mcm proteins onto chromatin in living cells requires replication to unload. J. Cell Biol. 192, 29–41 (2011).

10.

Prasanth, S. G., Méndez, J., Prasanth, K. V. & Stillman, B. Dynamics of pre-replication complex proteins during the cell division cycle. Phil. Trans. R. Soc. Lond. B 359, 7–16 (2004).

11.

Alver, R. C., Chadha, G. S. & Blow, J. J. The contribution of dormant origins to genome stability: from cell biology to human genetics. DNA Repair (Amst.) 19, 182–189 (2014).

12.

Hyrien, O., Marheineke, K. & Goldar, A. Paradoxes of eukaryotic DNA replication: MCM proteins and the random completion problem. BioEssays 25, 116–125 (2003).

13.

Toledo, L. I. et al. ATR prohibits replication catastrophe by preventing global exhaustion of RPA. Cell 155, 1088–1103 (2013).

14.

Masai, H., Matsumoto, S., You, Z., Yoshizawa-Sugata, N. & Oda, M. Eukaryotic chromosome DNA replication: where, when, and how? Annu. Rev. Biochem. 79, 89–130 (2010).

15.

Lin, J. J., Milhollen, M. A., Smith, P. G., Narayanan, U. & Dutta, A. NEDD8-targeting drug MLN4924 elicits DNA rereplication by stabilizing Cdt1 in S phase, triggering checkpoint activation, apoptosis, and senescence in cancer cells. Cancer Res. 70, 10310–10320 (2010).

16.

Moreno, S. P. & Gambus, A. Mechanisms of eukaryotic replisome disassembly. Biochem. Soc. Trans. 48, 823–836 (2020).

17.

Todorov, I. T., Attaran, A. & Kearsey, S. E. BM28, a human member of the MCM2-3-5 family, is displaced from chromatin during DNA replication. J. Cell Biol. 129, 1433–1445 (1995).

18.

Blow, J. J., Ge, X. Q. & Jackson, D. A. How dormant origins promote complete genome replication. Trends Biochem. Sci. 36, 405–414 (2011).

19.

Zou, L. & Stillman, B. Formation of a preinitiation complex by S-phase cyclin CDK-dependent loading of Cdc45p onto chromatin. Science 280, 593–596 (1998).

20.

Santosa, V., Martha, S., Hirose, N. & Tanaka, K. The fission yeast minichromosome maintenance (MCM)-binding protein (MCM-BP), Mcb1, regulates MCM function during prereplicative complex formation in DNA replication. J. Biol. Chem. 288, 6864–6880 (2013).

21.

Nishiyama, A., Frappier, L. & Méchali, M. MCM-BP regulates unloading of the MCM2–7 helicase in late S phase. Genes Dev. 25, 165–175 (2011).

22.

Kimura, H., Ohtomo, T., Yamaguchi, M., Ishii, A. & Sugimoto, K. Mouse MCM proteins: complex formation and transportation to the nucleus. Genes Cells 1, 977–993 (1996).

23.

Ghosh, S., Vassilev, A. P., Zhang, J., Zhao, Y. & DePamphilis, M. L. Assembly of the human origin recognition complex occurs through independent nuclear localization of its components. J. Biol. Chem. 286, 23831–23841 (2011).

24.

Santosa, V. & Kanemaki, M. T. MCMBP maintains genome integrity by protecting the MCM subunits from degradation. Preprint at https://doi.org/10.1101/827386 (2019).

25.

Clague, M. J., Urbé, S. & Komander, D. Breaking the chains: deubiquitylating enzyme specificity begets function. Nat. Rev. Mol. Cell Biol. 20, 338–352 (2019).

26.

Jackson, D. A. & Pombo, A. Replicon clusters are stable units of chromosome structure: evidence that nuclear organization contributes to the efficient activation and propagation of S phase in human cells. J. Cell Biol. 140, 1285–1295 (1998).

27.

Sheu, Y. J., Kinney, J. B., Lengronne, A., Pasero, P. & Stillman, B. Domain within the helicase subunit Mcm4 integrates multiple kinase signals to control DNA replication initiation and fork progression. Proc. Natl Acad. Sci. USA 111, E1899–E1908 (2014).

28.

Ercilla, A. et al. Physiological tolerance to ssDNA enables strand uncoupling during DNA replication. Cell Rep. 30, 2416–2429.e7 (2020).

29.

Kumagai, A., Shevchenko, A., Shevchenko, A. & Dunphy, W. G. Treslin collaborates with TopBP1 in triggering the initiation of DNA replication. Cell 140, 349–359 (2010).

30.

Masai, H., Yang, C. C. & Matsumoto, S. Mrc1/Claspin: a new role for regulation of origin firing. Curr. Genet. 63, 813–818 (2017).

31.

Yeeles, J. T. P., Janska, A., Early, A. & Diffley, J. F. X. How the eukaryotic replisome achieves rapid and efficient DNA replication. Mol. Cell 65, 105–116 (2017).

32.

Somyajit, K. et al. Redox-sensitive alteration of replisome architecture safeguards genome integrity. Science 358, 797–802 (2017).

33.

Maya-Mendoza, A. et al. High speed of fork progression induces DNA replication stress and genomic instability. Nature 559, 279–284 (2018).

34.

Petermann, E., Woodcock, M. & Helleday, T. Chk1 promotes replication fork progression by controlling replication initiation. Proc. Natl Acad. Sci. USA 107, 16090–16095 (2010).

35.

Ivessa, A. S. et al. The Saccharomyces cerevisiae helicase Rrm3p facilitates replication past nonhistone protein-DNA complexes. Mol. Cell 12, 1525–1536 (2003).

36.

Daigh, L. H., Liu, C., Chung, M., Cimprich, K. A. & Meyer, T. Stochastic endogenous replication stress causes ATR-triggered fluctuations in CDK2 activity that dynamically adjust global DNA synthesis rates. Cell Syst. 7, 17–27.e3 (2018).

37.

Matson, J. P. et al. Intrinsic checkpoint deficiency during cell cycle re-entry from quiescence. J. Cell Biol. 218, 2169–2184 (2019).

38.

Das, M., Singh, S., Pradhan, S. & Narayan, G. MCM paradox: abundance of eukaryotic replicative helicases and genomic integrity. Mol. Biol. Int. 2014, 574850 (2014).

39.

Shima, N. et al. A viable allele of Mcm4 causes chromosome instability and mammary adenocarcinomas in mice. Nat. Genet. 39, 93–98 (2007).

40.

Kawabata, T. et al. Stalled fork rescue via dormant replication origins in unchallenged S phase promotes proper chromosome segregation and tumor suppression. Mol. Cell 41, 543–553 (2011).

41.

Koch, B. et al. Generation and validation of homozygous fluorescent knock-in cells using CRISPR-Cas9 genome editing. Nat. Protoc. 13, 1465–1487 (2018).

42.

Cong, L. et al. Multiplex genome engineering using CRISPR/Cas systems. Science 339, 819–823 (2013).

43.

Kosugi, S., Hasebe, M., Tomita, M. & Yanagawa, H. Systematic identification of cell cycle-dependent yeast nucleocytoplasmic shuttling proteins by prediction of composite motifs. Proc. Natl Acad. Sci. USA 106, 10171–10176 (2009).

44.

Yamaguchi, K., Inoue, S., Ohara, O. & Nagase, T. Pulse-chase experiment for the analysis of protein stability in cultured mammalian cells by covalent fluorescent labeling of fusion proteins. Methods Mol. Biol. 577, 121–131 (2009).

45.

Rapsomaniki, M. A. et al. easyFRAP: an interactive, easy-to-use tool for qualitative and quantitative analysis of FRAP data. Bioinformatics 28, 1800–1801 (2012).
Acknowledgements
Research funding was provided by the Novo Nordisk Foundation (grant NNF14CC0001) and the Danish Cancer Society (grant R204 A12615) to J.L. H.S. was supported by the Novo Nordisk Foundation (grant NNF16CC0020906). K.S. was supported by the Danish Council for Independent Research (grant EDFF-FSS 82262) and the Lundbeck Foundation (grant R264-2017-2819). R.G. was supported by a European Molecular Biology Organization long-term postdoctoral fellowship (ALTF271-2014). C.C. was supported by the Hallas Møller Investigator Fellowship from the Novo Nordisk Foundation (NNF14OC0008541), the Danish Cancer Society (grant R204-A12286) and by the European Union's Horizon 2020 research and innovation programme (grant 648039). We thank J. Bulkescher, J. Dreier and G. Karemore from the Protein Imaging Platform for their assistance with microscopy and image analysis. FACS analyses were carried out at the Center for Protein Research and the Danstem Flow Cytometry Platform. The pX335 and pX458 plasmids were a gift from F. Zhang, and MLN4924 was a gift from J. Duxin. We thank L. Toledo and D. Gilbert for providing critical reagents. We thank C. Lukas for conceptual and technical inputs to this study and members of the Lukas laboratory for discussions and critical comments on the manuscript.
Ethics declarations
Competing interests
The authors declare no competing interests.
Additional information
Peer review information Nature thanks Olivier Hyrien and the other, anonymous, reviewer(s) for their contribution to the peer review of this work.
Publisher's note Springer Nature remains neutral with regard to jurisdictional claims in published maps and institutional affiliations.
Extended data figures and tables
Supplementary information
About this article
Cite this article
Sedlackova, H., Rask, MB., Gupta, R. et al. Equilibrium between nascent and parental MCM proteins protects replicating genomes. Nature 587, 297–302 (2020). https://doi.org/10.1038/s41586-020-2842-3
Received:

Accepted:

Published:

Issue Date:
Further reading
Humberto Sánchez
Kaley McCluskey
Nynke H. Dekker

Nature Communications (2021)
Comments
By submitting a comment you agree to abide by our Terms and Community Guidelines. If you find something abusive or that does not comply with our terms or guidelines please flag it as inappropriate.