Abstract
Angelman syndrome (AS) is a severe neurodevelopmental disorder caused by a mutation or deletion of the maternally inherited UBE3A allele. In neurons, the paternally inherited UBE3A allele is silenced in cis by a long non-coding RNA called UBE3A-ATS. Here, as part of a systematic screen, we found that Cas9 can be used to activate ('unsilence') paternal Ube3a in cultured mouse and human neurons when targeted to Snord115 genes, which are small nucleolar RNAs that are clustered in the 3′ region of Ube3a-ATS. A short Cas9 variant and guide RNA that target about 75 Snord115 genes were packaged into an adeno-associated virus and administered to a mouse model of AS during the embryonic and early postnatal stages, when the therapeutic benefit of restoring Ube3a is predicted to be greatest1,2. This early treatment unsilenced paternal Ube3a throughout the brain for at least 17 months and rescued anatomical and behavioural phenotypes in AS mice. Genomic integration of the adeno-associated virus vector into Cas9 target sites caused premature termination of Ube3a-ATS at the vector-derived polyA cassette, or when integrated in the reverse orientation, by transcriptional collision with the vector-derived Cas9 transcript. Our study shows that targeted genomic integration of a gene therapy vector can restore the function of paternally inherited UBE3A throughout life, providing a path towards a disease-modifying treatment for a syndromic neurodevelopmental disorder.
Access options
Access Nature and 54 other Nature Portfolio journals
Get Nature+, our best-value online-access subscription
$29.99 / 30 days
cancel any time
Subscribe to this journal
Receive 51 print issues and online access
$199.00 per year
only $3.90 per issue
Rent or buy this article
Prices vary by article type
from$1.95
to$39.95
Prices may be subject to local taxes which are calculated during checkout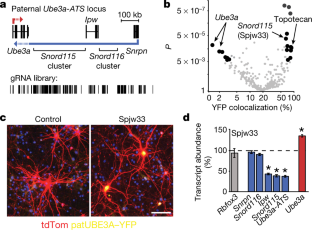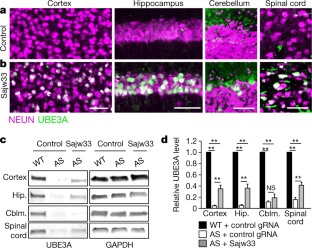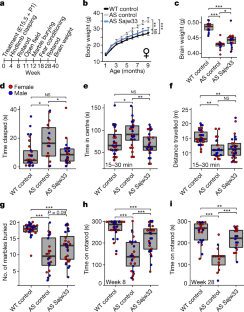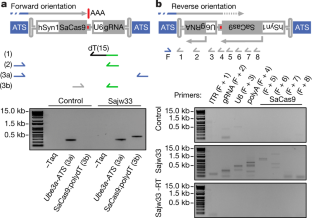 Similar content being viewed by others
References
Silva-Santos, S. et al. Ube3a reinstatement identifies distinct developmental windows in a murine Angelman syndrome model. J. Clin. Invest. 125, 2069–2076 (2015).

Zylka, M. J. Prenatal treatment path for Angelman syndrome and other neurodevelopmental disorders. Autism Res. 13, 11–17 (2020).

Huang, H. S. et al. Topoisomerase inhibitors unsilence the dormant allele of Ube3a in neurons. Nature 481, 185–189 (2011).

Meng, L. et al. Truncation of Ube3a-ATS unsilences paternal Ube3a and ameliorates behavioral defects in the Angelman syndrome mouse model. PLoS Genet. 9, e1004039 (2013).

Zhu, S. et al. Genome-scale deletion screening of human long non-coding RNAs using a paired-guide RNA CRISPR–Cas9 library. Nat. Biotechnol. 34, 1279–1286 (2016).

Dindot, S. V., Antalffy, B. A., Bhattacharjee, M. B. & Beaudet, A. L. The Angelman syndrome ubiquitin ligase localizes to the synapse and nucleus, and maternal deficiency results in abnormal dendritic spine morphology. Hum. Mol. Genet. 17, 111–118 (2008).

Bortolin-Cavaillé, M. L. & Cavaillé, J. The SNORD115 (H/MBII-52) and SNORD116 (H/MBII-85) gene clusters at the imprinted Prader–Willi locus generate canonical box C/D snoRNAs. Nucleic Acids Res. 40, 6800–6807 (2012).

de Smith, A. J. et al. A deletion of the HBII-85 class of small nucleolar RNAs (snoRNAs) is associated with hyperphagia, obesity and hypogonadism. Hum. Mol. Genet. 18, 3257–3265 (2009).

Bieth, E. et al. Highly restricted deletion of the SNORD116 region is implicated in Prader–Willi syndrome. Eur. J. Hum. Genet. 23, 252–255 (2015).

Anderlid, B. M., Lundin, J., Malmgren, H., Lehtihet, M. & Nordgren, A. Small mosaic deletion encompassing the snoRNAs and SNURF-SNRPN results in an atypical Prader–Willi syndrome phenotype. Am. J. Med. Genet. A 164A, 425–431 (2014).

Hsiao, J. S. et al. A bipartite boundary element restricts UBE3A imprinting to mature neurons. Proc. Natl Acad. Sci. USA 116, 2181–2186 (2019).

Stein, J. L. et al. A quantitative framework to evaluate modeling of cortical development by neural stem cells. Neuron 83, 69–86 (2014).

Ran, F. A. et al. In vivo genome editing using Staphylococcus aureus Cas9. Nature 520, 186–191 (2015).

Friedland, A. E. et al. Characterization of Staphylococcus aureus Cas9: a smaller Cas9 for all-in-one adeno-associated virus delivery and paired nickase applications. Genome Biol. 16, 257 (2015).

Bengtsson, N. E. et al. Muscle-specific CRISPR/Cas9 dystrophin gene editing ameliorates pathophysiology in a mouse model for Duchenne muscular dystrophy. Nat. Commun. 8, 14454 (2017).

Avagliano Trezza, R. et al. Loss of nuclear UBE3A causes electrophysiological and behavioral deficits in mice and is associated with Angelman syndrome. Nat. Neurosci. 22, 1235–1247 (2019).

Johnston, S. et al. AAV ablates neurogenesis in the adult murine hippocampus. Preprint at https://doi.org/10.1101/2020.01.18.911362 (2020).

Kishore, S. & Stamm, S. The snoRNA HBII-52 regulates alternative splicing of the serotonin receptor 2C. Science 311, 230–232 (2006).

Doe, C. M. et al. Loss of the imprinted snoRNA mbii-52 leads to increased 5htr2c pre-RNA editing and altered 5HT2CR-mediated behaviour. Hum. Mol. Genet. 18, 2140–2148 (2009).

Sonzogni, M. et al. A behavioral test battery for mouse models of Angelman syndrome: a powerful tool for testing drugs and novel Ube3a mutants. Mol. Autism 9, 47 (2018).

Mandel-Brehm, C., Salogiannis, J., Dhamne, S. C., Rotenberg, A. & Greenberg, M. E. Seizure-like activity in a juvenile Angelman syndrome mouse model is attenuated by reducing Arc expression. Proc. Natl Acad. Sci. USA 112, 5129–5134 (2015).

Hanlon, K. S. et al. High levels of AAV vector integration into CRISPR-induced DNA breaks. Nat. Commun. 10, 4439 (2019).

Nelson, C. E. et al. Long-term evaluation of AAV-CRISPR genome editing for Duchenne muscular dystrophy. Nat. Med. 25, 427–432 (2019).

von Bartheld, C. S., Bahney, J. & Herculano-Houzel, S. The search for true numbers of neurons and glial cells in the human brain: a review of 150 years of cell counting. J. Comp. Neurol. 524, 3865–3895 (2016).

Friedel, R. H. & Soriano, P. Gene trap mutagenesis in the mouse. Methods Enzymol. 477, 243–269 (2010).

Landers, M. et al. Maternal disruption of Ube3a leads to increased expression of Ube3a-ATS in trans. Nucleic Acids Res. 33, 3976–3984 (2005).

King, I. F. et al. Topoisomerases facilitate transcription of long genes linked to autism. Nature 501, 58–62 (2013).

Sanjana, N. E., Shalem, O. & Zhang, F. Improved vectors and genome-wide libraries for CRISPR screening. Nat. Methods 11, 783–784 (2014).

Mabb, A. M. et al. Topoisomerase 1 regulates gene expression in neurons through cleavage complex-dependent and -independent mechanisms. PLoS One 11, e0156439 (2016).

Dickerson, A. S. et al. Autism spectrum disorder prevalence and associations with air concentrations of lead, mercury, and arsenic. Environ. Monit. Assess. 188, 407 (2016).

Kishore, S. et al. The snoRNA MBII-52 (SNORD 115) is processed into smaller RNAs and regulates alternative splicing. Hum. Mol. Genet. 19, 1153–1164 (2010).

Walantus, W., Castaneda, D., Elias, L. & Kriegstein, A. In utero intraventricular injection and electroporation of E15 mouse embryos. J. Vis. Exp. 239, 239 (2007).

Kim, J. Y., Grunke, S. D., Levites, Y., Golde, T. E. & Jankowsky, J. L. Intracerebroventricular viral injection of the neonatal mouse brain for persistent and widespread neuronal transduction. J. Vis. Exp. 91, e51863 (2014).

Bae, S., Park, J. & Kim, J. S. Cas-OFFinder: a fast and versatile algorithm that searches for potential off-target sites of Cas9 RNA-guided endonucleases. Bioinformatics 30, 1473–1475 (2014).

Martin, M. CUTADAPT removes adapter sequences from high-throughput sequencing reads. EMBnet.journal 17, 10–12 (2011).

Blazie, S. M. et al. Alternative polyadenylation directs tissue-specific miRNA targeting in Caenorhabditis elegans somatic tissues. Genetics 206, 757–774 (2017).
Acknowledgements
We thank E. McCoy, G. Salazar, E. Hopkins, T. Ptacek and B. Taylor-Blake for technical assistance; and the UNC Catalyst for Rare Diseases for use of their high-throughput screening equipment. This work was supported by grants to M.J.Z. from the Angelman Syndrome Foundation, the Simons Foundation (SFARI, award ID 631904), the National Institute of Neurological Disorders and Stroke (NINDS; 1R01NS109304-01A1) and the Eshelman Institute for Innovation. J.M.W. was supported by grants from the National Institute for Child Health and Human Development (NICHD; T32HD040127) and a Pfizer-NCBiotech Distinguished Postdoctoral Fellowship in Gene Therapy. H.M. was supported by the NICHD (T32HD040127). J.L.S. was supported by grants from the National Institute of Mental Health (R01MH118349, R00MH102357 and R01MH120125). The microscopy core and J.M.S. in the bioinformatics core were supported by the NICHD (P50HD103573) and the NINDS (P30NS045892). The UNC Flow Cytometry Core Facility is supported in part by the National Cancer Institute (P30CA016086), awarded to the UNC Lineberger Comprehensive Cancer Center. The UNC Mouse Behavioral Phenotyping Core is supported by the NICHD (P50HD103573).
Ethics declarations
Competing interests
M.J.Z. serves as a consultant to AskBio, to which technologies evaluated in this paper have been licensed. J.M.W., H.M., G.F., J.M.S. and M.J.Z. are inventors of the technology and could receive royalties. These relationships have been disclosed to and are under management by UNC-Chapel Hill. The remaining authors have no competing interests.
Additional information
Peer review information Nature thanks Jeremy Day, Fyodor Urnov, Charles Williams and the other, anonymous, reviewer(s) for their contribution to the peer review of this work.
Publisher's note Springer Nature remains neutral with regard to jurisdictional claims in published maps and institutional affiliations.
Extended data figures and tables
Supplementary information
About this article
Cite this article
Wolter, J.M., Mao, H., Fragola, G. et al. Cas9 gene therapy for Angelman syndrome traps Ube3a-ATS long non-coding RNA. Nature 587, 281–284 (2020). https://doi.org/10.1038/s41586-020-2835-2
Received:

Accepted:

Published:

Issue Date:

DOI: https://doi.org/10.1038/s41586-020-2835-2
Comments
By submitting a comment you agree to abide by our Terms and Community Guidelines. If you find something abusive or that does not comply with our terms or guidelines please flag it as inappropriate.