Abstract
Fluid intake is an essential innate behaviour that is mainly caused by two distinct types of thirst1,2,3. Increased blood osmolality induces osmotic thirst that drives animals to consume pure water. Conversely, the loss of body fluid induces hypovolaemic thirst, in which animals seek both water and minerals (salts) to recover blood volume. Circumventricular organs in the lamina terminalis are critical sites for sensing both types of thirst-inducing stimulus4,5,6. However, how different thirst modalities are encoded in the brain remains unknown. Here we employed stimulus-to-cell-type mapping using single-cell RNA sequencing to identify the cellular substrates that underlie distinct types of thirst. These studies revealed diverse types of excitatory and inhibitory neuron in each circumventricular organ structure. We show that unique combinations of these neuron types are activated under osmotic and hypovolaemic stresses. These results elucidate the cellular logic that underlies distinct thirst modalities. Furthermore, optogenetic gain of function in thirst-modality-specific cell types recapitulated water-specific and non-specific fluid appetite caused by the two distinct dipsogenic stimuli. Together, these results show that thirst is a multimodal physiological state, and that different thirst states are mediated by specific neuron types in the mammalian brain.
Access options
Subscribe to Journal
Get full journal access for 1 year
$199.00
only $3.90 per issue
All prices are NET prices.
VAT will be added later in the checkout.
Tax calculation will be finalised during checkout.
Rent or Buy article
Get time limited or full article access on ReadCube.
from$8.99
All prices are NET prices.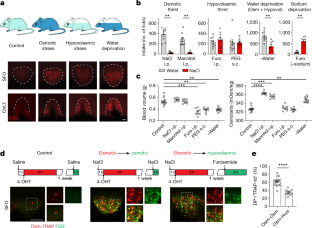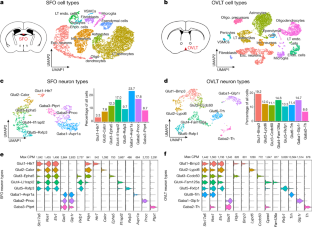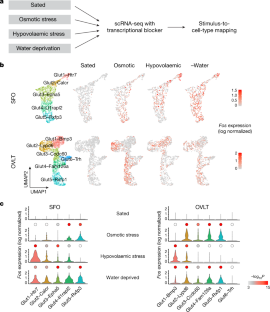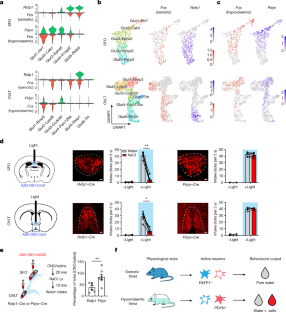 Data availability
The behavioural and histological data that support the findings are available from the corresponding author on reasonable request. Raw and fully processed scRNA-seq data are available at the NCBI Gene Expression Omnibus (GEO accession no. GSE154048).
Code availability
The R code used to perform the scRNA-seq analysis is available from the corresponding author on reasonable request.
References
1.

Fitzsimons, J. T. The physiology of thirst and sodium appetite. Monogr. Physiol. Soc. 35, 1–572 (1979).

2.

Leib, D. E., Zimmerman, C. A. & Knight, Z. A. Thirst. Curr. Biol. 26, R1260–R1265 (2016).

3.

McKinley, M. J. & Johnson, A. K. The physiological regulation of thirst and fluid intake. News Physiol. Sci. 19, 1–6 (2004).

4.

Augustine, V., Lee, S. & Oka, Y. Neural control and modulation of thirst, sodium appetite, and hunger. Cell 180, 25–32 (2020).

5.

Bourque, C. W. Central mechanisms of osmosensation and systemic osmoregulation. Nat. Rev. Neurosci. 9, 519–531 (2008).

6.

Zimmerman, C. A., Leib, D. E. & Knight, Z. A. Neural circuits underlying thirst and fluid homeostasis. Nat. Rev. Neurosci. 18, 459–469 (2017).

7.

McKinley, M. J. et al. The sensory circumventricular organs of the mammalian brain. Adv. Anat. Embryol. Cell Biol. 172, III–XII, 1–122, back cover (2003).

8.

Augustine, V. et al. Hierarchical neural architecture underlying thirst regulation. Nature 555, 204–209 (2018).

9.

Leib, D. E. et al. The forebrain thirst circuit drives drinking through negative reinforcement. Neuron 96, 1272–1281.e4 (2017).

10.

Oka, Y., Ye, M. & Zuker, C. S. Thirst driving and suppressing signals encoded by distinct neural populations in the brain. Nature 520, 349–352 (2015).

11.

Stricker, E. M. Osmoregulation and volume regulation in rats: inhibition of hypovolemic thirst by water. Am. J. Physiol. 217, 98–105 (1969).

12.

Jalowiec, J. E., Crapanzano, J. E. & Stricker, E. M. Specificity of salt appetite elicited by hypovolemia. Psychon. Sci. 6, 331–332 (1966).

13.

Allen, W. E. et al. Thirst-associated preoptic neurons encode an aversive motivational drive. Science 357, 1149–1155 (2017).

14.

Johnson, A. K. & Gross, P. M. Sensory circumventricular organs and brain homeostatic pathways. FASEB J. 7, 678–686 (1993).

15.

Johnson, A. K., Zardetto-Smith, A. M. & Edwards, G. L. Integrative mechanisms and the maintenance of cardiovascular and body fluid homeostasis: the central processing of sensory input derived from the circumventricular organs of the lamina terminalis. Prog. Brain Res. 91, 381–393 (1992).

16.

Butler, A., Hoffman, P., Smibert, P., Papalexi, E. & Satija, R. Integrating single-cell transcriptomic data across different conditions, technologies, and species. Nat. Biotechnol. 36, 411–420 (2018).

17.

Stuart, T. et al. Comprehensive integration of single-cell data. Cell 177, 1888–1902.e21 (2019).

18.

Benz, F. et al. Low WNT/β-catenin signaling determines leaky vessels in the subfornical organ and affects water homeostasis in mice. eLife 8, e43818 (2019).

19.

Bourque, C. W., Oliet, S. H. & Richard, D. Osmoreceptors, osmoreception, and osmoregulation. Front. Neuroendocrinol. 15, 231–274 (1994).

20.

Sharif-Naeini, R., Ciura, S., Zhang, Z. & Bourque, C. W. Contribution of TRPV channels to osmosensory transduction, thirst, and vasopressin release. Kidney Int. 73, 811–815 (2008).

21.

Hrvatin, S. et al. Single-cell analysis of experience-dependent transcriptomic states in the mouse visual cortex. Nat. Neurosci. 21, 120–129 (2018).

22.

Wu, Y. E., Pan, L., Zuo, Y. N., Li, X. M. & Hong, W. Z. Detecting activated cell populations using single-cell RNA-seq. Neuron 96, 313–329.e6 (2017).

23.

Betley, J. N. et al. Neurons for hunger and thirst transmit a negative-valence teaching signal. Nature 521, 180–185 (2015).

24.

Campbell, J. N. et al. A molecular census of arcuate hypothalamus and median eminence cell types. Nat. Neurosci. 20, 484–496 (2017).

25.

Moffitt, J. R. et al. Molecular, spatial, and functional single-cell profiling of the hypothalamic preoptic region. Science 362, eaau5324 (2018).

26.

Geerling, J. C. & Loewy, A. D. Central regulation of sodium appetite. Exp. Physiol. 93, 177–209 (2008).

27.

Lee, S. et al. Chemosensory modulation of neural circuits for sodium appetite. Nature 568, 93–97 (2019).

28.

Fitzsimons, J. T. Angiotensin, thirst, and sodium appetite. Physiol. Rev. 78, 583–686 (1998).

29.

Gizowski, C. & Bourque, C. W. The neural basis of homeostatic and anticipatory thirst. Nat. Rev. Nephrol. 14, 11–25 (2018).

30.

Hiyama, T. Y., Watanabe, E., Okado, H. & Noda, M. The subfornical organ is the primary locus of sodium-level sensing by Nax sodium channels for the control of salt-intake behavior. J. Neurosci. 24, 9276–9281 (2004).

31.

Guenthner, C. J., Miyamichi, K., Yang, H. H., Heller, H. C. & Luo, L. Permanent genetic access to transiently active neurons via TRAP: targeted recombination in active populations. Neuron 78, 773–784 (2013).

32.

Lein, E. S. et al. Genome-wide atlas of gene expression in the adult mouse brain. Nature 445, 168–176 (2007).

33.

Antunes-Rodrigues, J., McCann, S. M., Rogers, L. C. & Samson, W. K. Atrial natriuretic factor inhibits dehydration- and angiotensin II-induced water intake in the conscious, unrestrained rat. Proc. Natl Acad. Sci. USA 82, 8720–8723 (1985).

34.

Ciura, S. & Bourque, C. W. Transient receptor potential vanilloid 1 is required for intrinsic osmoreception in organum vasculosum lamina terminalis neurons and for normal thirst responses to systemic hyperosmolality. J. Neurosci. 26, 9069–9075 (2006).

35.

Gizowski, C., Zaelzer, C. & Bourque, C. W. Clock-driven vasopressin neurotransmission mediates anticipatory thirst prior to sleep. Nature 537, 685–688 (2016).

36.

Kinsman, B. et al. Osmoregulatory thirst in mice lacking the transient receptor potential vanilloid type 1 (TRPV1) and/or type 4 (TRPV4) receptor. Am. J. Physiol. Regul. Integr. Comp. Physiol. 307, R1092–R1100 (2014).

37.

Liedtke, W. & Friedman, J. M. Abnormal osmotic regulation in Trpv4−/− mice. Proc. Natl Acad. Sci. USA 100, 13698–13703 (2003).

38.

Miller, R. L. & Loewy, A. D. ENaC γ-expressing astrocytes in the circumventricular organs, white matter, and ventral medullary surface: sites for Na+ regulation by glial cells. J. Chem. Neuroanat. 53, 72–80 (2013).

39.

Miller, R. L., Wang, M. H., Gray, P. A., Salkoff, L. B. & Loewy, A. D. ENaC-expressing neurons in the sensory circumventricular organs become c-Fos activated following systemic sodium changes. Am. J. Physiol. Regul. Integr. Comp. Physiol. 305, R1141–R1152 (2013).

40.

Nomura, K. et al. [Na+] increases in body fluids sensed by central Nax induce sympathetically mediated blood pressure elevations via H+-dependent activation of ASIC1a. Neuron 101, 60–75.e6 (2019).

41.

Samson, W. K. et al. Central nervous system action of endothelin-3 to inhibit water drinking in the rat. Brain Res. 539, 347–351 (1991).

42.

Sunn, N. et al. Circulating relaxin acts on subfornical organ neurons to stimulate water drinking in the rat. Proc. Natl Acad. Sci. USA 99, 1701–1706 (2002).

43.

Tang-Christensen, M. et al. Central administration of GLP-1-(7-36) amide inhibits food and water intake in rats. Am. J. Physiol. 271, R848–R856 (1996).

44.

Watanabe, E. et al. Nav2/NaG channel is involved in control of salt-intake behavior in the CNS. J. Neurosci. 20, 7743–7751 (2000).
Acknowledgements
We thank the members of the Oka laboratory, D. J. Anderson, M. Thomson and S. Chen for helpful discussion and comments; B. Ho and A. Koranne for maintaining and genotyping animal lines; J. Park and the Single-Cell Profiling Center (SPEC) in the Beckman Institute at Caltech for technical assistance with scRNA-seq; B. Lowell and M. Krashes for generously sharing Pdyn-Cre mice; and L. Luo for a generous gift of TRAP2 mice. This work was supported by Startup funds from the President and Provost of the California Institute of Technology and the Biology and Biological Engineering Division of California Institute of Technology. Y.O. is also supported by the Searle Scholars Program, the Mallinckrodt Foundation, the McKnight Foundation, the Klingenstein-Simons Foundation, the New York Stem Cell Foundation and the NIH (R56MH113030 and R01NS109997). J.N. is supported by the NIH (U19MH114830).
Ethics declarations
Competing interests
The authors declare no competing interests.
Additional information
Peer review information Nature thanks Benjamin R. Arenkiel, Charles W. Bourque and the other, anonymous, reviewer(s) for their contribution to the peer review of this work.
Publisher's note Springer Nature remains neutral with regard to jurisdictional claims in published maps and institutional affiliations.
Extended data figures and tables
Supplementary information
About this article
Cite this article
Pool, AH., Wang, T., Stafford, D. et al. The cellular basis of distinct thirst modalities. Nature 588, 112–117 (2020). https://doi.org/10.1038/s41586-020-2821-8
Received:

Accepted:

Published:

Issue Date:
Further reading
Clara Odilia Sailer

,

Julie Refardt

,

Claudine Angela Blum

,

Ingeborg Schnyder

,

Jose Alberto Molina-Tijeras

,

Wiebke Fenske

&

Mirjam Christ-Crain

Scientific Reports (2021)

Julia A. Hellas

&

R. David Andrew

Neurocritical Care (2021)
Comments
By submitting a comment you agree to abide by our Terms and Community Guidelines. If you find something abusive or that does not comply with our terms or guidelines please flag it as inappropriate.