Abstract
Changes in gene regulation underlie much of phenotypic evolution1. However, our understanding of the potential for regulatory evolution is biased, because most evidence comes from either natural variation or limited experimental perturbations2. Using an automated robotics pipeline, we surveyed an unbiased mutation library for a developmental enhancer in Drosophila melanogaster. We found that almost all mutations altered gene expression and that parameters of gene expression—levels, location, and state—were convolved. The widespread pleiotropic effects of most mutations may constrain the evolvability of developmental enhancers. Consistent with these observations, comparisons of diverse Drosophila larvae revealed apparent biases in the phenotypes influenced by the enhancer. Developmental enhancers may encode a higher density of regulatory information than has been appreciated previously, imposing constraints on regulatory evolution.
This is a preview of subscription content
Access options
Subscribe to Journal
Get full journal access for 1 year
$199.00
only $3.90 per issue
All prices are NET prices.
VAT will be added later in the checkout.
Tax calculation will be finalised during checkout.
Rent or Buy article
Get time limited or full article access on ReadCube.
from$8.99
All prices are NET prices.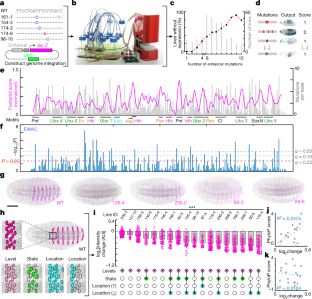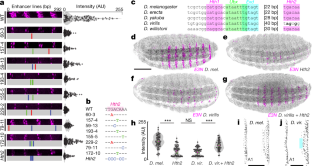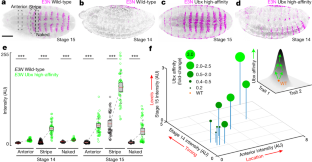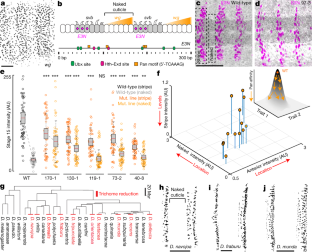 References
1.

Wittkopp, P. J. & Kalay, G. Cis-regulatory elements: Molecular mechanisms and evolutionary processes underlying divergence. Nat. Rev. Genet. 13, 59–69 (2011).

2.

Crocker, J. & Ilsley, G. R. Using synthetic biology to study gene regulatory evolution. Curr. Opin. Genet. Dev. 47, 91–101 (2017).

3.

Mogno, I., Kwasnieski, J. C. & Cohen, B. A. Massively parallel synthetic promoter assays reveal the in vivo effects of binding site variants. Genome Res. 23, 1908–1915 (2013).

4.

Patwardhan, R. P. et al. Massively parallel functional dissection of mammalian enhancers in vivo. Nat. Biotechnol. 30, 265–270 (2012).

5.

Weingarten-Gabbay, S. et al. Systematic interrogation of human promoters. Genome Res. 29, 171–183 (2019).

6.

de Boer, C. G. et al. Deciphering eukaryotic gene-regulatory logic with 100 million random promoters. Nat. Biotechnol. 38, 56–65 (2020).

7.

Duveau, F., Yuan, D. C., Metzger, B. P. H., Hodgins-Davis, A. & Wittkopp, P. J. Effects of mutation and selection on plasticity of a promoter activity in Saccharomyces cerevisiae. Proc. Natl Acad. Sci. USA 114, E11218–E11227 (2017).

8.

Crocker, J. et al. Low affinity binding site clusters confer hox specificity and regulatory robustness. Cell 160, 191–203 (2015).

9.

Payre, F. Genetic control of epidermis differentiation in Drosophila. Int. J. Dev. Biol. 48, 207–215 (2004).

10.

Belliveau, N. M. et al. Systematic approach for dissecting the molecular mechanisms of transcriptional regulation in bacteria. Proc. Natl Acad. Sci. USA 115, E4796–E4805 (2018).

11.

Storey, J. D., Tibshirani, R. Statistical significance for genomewide studies. Proc. Natl Acad. Sci. USA 100, 9440–9445 (2003).

12.

Pollard, K. S., Hubisz, M. J., Rosenbloom, K. R. & Siepel, A. Detection of nonneutral substitution rates on mammalian phylogenies. Genome Res. 20, 110–121 (2010).

13.

Smith, J. M. et al. Developmental constraints and evolution: a perspective from the Mountain Lake Conference on Development and Evolution. Q. Rev. Biol. 60, 265–287 (1985).

14.

Uller, T., Moczek, A. P., Watson, R. A., Brakefield, P. M. & Laland, K. N. Developmental bias and evolution: a regulatory network perspective. Genetics 209, 949–966 (2018).

15.

Rastogi, C. et al. Accurate and sensitive quantification of protein-DNA binding affinity. Proc. Natl Acad. Sci. USA 115, E3692–E3701 (2018).

16.

Chang, M. V., Chang, J. L., Gangopadhyay, A., Shearer, A. & Cadigan, K. M. Activation of wingless targets requires bipartite recognition of DNA by TCF. Curr. Biol. 18, 1877–1881 (2008).

17.

Nagy, O. et al. Correlated Evolution of Two Copulatory Organs via a Single cis-Regulatory Nucleotide Change. Curr. Biol. 28, 3450–3457.e13 (2018).

18.

Sabarís, G., Laiker, I., Preger-Ben Noon, E. & Frankel, N. Actors with multiple roles: pleiotropic enhancers and the paradigm of enhancer modularity. Trends Genet. 35, 423–433 (2019).

19.

Vincent, B. J., Estrada, J. & DePace, A. H. The appeasement of Doug: a synthetic approach to enhancer biology. Integr. Biol. 8, 475–484 (2016).

20.

Dey, S. S., Foley, J. E., Limsirichai, P., Schaffer, D. V. & Arkin, A. P. Orthogonal control of expression mean and variance by epigenetic features at different genomic loci. Mol. Syst. Biol. 11, 806 (2015).

21.

Stern, D. L. et al. Genetic and transgenic reagents for Drosophila simulans, D. mauritiana, D. yakuba, D. santomea, and D. virilis. G3 7, 1339–1347 (2017).

22.

Zabidi, M. A. et al. Enhancer-core-promoter specificity separates developmental and housekeeping gene regulation. Nature 518, 556–559 (2015).

23.

Frankel, N. et al. Phenotypic robustness conferred by apparently redundant transcriptional enhancers. Nature 466, 490–493 (2010).

24.

Tsai, A., Alves, M. R. & Crocker, J. Multi-enhancer transcriptional hubs confer phenotypic robustness. eLife 8, e45325 (2019).

25.

Preger-Ben Noon, E. et al. Comprehensive analysis of a cis-regulatory region reveals pleiotropy in enhancer function. Cell Rep. 22, 3021–3031 (2018).

26.

Crocker, J., Tsai, A. & Stern, D. L. A fully synthetic transcriptional platform for a multicellular eukaryote. Cell Rep. 18, 287–296 (2017).

27.

Jacob, F. The Possible and the Actual (Univ. Washington Press, 1994).

28.

Stern, D. L. & Sucena, E. Preparation of cuticles from unhatched first-instar Drosophila larvae. Cold Spring Harb. Protoc. 2011, 065532 (2011).

29.

Tischer, C., Hilsenstein, V., Hanson, K. & Pepperkok, R. Adaptive fluorescence microscopy by online feedback image analysis. Methods Cell Biol. 123, 489–503 (2014).

30.

Politi, A. Z. et al. Quantitative mapping of fluorescently tagged cellular proteins using FCS-calibrated four-dimensional imaging. Nat. Protoc. 13, 1445–1464 (2018).

31.

Schindelin, J. et al. Fiji: an open-source platform for biological-image analysis. Nat. Methods 9, 676–682 (2012).

32.

Arganda-Carreras, I. et al. in Computer Vision Approaches to Medical Image Analysis. CVAMIA 2006. Lecture Notes in Computer Science Vol. 4241 (eds Beichel, R. R. & Sonka, M.) (Springer, 2006).

33.

Campbell, R. notBoxPlot https://github.com/raacampbell/notBoxPlot (2020).

34.

Jonas. Violin Plots for Plotting Multiple Distributions (distributionPlot.m) https://uk.mathworks.com/matlabcentral/fileexchange/23661-violin-plots-for-plotting-multiple-distributions-distributionplot-m (2020).

35.

Cock, P. J. A. et al. Biopython: freely available Python tools for computational molecular biology and bioinformatics. Bioinformatics 25, 1422–1423 (2009).

36.

Virtanen, P. et al. SciPy 1.0: fundamental algorithms for scientific computing in Python. Nat. Methods 17, 261–272 (2020).

37.

McKinney, W. Data structures for statistical computing in Python. Proc. 9th Python Sci. Conf. (2010).
Acknowledgements
A.T. is supported by the German Research Foundation (Deutsche Forschungsgemeinschaft, TS 428/1-1) and EMBL. R.S.M. is supported by funding from R35GM118336. We thank J. Zaugg and J. Wirbel for statistical advice; C. J. Standley, X. Li, R. M. Galupa, G. A. Canales, M. Perkins and M. R. P. Alves for comments on the manuscript; C. Rastogi and H. Bussemaker for the NRLB algorithms; K. Richter and J. Sager for technical support; I. Jones for mounting the Drosophila species larvae; T. Laverty for Drosophila assistance; A. Milberger for help with CAD design; and J. Payne for discussions.
Ethics declarations
Competing interests
The authors declare no competing interests.
Additional information
Peer review information Nature thanks Robb Krumlauf and the other, anonymous, reviewer(s) for their contribution to the peer review of this work. Peer reviewer reports are available.
Publisher's note Springer Nature remains neutral with regard to jurisdictional claims in published maps and institutional affiliations.
Extended data figures and tables
Supplementary information
About this article
Cite this article
Fuqua, T., Jordan, J., van Breugel, M.E. et al. Dense and pleiotropic regulatory information in a developmental enhancer. Nature 587, 235–239 (2020). https://doi.org/10.1038/s41586-020-2816-5
Received:

Accepted:

Published:

Issue Date:
Further reading
Timothy Fuqua
Jeff Jordan
Justin Crocker

Scientific Reports (2021)

Mark S. Hill
Pétra Vande Zande
Patricia J. Wittkopp

Nature Reviews Genetics (2021)

Xingang Wang
Lyndsey Aguirre
Zachary B. Lippman

Nature Plants (2021)
Comments
By submitting a comment you agree to abide by our Terms and Community Guidelines. If you find something abusive or that does not comply with our terms or guidelines please flag it as inappropriate.