Abstract
Infant cries evoke powerful responses in parents1,2,3,4. Whether parental animals are intrinsically sensitive to neonatal vocalizations, or instead learn about vocal cues for parenting responses is unclear. In mice, pup-naive virgin females do not recognize the meaning of pup distress calls, but retrieve isolated pups to the nest after having been co-housed with a mother and litter5,6,7,8,9. Distress calls are variable, and require co-caring virgin mice to generalize across calls for reliable retrieval10,11. Here we show that the onset of maternal behaviour in mice results from interactions between intrinsic mechanisms and experience-dependent plasticity in the auditory cortex. In maternal females, calls with inter-syllable intervals (ISIs) from 75 to 375 milliseconds elicited pup retrieval, and cortical responses were generalized across these ISIs. By contrast, naive virgins were neuronally and behaviourally sensitized to the most common ('prototypical') ISIs. Inhibitory and excitatory neural responses were initially mismatched in the cortex of naive mice, with untuned inhibition and overly narrow excitation. During co-housing experiments, excitatory responses broadened to represent a wider range of ISIs, whereas inhibitory tuning sharpened to form a perceptual boundary. We presented synthetic calls during co-housing and observed that neurobehavioural responses adjusted to match these statistics, a process that required cortical activity and the hypothalamic oxytocin system. Neuroplastic mechanisms therefore build on an intrinsic sensitivity in the mouse auditory cortex, and enable rapid plasticity for reliable parenting behaviour.
Relevant articles
Open Access articles citing this article.
Ioana Carcea

,

Naomi López Caraballo

…

Robert C. Froemke

Nature Open Access 11 August 2021
Access options
Access Nature and 54 other Nature Portfolio journals
Get Nature+, our best-value online-access subscription
$29.99 per month
cancel any time
Subscribe to this journal
Receive 51 print issues and online access
$199.00 per year
only $3.90 per issue
Rent or buy this article
Get just this article for as long as you need it
$39.95
Prices may be subject to local taxes which are calculated during checkout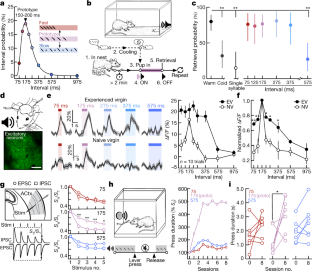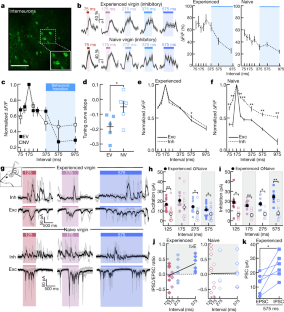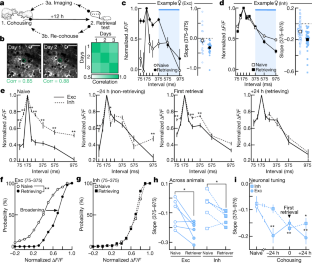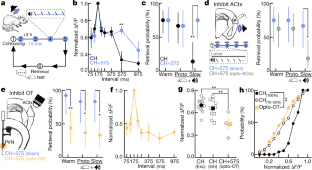 References
Swain, J. E., Kim, P. & Ho, S. S. Neuroendocrinology of parental response to baby-cry. J. Neuroendocrinol. 23, 1036–1041 (2011).

Lingle, S., Wyman, M. T., Kotrba, R., Teichroeb, L. J. & Romanow, C. A. What makes a cry a cry? A review of infant distress vocalizations. Curr. Zool. 58, 698–726 (2012).

Dulac, C., O'Connell, L. A. & Wu, Z. Neural control of maternal and paternal behaviors. Science 345, 765–770 (2014).

Zeskind, P. S. in Infant Crying: Theoretical and Research Perspectives (eds Boukydis, C. F. Z. and Lester, B. M.) (Springer, New York, 1985).

Ehret, G., Koch, M., Haack, B. & Markl, H. Sex and parental experience determine the onset of an instinctive behavior in mice. Naturwissenschaften 74, 47 (1987).

Koch, M. & Ehret, G. Estradiol and parental experience, but not prolactin are necessary for ultrasound recognition and pup-retrieving in the mouse. Physiol. Behav. 45, 771–776 (1989).

Elyada, Y. M. & Mizrahi, A. Becoming a mother-circuit plasticity underlying maternal behavior. Curr. Opin. Neurobiol. 35, 49–56 (2015).

Marlin, B. J., Mitre, M., D'amour, J. A., Chao, M. V. & Froemke, R. C. Oxytocin enables maternal behaviour by balancing cortical inhibition. Nature 520, 499–504 (2015).

Noirot, E. in Advances in the Study of Behavior: IV (eds Lehrman, D. S. et al.) (Academic Press, New York, 1972).

Ehret, G. Infant rodent ultrasounds — a gate to the understanding of sound communication. Behav. Genet. 35, 19–29 (2005).

Liu, R. C., Miller, K. D., Merzenich, M. M. & Schreiner, C. E. Acoustic variability and distinguishability among mouse ultrasound vocalizations. J. Acoust. Soc. Am. 114, 3412–3422 (2003).

Lindová, J., Špinka, M. & Nováková, L. Decoding of baby calls: Can adult humans identify the eliciting situation from emotional vocalizations of preverbal infants? PLoS One 10, e0124317 (2015).

Weatherholtz, K. & Jaeger, T. F. Speech perception and generalization across talkers and accents. Oxford Research Encyclopedias https://doi.org/10.1093/acrefore/9780199384655.013.95 (2016).

Holt, L. L. & Lotto, A. J. Speech perception as categorization. Atten. Percept. Psychophys. 72, 1218–1227 (2010).

Petkov, C. I. & Jarvis, E. D. Birds, primates, and spoken language origins: behavioral phenotypes and neurobiological substrates. Front. Evol. Neurosci. 4, 12 (2012).

Castellucci, G. A., Calbick, D. & McCormick, D. The temporal organization of mouse ultrasonic vocalizations. PLoS One 13, e0199929 (2018).

Ehret, G. & Bernecker, C. Low-frequency sound communication by mouse pups (Mus musculus): wriggling calls release maternal behavior. Anim. Behav. 34, 821–830 (1986).

Uematsu, A. et al. Maternal approaches to pup ultrasonic vocalizations produced by a nanocrystalline silicon thermo-acoustic emitter. Brain Res. 1163, 91–99 (2007).

Gaub, S. & Ehret, G. Grouping in auditory temporal perception and vocal production is mutually adapted: the case of wriggling calls of mice. J. Comp. Physiol. 191, 1131–1135 (2005).

Kuchibhotla, K. V. et al. Parallel processing by cortical inhibition enables context-dependent behavior. Nat. Neurosci. 20, 62–71 (2017).

Liu, R. C., Linden, J. F. & Schreiner, C. E. Improved cortical entrainment to infant communication calls in mothers compared with virgin mice. Eur. J. Neurosci. 23, 3087–3097 (2006).

Metherate, R. & Ashe, J. H. Facilitation of an NMDA receptor-mediated EPSP by paired-pulse stimulation in rat neocortex via depression of GABAergic IPSPs. J. Physiol. (Lond.) 481, 331–348 (1994).

Jean-Richard-Dit-Bressel, P., Killcross, S. & McNally, G. P. Behavioral and neurobiological mechanisms of punishment: implications for psychiatric disorders. Neuropsychopharmacology 43, 1639–1650 (2018).

Butts, D. A. & Goldman, M. S. Tuning curves, neuronal variability, and sensory coding. PLoS Biol. 4, e92 (2006).

Katlowitz, K. A., Picardo, M. A. & Long, M. A. Stable sequential activity underlying the maintenance of a precisely executed skilled behavior. Neuron 98, 1133–1140.e3 (2018).

Valtcheva, S. & Froemke, R. C. Neuromodulation of maternal circuits by oxytocin. Cell Tissue Res. 375, 57–68 (2019).

Mitre, M. et al. A distributed network for social cognition enriched for oxytocin receptors. J. Neurosci. 36, 2517–2535 (2016).

Pekarek, B. T., Hunt, P. J. & Arenkiel, B. R. Oxytocin and sensory network plasticity. Front. Neurosci. 14, 30 (2020).

Zador, A. M. A critique of pure learning and what artificial neural networks can learn from animal brains. Nat. Commun. 10, 3770 (2019).

Dimidschstein, J. et al. A viral strategy for targeting and manipulating interneurons across vertebrate species. Nat. Neurosci. 19, 1743–1749 (2016).

Kerlin, A. M., Andermann, M. L., Berezovskii, V. K. & Reid, R. C. Broadly tuned response properties of diverse inhibitory neuron subtypes in mouse visual cortex. Neuron 67, 858–871 (2010).

Tasaka, G. I. et al. The temporal association cortex plays a key role in auditory-driven maternal plasticity. Neuron 107, 566–579.e7 (2020).
Acknowledgements
We thank I. Carcea, C. L. Ebbesen, W. Gan, E. Glennon, M. Insanally, K. A. Katlowitz, K. Kuchibhotla, D. Lin, M. A. Long, N. López Caraballo, B. J. Marlin, R. Oyama and J. A. Schiavo for comments, discussions and technical assistance. The AAV.mDLX.GcAMP6f virus (Fig. 2a) was a gift from J. Dimidschstein and G. Fishell. S. E. Ross created artwork in Figs. 1b, d, 3a, 4a, Extended Data Fig. 2c. We thank K. Furman and M. Hopkins for their help in developing the operant paradigm used in Fig. 1h, i. This work was funded by an NSF Graduate Research Fellowship (J.K.S. and K.A.M.); a Leon Levy Foundation Postdoctoral Fellowship and Brain & Behavior Research Foundation NARSAD Young Investigator Award (S.V.), as well as a Program Projects Grant (NS074972), the BRAIN Initiative (NS107616), NICHD (HD088411), NIDCD (DC12557), a McKnight Scholarship, a Pew Scholarship, and a Howard Hughes Medical Institute Faculty Scholarship (R.C.F.).
Ethics declarations
Competing interests
The authors declare no competing interests.
Additional information
Peer review information Nature thanks Maria Neimark Geffen, Daniel Polley and the other, anonymous, reviewer(s) for their contribution to the peer review of this work.
Publisher's note Springer Nature remains neutral with regard to jurisdictional claims in published maps and institutional affiliations.
Extended data figures and tables
Supplementary information
About this article
Cite this article
Schiavo, J.K., Valtcheva, S., Bair-Marshall, C.J. et al. Innate and plastic mechanisms for maternal behaviour in auditory cortex. Nature 587, 426–431 (2020). https://doi.org/10.1038/s41586-020-2807-6
Received:

Accepted:

Published:

Issue Date:

DOI: https://doi.org/10.1038/s41586-020-2807-6
This article is cited by
Wei Xiao
Zhuo-Lei Jiao
Xiao-Hong Xu

Science China Life Sciences (2022)

Ioana Carcea
Naomi López Caraballo
Robert C. Froemke

Nature (2021)
Comments
By submitting a comment you agree to abide by our Terms and Community Guidelines. If you find something abusive or that does not comply with our terms or guidelines please flag it as inappropriate.