Abstract
The development of intestinal organoids from single adult intestinal stem cells in vitro recapitulates the regenerative capacity of the intestinal epithelium1,2. Here we unravel the mechanisms that orchestrate both organoid formation and the regeneration of intestinal tissue, using an image-based screen to assay an annotated library of compounds. We generate multivariate feature profiles for hundreds of thousands of organoids to quantitatively describe their phenotypic landscape. We then use these phenotypic fingerprints to infer regulatory genetic interactions, establishing a new approach to the mapping of genetic interactions in an emergent system. This allows us to identify genes that regulate cell-fate transitions and maintain the balance between regeneration and homeostasis, unravelling previously unknown roles for several pathways, among them retinoic acid signalling. We then characterize a crucial role for retinoic acid nuclear receptors in controlling exit from the regenerative state and driving enterocyte differentiation. By combining quantitative imaging with RNA sequencing, we show the role of endogenous retinoic acid metabolism in initiating transcriptional programs that guide the cell-fate transitions of intestinal epithelium, and we identify an inhibitor of the retinoid X receptor that improves intestinal regeneration in vivo.
Relevant articles
Open Access articles citing this article.
Jina Yun

,

Simon Hansen

…

Heinrich Jasper

Nature Communications Open Access 11 January 2023

Eva C. Freckmann

,

Emma Sandilands

…

David M. Bryant

Nature Communications Open Access 09 September 2022

Gustavo de Medeiros

,

Raphael Ortiz

…

Prisca Liberali

Nature Communications Open Access 18 August 2022
Access options
Subscribe to Nature+
Get immediate online access to Nature and 55 other Nature journal
Subscribe to Journal
Get full journal access for 1 year
$199.00
only $3.90 per issue
All prices are NET prices.
VAT will be added later in the checkout.
Tax calculation will be finalised during checkout.
Buy article
Get time limited or full article access on ReadCube.
$32.00
All prices are NET prices.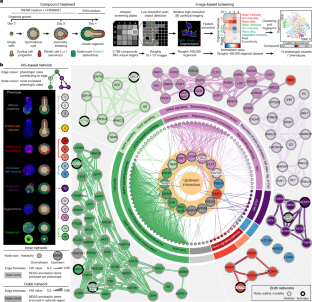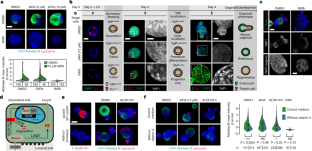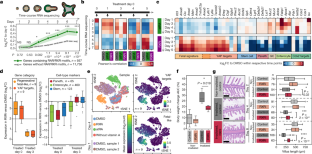 Data availability
All RNA-seq data generated here (bulk RNA-seq data (compound treatment at day 3), bulk RNA-seq data (compound treatment at day 0) and single-cell RNA-seq data) are available at the GEO under accession number GSE147136. The RXR antagonist used here (Cpd2170) is available through a material transfer agreement (MTA) with Novartis. The source data for following figures are available in the manuscript files: Figs. 1a, b, 2a, f, 3a–d, f, g and Extended data Figs. 1c–i, 2a–h, 3a–f, 4b–d, i, j, 5b, j–l, 6b, c, 7b, d–g, i, 8a–l, 9a, b, f, g, 10b, e, f, h. Gene sets used for visualization in Fig. 3e and Extended Data Fig. 9c–e, g are provided in Supplementary Table 2. Source data are provided with this paper.
References
Serra, D. et al. Self-organization and symmetry breaking in intestinal organoid development. Nature 569, 66–72 (2019).

Grün, D. et al. Single-cell messenger RNA sequencing reveals rare intestinal cell types. Nature 525, 251–255 (2015).

Garabedian, E. M., Roberts, L. J., McNevin, M. S. & Gordon, J. I. Examining the role of Paneth cells in the small intestine by lineage ablation in transgenic mice. J. Biol. Chem. 272, 23729–23740 (1997).

Sato, T. et al. Paneth cells constitute the niche for Lgr5 stem cells in intestinal crypts. Nature 469, 415–418 (2011).

Marshman, E., Booth, C. & Potten, C. S. The intestinal epithelial stem cell. BioEssays 24, 91–98 (2002).

Bullen, T. F. et al. Characterization of epithelial cell shedding from human small intestine. Lab. Invest. 86, 1052–1063 (2006).

de Sousa e Melo, F. & de Sauvage, F. J. Cellular plasticity in intestinal homeostasis and disease. Cell Stem Cell 24, 54–64 (2019).

Tetteh, P. W. et al. Replacement of lost Lgr5-positive stem cells through plasticity of their enterocyte-lineage daughters. Cell Stem Cell 18, 203–213 (2016).

van Es, J. H. et al. Dll1+ secretory progenitor cells revert to stem cells upon crypt damage. Nat. Cell Biol. 14, 1099–1104 (2012).

Tian, H. et al. Opposing activities of Notch and Wnt signaling regulate intestinal stem cells and gut homeostasis. Cell Rep. 11, 33–42 (2015).

Joosten, S. P. J. et al. MET signaling mediates intestinal crypt-villus development, regeneration, and adenoma formation and is promoted by stem cell CD44 isoforms. Gastroenterology 153, 1040–1053 (2017).

Sato, T. et al. Single Lgr5 stem cells build crypt-villus structures in vitro without a mesenchymal niche. Nature 459, 262–265 (2009).

Chacón-Martínez, C. A., Koester, J. & Wickström, S. A. Signaling in the stem cell niche: regulating cell fate, function and plasticity. Development 145, dev165399 (2018).

Chang, J. et al. Proteomic changes during intestinal cell maturation in vivo. J. Proteomics 71, 530–546 (2008).

Carithers, L. J. et al. A novel approach to high-quality postmortem tissue procurement: the GTEx project. Biopreserv. Biobank. 13, 311–319 (2015).

Peeters, T. & Vantrappen, G. The Paneth cell: a source of intestinal lysozyme. Gut 16, 553–558 (1975).

VanDussen, K. L. et al. Notch signaling modulates proliferation and differentiation of intestinal crypt base columnar stem cells. Development 139, 488–497 (2012).

Yin, X. et al. Niche-independent high-purity cultures of Lgr5+ intestinal stem cells and their progeny. Nat. Methods 11, 106–112 (2014).

Levine, J. H. et al. Data-driven phenotypic dissection of AML reveals progenitor-like cells that correlate with prognosis. Cell 162, 184–197 (2015).

Liberali, P., Snijder, B. & Pelkmans, L. A hierarchical map of regulatory genetic interactions in membrane trafficking. Cell 157, 1473–1487 (2014).

Snijder, B., Liberali, P., Frechin, M., Stoeger, T. & Pelkmans, L. Predicting functional gene interactions with the hierarchical interaction score. Nat. Methods 10, 1089–1092 (2013).

Andreu, P. et al. A genetic study of the role of the Wnt/beta-catenin signalling in Paneth cell differentiation. Dev. Biol. 324, 288–296 (2008).

Pinto, D., Gregorieff, A., Begthel, H. & Clevers, H. Canonical Wnt signals are essential for homeostasis of the intestinal epithelium. Genes Dev. 17, 1709–1713 (2003).

Sakaki, J. et al. Synthesis and structure-activity relationship of novel RXR antagonists: orally active anti-diabetic and anti-obesity agents. Bioorg. Med. Chem. Lett. 17, 4804–4807 (2007).

Yui, S. et al. YAP/TAZ-dependent reprogramming of colonic epithelium links ECM remodeling to tissue regeneration. Cell Stem Cell 22, 35–49 (2018).

Gregorieff, A., Liu, Y., Inanlou, M. R., Khomchuk, Y. & Wrana, J. L. Yap-dependent reprogramming of Lgr5+ stem cells drives intestinal regeneration and cancer. Nature 526, 715–718 (2015).

Borel, P. et al. Processing of vitamin A and E in the human gastrointestinal tract. Am. J. Physiol. Gastrointest. Liver Physiol. 280, G95–G103 (2001).

Lampen, A., Meyer, S., Arnhold, T. & Nau, H. Metabolism of vitamin A and its active metabolite all-trans-retinoic acid in small intestinal enterocytes. J. Pharmacol. Exp. Ther. 295, 979–985 (2000).

Haber, A. L. et al. A single-cell survey of the small intestinal epithelium. Nature 551, 333–339 (2017).

Goverse, G. et al. Diet-derived short chain fatty acids stimulate intestinal epithelial cells to induce mucosal tolerogenic dendritic cells. J. Immunol. 198, 2172–2181 (2017).

Molotkov, A. & Duester, G. Genetic evidence that retinaldehyde dehydrogenase Raldh1 (Aldh1a1) functions downstream of alcohol dehydrogenase Adh1 in metabolism of retinol to retinoic acid. J. Biol. Chem. 278, 36085–36090 (2003).

Bowles, J. et al. ALDH1A1 provides a source of meiosis-inducing retinoic acid in mouse fetal ovaries. Nat. Commun. 7, 10845 (2016).

Ordóñez-Morán, P., Dafflon, C., Imajo, M., Nishida, E. & Huelsken, J. HOXA5 counteracts stem cell traits by inhibiting Wnt signaling in colorectal cancer. Cancer Cell 28, 815–829 (2015).

Nusse, Y. M. et al. Parasitic helminths induce fetal-like reversion in the intestinal stem cell niche. Nature 559, 109–113 (2018).

Gao, N., White, P. & Kaestner, K. H. Establishment of intestinal identity and epithelial-mesenchymal signaling by Cdx2. Dev. Cell 16, 588–599 (2009).

Spence, J. R. et al. Directed differentiation of human pluripotent stem cells into intestinal tissue in vitro. Nature 470, 105–109 (2011).

Kim, T. H. & Shivdasani, R. A. Genetic evidence that intestinal Notch functions vary regionally and operate through a common mechanism of Math1 repression. J. Biol. Chem. 286, 11427–11433 (2011).

Bhattacharya, N. et al. Normalizing microbiota-induced retinoic acid deficiency stimulates protective CD8+ T cell-mediated immunity in colorectal cancer. Immunity 45, 641–655 (2016).

Dotti, I. et al. Alterations in the epithelial stem cell compartment could contribute to permanent changes in the mucosa of patients with ulcerative colitis. Gut 66, 2069–2079 (2017).

Serafini, E. P., Kirk, A. P. & Chambers, T. J. Rate and pattern of epithelial cell proliferation in ulcerative colitis. Gut 22, 648–652 (1981).

Simmini, S. et al. Transformation of intestinal stem cells into gastric stem cells on loss of transcription factor Cdx2. Nat. Commun. 5, 5728 (2014).

Evans, R. M. & Mangelsdorf, D. J. Nuclear receptors, RXR, and the big bang. Cell 157, 255–266 (2014).

Cassani, B., Villablanca, E. J., De Calisto, J., Wang, S. & Mora, J. R. Vitamin A and immune regulation: role of retinoic acid in gut-associated dendritic cell education, immune protection and tolerance. Mol. Aspects Med. 33, 63–76 (2012).

Rangan, P. et al. Fasting-mimicking diet modulates microbiota and promotes intestinal regeneration to reduce inflammatory bowel disease pathology. Cell Rep. 26, 2704–2719 (2019).

Nepusz, T., Yu, H. & Paccanaro, A. Detecting overlapping protein complexes in protein-protein interaction networks. Nat. Methods 9, 471–472 (2012).

Bindea, G. et al. ClueGO: a Cytoscape plug-in to decipher functionally grouped gene ontology and pathway annotation networks. Bioinformatics 25, 1091–1093 (2009).

Barisic, D., Stadler, M. B., Iurlaro, M. & Schübeler, D. Mammalian ISWI and SWI/SNF selectively mediate binding of distinct transcription factors. Nature 569, 136–140 (2019).
Acknowledgements
We thank D. Vischi, S. Iftikhar and E. Tagliavini for IT support; L. Gelman for assistance and training; H. Kohler for sorting; S. Smallwood for sequencing; and L. Pelkmans, J. Betschinger, C. Tsiairis, S. Gasser and laboratory members for reading the manuscript. This work received funding from the European Research Council (ERC) under the European Union's Horizon 2020 research and innovation programme (grant agreement number 758617) and from the Swiss National Foundation (POOP3_157531 to P.L.).
Ethics declarations
Competing interests
P.L. and I.L. are inventors on the patent application EP19182782.3, filed on 27 June 2019, with the title 'Promoting tissue regeneration', pertaining to the use of RXR antagonists as therapeutic agents in tissue regeneration. The patent applicant is the Friedrich Miescher Institute for Biomedical Research. Other authors declare no competing interests.
Additional information
Peer review information Nature thanks Hans Clevers, Francesco Ioro, Bon-Kyoung Koo and the other, anonymous, reviewer(s) for their contribution to the peer review of this work.
Publisher's note Springer Nature remains neutral with regard to jurisdictional claims in published maps and institutional affiliations.
Extended data figures and tables
Supplementary information
About this article
Cite this article
Lukonin, I., Serra, D., Challet Meylan, L. et al. Phenotypic landscape of intestinal organoid regeneration. Nature 586, 275–280 (2020). https://doi.org/10.1038/s41586-020-2776-9
Received:

Accepted:

Published:

Issue Date:

DOI: https://doi.org/10.1038/s41586-020-2776-9
Comments
By submitting a comment you agree to abide by our Terms and Community Guidelines. If you find something abusive or that does not comply with our terms or guidelines please flag it as inappropriate.