Abstract
The genetic circuits that allow cancer cells to evade destruction by the host immune system remain poorly understood1,2,3. Here, to identify a phenotypically robust core set of genes and pathways that enable cancer cells to evade killing mediated by cytotoxic T lymphocytes (CTLs), we performed genome-wide CRISPR screens across a panel of genetically diverse mouse cancer cell lines that were cultured in the presence of CTLs. We identify a core set of 182 genes across these mouse cancer models, the individual perturbation of which increases either the sensitivity or the resistance of cancer cells to CTL-mediated toxicity. Systematic exploration of our dataset using genetic co-similarity reveals the hierarchical and coordinated manner in which genes and pathways act in cancer cells to orchestrate their evasion of CTLs, and shows that discrete functional modules that control the interferon response and tumour necrosis factor (TNF)-induced cytotoxicity are dominant sub-phenotypes. Our data establish a central role for genes that were previously identified as negative regulators of the type-II interferon response (for example, Ptpn2, Socs1 and Adar1) in mediating CTL evasion, and show that the lipid-droplet-related gene Fitm2 is required for maintaining cell fitness after exposure to interferon-γ (IFNγ). In addition, we identify the autophagy pathway as a conserved mediator of the evasion of CTLs by cancer cells, and show that this pathway is required to resist cytotoxicity induced by the cytokines IFNγ and TNF. Through the mapping of cytokine- and CTL-based genetic interactions, together with in vivo CRISPR screens, we show how the pleiotropic effects of autophagy control cancer-cell-intrinsic evasion of killing by CTLs and we highlight the importance of these effects within the tumour microenvironment. Collectively, these data expand our knowledge of the genetic circuits that are involved in the evasion of the immune system by cancer cells, and highlight genetic interactions that contribute to phenotypes associated with escape from killing by CTLs.
Relevant articles
Open Access articles citing this article.
Chen Chen

,

Zehua Wang

&

Yanru Qin

Experimental Hematology & Oncology Open Access 14 November 2023

Yihong Liu

,

Jingwei Liu

…

Weixin Liu

Cancer Cell International Open Access 30 September 2023

Sen Chen

,

Jun Ran

…

Zuquan Hu

Scientific Reports Open Access 03 August 2023
Access options
Access Nature and 54 other Nature Portfolio journals
Get Nature+, our best-value online-access subscription
$29.99 / 30 days
cancel any time
Subscribe to this journal
Receive 51 print issues and online access
$199.00 per year
only $3.90 per issue
Rent or buy this article
Prices vary by article type
from$1.95
to$39.95
Prices may be subject to local taxes which are calculated during checkout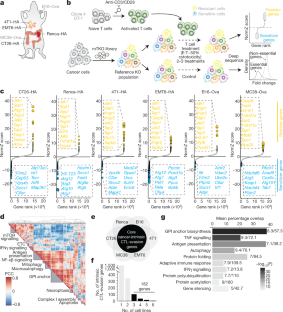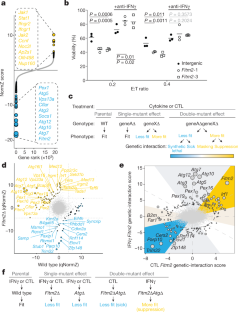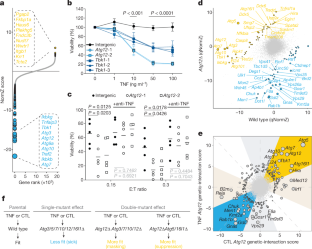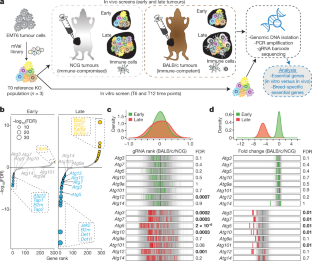 Data availability
The datasets generated and analysed in this study are included in the manuscript. The raw FASTQ files for the sequencing data are available upon request and have also been deposited as a superset to the GEO (https://www.ncbi.nlm.nih.gov/geo/) with accession number GSE149936. Descriptions of the analyses, tools and algorithms are provided in the Methods and Reporting Summary. Source data are provided with this paper.
References
Chen, D. S. & Mellman, I. Elements of cancer immunity and the cancer-immune set point. Nature 541, 321–330 (2017).

Hegde, P. S. & Chen, D. S. Top 10 challenges in cancer immunotherapy. Immunity 52, 17–35 (2020).

Binnewies, M. et al. Understanding the tumor immune environment (TIME) for effective therapy. Nat. Med. 24, 541–550 (2018).

Hugo, W. et al. Genomic and transcriptomic features of response to anti-pd-1 therapy in metastatic melanoma. Cell 165, 35–44 (2016).

Rooney, M. S., Shukla, S. A., Wu, C. J., Getz, G. & Hacohen, N. Molecular and genetic properties of tumors associated with local immune cytolytic activity. Cell 160, 48–61 (2015).

Zaretsky, J. M. et al. Mutations associated with acquired resistance to PD-1 blockade in melanoma. N. Engl. J. Med. 375, 819–829 (2016).

Kearney, C. J. et al. Tumor immune evasion arises through loss of TNF sensitivity. Sci. Immunol. 3, eaar3451 (2018).

Manguso, R. T. et al. In vivo CRISPR screening identifies Ptpn2 as a cancer immunotherapy target. Nature 547, 413–418 (2017).

Pan, D. et al. A major chromatin regulator determines resistance of tumor cells to T cell-mediated killing. Science 359, 770–775 (2018).

Patel, S. J. et al. Identification of essential genes for cancer immunotherapy. Nature 548, 537–542 (2017).

Vredevoogd, D. W. et al. Augmenting immunotherapy impact by lowering tumor TNF cytotoxicity threshold. Cell 178, 585–599 (2019).

Hart, T. et al. Evaluation and design of genome-wide CRISPR/SpCas9 knockout screens. G3 7, 2719–2727 (2017).

Hart, T., Brown, K. R., Sircoulomb, F., Rottapel, R. & Moffat, J. Measuring error rates in genomic perturbation screens: gold standards for human functional genomics. Mol. Syst. Biol. 10, 733 (2014).

Hart, T. et al. High-resolution CRISPR screens reveal fitness genes and genotype-specific cancer liabilities. Cell 163, 1515–1526 (2015).

Hart, T. & Moffat, J. BAGEL: a computational framework for identifying essential genes from pooled library screens. BMC Bioinformatics 17, 164 (2016).

Li, B. et al. A comprehensive mouse transcriptomic BodyMap across 17 tissues by RNA-seq. Sci. Rep. 7, 4200 (2017).

Söllner, J. F. et al. An RNA-seq atlas of gene expression in mouse and rat normal tissues. Sci. Data 4, 170185 (2017).

Zimmermann, M. et al. CRISPR screens identify genomic ribonucleotides as a source of PARP-trapping lesions. Nature 559, 285–289 (2018).

Costanzo, M. et al. A global genetic interaction network maps a wiring diagram of cellular function. Science 353, aaf1420 (2016).

Weichhart, T. & Säemann, M. D. The multiple facets of mTOR in immunity. Trends Immunol. 30, 218–226 (2009).

Gerlinger, M. et al. Intratumor heterogeneity and branched evolution revealed by multiregion sequencing. N. Engl. J. Med. 366, 883–892 (2012).

Thorsson, V. et al. The immune landscape of cancer. Immunity 48, 812–830.e14 (2018).

Smith, C. C. et al. Endogenous retroviral signatures predict immunotherapy response in clear cell renal cell carcinoma. J. Clin. Invest. 128, 4804–4820 (2018).

Liddicoat, B. J. et al. RNA editing by ADAR1 prevents MDA5 sensing of endogenous dsRNA as nonself. Science 349, 1115–1120 (2015).

Starr, R. et al. A family of cytokine-inducible inhibitors of signalling. Nature 387, 917–921 (1997).

Ishizuka, J. J. et al. Loss of ADAR1 in tumours overcomes resistance to immune checkpoint blockade. Nature 565, 43–48 (2019).

Miranda, D. A. et al. Fat storage-inducing transmembrane protein 2 is required for normal fat storage in adipose tissue. J. Biol. Chem. 289, 9560–9572 (2014).

Becuwe, M. et al. FIT2 is a lipid phosphate phosphatase crucial for endoplasmic reticulum homeostasis. Preprint at bioRxiv https://doi.org/10.1101/291765 (2018).

Robke, L. et al. Phenotypic identification of a novel autophagy inhibitor chemotype targeting lipid kinase VPS34. Angew. Chem. Int. Edn Engl. 56, 8153–8157 (2017).

Tan, J. M. J., Mellouk, N. & Brumell, J. H. An autophagy-independent role for ATG16L1: promoting lysosome-mediated plasma membrane repair. Autophagy 15, 932–933 (2019).

Diebold, S. S., Cotten, M., Koch, N. & Zenke, M. MHC class II presentation of endogenously expressed antigens by transfected dendritic cells. Gene Ther. 8, 487–493 (2001).

Mair, B. et al. Essential gene profiles for human pluripotent stem cells identify uncharacterized genes and substrate dependencies. Cell Rep. 27, 599–615 (2019).

Colic, M. et al. Identifying chemogenetic interactions from CRISPR screens with drugZ. Genome Med. 11, 52 (2019).

Subramanian, A. et al. Gene set enrichment analysis: a knowledge-based approach for interpreting genome-wide expression profiles. Proc. Natl Acad. Sci. USA 102, 15545–15550 (2005).

Michailidou, K. et al. Association analysis identifies 65 new breast cancer risk loci. Nature 551, 92–94 (2017).

Lee, I., Date, S. V., Adai, A. T. & Marcotte, E. M. A probabilistic functional network of yeast genes. Science 306, 1555–1558 (2004).

Kanehisa, M., Furumichi, M., Tanabe, M., Sato, Y. & Morishima, K. KEGG: new perspectives on genomes, pathways, diseases and drugs. Nucleic Acids Res. 45, D353–D361 (2017).

Giurgiu, M. et al. CORUM: the comprehensive resource of mammalian protein complexes-2019. Nucleic Acids Res. 47, D559–D563 (2019).

Dobin, A. et al. STAR: ultrafast universal RNA-seq aligner. Bioinformatics 29, 15–21 (2013).

Seki, A. & Rutz, S. Optimized RNP transfection for highly efficient CRISPR/Cas9-mediated gene knockout in primary T cells. J. Exp. Med. 215, 985–997 (2018).

Yoshihara, K. et al. Inferring tumour purity and stromal and immune cell admixture from expression data. Nat. Commun. 4, 2612 (2013).

Langfelder, P., Zhang, B. & Horvath, S. Defining clusters from a hierarchical cluster tree: the Dynamic Tree Cut package for R. Bioinformatics 24, 719–720 (2008).
Acknowledgements
We thank all members of the J.M. laboratory; T. Griffith for discussions; and E. Miazima for assistance with molecular biology experiments. K.A.L. was supported by a Vanier Canada Graduate Scholarship and Studentship award from the Kidney Cancer Research Network of Canada; E.K. was supported by the Cancer Prevention Research Institute of Texas (CPRIT) grant RR160032; and T.H. is a CPRIT Scholar in Cancer Research and is supported by NIGMS grant R35GM130119 and MD Anderson Cancer Center Support Grant P30 CA016672. This research was funded by grants from the Ontario Institute of Cancer Research (J.M.), an industry sponsored grant from Agios Pharmaceuticals (J.M.) and the Canadian Institutes for Health Research (MOP-142375 to J.M.). J.M. holds a Canadian Research Chair in Functional Genomics.
Ethics declarations
Competing interests
C.M.S., Z.P.F., J.A.K., S.M., D.M.S., C.J.S., V.D.J., L.T., R.S., J.E.G., G.A.S., G.A.K. and C.K. are employees of and have ownership interest in Agios Pharmaceuticals. This project was funded in part through a sponsored research agreement awarded to J.M. from Agios Pharmaceuticals. J.M. is a shareholder in Northern Biologics and Pionyr Immunotherapeutics, and is an advisor and shareholder of Century Therapeutics and Aelian Biotechnology. A.F. has received honoraria from Amgen, Abbvie, Janssen, Astellas, Sanofi, Bayer and TerSera (advisory boards and invited speakers), and research funds through a sponsored research agreement with Celsius Therapeutics. The remaining authors declare no competing interests.
Additional information
Peer review information Nature thanks William Haining and the other, anonymous, reviewer(s) for their contribution to the peer review of this work.
Publisher's note Springer Nature remains neutral with regard to jurisdictional claims in published maps and institutional affiliations.
Extended data figures and tables
Supplementary information
About this article
Cite this article
Lawson, K.A., Sousa, C.M., Zhang, X. et al. Functional genomic landscape of cancer-intrinsic evasion of killing by T cells. Nature 586, 120–126 (2020). https://doi.org/10.1038/s41586-020-2746-2
Received:

Accepted:

Published:

Issue Date:

DOI: https://doi.org/10.1038/s41586-020-2746-2
Comments
By submitting a comment you agree to abide by our Terms and Community Guidelines. If you find something abusive or that does not comply with our terms or guidelines please flag it as inappropriate.