Abstract
The three-dimensional organization of the genome supports regulated gene expression, recombination, DNA repair, and chromosome segregation during mitosis. Chromosome conformation capture (Hi-C)1,2 analysis has revealed a complex genomic landscape of internal chromosomal structures in vertebrate cells3,4,5,6,7, but the identical sequence of sister chromatids has made it difficult to determine how they topologically interact in replicated chromosomes. Here we describe sister-chromatid-sensitive Hi-C (scsHi-C), which is based on labelling of nascent DNA with 4-thio-thymidine and nucleoside conversion chemistry. Genome-wide conformation maps of human chromosomes reveal that sister-chromatid pairs interact most frequently at the boundaries of topologically associating domains (TADs). Continuous loading of a dynamic cohesin pool separates sister-chromatid pairs inside TADs and is required to focus sister-chromatid contacts at TAD boundaries. We identified a subset of TADs that are overall highly paired and are characterized by facultative heterochromatin and insulated topological domains that form separately within individual sister chromatids. The rich pattern of sister-chromatid topologies and our scsHi-C technology will make it possible to investigate how physical interactions between identical DNA molecules contribute to DNA repair, gene expression, chromosome segregation, and potentially other biological processes.
Relevant articles
Open Access articles citing this article.
Ruochen Yang

,

Frederic Sala

&

Paul Bogdan

Communications Physics Open Access 01 September 2021
Access options
Subscribe to Nature+
Get immediate online access to the entire Nature family of 50+ journals
Subscribe to Journal
Get full journal access for 1 year
$199.00
only $3.90 per issue
All prices are NET prices.
VAT will be added later in the checkout.
Tax calculation will be finalised during checkout.
Buy article
Get time limited or full article access on ReadCube.
$32.00
All prices are NET prices.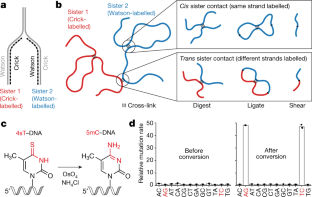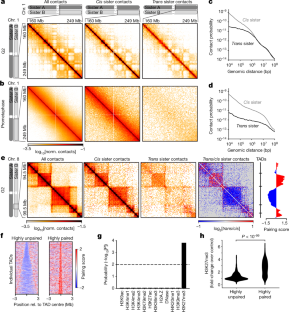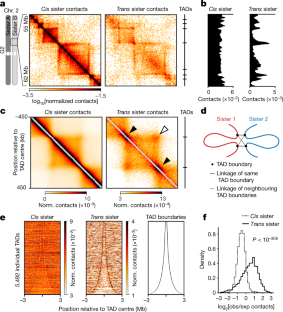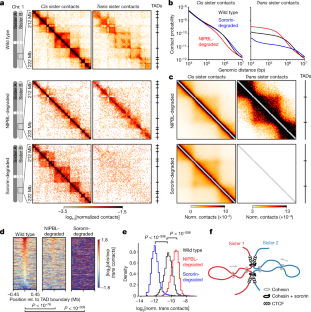 Data availability
All scsHi-C datasets generated in this study have been made available via the Gene Expression Omnibus (GEO) database under the series accession number GSE152373 and are also available from the authors upon request.
References
Dekker, J., Rippe, K., Dekker, M. & Kleckner, N. Capturing chromosome conformation. Science 295, 1306–1311 (2002).

Lieberman-Aiden, E. et al. Comprehensive mapping of long-range interactions reveals folding principles of the human genome. Science 326, 289–293 (2009).

Dixon, J. R. et al. Topological domains in mammalian genomes identified by analysis of chromatin interactions. Nature 485, 376–380 (2012).

Nora, E. P. et al. Spatial partitioning of the regulatory landscape of the X-inactivation centre. Nature 485, 381–385 (2012).

Rao, S. S. P. et al. A 3D map of the human genome at kilobase resolution reveals principles of chromatin looping. Cell 159, 1665–1680 (2014).

Nagano, T. et al. Cell-cycle dynamics of chromosomal organization at single-cell resolution. Nature 547, 61–67 (2017).

Gibcus, J. H. et al. A pathway for mitotic chromosome formation. Science 359, eaao6135 (2018).

Schoenfelder, S. & Fraser, P. Long-range enhancer-promoter contacts in gene expression control. Nat. Rev. Genet. 20, 437–455 (2019).

Hustedt, N. & Durocher, D. The control of DNA repair by the cell cycle. Nat. Cell Biol. 19, 1–9 (2016).

Batty, P. & Gerlich, D. W. Mitotic chromosome mechanics: how cells segregate their genome. Trends Cell Biol. 29, 717–726 (2019).

Schwarzer, W. et al. Two independent modes of chromatin organization revealed by cohesin removal. Nature 551, 51–56 (2017).

Wutz, G. et al. Topologically associating domains and chromatin loops depend on cohesin and are regulated by CTCF, WAPL, and PDS5 proteins. EMBO J. 36, 3573–3599 (2017).

Rao, S. S. P. et al. Cohesin loss eliminates all loop domains. Cell 171, 305–320.e24 (2017).

Gassler, J. et al. A mechanism of cohesin-dependent loop extrusion organizes zygotic genome architecture. EMBO J. 36, 3600–3618 (2017).

van Ruiten, M. S. & Rowland, B. D. SMC complexes: universal DNA looping machines with distinct regulators. Trends Genet. 34, 477–487 (2018).

Davidson, I. F. et al. DNA loop extrusion by human cohesin. Science 366, 1338–1345 (2019).

Kim, Y., Shi, Z., Zhang, H., Finkelstein, I. J. & Yu, H. Human cohesin compacts DNA by loop extrusion. Science 366, 1345–1349 (2019).

Kagey, M. H. et al. Mediator and cohesin connect gene expression and chromatin architecture. Nature 467, 430–435 (2010).

Franke, M. et al. Formation of new chromatin domains determines pathogenicity of genomic duplications. Nature 538, 265–269 (2016).

Northcott, P. A. et al. Enhancer hijacking activates GFI1 family oncogenes in medulloblastoma. Nature 511, 428–434 (2014).

Gröschel, S. et al. A single oncogenic enhancer rearrangement causes concomitant EVI1 and GATA2 deregulation in leukemia. Cell 157, 369–381 (2014).

Rankin, S., Ayad, N. G. & Kirschner, M. W. Sororin, a substrate of the anaphase-promoting complex, is required for sister chromatid cohesion in vertebrates. Mol. Cell 18, 185–200 (2005).

Watrin, E. & Peters, J.-M. Cohesin and DNA damage repair. Exp. Cell Res. 312, 2687–2693 (2006).

Sjögren, C. & Nasmyth, K. Sister chromatid cohesion is required for postreplicative double-strand break repair in Saccharomyces cerevisiae. Curr. Biol. 11, 991–995 (2001).

Nasmyth, K. & Haering, C. H. Cohesin: its roles and mechanisms. Annu. Rev. Genet. 43, 525–558 (2009).

Herzog, V. A. et al. Thiol-linked alkylation of RNA to assess expression dynamics. Nat. Methods 14, 1198–1204 (2017).

Riml, C. et al. Osmium-mediated transformation of 4-thiouridine to cytidine as key to study RNA dynamics by sequencing. Angew. Chem. Int. Edn Engl. 56, 13479–13483 (2017).

Gasser, C. et al. Thioguanosine conversion enables mRNA-lifetime evaluation by RNA sequencing using double metabolic labeling (TUC-seq DUAL). Angew. Chem. Int. Edn Engl. 59, 6881–6886 (2020).

Vassilev, L. T. et al. Selective small-molecule inhibitor reveals critical mitotic functions of human CDK1. Proc. Natl Acad. Sci. USA 103, 10660–10665 (2006).

Mumbach, M. R. et al. HiChIP: efficient and sensitive analysis of protein-directed genome architecture. Nat. Methods 13, 919–922 (2016).

Stanyte, R. et al. Dynamics of sister chromatid resolution during cell cycle progression. J. Cell Biol. 217, 1985–2004 (2018).

An, L. et al. OnTAD: hierarchical domain structure reveals the divergence of activity among TADs and boundaries. Genome Biol. 20, 282 (2019).

Sheffield, N. C. & Bock, C. LOLA: enrichment analysis for genomic region sets and regulatory elements in R and Bioconductor. Bioinformatics 32, 587–589 (2016).

Jambhekar, A., Dhall, A. & Shi, Y. Roles and regulation of histone methylation in animal development. Nat. Rev. Mol. Cell Biol. 20, 625–641 (2019).

Erceg, J. et al. The genome-wide multi-layered architecture of chromosome pairing in early Drosophila embryos. Nat. Commun. 10, 4486 (2019).

ENCODE Project Consortium. An integrated encyclopedia of DNA elements in the human genome. Nature 489, 57–74 (2012).

Sandelin, A., Alkema, W., Engström, P., Wasserman, W. W. & Lenhard, B. JASPAR: an open-access database for eukaryotic transcription factor binding profiles. Nucleic Acids Res. 32, D91–D94 (2004).

Ladurner, R. et al. Sororin actively maintains sister chromatid cohesion. EMBO J. 35, 635–653 (2016).

Gerlich, D., Koch, B., Dupeux, F., Peters, J.-M. & Ellenberg, J. Live-cell imaging reveals a stable cohesin-chromatin interaction after but not before DNA replication. Curr. Biol. 16, 1571–1578 (2006).

Schmitz, J., Watrin, E., Lénárt, P., Mechtler, K. & Peters, J.-M. Sororin is required for stable binding of cohesin to chromatin and for sister chromatid cohesion in interphase. Curr. Biol. 17, 630–636 (2007).

Nishimura, K., Fukagawa, T., Takisawa, H., Kakimoto, T. & Kanemaki, M. An auxin-based degron system for the rapid depletion of proteins in nonplant cells. Nat. Methods 6, 917–922 (2009).

Oomen, M. E., Hedger, A. K., Watts, J. K. & Dekker, J. Detecting chromatin interactions along and between sister chromatids with SisterC. Preprint at https://www.biorxiv.org/content/10.1101/2020.03.10.986208v1 (2020).

Rhodes, J. D. P. et al. Cohesin disrupts polycomb-dependent chromosome interactions in embryonic stem cells. Cell Rep. 30, 820–835.e10 (2020).

Altmeyer, M. & Lukas, J. To spread or not to spread—chromatin modifications in response to DNA damage. Curr. Opin. Genet. Dev. 23, 156–165 (2013).

Bantignies, F. et al. Inheritance of Polycomb-dependent chromosomal interactions in Drosophila. Genes Dev. 19, 2406–2420 (2003).

Ran, F. A. et al. Double nicking by RNA-guided CRISPR Cas9 for enhanced genome editing specificity. Cell 154, 1380–1389 (2013).

Morawska, M. & Ulrich, H. D. An expanded tool kit for the auxin-inducible degron system in budding yeast. Yeast 30, 341–351 (2013).

Samwer, M. et al. DNA cross-bridging shapes a single nucleus from a set of mitotic chromosomes. Cell 170, 956–972.e23 (2017).

Sommer, C., Hoefler, R., Samwer, M. & Gerlich, D. W. A deep learning and novelty detection framework for rapid phenotyping in high-content screening. Mol. Biol. Cell 28, 3428–3436 (2017).

Held, M. et al. CellCognition: time-resolved phenotype annotation in high-throughput live cell imaging. Nat. Methods 7, 747–754 (2010).

Schindelin, J. et al. Fiji: an open-source platform for biological-image analysis. Nat. Methods 9, 676–682 (2012).

Lusser, A. et al. Thiouridine-to-cytidine conversion sequencing (TUC-seq) to measure mRNA transcription and degradation rates. Methods Mol. Biol. 2062, 191–211 (2020).

Virtanen, P. et al. SciPy 1.0: fundamental algorithms for scientific computing in Python. Nat. Methods 17, 261–272 (2020).

Abdennur, N. & Mirny, L. Cooler: scalable storage for Hi-C data and other genomically-labeled arrays. Bioinformatics 36, 311–316 (2020).

Imakaev, M. et al. Iterative correction of Hi-C data reveals hallmarks of chromosome organization. Nat. Methods 9, 999–1003 (2012).

Zufferey, M., Tavernari, D., Oricchio, E. & Ciriello, G. Comparison of computational methods for the identification of topologically associating domains. Genome Biol. 19, 217 (2018).

Yang, T. et al. HiCRep: assessing the reproducibility of Hi-C data using a stratum-adjusted correlation coefficient. Genome Res. 27, 1939–1949 (2017).

Zhong, J. et al. Purification of nanogram-range immunoprecipitated DNA in ChIP-seq application. BMC Genomics 18, 985 (2017).

Sathyan, K. M. et al. An improved auxin-inducible degron system preserves native protein levels and enables rapid and specific protein depletion. Genes Dev. 33, 1441–1455 (2019).

Yesbolatova, A., Natsume, T., Hayashi, K. I. & Kanemaki, M. T. Generation of conditional auxin-inducible degron (AID) cells and tight control of degron-fused proteins using the degradation inhibitor auxinole. Methods 164-165, 73–80 (2019).
Acknowledgements
We acknowledge technical support by the IMBA/IMP/GMI BioOptics and Molecular Biology Services facilities, and the Vienna BioCenter Metabolomics and Next Generation Sequencing facilities. We thank I. Patten, P. Batty, M. W. G. Schneider, and M. Voichek for comments on the manuscript, and Life Science Editors for editing assistance. Research in the laboratory of D.W.G. is supported by the Austrian Academy of Sciences, an ERC Starting (Consolidator) Grant (281198), the Austrian Science Fund (FWF; Doktoratskolleg 'Chromosome Dynamics' DK W1238), and the Vienna Science and Technology Fund (WWTF; project LS17-003). Research in the laboratory of R.M. is supported by the Austrian Science Fund (P27947, P31691, F8011), the Austrian Research Promotion Agency FFG (West-Austrian BioNMR 858017), and the Vienna Science and Technology Fund (WWTF; project no. LS17-003). Research in the laboratory of S.L.A. is supported by the Austrian Academy of Sciences, the European Research Council (ERC-CoG-866166 and ERC-PoC-825710), the Vienna Science and Technology Fund (WWTF; project LS17-003), and the Austrian Science Fund (FWF; SFB F8002). Research in the laboratory of J.-M.P. is supported by Boehringer Ingelheim, the Austrian Research Promotion Agency (Headquarter grant FFG-852936), the European Research Council (ERC) under the European Union's Horizon 2020 research and innovation programme GA No 693949, the Human Frontiers Science Programme (RGP0057/2018) and the Vienna Science and Technology Fund (WWTF; grant LS19-029). M.M. received a PhD fellowship from the Boehringer Ingelheim Fonds. The VBCF Metabolomics Facility is funded by the City of Vienna through the Vienna Business Agency.
Ethics declarations
Competing interests
R.M. and C.G. are listed as inventors on a patent application that has been filed concerning the nucleoside conversion chemistry of this work (Osmiumtetroxide-based conversion of RNA and DNA containing thiolated nucleotides, US Patent App. 16/533,988). The other authors declare no competing interests.
Additional information
Peer review information Nature thanks David Gilbert, Benjamin Rowland and Hongtao Yu for their contribution to the peer review of this work. Peer reviewer reports are available.
Publisher's note Springer Nature remains neutral with regard to jurisdictional claims in published maps and institutional affiliations.
Extended data figures and tables
Supplementary information
This file contains Supplementary Figures 1 and 2 and Supplementary Tables S1-S7.
About this article
Cite this article
Mitter, M., Gasser, C., Takacs, Z. et al. Conformation of sister chromatids in the replicated human genome. Nature 586, 139–144 (2020). https://doi.org/10.1038/s41586-020-2744-4
Received:

Accepted:

Published:

Issue Date:

DOI: https://doi.org/10.1038/s41586-020-2744-4
Comments
By submitting a comment you agree to abide by our Terms and Community Guidelines. If you find something abusive or that does not comply with our terms or guidelines please flag it as inappropriate.