Abstract
The direction of the eye gaze of others is a prominent social cue in primates and is important for communication1,2,3,4,5,6,7,8,9,10,11. Although gaze can signal threat and elicit anxiety6,12,13, it remains unclear whether it shares neural circuitry with stimulus value. Notably, gaze not only has valence, but can also serve as a predictor of the outcome of a social encounter, which can be either negative or positive2,8,12,13. Here we show that the neural codes for gaze and valence overlap in primates and that they involve two different mechanisms: one for the outcome and another for its expectation. Monkeys participated in the human intruder test13,14, in which a human participant had either a direct or averted gaze, interleaved with blocks of aversive and appetitive conditioning. We find that single neurons in the amygdala encode gaze15, whereas neurons in the anterior cingulate cortex encode the social context16, but not gaze. We identify a shared population in the amygdala for which the neural responses to direct and averted gaze parallel the responses to aversive and appetitive stimulus, respectively. Furthermore, we distinguish between two neural mechanisms—an overall-activity scheme that is used for gaze and the unconditioned stimulus, and a correlated-selectivity scheme that is used for gaze and the conditioned stimulus. These findings provide insights into the origins of the neural mechanisms that underlie the computations of both social interactions and valence, and could help to shed light on mechanisms that underlie social anxiety and the comorbidity between anxiety and impaired social interactions.
Access options
Access Nature and 54 other Nature Portfolio journals
Get Nature+, our best-value online-access subscription
$29.99 / 30 days
cancel any time
Subscribe to this journal
Receive 51 print issues and online access
$199.00 per year
only $3.90 per issue
Rent or buy this article
Prices vary by article type
from$1.95
to$39.95
Prices may be subject to local taxes which are calculated during checkout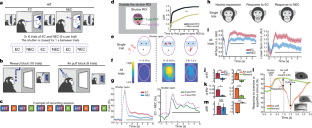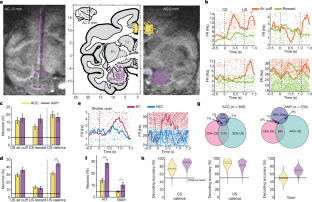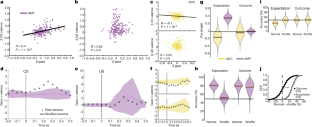 Data availability
All data supporting the findings of this study are available from the corresponding author upon reasonable request.
Code availability
Custom code for behavioural and electrophysiological tests is available from the corresponding author upon reasonable request.
References
Jones, W. & Klin, A. Attention to eyes is present but in decline in 2–6-month-old infants later diagnosed with autism. Nature 504, 427–431 (2013).

Emery, N. J. The eyes have it: the neuroethology, function and evolution of social gaze. Neurosci. Biobehav. Rev. 24, 581–604 (2000).

Gobel, M. S., Kim, H. S. & Richardson, D. C. The dual function of social gaze. Cognition 136, 359–364 (2015).

Adolphs, R. Neural systems for recognizing emotion. Curr. Opin. Neurobiol. 12, 169–177 (2002).

Zhou, Y. et al. Atypical behaviour and connectivity in SHANK3-mutant macaques. Nature 570, 326–331 (2019).

Schneier, F. R., Kent, J. M., Star, A. & Hirsch, J. Neural circuitry of submissive behavior in social anxiety disorder: a preliminary study of response to direct eye gaze. Psychiatry Res. 173, 248–250 (2009).

Schneier, F. R., Rodebaugh, T. L., Blanco, C., Lewin, H. & Liebowitz, M. R. Fear and avoidance of eye contact in social anxiety disorder. Compr. Psychiatry 52, 81–87 (2011).

Ballesta, S. & Duhamel, J. R. Rudimentary empathy in macaques' social decision-making. Proc. Natl Acad. Sci. USA 112, 15516–15521 (2015).

Gariépy, J. F. et al. Social learning in humans and other animals. Front. Neurosci. 8, 58 (2014).

Rutishauser, U. et al. Single-neuron correlates of atypical face processing in autism. Neuron 80, 887–899 (2013).

Hadjikhani, N. et al. Look me in the eyes: constraining gaze in the eye-region provokes abnormally high subcortical activation in autism. Sci. Rep. 7, 3163 (2017).

Shepherd, S. V. Following gaze: gaze-following behavior as a window into social cognition. Front. Integr. Neurosci. 4, 5 (2010).

Kalin, N. H. & Shelton, S. E. Defensive behaviors in infant rhesus monkeys: environmental cues and neurochemical regulation. Science 243, 1718–1721 (1989).

Oler, J. A. et al. Amygdalar and hippocampal substrates of anxious temperament differ in their heritability. Nature 466, 864–868 (2010).

Mosher, C. P., Zimmerman, P. E. & Gothard, K. M. Neurons in the monkey amygdala detect eye contact during naturalistic social interactions. Curr. Biol. 24, 2459–2464 (2014).

Haroush, K. & Williams, Z. M. Neuronal prediction of opponent's behavior during cooperative social interchange in primates. Cell 160, 1233–1245 (2015).

Gamer, M. & Büchel, C. Amygdala activation predicts gaze toward fearful eyes. J. Neurosci. 29, 9123–9126 (2009).

Gothard, K. M., Battaglia, F. P., Erickson, C. A., Spitler, K. M. & Amaral, D. G. Neural responses to facial expression and face identity in the monkey amygdala. J. Neurophysiol. 97, 1671–1683 (2007).

Adolphs, R. What does the amygdala contribute to social cognition? Ann. NY Acad. Sci. 1191, 42–61 (2010).

Stein, M. B. & Stein, D. J. Social anxiety disorder. Lancet 371, 1115–1125 (2008).

Tovote, P., Fadok, J. P. & Lüthi, A. Neuronal circuits for fear and anxiety. Nat. Rev. Neurosci. 16, 317–331 (2015).

Herry, C. & Johansen, J. P. Encoding of fear learning and memory in distributed neuronal circuits. Nat. Neurosci. 17, 1644–1654 (2014).

Duvarci, S. & Pare, D. Amygdala microcircuits controlling learned fear. Neuron 82, 966–980 (2014).

Janak, P. H. & Tye, K. M. From circuits to behaviour in the amygdala. Nature 517, 284–292 (2015).

Putnam, P. T. & Gothard, K. M. Multidimensional neural selectivity in the primate amygdala. eNeuro 6, ENEURO.0153-19.2019 (2019).

Kyriazi, P., Headley, D.B. & Pare, D. Multi-dimensional coding by basolateral amygdala neurons. Neuron 99, 1315–1328 (2018).

Pryluk, R., Kfir, Y., Gelbard-Sagiv, H., Fried, I. & Paz, R. A tradeoff in the neural code across regions and species. Cell 176, 597–6098 (2019).

Munuera, J., Rigotti, M. & Salzman, C. D. Shared neural coding for social hierarchy and reward value in primate amygdala. Nat. Neurosci. 21, 415–423 (2018).

Dunbar, R. I. M. The social brain hypothesis. Evol. Anthropol. 6, 178–190 (1998).

Myllyneva, A., Ranta, K. & Hietanen, J. K. Psychophysiological responses to eye contact in adolescents with social anxiety disorder. Biol. Psychol. 109, 151–158 (2015).

Bickart, K. C., Wright, C. I., Dautoff, R. J., Dickerson, B. C. & Barrett, L. F. Amygdala volume and social network size in humans. Nat. Neurosci. 14, 163–164 (2011).

Sallet, J. et al. Social network size affects neural circuits in macaques. Science 334, 697–700 (2011).

Dal Monte, O., Chu, C. C. J., Fagan, N. A. & Chang, S. W. C. Specialized medial prefrontal–amygdala coordination in other-regarding decision preference. Nat. Neurosci. 23, 565–574 (2020).

Grabenhorst, F., Baez-Mendoza, R., Genest, W., Deco, G. & Schultz, W. Primate amygdala neurons simulate decision processes of social partners. Cell 177, 986–998 (2019).

Allsop, S.A. et al. Corticoamygdala transfer of socially derived information gates observational learning. Cell 173, 1329–1342 (2018).

Li, D., Babcock, J. & Parkhurst, D. J. openEyes: a low-cost head-mounted eye-tracking solution. In Proc. 2006 symposium on Eye tracking research & applications 95–100 (ACM, 2006).

Mitz, A. R., Chacko, R. V., Putnam, P. T., Rudebeck, P. H. & Murray, E. A. Using pupil size and heart rate to infer affective states during behavioral neurophysiology and neuropsychology experiments. J. Neurosci. Methods 279, 1–12 (2017).

Meyers, E. M., Freedman, D. J., Kreiman, G., Miller, E. K. & Poggio, T. Dynamic population coding of category information in inferior temporal and prefrontal cortex. J. Neurophysiol. 100, 1407–1419 (2008).
Acknowledgements
We thank Y. Kfir for scientific and technical advice; E. Kahana and N. Samuel for medical and surgical procedures; D. Goldin for engineering design; and E. Furman-Haran and F. Attar for MRI procedures. This work was supported by ISF 2352/19 and ERC-2016-CoG 724910 grants to R. Paz.
Ethics declarations
Competing interests
The authors declare no competing interests.
Additional information
Peer review information Nature thanks Jean-René Duhamel, Ziv M. Williams and the other, anonymous, reviewer(s) for their contribution to the peer review of this work.
Publisher's note Springer Nature remains neutral with regard to jurisdictional claims in published maps and institutional affiliations.
Extended data figures and tables
Supplementary information
About this article
Cite this article
Pryluk, R., Shohat, Y., Morozov, A. et al. Shared yet dissociable neural codes across eye gaze, valence and expectation. Nature 586, 95–100 (2020). https://doi.org/10.1038/s41586-020-2740-8
Received:

Accepted:

Published:

Issue Date:

DOI: https://doi.org/10.1038/s41586-020-2740-8
Comments
By submitting a comment you agree to abide by our Terms and Community Guidelines. If you find something abusive or that does not comply with our terms or guidelines please flag it as inappropriate.