Abstract
The reprogramming of human somatic cells to primed or naive induced pluripotent stem cells recapitulates the stages of early embryonic development1,2,3,4,5,6. The molecular mechanism that underpins these reprogramming processes remains largely unexplored, which impedes our understanding and limits rational improvements to reprogramming protocols. Here, to address these issues, we reconstruct molecular reprogramming trajectories of human dermal fibroblasts using single-cell transcriptomics. This revealed that reprogramming into primed and naive pluripotency follows diverging and distinct trajectories. Moreover, genome-wide analyses of accessible chromatin showed key changes in the regulatory elements of core pluripotency genes, and orchestrated global changes in chromatin accessibility over time. Integrated analysis of these datasets revealed a role for transcription factors associated with the trophectoderm lineage, and the existence of a subpopulation of cells that enter a trophectoderm-like state during reprogramming. Furthermore, this trophectoderm-like state could be captured, which enabled the derivation of induced trophoblast stem cells. Induced trophoblast stem cells are molecularly and functionally similar to trophoblast stem cells derived from human blastocysts or first-trimester placentas7. Our results provide a high-resolution roadmap for the transcription-factor-mediated reprogramming of human somatic cells, indicate a role for the trophectoderm-lineage-specific regulatory program during this process, and facilitate the direct reprogramming of somatic cells into induced trophoblast stem cells.
Relevant articles
Open Access articles citing this article.
Wuming Gong

,

Nikita Dsouza

&

Daniel J. Garry

Genome Biology Open Access 22 May 2023

Francesco Panariello

,

Onelia Gagliano

…

Nicola Elvassore

Nature Communications Open Access 17 May 2023

Dasol Han

,

Guojing Liu

…

Jiwon Jang

Nature Communications Open Access 09 February 2023
Access options
Access Nature and 54 other Nature Portfolio journals
Get Nature+, our best-value online-access subscription
$29.99 / 30 days
cancel any time
Subscribe to this journal
Receive 51 print issues and online access
$199.00 per year
only $3.90 per issue
Rent or buy this article
Get just this article for as long as you need it
$39.95
Prices may be subject to local taxes which are calculated during checkout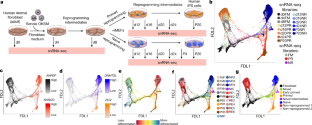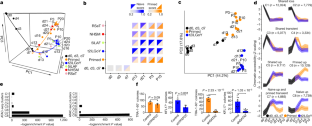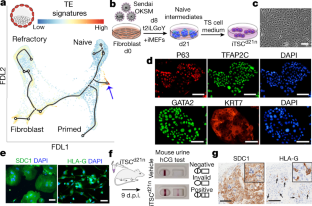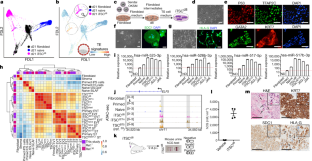 Data availability
We developed an interactive online tool (http://hrpi.ddnetbio.com/) to facilitate exploration of the dataset, and for downloading all of the processed datasets. Raw and processed next-generation sequencing datasets have been deposited at the NCBI Gene Expression Omnibus (GEO) repository under accession numbers: GSE150311 (scRNA-seq experiments of intermediates during human primed and naive reprogramming); GSE150637 (scRNA-seq experiments of day 21 reprogramming intermediates cultured under fibroblast condition, naive pluripotent and trophoblast stem cell conditions); GSE147564 (snRNA-seq experiments of intermediates during human primed and naive reprogramming); GSE147641 (ATAC-seq experiments of intermediates during human primed and naive reprogramming); GSE150590 (ATAC-seq experiments of iTS cells); GSE149694 (bulk RNA-seq experiments of intermediates during human primed and naive reprogramming); and GSE150616 (bulk RNA-seq experiments of iTS cells and their derived placenta subtypes). Source data are provided with this paper.
References
Gafni, O. et al. Derivation of novel human ground state naive pluripotent stem cells. Nature 504, 282–286 (2013).

Theunissen, T. W. et al. Systematic identification of culture conditions for induction and maintenance of naive human pluripotency. Cell Stem Cell 15, 524–526 (2014).

Takashima, Y. et al. Resetting transcription factor control circuitry toward ground-state pluripotency in human. Cell 162, 452–453 (2015).

Liu, X. et al. Comprehensive characterization of distinct states of human naive pluripotency generated by reprogramming. Nat. Methods 14, 1055–1062 (2017).

Kilens, S. et al. Parallel derivation of isogenic human primed and naive induced pluripotent stem cells. Nat. Commun. 9, 360 (2018).

Giulitti, S. et al. Direct generation of human naive induced pluripotent stem cells from somatic cells in microfluidics. Nat. Cell Biol. 21, 275–286 (2019).

Okae, H. et al. Derivation of human trophoblast stem cells. Cell Stem Cell 22, 50–63.e6 (2018).

Polo, J. M. et al. A molecular roadmap of reprogramming somatic cells into iPS cells. Cell 151, 1617–1632 (2012).

O'Malley, J. et al. High-resolution analysis with novel cell-surface markers identifies routes to iPS cells. Nature 499, 88–91 (2013).

Chronis, C. et al. Cooperative binding of transcription factors orchestrates reprogramming. Cell 168, 442–459.e20 (2017).

Knaupp, A. S. et al. Transient and permanent reconfiguration of chromatin and transcription factor occupancy drive reprogramming. Cell Stem Cell 21, 834–845.e6 (2017).

Schiebinger, G. et al. Optimal-transport analysis of single-cell gene expression identifies developmental trajectories in reprogramming. Cell 176, 1517 (2019).

Takahashi, K. et al. Induction of pluripotency in human somatic cells via a transient state resembling primitive streak-like mesendoderm. Nat. Commun. 5, 3678 (2014).

Cacchiarelli, D. et al. Integrative analyses of human reprogramming reveal dynamic nature of induced pluripotency. Cell 162, 412–424 (2015).

Wang, Y. et al. Unique molecular events during reprogramming of human somatic cells to induced pluripotent stem cells (iPSCs) at naïve state. eLife 7, e29518 (2018).

Jacomy, M., Venturini, T., Heymann, S. & Bastian, M. ForceAtlas2, a continuous graph layout algorithm for handy network visualization designed for the Gephi software. PLoS ONE 9, e98679 (2014).

Haghverdi, L., Buettner, F. & Theis, F. J. Diffusion maps for high-dimensional single-cell analysis of differentiation data. Bioinformatics 31, 2989–2998 (2015).

Gulati, G. S. et al. Single-cell transcriptional diversity is a hallmark of developmental potential. Science 367, 405–411 (2020).

Cao, J. et al. The single-cell transcriptional landscape of mammalian organogenesis. Nature 566, 496–502 (2019).

Butler, A., Hoffman, P., Smibert, P., Papalexi, E. & Satija, R. Integrating single-cell transcriptomic data across different conditions, technologies, and species. Nat. Biotechnol. 36, 411–420 (2018).

Wolf, F. A. et al. PAGA: graph abstraction reconciles clustering with trajectory inference through a topology preserving map of single cells. Genome Biol. 20, 59 (2019).

O'Brien, C. M. et al. New monoclonal antibodies to defined cell surface proteins on human pluripotent stem cells. Stem Cells 35, 626–640 (2017).

Kumar, L. & E Futschik, M. Mfuzz: a software package for soft clustering of microarray data. Bioinformation 2, 5–7 (2007).

Yan, L. et al. Single-cell RNA-seq profiling of human preimplantation embryos and embryonic stem cells. Nat. Struct. Mol. Biol. 20, 1131–1139 (2013).

Petropoulos, S. et al. Single-cell RNA-seq reveals lineage and X chromosome dynamics in human preimplantation embryos. Cell 165, 1012–1026 (2016).

Lee, C. Q. E. et al. What is trophoblast? A combination of criteria define human first-trimester trophoblast. Stem Cell Reports 6, 257–272 (2016).

Vento-Tormo, R. et al. Single-cell reconstruction of the early maternal–fetal interface in humans. Nature 563, 347–353 (2018).

Turco, M. Y. et al. Trophoblast organoids as a model for maternal–fetal interactions during human placentation. Nature 564, 263–267 (2018).

Haider, S. et al. Self-renewing trophoblast organoids recapitulate the developmental program of the early human placenta. Stem Cell Reports 11, 537–551 (2018).

Dong, C. et al. Derivation of trophoblast stem cells from naïve human pluripotent stem cells. eLife 9, e52504 (2020).

Soufi, A. et al. Pioneer transcription factors target partial DNA motifs on nucleosomes to initiate reprogramming. Cell 161, 555–568 (2015).

Gao, X. et al. Establishment of porcine and human expanded potential stem cells. Nat. Cell Biol. 21, 687–699 (2019).

Posfai, E., Schell, J. P., Janiszewski, A., Rovic, I. & Murray, A. Defining totipotency using criteria of increasing stringency. Preprint at https://www.biorxiv.org/content/10.1101/202003.02.972893v1 (2020).

Liu, X., Nefzger, C. & Polo, J. Establishment and maintenance of human naive pluripotent stem cells by primed to naive conversion and reprogramming of fibroblasts. Protoc. Exch. https://doi.org/10.1038/protex.2017.099 (2017).

Guo, G. et al. Naive pluripotent stem cells derived directly from isolated cells of the human inner cell mass. Stem Cell Reports 6, 437–446 (2016).

Pastor, W. A. et al. Naive human pluripotent cells feature a methylation landscape devoid of blastocyst or germline memory. Cell Stem Cell 18, 323–329 (2016).

Larcombe, M. R. et al. Production of high-titer lentiviral particles for stable genetic modification of mammalian cells. Methods Mol. Biol. 1940, 47–61 (2019).

Qiu, P. et al. Extracting a cellular hierarchy from high-dimensional cytometry data with SPADE. Nat. Biotechnol. 29, 886–891 (2011).

Nefzger, C. M. et al. A versatile strategy for isolating a highly enriched population of intestinal stem cells. Stem Cell Reports 6, 321–329 (2016).

Meistermann, D. et al. Spatio-temporal analysis of human preimplantation development reveals dynamics of epiblast and trophectoderm. Preprint at https://www.biorxiv.org/content/10.1101/604751v1 (2019).

Tirosh, I. et al. Dissecting the multicellular ecosystem of metastatic melanoma by single-cell RNA-seq. Science 352, 189–196 (2016).

Yang, S. et al. Decontamination of ambient RNA in single-cell RNA-seq with DecontX. Genom. Biol. 21, 57 (2020).

Stuart, T. et al. Comprehensive integration of single-cell data. Cell 177, 1888–1902.e21 (2019).

Wolf, F. A., Angerer, P. & Theis, F. J. SCANPY: large-scale single-cell gene expression data analysis. Genome Biol. 19, 15 (2018).

Bolger, A. M., Lohse, M. & Usadel, B. Trimmomatic: a flexible trimmer for Illumina sequence data. Bioinformatics 30, 2114–2120 (2014).

Dobin, A. et al. STAR: ultrafast universal RNA-seq aligner. Bioinformatics 29, 15–21 (2013).

Liao, Y., Smyth, G. K. & Shi, W. featureCounts: an efficient general purpose program for assigning sequence reads to genomic features. Bioinformatics 30, 923–930 (2014).

Grubman, A., Choo, X. Y., Chew, G., Ouyang, J. F. & Sun, G. Mouse and human microglial phenotypes in Alzheimer's disease are controlled by amyloid plaque phagocytosis through Hif1α. Preprint at https://www.biorxiv.org/content/10.1101/639054v1 (2019).

Girardot, C., Scholtalbers, J., Sauer, S., Su, S.-Y. & Furlong, E. E. M. Je, a versatile suite to handle multiplexed NGS libraries with unique molecular identifiers. BMC Bioinformatics 17, 419 (2016).

Buenrostro, J. D., Giresi, P. G., Zaba, L. C., Chang, H. Y. & Greenleaf, W. J. Transposition of native chromatin for fast and sensitive epigenomic profiling of open chromatin, DNA-binding proteins and nucleosome position. Nat. Methods 10, 1213–1218 (2013).

Martin, M. Cutadapt removes adapter sequences from high-throughput sequencing reads. EMBnet J. 17, 10 (2011).

Langmead, B. & Salzberg, S. L. Fast gapped-read alignment with Bowtie 2. Nat. Methods 9, 357–359 (2012).

Lindenbaum, P. JVarkit: java-based utilities for Bioinformatics, https://figshare.com/articles/JVarkit_java_based_utilities_for_Bioinformatics/1425030 (2015).

ENCODE Project Consortium. An integrated encyclopedia of DNA elements in the human genome. Nature 489, 57–74 (2012).

Feng, J., Liu, T., Qin, B., Zhang, Y. & Liu, X. S. Identifying ChIP-seq enrichment using MACS. Nat. Protoc. 7, 1728–1740 (2012).

Quinlan, A. R. & Hall, I. M. BEDTools: a flexible suite of utilities for comparing genomic features. Bioinformatics 26, 841–842 (2010).

Alasoo, K. et al. Transcriptional profiling of macrophages derived from monocytes and iPS cells identifies a conserved response to LPS and novel alternative transcription. Sci. Rep. 5, 12524 (2015).

Wu, J. et al. Chromatin analysis in human early development reveals epigenetic transition during ZGA. Nature 557, 256–260 (2018).

Pastor, W. A. et al. TFAP2C regulates transcription in human naive pluripotency by opening enhancers. Nat. Cell Biol. 20, 553–564 (2018).

Zhou, Y. et al. Metascape provides a biologist-oriented resource for the analysis of systems-level datasets. Nat. Commun. 10, 1523 (2019).

Heinz, S. et al. Simple combinations of lineage-determining transcription factors prime cis-regulatory elements required for macrophage and B cell identities. Mol. Cell 38, 576–589 (2010).

Cavalcante, R. G. & Sartor, M. A. annotatr: genomic regions in context. Bioinformatics 33, 2381–2383 (2017).
Acknowledgements
We thank staff at Monash Flowcore Facility for providing high-quality cell sorting services and technical input; S. Wang, T. Wilson and the University of Melbourne Centre for Cancer Research (UMCCR) core for assistance with next-generation library preparation and Illumina sequencing; J. Hatwell-Humble for assistance with the mouse work; and A. Purcell for providing the HLA antibodies. We acknowledge the use of the services and facilities of Micromon, Monash Micro Imaging and Monash Histology Platforms at Monash University. This work was supported by National Health and Medical Research Council (NHMRC) project grants APP1104560 to J. M. Polo and A. L. Laslett, APP1069830 to R.L., and a Monash University strategic grant awarded to C.M.N. X.L. was supported by the Monash International Postgraduate Research Scholarship, a Monash Graduate Scholarship and the Carmela and Carmelo Ridolfo Prize in Stem Cell Research. A.S.K. was supported by an NHMRC Early Career Fellowship APP1092280. J. M. Polo and R.L. were supported by Silvia and Charles Viertel Senior Medical Research Fellowships. J. M. Polo was also supported by an ARC Future Fellowship FT180100674. R.L was supported by a Howard Hughes Medical Institute International Research Scholarship. O.J.L.R. and J.F.O. were supported by a Singapore National Research Foundation Competitive Research Programme (NRF-CRP20-2017-0002). The Australian Regenerative Medicine Institute is supported by grants from the State Government of Victoria and the Australian Government.
Ethics declarations
Competing interests
O.J.L.R. and J. M. Polo. are co-inventors on a patent (WO/2017/106932) and are co-founders and shareholders of Mogrify Ltd., a cell therapy company. X.L., J.F.O., K.C.D., L.D., O.J.L.R. and J. M. Polo are co-inventors on a provisional patent application (application number: 2019904283) filed by Monash University, National University of Singapore and Université de Nantes related to work on derivation of iTS cells. The other authors declare no competing interests.
Additional information
Peer review information Nature thanks Ashley Moffett, Samantha A. Morris and the other, anonymous, reviewer(s) for their contribution to the peer review of this work.
Publisher's note Springer Nature remains neutral with regard to jurisdictional claims in published maps and institutional affiliations.
Extended data figures and tables
Supplementary information
Rights and permissions
Springer Nature or its licensor (e.g. a society or other partner) holds exclusive rights to this article under a publishing agreement with the author(s) or other rightsholder(s); author self-archiving of the accepted manuscript version of this article is solely governed by the terms of such publishing agreement and applicable law.
About this article
Cite this article
Liu, X., Ouyang, J.F., Rossello, F.J. et al. Reprogramming roadmap reveals route to human induced trophoblast stem cells. Nature 586, 101–107 (2020). https://doi.org/10.1038/s41586-020-2734-6
Received:

Accepted:

Published:

Issue Date:

DOI: https://doi.org/10.1038/s41586-020-2734-6
Comments
By submitting a comment you agree to abide by our Terms and Community Guidelines. If you find something abusive or that does not comply with our terms or guidelines please flag it as inappropriate.