Abstract
Post-translational modifications (PTMs) greatly expand the structures and functions of proteins in nature1,2. Although synthetic protein functionalization strategies allow mimicry of PTMs3,4, as well as formation of unnatural protein variants with diverse potential functions, including drug carrying5, tracking, imaging6 and partner crosslinking7, the range of functional groups that can be introduced remains limited. Here we describe the visible-light-driven installation of side chains at dehydroalanine residues in proteins through the formation of carbon-centred radicals that allow C–C bond formation in water. Control of the reaction redox allows site-selective modification with good conversions and reduced protein damage. In situ generation of boronic acid catechol ester derivatives generates RH2C• radicals that form the native (β-CH2–γ-CH2) linkage of natural residues and PTMs, whereas in situ potentiation of pyridylsulfonyl derivatives by Fe(ii) generates RF2C• radicals that form equivalent β-CH2–γ-CF2 linkages bearing difluoromethylene labels. These reactions are chemically tolerant and incorporate a wide range of functionalities (more than 50 unique residues/side chains) into diverse protein scaffolds and sites. Initiation can be applied chemoselectively in the presence of sensitive groups in the radical precursors, enabling installation of previously incompatible side chains. The resulting protein function and reactivity are used to install radical precursors for homolytic on-protein radical generation; to study enzyme function with natural, unnatural and CF2-labelled post-translationally modified protein substrates via simultaneous sensing of both chemo- and stereoselectivity; and to create generalized 'alkylator proteins' with a spectrum of heterolytic covalent-bond-forming activity (that is, reacting diversely with small molecules at one extreme or selectively with protein targets through good mimicry at the other). Post-translational access to such reactions and chemical groups on proteins could be useful in both revealing and creating protein function.
Access options
Subscribe to Journal
Get full journal access for 1 year
$199.00
only $3.90 per issue
All prices are NET prices.
VAT will be added later in the checkout.
Tax calculation will be finalised during checkout.
Rent or Buy article
Get time limited or full article access on ReadCube.
from$8.99
All prices are NET prices.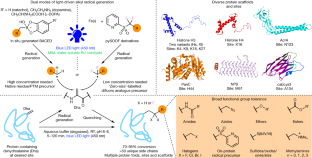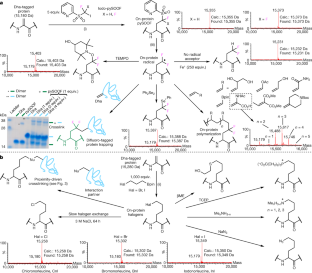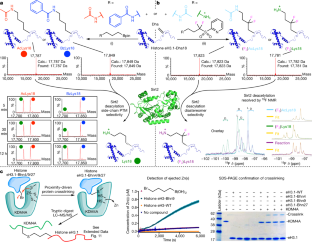 References
1.

Walsh, C. T., Garneau-Tsodikova, S. & Gatto, G. J., Jr. Protein posttranslational modifications: the chemistry of proteome diversifications. Angew. Chem. Int. Ed. 44, 7342–7372 (2005).

2.

Deribe, Y. L., Pawson, T. & Dikic, I. Post-translational modifications in signal integration. Nat. Struct. Mol. Biol. 17, 666 (2010).

3.

Howard, C. J., Yu, R. R., Gardner, M. L., Shimko, J. C. & Ottesen, J. J. Chemical and biological tools for the preparation of modified histone proteins. Top. Curr. Chem. 363, 193–226 (2015).

4.

Yang, A., Cho, K. & Park, H.-S. Chemical biology approaches for studying posttranslational modifications. RNA Biol. 15, 427–440 (2018).

5.

Ducry, L. & Stump, B. Antibody−drug conjugates: linking cytotoxic payloads to monoclonal antibodies. Bioconjug. Chem. 21, 5–13 (2010).

6.

Hinner, M. J. & Johnsson, K. How to obtain labeled proteins and what to do with them. Curr. Opin. Biotechnol. 21, 766–776 (2010).

7.

Leitner, A. et al. Probing native protein structures by chemical cross-linking, mass spectrometry, and bioinformatics. Mol. Cell. Proteomics 9, 1634 (2010).

8.

Wang, L., Brock, A., Herberich, B. & Schultz, P. G. Expanding the genetic code of Escherichia coli. Science 292, 498 (2001).

9.

Dumas, A., Lercher, L., Spicer, C. D. & Davis, B. G. Designing logical codon reassignment – expanding the chemistry in biology. Chem. Sci. 6, 50–69 (2015).

10.

Chin, J. W. Expanding and reprogramming the genetic code. Nature 550, 53–60 (2017).

11.

Klemes, Y., Etlinger, J. D. & Goldberg, A. L. Properties of abnormal proteins degraded rapidly in reticulocytes. Intracellular aggregation of the globin molecules prior to hydrolysis. J. Biol. Chem. 256, 8436–8444 (1981).

12.

Chalker, J. M. & Davis, B. G. Chemical mutagenesis: selective post-expression interconversion of protein amino acid residues. Curr. Opin. Chem. Biol. 14, 781–789 (2010).

13.

Wright, T. H., Vallée, M. R. J. & Davis, B. G. From chemical mutagenesis to post-expression mutagenesis: a 50 year Odyssey. Angew. Chem. Int. Ed. 55, 5896–5903 (2016).

14.

Wright, T. H. et al. Posttranslational mutagenesis: a chemical strategy for exploring protein side-chain diversity. Science 354, aag1465 (2016).

15.

Yang, A. et al. A chemical biology route to site-specific authentic protein modifications. Science 354, 623–626 (2016).

16.

Tamura, T. & Hamachi, I. Chemistry for covalent modification of endogenous/native proteins: from test tubes to complex biological systems. J. Am. Chem. Soc. 141, 2782–2799 (2019).

17.

Wright, T. H. & Davis, B. G. Post-translational mutagenesis for installation of natural and unnatural amino acid side chains into recombinant proteins. Nat. Protoc. 12, 2243–2250 (2017).

18.

Sletten, E. M. & Bertozzi, C. R. Bioorthogonal chemistry: fishing for selectivity in a sea of functionality. Angew. Chem. Int. Ed. 48, 6974–6998 (2009).

19.

Imiołek, M. et al. Selective radical trifluoromethylation of native residues in proteins. J. Am. Chem. Soc. 140, 1568–1571 (2018).

20.

Isenegger, P. G. & Davis, B. G. Concepts of catalysis in site-selective protein modifications. J. Am. Chem. Soc. 141, 8005–8013 (2019).

21.

Lim, R. K. V. & Lin, Q. Photoinducible bioorthogonal chemistry: a spatiotemporally controllable tool to visualize and perturb proteins in live cells. Acc. Chem. Res. 44, 828–839 (2011).

22.

Twilton, J. et al. The merger of transition metal and photocatalysis. Nat. Rev. Chem. 1, 0052 (2017).

23.

Prier, C. K., Rankic, D. A. & MacMillan, D. W. C. Visible light photoredox catalysis with transition metal complexes: applications in organic synthesis. Chem. Rev. 113, 5322–5363 (2013).

24.

Bloom, S. et al. Decarboxylative alkylation for site-selective bioconjugation of native proteins via oxidation potentials. Nat. Chem. 10, 205 (2018).

25.

Yu, Y. et al. Chemoselective peptide modification via photocatalytic tryptophan β-position conjugation. J. Am. Chem. Soc. 140, 6797–6800 (2018).

26.

de Bruijn, A. D. & Roelfes, G. Chemical modification of dehydrated amino acids in natural antimicrobial peptides by photoredox catalysis. Chem. Eur. J. 24, 11314–11318 (2018).

27.

Povie, G. et al. Catechols as sources of hydrogen atoms in radical deiodination and related reactions. Angew. Chem. Int. Ed. 55, 11221–11225 (2016).

28.

Matsui, J. K., Lang, S. B., Heitz, D. R. & Molander, G. A. Photoredox-mediated routes to radicals: the value of catalytic radical generation in synthetic methods development. ACS Catal. 7, 2563–2575 (2017).

29.

Robole, Z. M., Rahn, K. L., Lampkin, B. J., Anand, R. K. & VanVeller, B. Tuning the electrochemical redox potentials of catechol with boronic acid derivatives. J. Org. Chem. 84, 2346–2350 (2019).

30.

Ghosh, T. et al. Mixed-ligand complexes of ruthenium(ii) containing new photoactive or electroactive ligands: synthesis, spectral characterization and DNA interactions. J. Biol. Inorg. Chem. 10, 496 (2005).

31.

Dolbier, W. R. Structure, reactivity, and chemistry of fluoroalkyl radicals. Chem. Rev. 96, 1557–1584 (1996).

32.

Zhang, L., Dolbier, W. R., Sheeller, B. & Ingold, K. U. Absolute rate constants of alkene addition reactions of a fluorinated radical in water. J. Am. Chem. Soc. 124, 6362–6366 (2002).

33.

O'Hagan, D. Understanding organofluorine chemistry. An introduction to the C–F bond. Chem. Soc. Rev. 37, 308–319 (2008).

34.

Lemos, A., Lemaire, C. & Luxen, A. Progress in difluoroalkylation of organic substrates by visible light photoredox catalysis. Adv. Synth. Catal. 361, 1500–1537 (2019).

35.

Rong, J. et al. Radical fluoroalkylation of isocyanides with fluorinated sulfones by visible-light photoredox catalysis. Angew. Chem. Int. Ed. 55, 2743–2747 (2016).

36.

Berlicki, L., Obojska, A., Forlani, G. & Kafarski, P. Design, synthesis, and activity of analogues of phosphinothricin as inhibitors of glutamine synthetase. J. Med. Chem. 48, 6340–6349 (2005).

37.

Griller, D. & Ingold, K. U. Free-radical clocks. Acc. Chem. Res. 13, 317–323 (1980).

38.

Chen, Y., Kamlet, A. S., Steinman, J. B. & Liu, D. R. A biomolecule-compatible visible-light-induced azide reduction from a DNA-encoded reaction-discovery system. Nat. Chem. 3, 146–153 (2011).

39.

Huang, H. et al. Lysine benzoylation is a histone mark regulated by SIRT2. Nat. Commun. 9, 3374 (2018).

40.

Dyer, P. N. et al. Reconstitution of nucleosome core particles from recombinant histones and DNA. Methods Enzymol. 375, 23–44 (2003).

41.

Page, M. I. & Jencks, W. P. Entropic contributions to rate accelerations in enzymic and intramolecular reactions and the chelate effect. Proc. Natl Acad. Sci. USA 68, 1678–1683 (1971).

42.

Krishnamurthy, V. M., Semetey, V., Bracher, P. J., Shen, N. & Whitesides, G. M. Dependence of effective molarity on linker length for an intramolecular protein−ligand system. J. Am. Chem. Soc. 129, 1312–1320 (2007).

43.

Ng, S. S. et al. Crystal structures of histone demethylase JMJD2A reveal basis for substrate specificity. Nature 448, 87–91 (2007).

44.

English, C. M., Adkins, M. W., Carson, J. J., Churchill, M. E. & Tyler, J. K. Structural basis for the histone chaperone activity of Asf1. Cell 127, 495–508 (2006).

45.

Meeusen, J. W., Tomasiewicz, H., Nowakowski, A. & Petering, D. H. TSQ (6-methoxy-8-p-toluenesulfonamido-quinoline), a common fluorescent sensor for cellular zinc, images zinc proteins. Inorg. Chem. 50, 7563–7573 (2011).

46.

Freedman, H. H. & Dubois, R. A. An improved Williamson ether synthesis using phase transfer catalysis. Tetrahedr. Lett. 16, 3251–3254 (1975).

47.

Mandal, S. et al. A review on the advancement of ether synthesis from organic solvent to water. RSC Adv. 6, 69605–69614 (2016).

48.

Levin, M., Stark, M. & Assaraf, Y. G. The JmjN domain as a dimerization interface and a targeted inhibitor of KDM4 demethylase activity. Oncotarget 9, 16861–16882 (2018).

49.

Shin, S. & Janknecht, R. Diversity within the JMJD2 histone demethylase family. Biochem. Biophys. Res. Commun. 353, 973–977 (2007).

50.

Karle, I. L. & Balaram, P. Structural characteristics of .alpha.-helical peptide molecules containing Aib residues. Biochemistry 29, 6747–6756 (1990).

51.

Lonsdale, R. & Ward, R. A. Structure-based design of targeted covalent inhibitors. Chem. Soc. Rev. 47, 3816–3830 (2018).

52.

Angerani, S. & Winssinger, N. Visible light photoredox catalysis using ruthenium complexes in chemical biology. Chem. Eur. J. 25, 6661–6672 (2019).

53.

Yang, B. et al. Genetically introducing biochemically reactive amino acids dehydroalanine and dehydrobutyrine in proteins. J. Am. Chem. Soc. 141, 7698–7703 (2019).

54.

Renaud, P., André-Joyaux, E., Kuzovlev, A. & Tappin, N. D. A general approach to deboronative radical chain reaction with pinacol alkylboronic esters. Angew. Chem. Int. Ed. 59, 13859 (2020).

55.

Li, Q. et al. Developing covalent protein drugs via proximity-enabled reactive therapeutics. Cell 182, 85–97 (2020).
Acknowledgements
This research has received funding from the EPSRC (EP/V011359/1), UK Catalysis Hub (EPSRC Portfolio Grant EP/K014668/1; B.G.D., C.F.), the Swiss National Science Foundation (P2BSP2_178609; P.G.I.), BBSRC (BB/P026311/1; B.G.D., V.G., P.G.I.), Oxford-GSK-Crick Chemical Biology Centre for Doctoral Training Programme (EPSRC, GSK to G.R.) via the EPSRC Systems Approaches to Biomedical Science DTC (EP/R512333/1), Oxford Clarendon Scholarship (to B.J.), Rutherford Foundation (to T.H.W.), UCB (to B.J.B.), Brunei Government Scholarship (to A.W.J.P.) and EU H2020 under Grant Agreement 721902 (to O.A.). We thank S. Hester for experimental support in mass spectrometry, T. Mollner and M. Imiołek for providing small-molecule substrates, S. Faulkner for providing protein, the Chemistry Department workshop for construction of the photoreactor and C. am Ende, W. Stockdale and M. Moomersteeg for discussions.
Ethics declarations
Competing interests
A patent is being filed that might afford authors royalties were it to be licensed.
Additional information
Publisher's note Springer Nature remains neutral with regard to jurisdictional claims in published maps and institutional affiliations.
Extended data figures and tables
Supplementary information
About this article
Cite this article
Josephson, B., Fehl, C., Isenegger, P.G. et al. Light-driven post-translational installation of reactive protein side chains. Nature 585, 530–537 (2020). https://doi.org/10.1038/s41586-020-2733-7
Received:

Accepted:

Published:

Issue Date:
Comments
By submitting a comment you agree to abide by our Terms and Community Guidelines. If you find something abusive or that does not comply with our terms or guidelines please flag it as inappropriate.