Abstract
Ferroptosis—an iron-dependent, non-apoptotic cell death process—is involved in various degenerative diseases and represents a targetable susceptibility in certain cancers1. The ferroptosis-susceptible cell state can either pre-exist in cells that arise from certain lineages or be acquired during cell-state transitions2,3,4,5. However, precisely how susceptibility to ferroptosis is dynamically regulated remains poorly understood. Here we use genome-wide CRISPR–Cas9 suppressor screens to identify the oxidative organelles peroxisomes as critical contributors to ferroptosis sensitivity in human renal and ovarian carcinoma cells. Using lipidomic profiling we show that peroxisomes contribute to ferroptosis by synthesizing polyunsaturated ether phospholipids (PUFA-ePLs), which act as substrates for lipid peroxidation that, in turn, results in the induction of ferroptosis. Carcinoma cells that are initially sensitive to ferroptosis can switch to a ferroptosis-resistant state in vivo in mice, which is associated with extensive downregulation of PUFA-ePLs. We further find that the pro-ferroptotic role of PUFA-ePLs can be extended beyond neoplastic cells to other cell types, including neurons and cardiomyocytes. Together, our work reveals roles for the peroxisome–ether-phospholipid axis in driving susceptibility to and evasion from ferroptosis, highlights PUFA-ePL as a distinct functional lipid class that is dynamically regulated during cell-state transitions, and suggests multiple regulatory nodes for therapeutic interventions in diseases that involve ferroptosis.
Relevant articles
Open Access articles citing this article.
Xiaofeng Sun

,

Chengjian Zhou

…

Xi Chen

Nature Communications Open Access 24 March 2023

Rong Du

,

Xi Cheng

…

Yuquan Zhang

Scientific Reports Open Access 17 March 2023

Sean K. Ryan

,

Matija Zelic

…

Timothy R. Hammond

Nature Neuroscience Open Access 19 December 2022
Access options
Access Nature and 54 other Nature Portfolio journals
Get Nature+, our best-value online-access subscription
$29.99 per month
cancel any time
Subscribe to this journal
Receive 51 print issues and online access
$199.00 per year
only $3.90 per issue
Rent or buy this article
Get just this article for as long as you need it
$39.95
Prices may be subject to local taxes which are calculated during checkout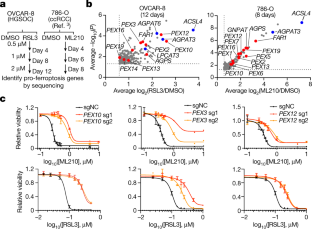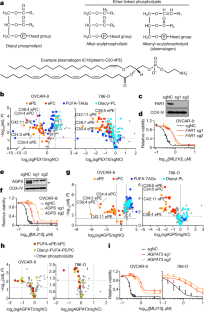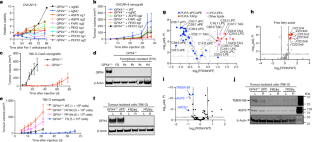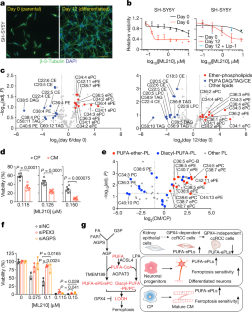 Data availability
Lists of genes scored significantly in the OVCAR-8 CRISPR screening experiment are provided in Supplementary Data 1; raw sequencing data of the CRISPR screening have been deposited in the Gene Expression Omnibus via accession number GSE151062. Input gene list and output gene sets of GeLiNEA and GSEA analysis are included in Supplementary Data 2. Lipidomics and metabolomics data are available as Supplementary Data 3–7, 9, 10. Raw exome sequencing and RNA-seq data are available in the Gene Expression Omnibus under accession code GSE148297, and processed data—including top variants and differentially expressed genes in the tumour-derived ferroptosis-resistant cells—are listed in Supplementary Data 8. Source data are provided with this paper.
References
Stockwell, B. R. et al. Ferroptosis: a regulated cell death nexus linking metabolism, redox biology, and disease. Cell 171, 273–285 (2017).

Matsushita, M. et al. T cell lipid peroxidation induces ferroptosis and prevents immunity to infection. J. Exp. Med. 212, 555–568 (2015).

Zou, Y. et al. A GPX4-dependent cancer cell state underlies the clear-cell morphology and confers sensitivity to ferroptosis. Nat. Commun. 10, 1617 (2019).

Viswanathan, V. S. et al. Dependency of a therapy-resistant state of cancer cells on a lipid peroxidase pathway. Nature 547, 453–457 (2017).

Hangauer, M. J. et al. Drug-tolerant persister cancer cells are vulnerable to GPX4 inhibition. Nature 551, 247–250 (2017).

Yang, W. S. et al. Regulation of ferroptotic cancer cell death by GPX4. Cell 156, 317–331 (2014).

Eaton, J. K. et al. Selective covalent targeting of GPX4 using masked nitrile-oxide electrophiles. Nat. Chem. Biol. 16, 497–506 (2020).

Doll, S. et al. ACSL4 dictates ferroptosis sensitivity by shaping cellular lipid composition. Nat. Chem. Biol. 13, 91–98 (2017).

Szklarczyk, D. et al. STRING v11: protein–protein association networks with increased coverage, supporting functional discovery in genome-wide experimental datasets. Nucleic Acids Res. 47, D607–D613 (2019).

Islinger, M., Voelkl, A., Fahimi, H. D. & Schrader, M. The peroxisome: an update on mysteries 2.0. Histochem. Cell Biol. 150, 443–471 (2018).

Lodhi, I. J. & Semenkovich, C. F. Peroxisomes: a nexus for lipid metabolism and cellular signaling. Cell Metab. 19, 380–392 (2014).

Dean, J. M. & Lodhi, I. J. Structural and functional roles of ether lipids. Protein Cell 9, 196–206 (2018).

Piano, V. et al. Discovery of inhibitors for the ether lipid-generating enzyme AGPS as anti-cancer agents. ACS Chem. Biol. 10, 2589–2597 (2015).

Zou, Y. et al. Cytochrome P450 oxidoreductase contributes to phospholipid peroxidation in ferroptosis. Nat. Chem. Biol. 16, 302–309 (2020).

Saito, K. et al. Lipidomic signatures and associated transcriptomic profiles of clear cell renal cell carcinoma. Sci. Rep. 6, 28932 (2016).

Dixon, S. J. et al. Human haploid cell genetics reveals roles for lipid metabolism genes in nonapoptotic cell death. ACS Chem. Biol. 10, 1604–1609 (2015).

Honsho, M. & Fujiki, Y. Plasmalogen homeostasis – regulation of plasmalogen biosynthesis and its physiological consequence in mammals. FEBS Lett. 591, 2720–2729 (2017).

Braverman, N. E. & Moser, A. B. Functions of plasmalogen lipids in health and disease. Biochim. Biophys. Acta 1822, 1442–1452 (2012).

Messias, M. C. F., Mecatti, G. C., Priolli, D. G. & de Oliveira Carvalho, P. Plasmalogen lipids: functional mechanism and their involvement in gastrointestinal cancer. Lipids Health Dis. 17, 41 (2018).

Yuki, K., Shindou, H., Hishikawa, D. & Shimizu, T. Characterization of mouse lysophosphatidic acid acyltransferase 3: an enzyme with dual functions in the testis. J. Lipid Res. 50, 860–869 (2009).

Rashba-Step, J. et al. Phospholipid peroxidation induces cytosolic phospholipase A2 activity: membrane effects versus enzyme phosphorylation. Arch. Biochem. Biophys. 343, 44–54 (1997).

Doll, S. et al. FSP1 is a glutathione-independent ferroptosis suppressor. Nature 575, 693–698 (2019).

Bersuker, K. et al. The CoQ oxidoreductase FSP1 acts parallel to GPX4 to inhibit ferroptosis. Nature 575, 688–692 (2019).

Gallego-García, A. et al. A bacterial light response reveals an orphan desaturase for human plasmalogen synthesis. Science 366, 128–132 (2019).

Tsherniak, A. et al. Defining a cancer dependency map. Cell 170, 564–576 (2017).

Alim, I. et al. Selenium drives a transcriptional adaptive program to block ferroptosis and treat stroke. Cell 177, 1262–1279 (2019).

Fang, X. et al. Ferroptosis as a target for protection against cardiomyopathy. Proc. Natl Acad. Sci. USA 116, 2672–2680 (2019).

Encinas, M. et al. Sequential treatment of SH-SY5Y cells with retinoic acid and brain-derived neurotrophic factor gives rise to fully differentiated, neurotrophic factor-dependent, human neuron-like cells. J. Neurochem. 75, 991–1003 (2000).

Engelmann, B. Plasmalogens: targets for oxidants and major lipophilic antioxidants. Biochem. Soc. Trans. 32, 147–150 (2004).

Ginsberg, L., Rafique, S., Xuereb, J. H., Rapoport, S. I. & Gershfeld, N. L. Disease and anatomic specificity of ethanolamine plasmalogen deficiency in Alzheimer's disease brain. Brain Res. 698, 223–226 (1995).

Schilder, R. J. et al. Metallothionein gene expression and resistance to cisplatin in human ovarian cancer. Int. J. Cancer 45, 416–422 (1990).

Cholody, W. M. et al. Derivatives of fluorene, anthracene, xanthene, dibenzosuberone and acridine and uses thereof. US Patent WO2008140792A1 (2012).

Shimada, K. et al. Global survey of cell death mechanisms reveals metabolic regulation of ferroptosis. Nat. Chem. Biol. 12, 497–503 (2016).

Paynter, N. P. et al. Metabolic predictors of incident coronary heart disease in women. Circulation 137, 841–853 (2018).

Wang, T. et al. Identification and characterization of essential genes in the human genome. Science 350, 1096–1101 (2015).

Wang, T., Lander, E. S. & Sabatini, D. M. Single guide RNA library design and construction. Cold Spring Harb. Protoc. 2016, pdb.prot090803 (2016).

Wang, T., Lander, E. S. & Sabatini, D. M. Viral packaging and cell culture for CRISPR-based screens. Cold Spring Harb. Protoc. 2016, pdb.prot090811 (2016).

Drummen, G. P. C., van Liebergen, L. C. M., den Kamp, J. A. F. O. & Post, J. A. C11-BODIPY581/591, an oxidation-sensitive fluorescent lipid peroxidation probe: (micro)spectroscopic characterization and validation of methodology. Free Radic. Biol. Med. 33, 473–490 (2002).

McQuin, C. et al. CellProfiler 3.0: next-generation image processing for biology. PLoS Biol. 16, e2005970 (2018).

Kedare, S. B. & Singh, R. P. Genesis and development of DPPH method of antioxidant assay. J. Food Sci. Technol. 48, 412–422 (2011).
Acknowledgements
We thank J. Pan, E. S. Leshchiner, H. Li, X. Rong and X. Wang for discussions; K. Sigmund for sharing lentiviruses and other reagents; and the Broad Institute Genetic Perturbation Platform for providing gene editing and shRNA reagents. This work is supported in part by the NCI's Cancer Target Discovery and Development (CTD2) Network (grant number U01CA217848, awarded to S.L.S.). L.A.B. was supported by a grant from the Mathers Foundation. R.A.W. received support from the National Institutes of Health (NIH) (P01 CA080111 and R35 CA220487), Breast Cancer Research Foundation, Advanced Medical Research Foundation, Samuel Waxman Cancer Research Foundation and Ludwig Center for Molecular Oncology. Y.Z. was supported by the National Cancer Institute of the NIH under award number K99CA248610. W.S.H. was supported by a postdoctoral fellowship from the Jane Coffin Childs Memorial Fund. V.V.P. is supported by the New Horizon UROP Fund/MIT. N.B. is supported by a Department of Defense Peer Reviewed Cancer Research Program Horizon Award (W81XWH-19-1-0257).
Ethics declarations
Competing interests
S.L.S. serves on the Board of Directors of the Genomics Institute of the Novartis Research Foundation ('GNF'); is a shareholder and serves on the Board of Directors of Jnana Therapeutics; is a shareholder of Forma Therapeutics; is a shareholder and advises Kojin Therapeutics, Kisbee Therapeutics, Decibel Therapeutics and Eikonizo Therapeutics; serves on the Scientific Advisory Boards of Eisai Co., Ltd., Ono Pharma Foundation, Exo Therapeutics and F-Prime Capital Partners; and is a Novartis Faculty Scholar. Kojin Therapeutics in particular explores the medical potential of cell plasticity related to ferroptosis. P.A.C. is an advisor to Pfizer, Inc. The other authors declare no conflict of interest relevant to this study.
Additional information
Peer review information Nature thanks Marcus Conrad, Scott Dixon and Ronald Wanders for their contribution to the peer review of this work.
Publisher's note Springer Nature remains neutral with regard to jurisdictional claims in published maps and institutional affiliations.
Extended data figures and tables
Supplementary information
About this article
Cite this article
Zou, Y., Henry, W.S., Ricq, E.L. et al. Plasticity of ether lipids promotes ferroptosis susceptibility and evasion. Nature 585, 603–608 (2020). https://doi.org/10.1038/s41586-020-2732-8
Received:

Accepted:

Published:

Issue Date:

DOI: https://doi.org/10.1038/s41586-020-2732-8
Comments
By submitting a comment you agree to abide by our Terms and Community Guidelines. If you find something abusive or that does not comply with our terms or guidelines please flag it as inappropriate.