Abstract
Malaria has had a major effect on the human genome, with many protective polymorphisms—such as the sickle-cell trait—having been selected to high frequencies in malaria-endemic regions1,2. The blood group variant Dantu provides 74% protection against all forms of severe malaria in homozygous individuals3,4,5, a similar degree of protection to that afforded by the sickle-cell trait and considerably greater than that offered by the best malaria vaccine. Until now, however, the protective mechanism has been unknown. Here we demonstrate the effect of Dantu on the ability of the merozoite form of the malaria parasite Plasmodium falciparum to invade red blood cells (RBCs). We find that Dantu is associated with extensive changes to the repertoire of proteins found on the RBC surface, but, unexpectedly, inhibition of invasion does not correlate with specific RBC–parasite receptor–ligand interactions. By following invasion using video microscopy, we find a strong link between RBC tension and merozoite invasion, and identify a tension threshold above which invasion rarely occurs, even in non-Dantu RBCs. Dantu RBCs have higher average tension than non-Dantu RBCs, meaning that a greater proportion resist invasion. These findings provide both an explanation for the protective effect of Dantu, and fresh insight into why the efficiency of P. falciparum invasion might vary across the heterogenous populations of RBCs found both within and between individuals.
Relevant articles
Open Access articles citing this article.
Edward J. Hollox

&

Sandra Louzada

Immunogenetics Open Access 12 October 2022

S. Uyoga

,

J. A. Watson

…

T. N. Williams

Nature Communications Open Access 08 June 2022

Viola Introini

,

Alejandro Marin-Menendez

…

Bridget S. Penman

Scientific Reports Open Access 27 May 2022
Access options
Access Nature and 54 other Nature Portfolio journals
Get Nature+, our best-value online-access subscription
$29.99 per month
cancel any time
Subscribe to this journal
Receive 51 print issues and online access
$199.00 per year
only $3.90 per issue
Rent or buy this article
Get just this article for as long as you need it
$39.95
Prices may be subject to local taxes which are calculated during checkout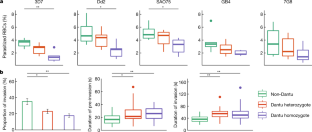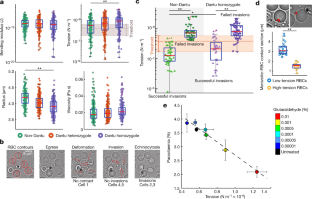 Data availability
The authors declare that the data supporting the findings of this study are available within the manuscript and its Supplementary Information files. Source data are provided with this paper.
References
Malaria Genomic Epidemiology Network. Insights into malaria susceptibility using genome-wide data on 17,000 individuals from Africa, Asia and Oceania. Nat. Commun. 10, 5732 (2019).

Williams, T. N. in Advances in Malaria Research (eds Gaur, D., Chitnis, C. E. & Chauhan, V. S.) 465–494 (Wiley, 2016).

Band, G., Rockett, K. A., Spencer, C. C. & Kwiatkowski, D. P. A novel locus of resistance to severe malaria in a region of ancient balancing selection. Nature 526, 253–257 (2015).

Ndila, C. M. et al. Human candidate gene polymorphisms and risk of severe malaria in children in Kilifi, Kenya: a case-control association study. Lancet Haematol. 5, E333–E345 (2018).

Leffler, E. M. et al. Resistance to malaria through structural variation of red blood cell invasion receptors. Science 356, eaam6393 (2017).

Sim, B. K., Chitnis, C. E., Wasniowska, K., Hadley, T. J. & Miller, L. H. Receptor and ligand domains for invasion of erythrocytes by Plasmodium falciparum. Science 264, 1941–1944 (1994).

Mayer, D. C. et al. Glycophorin B is the erythrocyte receptor of Plasmodium falciparum erythrocyte-binding ligand, EBL-1. Proc. Natl Acad. Sci. USA 106, 5348–5352 (2009).

Theron, M., Cross, N., Cawkill, P., Bustamante, L. Y. & Rayner, J. C. An in vitro erythrocyte preference assay reveals that Plasmodium falciparum parasites prefer Type O over Type A erythrocytes. Sci. Rep. 8, 8133 (2018).

Crick, A. J. et al. Quantitation of malaria parasite-erythrocyte cell-cell interactions using optical tweezers. Biophys. J. 107, 846–853 (2014).

Weiss, G. E. et al. Revealing the sequence and resulting cellular morphology of receptor-ligand interactions during Plasmodium falciparum invasion of erythrocytes. PLoS Pathog. 11, e1004670 (2015).

Dahr, W., Moulds, J., Unger, P. & Kordowicz, M. The Dantu erythrocyte phenotype of the NE variety. I. Dodecylsulfate polyacrylamide gel electrophoretic studies. Blut 55, 19–31 (1987).

Maier, A. G. et al. Plasmodium falciparum erythrocyte invasion through glycophorin C and selection for Gerbich negativity in human populations. Nat. Med. 9, 87–92 (2003).

Kanjee, U. et al. CRISPR/Cas9 knockouts reveal genetic interaction between strain-transcendent erythrocyte determinants of Plasmodium falciparum invasion. Proc. Natl Acad. Sci. USA 114, E9356–E9365 (2017).

Reed, M. B. et al. Targeted disruption of an erythrocyte binding antigen in Plasmodium falciparum is associated with a switch toward a sialic acid-independent pathway of invasion. Proc. Natl Acad. Sci. USA 97, 7509–7514 (2000).

Betz, T., Lenz, M., Joanny, J. F. & Sykes, C. ATP-dependent mechanics of red blood cells. Proc. Natl Acad. Sci. USA 106, 15320–15325 (2009).

Yoon, Y. Z. et al. Flickering analysis of erythrocyte mechanical properties: dependence on oxygenation level, cell shape, and hydration level. Biophys. J. 97, 1606–1615 (2009).

Popescu, G. et al. Optical measurement of cell membrane tension. Phys. Rev. Lett. 97, 218101 (2006).

Koch, M. et al. Plasmodium falciparum erythrocyte-binding antigen 175 triggers a biophysical change in the red blood cell that facilitates invasion. Proc. Natl Acad. Sci. USA 114, 4225–4230 (2017).

Sisquella, X. et al. Plasmodium falciparum ligand binding to erythrocytes induce alterations in deformability essential for invasion. eLife 6, e21083 (2017).

Tiffert, T. et al. The hydration state of human red blood cells and their susceptibility to invasion by Plasmodium falciparum. Blood 105, 4853–4860 (2005).

Sinha, A., Chu, T. T., Dao, M. & Chandramohanadas, R. Single-cell evaluation of red blood cell bio-mechanical and nano-structural alterations upon chemically induced oxidative stress. Sci. Rep. 5, 9768 (2015).

Evans, E., Mohandas, N. & Leung, A. Static and dynamic rigidities of normal and sickle erythrocytes. Major influence of cell hemoglobin concentration. J. Clin. Invest. 73, 477–488 (1984).

Pasvol, G., Weatherall, D. J. & Wilson, R. J. The increased susceptibility of young red cells to invasion by the malarial parasite Plasmodium falciparum. Br. J. Haematol. 45, 285–295 (1980).

Mohandas, N., Lie-Injo, L. E., Friedman, M. & Mak, J. W. Rigid membranes of Malayan ovalocytes: a likely genetic barrier against malaria. Blood 63, 1385–1392 (1984).

Schrier, S. L., Rachmilewitz, E. & Mohandas, N. Cellular and membrane properties of alpha and beta thalassemic erythrocytes are different: implication for differences in clinical manifestations. Blood 74, 2194–2202 (1989).

Park, Y. et al. Refractive index maps and membrane dynamics of human red blood cells parasitized by Plasmodium falciparum. Proc. Natl Acad. Sci. USA 105, 13730–13735 (2008).

Park, Y. et al. Static and dynamic light scattering of healthy and malaria-parasite invaded red blood cells. J. Biomed. Opt. 15, 020506 (2010).

Dai, J., Ting-Beall, H. P. & Sheetz, M. P. The secretion-coupled endocytosis correlates with membrane tension changes in RBL 2H3 cells. J. Gen. Physiol. 110, 1–10 (1997).

Lamason, R. L. et al. Rickettsia Sca4 reduces vinculin-mediated intercellular tension to promote spread. Cell 167, 670–683 (2016).

Gilson, P. R. & Crabb, B. S. Morphology and kinetics of the three distinct phases of red blood cell invasion by Plasmodium falciparum merozoites. Int. J. Parasitol. 39, 91–96 (2009).

Yoon, Y. Z., Kotar, J., Yoon, G. & Cicuta, P. The nonlinear mechanical response of the red blood cell. Phys. Biol. 5, 036007 (2008).

Nightingale, K. et al. High-definition analysis of host protein stability during human cytomegalovirus infection reveals antiviral factors and viral evasion mechanisms. Cell Host Microbe 24, 447–460 (2018).

McAlister, G. C. et al. MultiNotch MS3 enables accurate, sensitive, and multiplexed detection of differential expression across cancer cell line proteomes. Anal. Chem. 86, 7150–7158 (2014).

Cox, J. & Mann, M. MaxQuant enables high peptide identification rates, individualized p.p.b.-range mass accuracies and proteome-wide protein quantification. Nat. Biotechnol. 26, 1367–1372 (2008).

Huttlin, E. L. et al. A tissue-specific atlas of mouse protein phosphorylation and expression. Cell 143, 1174–1189 (2010).

Krogh, A., Larsson, B., von Heijne, G. & Sonnhammer, E. L. Predicting transmembrane protein topology with a hidden Markov model: application to complete genomes. J. Mol. Biol. 305, 567–580 (2001).

Pécréaux, J., Döbereiner, H. G., Prost, J., Joanny, J. F. & Bassereau, P. Refined contour analysis of giant unilamellar vesicles. Eur. Phys. J. E 13, 277–290 (2004).
Acknowledgements
We thank E. Mabibo, J. Golijo, A. Kazungu, R. Mwarabu, the staff of Kilifi County Hospital and the KEMRI–Wellcome Trust Research Programme, Kilifi, for their help with participant recruitment and data and sample collection; and E. Leffler and G. Band for discussions on the study. We also thank the study participants and their parents for agreeing to participate in this study. J.C.R., A.M. and D.K. were supported by the Wellcome Trust (grant 206194/Z/17/Z). We acknowledge V. Lew and T. Tiffert for the provision of fresh blood and useful discussions. M.P.W. is funded by a Wellcome Senior Fellowship (grant 108070). T.N.W. is funded by fellowships awarded by the Wellcome Trust (grants 091758 and 202800). S.N.K. is supported by a Wellcome Trust funded Initiative to Develop African Research Leaders (IDeAL) early-career postdoctoral fellowship (107769/Z/10/Z), supported through the Developing Excellence in Leadership, Training and Science (DELTAS) Africa Initiative (DEL-15-003). The Wellcome Trust provides core support to the KEMRI/Wellcome Trust Research Programme, Kilifi, Kenya (084535), the Wellcome Sanger Institute, Cambridge, UK (206194/Z/17/Z) and the Wellcome Centre for Human Genetics, Oxford, UK (090532/Z/09/Z and 203141). P.C. is supported by the Engineering and Physical Sciences Research Council (EPSRC); EP/R011443/1), and V.I. is supported by the EPSRC and a Sackler fellowship. This paper is published with permission from the director of KEMRI.
Ethics declarations
Competing interests
The authors declare no competing interests.
Additional information
Peer review information Nature thanks Brendan Crabb, Leann Tilley and the other, anonymous, reviewer(s) for their contribution to the peer review of this work.
Publisher's note Springer Nature remains neutral with regard to jurisdictional claims in published maps and institutional affiliations.
Extended data figures and tables
Supplementary information
About this article
Cite this article
Kariuki, S.N., Marin-Menendez, A., Introini, V. et al. Red blood cell tension protects against severe malaria in the Dantu blood group. Nature 585, 579–583 (2020). https://doi.org/10.1038/s41586-020-2726-6
Received:

Accepted:

Published:

Issue Date:

DOI: https://doi.org/10.1038/s41586-020-2726-6
Comments
By submitting a comment you agree to abide by our Terms and Community Guidelines. If you find something abusive or that does not comply with our terms or guidelines please flag it as inappropriate.