Abstract
Epithelial organoids, such as those derived from stem cells of the intestine, have great potential for modelling tissue and disease biology1,2,3,4. However, the approaches that are used at present to derive these organoids in three-dimensional matrices5,6 result in stochastically developing tissues with a closed, cystic architecture that restricts lifespan and size, limits experimental manipulation and prohibits homeostasis. Here, by using tissue engineering and the intrinsic self-organization properties of cells, we induce intestinal stem cells to form tube-shaped epithelia with an accessible lumen and a similar spatial arrangement of crypt- and villus-like domains to that in vivo. When connected to an external pumping system, the mini-gut tubes are perfusable; this allows the continuous removal of dead cells to prolong tissue lifespan by several weeks, and also enables the tubes to be colonized with microorganisms for modelling host–microorganism interactions. The mini-intestines include rare, specialized cell types that are seldom found in conventional organoids. They retain key physiological hallmarks of the intestine and have a notable capacity to regenerate. Our concept for extrinsically guiding the self-organization of stem cells into functional organoids-on-a-chip is broadly applicable and will enable the attainment of more physiologically relevant organoid shapes, sizes and functions.
Relevant articles
Open Access articles citing this article.
Anna Urciuolo

,

Giovanni Giuseppe Giobbe

…

Nicola Elvassore

Nature Communications Open Access 30 May 2023

Stefan Harmansa

,

Alexander Erlich

…

Thomas Lecuit

Nature Communications Open Access 03 March 2023

Jialong Zhu

,

Linlin Ji

…

Xiaoyuan Chu

Cell Death Discovery Open Access 22 February 2023
Access options
Access Nature and 54 other Nature Portfolio journals
Get Nature+, our best-value online-access subscription
$29.99 / 30 days
cancel any time
Subscribe to this journal
Receive 51 print issues and online access
$199.00 per year
only $3.90 per issue
Rent or buy this article
Get just this article for as long as you need it
$39.95
Prices may be subject to local taxes which are calculated during checkout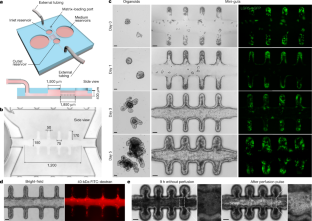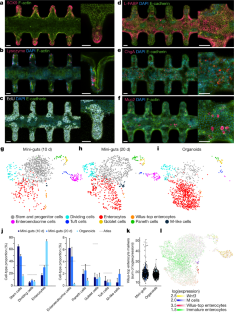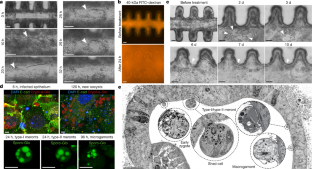 Data availability
scRNA-seq data have been deposited to the Gene Expression Omnibus (GEO) public repository with the accession code GSE148366. Additional supporting data related to gene-expression analyses of mini-gut tubes infected with C. parvum have been deposited to https://figshare.com/projects/mini-guts/80819. Source data are provided with this paper.
References
Clevers, H. Modeling development and disease with organoids. Cell 165, 1586–1597 (2016).

Sato, T. & Clevers, H. Growing self-organizing mini-guts from a single intestinal stem cell: mechanism and applications. Science 340, 1190–1194 (2013).

Dekkers, J. F. et al. A functional CFTR assay using primary cystic fibrosis intestinal organoids. Nat. Med. 19, 939–945 (2013).

van de Wetering, M. et al. Prospective derivation of a living organoid biobank of colorectal cancer patients. Cell 161, 933–945 (2015).

Sato, T. et al. Single Lgr5 stem cells build crypt-villus structures in vitro without a mesenchymal niche. Nature 459, 262–265 (2009).

Gjorevski, N. et al. Designer matrices for intestinal stem cell and organoid culture. Nature 539, 560–564 (2016).

Wang, Y. et al. Formation of human colonic crypt array by application of chemical gradients across a shaped epithelial monolayer. Cell. Mol. Gastroenterol. Hepatol. 5, 113–130 (2018).

Wang, Y. et al. A microengineered collagen scaffold for generating a polarized crypt-villus architecture of human small intestinal epithelium. Biomaterials 128, 44–55 (2017).

Haber, A. L. et al. A single-cell survey of the small intestinal epithelium. Nature 551, 333–339 (2017).

de Lau, W. et al. Peyer's patch M cells derived from Lgr5+ stem cells require SpiB and are induced by RankL in cultured "miniguts". Mol. Cell. Biol. 32, 3639–3647 (2012).

Basak, O. et al. Induced quiescence of Lgr5+ stem cells in intestinal organoids enables differentiation of hormone-producing enteroendocrine cells. Cell Stem Cell 20, 177–190 (2017).

Hase, K. et al. Uptake through glycoprotein 2 of FimH+ bacteria by M cells initiates mucosal immune response. Nature 462, 226–230 (2009).

Moor, A. E. et al. Spatial reconstruction of single enterocytes uncovers broad zonation along the intestinal villus axis. Cell 175, 1156–1167 (2018).

Ayyaz, A. et al. Single-cell transcriptomes of the regenerating intestine reveal a revival stem cell. Nature 569, 121–125 (2019).

Yui, S. et al. YAP/TAZ-dependent reprogramming of colonic epithelium links ECM remodeling to tissue regeneration. Cell Stem Cell 22, 35–49 (2018).

Kiesler, P., Fuss, I. J. & Strober, W. Experimental models of inflammatory bowel diseases. Cell. Mol. Gastroenterol. Hepatol. 1, 154–170 (2015).

Kotloff, K. L. The burden and etiology of diarrheal illness in developing countries. Pediatr. Clin. North Am. 64, 799–814 (2017).

Heo, I. et al. Modelling Cryptosporidium infection in human small intestinal and lung organoids. Nat. Microbiol. 3, 814–823 (2018).

Wilke, G. et al. A stem-cell-derived platform enables complete Cryptosporidium development in vitro and genetic tractability. Cell Host Microbe 26, 123–134 (2019).

Kim, H. J., Huh, D., Hamilton, G. & Ingber, D. E. Human gut-on-a-chip inhabited by microbial flora that experiences intestinal peristalsis-like motions and flow. Lab Chip 12, 2165–2174 (2012).

Kasendra, M. et al. Development of a primary human Small Intestine-on-a-Chip using biopsy-derived organoids. Sci. Rep. 8, 2871 (2018).

Trietsch, S. J. et al. Membrane-free culture and real-time barrier integrity assessment of perfused intestinal epithelium tubes. Nat. Commun. 8, 262 (2017).

Chen, Y., Zhou, W., Roh, T., Estes, M. K. & Kaplan, D. L. In vitro enteroid-derived three-dimensional tissue model of human small intestinal epithelium with innate immune responses. PLoS ONE 12, e0187880 (2017).

Workman, M. J. et al. Enhanced utilization of induced pluripotent stem cell-derived human intestinal organoids using microengineered chips. Cell. Mol. Gastroenterol. Hepatol. 5, 669–677 (2018).

Wang, Y. et al. Long-term culture captures injury-repair cycles of colonic stem cells. Cell 179, 1144–1159 (2019).

Bhatia, S. N. & Ingber, D. E. Microfluidic organs-on-chips. Nat. Biotechnol. 32, 760–772 (2014).

Wang, Y. et al. Bioengineered systems and designer matrices that recapitulate the intestinal stem cell niche. Cell. Mol. Gastroenterol. Hepatol. 5, 440–453 (2018).

Nikolaev, M. et al. Bioengineering microfluidic organoids-on-a-chip. Protoc. Exch. https://doi.org/10.21203/rs.3.pex-903/v1 (2020).

Koliaraki, V. & Kollias, G. Isolation of intestinal mesenchymal cells from adult mice. Bio-protocol 6, e1940 (2016).

Huch, M. et al. In vitro expansion of single Lgr5+ liver stem cells induced by Wnt-driven regeneration. Nature 494, 247–250 (2013).

Takata, K. et al. Induced-pluripotent-stem-cell-derived primitive macrophages provide a platform for modeling tissue-resident macrophage differentiation and function. Immunity 47, 183–198 (2017).

Blokzijl, F. et al. Tissue-specific mutation accumulation in human adult stem cells during life. Nature 538, 260–264 (2016).

Miyoshi, H. & Stappenbeck, T. S. In vitro expansion and genetic modification of gastrointestinal stem cells in spheroid culture. Nat. Protocols 8, 2471–2482 (2013).

Sachs, N. et al. Long-term expanding human airway organoids for disease modeling. EMBO J. 38, e100300 (2019).

Brandenberg, N. & Lutolf, M. P. In situ patterning of microfluidic networks in 3D cell-laden hydrogels. Adv. Mater. 28, 7450–7456 (2016).

Chen, C. et al. Bioengineered bile ducts recapitulate key cholangiocyte functions. Biofabrication 10, 034103 (2018).

Butler, A., Hoffman, P., Smibert, P., Papalexi, E. & Satija, R. Integrating single-cell transcriptomic data across different conditions, technologies, and species. Nat. Biotechnol. 36, 411–420 (2018).

Becht, E. et al. Dimensionality reduction for visualizing single-cell data using UMAP. Nat. Biotechnol. 37, 38–44 (2019).

Kowalczyk, M. S. et al. Single-cell RNA-seq reveals changes in cell cycle and differentiation programs upon aging of hematopoietic stem cells. Genome Res. 25, 1860–1872 (2015).

Wickham, H. ggplot2: Elegant Graphics for Data Analysis (Springer, 2016).

Subramanian, A. et al. Gene set enrichment analysis: a knowledge-based approach for interpreting genome-wide expression profiles. Proc. Natl Acad. Sci. USA 102, 15545–15550 (2005).

Korsunsky, I. et al. Fast, sensitive and accurate integration of single-cell data with Harmony. Nat. Methods 16, 1289–1296 (2019).

Kolotuev, I. Positional correlative anatomy of invertebrate model organisms increases efficiency of TEM data production. Microsc. Microanal. 20, 1392–1403 (2014).

Burel, A. et al. A targeted 3D EM and correlative microscopy method using SEM array tomography. Development 145, dev160879 (2018).

Mabbott, N. A., Donaldson, D. S., Ohno, H., Williams, I. R. & Mahajan, A. Microfold (M) cells: important immunosurveillance posts in the intestinal epithelium. Mucosal Immunol. 6, 666–677 (2013).

Nakato, G. et al. New approach for M-cell-specific molecules screening by comprehensive transcriptome analysis. DNA Res. 16, 227–235 (2009).

Hartl, M. & Schneider, R. A unique family of neuronal signaling proteins implicated in oncogenesis and tumor suppression. Front. Oncol. 9, 289 (2019).

Funda, D. P. et al. CD14 is expressed and released as soluble CD14 by human intestinal epithelial cells in vitro: lipopolysaccharide activation of epithelial cells revisited. Infect. Immun. 69, 3772–3781 (2001).

Nakamura, Y., Kimura, S. & Hase, K. M cell-dependent antigen uptake on follicle-associated epithelium for mucosal immune surveillance. Inflamm. Regen. 38, 15 (2018).

Hase, K. et al. Distinct gene expression profiles characterize cellular phenotypes of follicle-associated epithelium and M cells. DNA Res. 12, 127–137 (2005).

Dillon, A. & Lo, D. D. M cells: intelligent engineering of mucosal immune surveillance. Front. Immunol. 10, 1499 (2019).

Lim, J. S. et al. Caveolae-mediated entry of Salmonella typhimurium in a human M-cell model. Biochem. Biophys. Res. Commun. 390, 1322–1327 (2009).

Terahara, K. et al. Comprehensive gene expression profiling of Peyer's patch M cells, villous M-like cells, and intestinal epithelial cells. J. Immunol. 180, 7840–7846 (2008).

Hase, K. et al. The membrane-bound chemokine CXCL16 expressed on follicle-associated epithelium and M cells mediates lympho-epithelial interaction in GALT. J. Immunol. 176, 43–51 (2006).

Kanaya, T. & Ohno, H. The mechanisms of M-cell differentiation. Biosci. Microbiota Food Health 33, 91–97 (2014).

Roulis, M. et al. Paracrine orchestration of intestinal tumorigenesis by a mesenchymal niche. Nature 580, 524–529 (2020).
Acknowledgements
We thank M. Juhas for the generation of stem-cell-derived macrophages and help with co-culture experiments; R. Guiet and O. Burri for programming image-processing plug-ins; J. Dorsaz, J. Pernollet and all engineers of the Center of Micronanotechnology (CMi, EPFL) for support in microfabrication; S. Rezakhani, G. Sorrentino and K. Schoonjans for help with cholangiocyte isolation; D. Schaefer and M. Riggs for providing oocysts; R. O'Connor for expertise in analysing C. parvum epicellular stages; F. Gorostidi and S. Kishore for providing trachea tissue samples; and A. Manfrin, S. Höhnel, G. Rossi, M. Knobloch and A. Persat for inputs on the manuscript. We acknowledge support from the following EPFL core facilities: CMi, Histology, BIOP, CryoEM and CECF. This work was funded by the Swiss National Science Foundation (SNSF) research grant 310030_179447; the National Center of Competence in Research (NCCR) 'Bio-Inspired Materials' (https://www.bioinspired-materials.ch/); the EU Horizon 2020 research programme INTENS (http://www.intens.info/); the Personalized Health and Related Technologies (PHRT) Initiative from the ETH Board; and EPFL. S.G. was supported in part by a fellowship from the Novartis Foundation for Medical-Biological Research. N.G. was supported in part by an EMBO Long-Term Postdoctoral Fellowship.
Ethics declarations
Competing interests
The EPFL has filed for patent protection (EP16199677.2, PCT/EP2017/079651, US20190367872A1) on the scaffold-guided organoid technology described herein, and M.P.L., M.N., S.G., Y.T., N. Brandenberg and N.G. are named as inventors on those patents. M.P.L. and N. Brandenberg are shareholders in SUN bioscience SA, which is commercializing those patents. H.C. is an inventor on several patents related to organoid technology. The other authors declare no competing interests.
Additional information
Peer review information Nature thanks Dominic Grun, Thomas F. Meyer, Honorine Ward and the other, anonymous, reviewer(s) for their contribution to the peer review of this work.
Publisher's note Springer Nature remains neutral with regard to jurisdictional claims in published maps and institutional affiliations.
Extended data figures and tables
Supplementary information
About this article
Cite this article
Nikolaev, M., Mitrofanova, O., Broguiere, N. et al. Homeostatic mini-intestines through scaffold-guided organoid morphogenesis. Nature 585, 574–578 (2020). https://doi.org/10.1038/s41586-020-2724-8
Received:

Accepted:

Published:

Issue Date:

DOI: https://doi.org/10.1038/s41586-020-2724-8
Comments
By submitting a comment you agree to abide by our Terms and Community Guidelines. If you find something abusive or that does not comply with our terms or guidelines please flag it as inappropriate.