Abstract
Neural crest cells (NCCs) are migratory, multipotent embryonic cells that are unique to vertebrates and form an array of clade-defining adult features. The evolution of NCCs has been linked to various genomic events, including the evolution of new gene-regulatory networks1,2, the de novo evolution of genes3 and the proliferation of paralogous genes during genome-wide duplication events4. However, conclusive functional evidence linking new and/or duplicated genes to NCC evolution is lacking. Endothelin ligands (Edns) and endothelin receptors (Ednrs) are unique to vertebrates3,5,6, and regulate multiple aspects of NCC development in jawed vertebrates7,8,9,10. Here, to test whether the evolution of Edn signalling was a driver of NCC evolution, we used CRISPR–Cas9 mutagenesis11 to disrupt edn, ednr and dlx genes in the sea lamprey, Petromyzon marinus. Lampreys are jawless fishes that last shared a common ancestor with modern jawed vertebrates around 500 million years ago12. Thus, comparisons between lampreys and gnathostomes can identify deeply conserved and evolutionarily flexible features of vertebrate development. Using the frog Xenopus laevis to expand gnathostome phylogenetic representation and facilitate side-by-side analyses, we identify ancient and lineage-specific roles for Edn signalling. These findings suggest that Edn signalling was activated in NCCs before duplication of the vertebrate genome. Then, after one or more genome-wide duplications in the vertebrate stem, paralogous Edn pathways functionally diverged, resulting in NCC subpopulations with different Edn signalling requirements. We posit that this new developmental modularity facilitated the independent evolution of NCC derivatives in stem vertebrates. Consistent with this, differences in Edn pathway targets are associated with differences in the oropharyngeal skeleton and autonomic nervous system of lampreys and modern gnathostomes. In summary, our work provides functional genetic evidence linking the origin and duplication of new vertebrate genes with the stepwise evolution of a defining vertebrate novelty.
Relevant articles
Open Access articles citing this article.
Adriana Torres Crigna

,

Barbara Link

…

Olga Golubnitschaja

EPMA Journal Open Access 04 August 2021
Access options
Access Nature and 54 other Nature Portfolio journals
Get Nature+, our best-value online-access subscription
$29.99 / 30 days
cancel any time
Subscribe to this journal
Receive 51 print issues and online access
$199.00 per year
only $3.90 per issue
Rent or buy this article
Prices vary by article type
from$1.95
to$39.95
Prices may be subject to local taxes which are calculated during checkout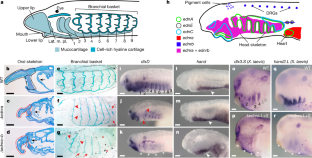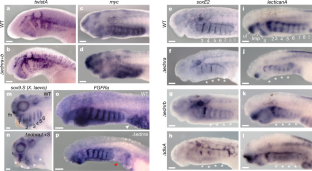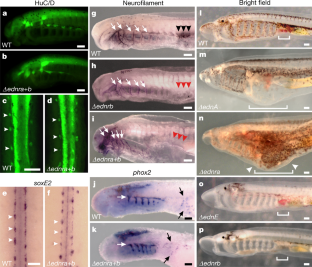 Data availability
All data generated or analysed, and all methods used during this study are summarized in the Article (and its Supplementary Information). The raw data and images are available from the first and second authors upon reasonable request.
References
Meulemans, D. & Bronner-Fraser, M. Gene-regulatory interactions in neural crest evolution and development. Dev. Cell 7, 291–299 (2004).

Martik, M. L. et al. Evolution of the new head by gradual acquisition of neural crest regulatory circuits. Nature 574, 675–678 (2019).

Martinez-Morales, J. R., Henrich, T., Ramialison, M. & Wittbrodt, J. New genes in the evolution of the neural crest differentiation program. Genome Biol. 8, R36 (2007).

Ohno, S. Evolution by Gene Duplication (Springer–Verlag, 1970).

Braasch, I. & Schartl, M. Evolution of endothelin receptors in vertebrates. Gen. Comp. Endocrinol. 209, 21–34 (2014).

Braasch, I., Volff, J. N. & Schartl, M. The endothelin system: evolution of vertebrate-specific ligand-receptor interactions by three rounds of genome duplication. Mol. Biol. Evol. 26, 783–799 (2009).

Miller, C. T., Schilling, T. F., Lee, K., Parker, J. & Kimmel, C. B. sucker encodes a zebrafish Endothelin-1 required for ventral pharyngeal arch development. Development 127, 3815–3828 (2000).

Miller, C. T., Yelon, D., Stainier, D. Y. & Kimmel, C. B. Two endothelin 1 effectors, hand2 and bapx1, pattern ventral pharyngeal cartilage and the jaw joint. Development 130, 1353–1365 (2003).

Krauss, J. et al. Endothelin signalling in iridophore development and stripe pattern formation of zebrafish. Biol. Open 3, 503–509 (2014).

Baynash, A. G. et al. Interaction of endothelin-3 with endothelin-B receptor is essential for development of epidermal melanocytes and enteric neurons. Cell 79, 1277–1285 (1994).

Square, T. et al. CRISPR/Cas9-mediated mutagenesis in the sea lamprey Petromyzon marinus: a powerful tool for understanding ancestral gene functions in vertebrates. Development 142, 4180–4187 (2015).

Stock, D. W. & Whitt, G. S. Evidence from 18S ribosomal RNA sequences that lampreys and hagfishes form a natural group. Science 257, 787–789 (1992).

Clouthier, D. E. et al. Cranial and cardiac neural crest defects in endothelin-A receptor-deficient mice. Development 125, 813–824 (1998).

Ruest, L. B., Xiang, X., Lim, K. C., Levi, G. & Clouthier, D. E. Endothelin-A receptor-dependent and -independent signaling pathways in establishing mandibular identity. Development 131, 4413–4422 (2004).

Tavares, A. L. P. et al. Ectodermal-derived Endothelin1 is required for patterning the distal and intermediate domains of the mouse mandibular arch. Dev. Biol. 371, 47–56 (2012).

Charité, J. et al. Role of Dlx6 in regulation of an endothelin-1-dependent, dHAND branchial arch enhancer. Genes Dev. 15, 3039–3049 (2001).

Parichy, D. M. et al. Mutational analysis of endothelin receptor b1 (rose) during neural crest and pigment pattern development in the zebrafish Danio rerio. Dev. Biol. 227, 294–306 (2000).

Kawasaki-Nishihara, A., Nishihara, D., Nakamura, H. & Yamamoto, H. ET3/Ednrb2 signaling is critically involved in regulating melanophore migration in Xenopus. Dev. Dyn. 240, 1454–1466 (2011).

Metallinos, D. L., Bowling, A. T. & Rine, J. A missense mutation in the endothelin-B receptor gene is associated with lethal white foal syndrome: an equine version of Hirschsprung disease. Mamm. Genome 9, 426–431 (1998).

Sánchez-Mejías, A., Fernández, R. M., López-Alonso, M., Antiñolo, G. & Borrego, S. New roles of EDNRB and EDN3 in the pathogenesis of Hirschsprung disease. Genet. Med. 12, 39–43 (2010).

Square, T., Jandzik, D., Cattell, M., Hansen, A. & Medeiros, D. M. Embryonic expression of endothelins and their receptors in lamprey and frog reveals stem vertebrate origins of complex Endothelin signaling. Sci. Rep. 6, 34282 (2016).

Cerny, R. et al. Evidence for the prepattern/cooption model of vertebrate jaw evolution. Proc. Natl Acad. Sci. USA 107, 17262–17267 (2010).

Kuraku, S., Takio, Y., Sugahara, F., Takechi, M. & Kuratani, S. Evolution of oropharyngeal patterning mechanisms involving Dlx and endothelins in vertebrates. Dev. Biol. 341, 315–323 (2010).

Johnels, A. G. On the development and morphology of the skeleton of the head of Petromyzon. Acta Zool. 29, 139–277 (1948).

Green, S. A., Uy, B. R. & Bronner, M. E. Ancient evolutionary origin of vertebrate enteric neurons from trunk-derived neural crest. Nature 544, 88–91 (2017).

Kuratani, S. Evolution of the vertebrate jaw from developmental perspectives. Evol. Dev. 14, 76–92 (2012).

Smith, J. J. et al. The sea lamprey germline genome provides insights into programmed genome rearrangement and vertebrate evolution. Nat. Genet. 50, 270–277 (2018).

Camargo Sosa, K. et al. Endothelin receptor Aa regulates proliferation and differentiation of Erb-dependant pigment progenitors in zebrafish. PLOS Genet. 15, e1007941 (2019).

Yao, T., Ohtani, K., Kuratani, S. & Wada, H. Development of lamprey mucocartilage and its dorsal–ventral patterning by endothelin signaling, with insight into vertebrate jaw evolution. J. Exp. Zoolog. B 316, 339–346 (2011).

Clouthier, D. E., Garcia, E. & Schilling, T. F. Regulation of facial morphogenesis by endothelin signaling: insights from mice and fish. Am. J. Med. Genet. A. 152A, 2962–2973 (2010).

Fujimoto, S., Oisi, Y., Kuraku, S., Ota, K. G. & Kuratani, S. Non-parsimonious evolution of hagfish Dlx genes. BMC Evol. Biol. 13, 15 (2013).

Tahara, Y. Normal stages of development in the lamprey Lampetra reissneri (Dybowski). Zool. Sci. 5, 109–118 (1988).

Nair, S., Li, W., Cornell, R. & Schilling, T. F. Requirements for Endothelin type-A receptors and Endothelin-1 signaling in the facial ectoderm for the patterning of skeletogenic neural crest cells in zebrafish. Development 134, 335–245 (2007).

Bonano, M. et al. A new role for the Endothelin-1/Endothelin-A receptor signaling during early neural crest specification. Dev. Biol. 323, 114–129 (2008).

Asai, R. et al. Endothelin receptor type A expression defines a distinct cardiac subdomain within the heart field and is later implicated in chamber myocardium formation. Development 137, 3823–3833 (2010).

Jandzik, D. et al. Roles for FGF in lamprey pharyngeal pouch formation and skeletogenesis highlight ancestral functions in the vertebrate head. Development 141, 629–638 (2014).

Bondurand, N., Dufour, S. & Pingault, V. News from the endothelin-3/EDNRB signaling pathway: role during enteric nervous system development and involvement in neural crest-associated disorders. Dev. Biol. 444 (Suppl 1), S156–S169 (2018).

Higashiyama, H. et al. On the vagal cardiac nerves, with special reference to the early evolution of the head-trunk interface. J. Morphol. 277, 1146–1158 (2016).

Thiagarajah, J. R. et al. Altered goblet cell differentiation and surface mucus properties in Hirschsprung disease. PLoS ONE 9, e99944 (2014).

von Boyen, G. B. et al. Abnormalities of the enteric nervous system in heterozygous endothelin B receptor deficient (spotting lethal) rats resembling intestinal neuronal dysplasia. Gut 51, 414–419 (2002).

Karne, S., Jayawickreme, C. K. & Lerner, M. R. Cloning and characterization of an endothelin-3 specific receptor (ETC receptor) from Xenopus laevis dermal melanophores. J. Biol. Chem. 268, 19126–19133 (1993).

Spiewak, J. E. et al. Evolution of Endothelin signaling and diversification of adult pigment pattern in Danio fishes. PLoS Genet. 14, e1007538 (2018).

Woodcock, M. R. et al. Identification of mutant genes and introgressed tiger salamander DNA in the laboratory axolotl, Ambystoma mexicanum. Sci. Rep. 7, 6 (2017).

Simakov, O. et al. Deeply conserved synteny resolves early events in vertebrate evolution. Nat. Ecol. Evol. 4, 820–830 (2020).

Yanagisawa, H. et al. Dual genetic pathways of endothelin-mediated intercellular signaling revealed by targeted disruption of endothelin converting enzyme-1 gene. Development 125, 825–836 (1998).

Sive, H. L., Grainger, R. M. & Harland, R. M. Early development of Xenopus laevis: A Laboratory Manual (Cold Spring Harbor Laboratory Press, 2000).

Nieuwkoop, P. D. & Faber, J. Normal Table of Xenopus laevis (Daudin): A Systematical and Chronological Survey of the Development from the Fertilized Egg Till the End of Metamorphosis (Garland, 1994).

Zu, Y. et al. Biallelic editing of a lamprey genome using the CRISPR/Cas9 system. Sci. Rep. 6, 23496 (2016).

York, J. R., Yuan, T., Lakiza, O. & McCauley, D. W. An ancestral role for Semaphorin3F-Neuropilin signaling in patterning neural crest within the new vertebrate head. Development 145, dev164780 (2018).

York, J. R., Yuan, T., Zehnder, K. & McCauley, D. W. Lamprey neural crest migration is Snail-dependent and occurs without a differential shift in cadherin expression. Dev. Biol. 428, 176–187 (2017).

Yuan, T., York, J. R. & McCauley, D. W. Gliogenesis in lampreys shares gene regulatory interactions with oligodendrocyte development in jawed vertebrates. Dev. Biol. 441, 176–190 (2018).

Wang, F. et al. Targeted gene disruption in Xenopus laevis using CRISPR/Cas9. Cell Biosci. 5, 15 (2015).

Rosen, J. N., Sweeney, M. F. & Mably, J. D. Microinjection of zebrafish embryos to analyze gene function. J. Vis. Exp. 25,1115 (2009).

Session, A. M. et al. Genome evolution in the allotetraploid frog Xenopus laevis. Nature 538, 336–343 (2016).

Flowers, G. P., Timberlake, A. T., McLean, K. C., Monaghan, J. R. & Crews, C. M. Highly efficient targeted mutagenesis in axolotl using Cas9 RNA-guided nuclease. Development 141, 2165–2171 (2014).

Square, T. et al. A gene expression map of the larval Xenopus laevis head reveals developmental changes underlying the evolution of new skeletal elements. Dev. Biol. 397, 293–304 (2015).

Aigler, S. R., Jandzik, D., Hatta, K., Uesugi, K. & Stock, D. W. Selection and constraint underlie irreversibility of tooth loss in cypriniform fishes. Proc. Natl Acad. Sci. USA 111, 7707–7712 (2014).

Sauka-Spengler, T., Meulemans, D., Jones, M. & Bronner-Fraser, M. Ancient evolutionary origin of the neural crest gene regulatory network. Dev. Cell 13, 405–420 (2007).

Meulemans, D., McCauley, D. & Bronner-Fraser, M. Id expression in amphioxus and lamprey highlights the role of gene cooption during neural crest evolution. Dev. Biol. 264, 430–442 (2003).

Haming, D. et al. Expression of sympathetic nervous system genes in lamprey suggests their recruitment for specification of a new vertebrate feature. PLoS ONE 6, 0026543 (2011).

McCauley, D. W. & Bronner-Fraser, M. Importance of SoxE in neural crest development and the evolution of the pharynx. Nature 441, 750–752 (2006).

Yuan, T., York, J. R. & McCauley, D. W. Neural crest and placode roles in formation and patterning of cranial sensory ganglia in lamprey. Genesis 58, e23356 (2020).

Cattell, M. V., Garnett, A. T., Klymkowsky, M. W. & Medeiros, D. M. A maternally established SoxB1/SoxF axis is a conserved feature of chordate germ layer patterning. Evol. Dev. 14, 104–115 (2012).

Talikka, M., Stefani, G., Brivanlou, A. H. & Zimmerman, K. Characterization of Xenopus Phox2a and Phox2b defines expression domains within the embryonic nervous system and early heart field. Gene Expr. Patterns 4, 601–607 (2004).

McCauley, D. W. & Bronner-Fraser, M. Conservation of Pax gene expression in ectodermal placodes of the lamprey. Gene 287, 129–139 (2002).

Ware, M., Dupé, V. & Schubert, F. R. Evolutionary conservation of the early axon scaffold in the vertebrate brain. Dev. Dyn. 244, 1202–1214 (2015).

Modrell, M. S. et al. A fate-map for cranial sensory ganglia in the sea lamprey. Dev. Biol. 385, 405–416 (2014).

Schneider, C. A., Rasband, W. S. & Eliceiri, K. W. NIH Image to ImageJ: 25 years of image analysis. Nat. Methods 9, 671–675 (2012).

Tamura, K., Stecher, G., Peterson, D., Filipski, A. & Kumar, S. MEGA6: Molecular Evolutionary Genetics Analysis version 6.0. Mol. Biol. Evol. 30, 2725–2729 (2013).
Acknowledgements
We thank S. Miehls at the USGS Hammond Bay Biological Station and B. Laflamme at the Holyoke Dam for providing adult sea lampreys; B. Birsoy, J. Shi and M. Klymkowsky for assistance with X. laevis fertilizations; Z. Root for assistance with X. laevis and sea lamprey injections and husbandry; C. Altier for assistance with X. laevis husbandry; S. Schwikert for pro bono statistics consultation; C. Miller for his input on the manuscript; D. McCauley and J. York for providing HuC/D primary antibody and the IHC protocol; and R. Harland for providing secondary antibodies and staining advice for X. laevis. D.M.M., T.A.S., D.J., M.R., J.L.M. and M.V.C. were supported by National Science Foundation grants IOS 1656843, IOS 1257040 and IOS 0920751 to D.M.M. H.P.S. and A.W.H. were supported by the University of Colorado, Boulder Undergraduate Research Opportunities Program. D.J. was supported by the European Union's Horizon 2020 research and innovation programme under the Marie Skłodowska-Curie grant agreement no. 751066 and by the Scientific Grant Agency of the Slovak Republic VEGA grant no. 1/0415/17.
Ethics declarations
Competing interests
The authors declare no competing interests.
Additional information
Peer review information Nature thanks Ingo Braasch and the other, anonymous, reviewer(s) for their contribution to the peer review of this work.
Publisher's note Springer Nature remains neutral with regard to jurisdictional claims in published maps and institutional affiliations.
Extended data figures and tables
Supplementary information
About this article
Cite this article
Square, T.A., Jandzik, D., Massey, J.L. et al. Evolution of the endothelin pathway drove neural crest cell diversification. Nature 585, 563–568 (2020). https://doi.org/10.1038/s41586-020-2720-z
Received:

Accepted:

Published:

Issue Date:

DOI: https://doi.org/10.1038/s41586-020-2720-z
This article is cited by
Adriana Torres Crigna
Barbara Link
Olga Golubnitschaja

EPMA Journal (2021)
Comments
By submitting a comment you agree to abide by our Terms and Community Guidelines. If you find something abusive or that does not comply with our terms or guidelines please flag it as inappropriate.