Abstract
Stimulator of interferon genes (STING) is a receptor in human cells that senses foreign cyclic dinucleotides that are released during bacterial infection and in endogenous cyclic GMP–AMP signalling during viral infection and anti-tumour immunity1,2,3,4,5. STING shares no structural homology with other known signalling proteins6,7,8,9, which has limited attempts at functional analysis and prevented explanation of the origin of cyclic dinucleotide signalling in mammalian innate immunity. Here we reveal functional STING homologues encoded within prokaryotic defence islands, as well as a conserved mechanism of signal activation. Crystal structures of bacterial STING define a minimal homodimeric scaffold that selectively responds to cyclic di-GMP synthesized by a neighbouring cGAS/DncV-like nucleotidyltransferase (CD-NTase) enzyme. Bacterial STING domains couple the recognition of cyclic dinucleotides with the formation of protein filaments to drive oligomerization of TIR effector domains and rapid NAD+ cleavage. We reconstruct the evolutionary events that followed the acquisition of STING into metazoan innate immunity, and determine the structure of a full-length TIR–STING fusion from the Pacific oyster Crassostrea gigas. Comparative structural analysis demonstrates how metazoan-specific additions to the core STING scaffold enabled a switch from direct effector function to regulation of antiviral transcription. Together, our results explain the mechanism of STING-dependent signalling and reveal the conservation of a functional cGAS–STING pathway in prokaryotic defence against bacteriophages.
Access options
Subscribe to Journal
Get full journal access for 1 year
$199.00
only $3.90 per issue
All prices are NET prices.
VAT will be added later in the checkout.
Tax calculation will be finalised during checkout.
Rent or Buy article
Get time limited or full article access on ReadCube.
from$8.99
All prices are NET prices.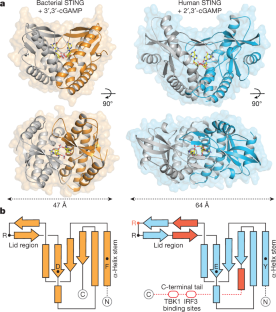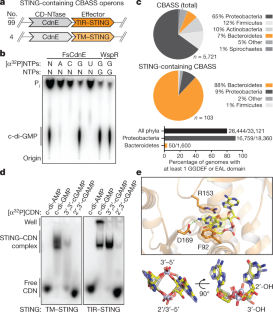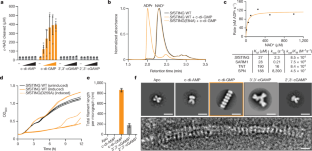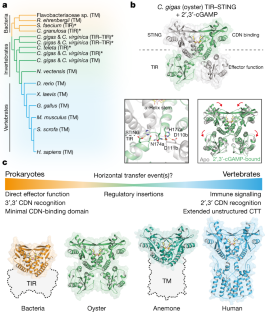 Data availability
Data that support the findings of this study are available within the Article, its Extended Data and Supplementary Information. IMG database accessions are listed in Extended Data Fig. 1, and PDB accessions are listed in each figure legend. Coordinates and structure factors of FsSTING–3′,3′-cGAMP, CgSTING, oyster TIR–STING, oyster TIR–STING–2′,3′-cGAMP, FsCdnE and CgCdnE have been deposited in PDB under accession codes 6WT4, 6WT5, 6WT6, 6WT7, 6WT8 and 6WT9, respectively. Source data are provided with this paper.
References
1.

Ishikawa, H. & Barber, G. N. STING is an endoplasmic reticulum adaptor that facilitates innate immune signalling. Nature 455, 674–678 (2008).

2.

Zhong, B. et al. The adaptor protein MITA links virus-sensing receptors to IRF3 transcription factor activation. Immunity 29, 538–550 (2008).

3.

Burdette, D. L. et al. STING is a direct innate immune sensor of cyclic di-GMP. Nature 478, 515–518 (2011).

4.

Sun, L., Wu, J., Du, F., Chen, X. & Chen, Z. J. Cyclic GMP–AMP synthase is a cytosolic DNA sensor that activates the type I interferon pathway. Science 339, 786–791 (2013).

5.

Ablasser, A. & Chen, Z. J. cGAS in action: expanding roles in immunity and inflammation. Science 363, eaat8657 (2019).

6.

Ouyang, S. et al. Structural analysis of the STING adaptor protein reveals a hydrophobic dimer interface and mode of cyclic di-GMP binding. Immunity 36, 1073–1086 (2012).

7.

Zhang, X. et al. Cyclic GMP–AMP containing mixed phosphodiester linkages is an endogenous high-affinity ligand for STING. Mol. Cell 51, 226–235 (2013).

8.

Kranzusch, P. J. et al. Ancient origin of cGAS–STING reveals mechanism of universal 2′,3′ cGAMP signaling. Mol. Cell 59, 891–903 (2015).

9.

Shang, G., Zhang, C., Chen, Z. J., Bai, X. C. & Zhang, X. Cryo-EM structures of STING reveal its mechanism of activation by cyclic GMP–AMP. Nature 567, 389–393 (2019).

10.

Cohen, D. et al. Cyclic GMP–AMP signalling protects bacteria against viral infection. Nature 574, 691–695 (2019).

11.

Gui, X. et al. Autophagy induction via STING trafficking is a primordial function of the cGAS pathway. Nature 567, 262–266 (2019).

12.

Zhang, C. et al. Structural basis of STING binding with and phosphorylation by TBK1. Nature 567, 394–398 (2019).

13.

Zhao, B. et al. A conserved PLPLRT/SD motif of STING mediates the recruitment and activation of TBK1. Nature 569, 718–722 (2019).

14.

de Oliveira Mann, C. C. et al. Modular architecture of the STING C-terminal tail allows interferon and NF-κB signaling adaptation. Cell Rep. 27, 1165–1175 (2019).

15.

Whiteley, A. T. et al. Bacterial cGAS-like enzymes synthesize diverse nucleotide signals. Nature 567, 194–199 (2019).

16.

Ye, Q. et al. HORMA domain proteins and a Trip13-like ATPase regulate bacterial cGAS-like enzymes to mediate bacteriophage immunity. Mol. Cell 77, 709–722 (2020).

17.

Lowey, B. et al. CBASS immunity uses CARF-related effectors to sense 3′-5′- and 2'-5′-linked cyclic oligonucleotide signals and protect bacteria from phage infection. Cell 182, 38–49 (2020).

18.

Jenal, U., Reinders, A. & Lori, C. Cyclic di-GMP: second messenger extraordinaire. Nat. Rev. Microbiol. 15, 271–284 (2017).

19.

Gao, P. et al. Structure-function analysis of STING activation by c[G(2′,5′)pA(3′,5′)p] and targeting by antiviral DMXAA. Cell 154, 748–762 (2013).

20.

Essuman, K. et al. TIR domain proteins are an ancient family of NAD+-consuming enzymes. Curr. Biol. 28, 421–430 (2018).

21.

Horsefield, S. et al. NAD+ cleavage activity by animal and plant TIR domains in cell death pathways. Science 365, 793–799 (2019).

22.

Wan, L. et al. TIR domains of plant immune receptors are NAD+-cleaving enzymes that promote cell death. Science 365, 799–803 (2019).

23.

Ergun, S. L., Fernandez, D., Weiss, T. M. & Li, L. STING polymer structure reveals mechanisms for activation, hyperactivation, and inhibition. Cell 178, 290–301 (2019).

24.

Margolis, S. R., Wilson, S. C. & Vance, R. E. Evolutionary origins of cGAS–STING signaling. Trends Immunol. 38, 733–743 (2017).

25.

Zhang, G. et al. The oyster genome reveals stress adaptation and complexity of shell formation. Nature 490, 49–54 (2012).

26.

Toshchakov, V. Y. & Neuwald, A. F. A survey of TIR domain sequence and structure divergence. Immunogenetics 72, 181–203 (2020).

27.

Wexler, A. G. & Goodman, A. L. An insider's perspective: Bacteroides as a window into the microbiome. Nat. Microbiol. 2, 17026 (2017).

28.

Woodward, J. J., Iavarone, A. T. & Portnoy, D. A. c-di-AMP secreted by intracellular Listeria monocytogenes activates a host type I interferon response. Science 328, 1703–1705 (2010).

29.

Dey, B. et al. A bacterial cyclic dinucleotide activates the cytosolic surveillance pathway and mediates innate resistance to tuberculosis. Nat. Med. 21, 401–406 (2015).

30.

Sixt, B. S. et al. The Chlamydia trachomatis inclusion membrane protein CpoS counteracts STING-mediated cellular surveillance and suicide programs. Cell Host Microbe 21, 113–121 (2017).

31.

Burroughs, A. M., Zhang, D., Schäffer, D. E., Iyer, L. M. & Aravind, L. Comparative genomic analyses reveal a vast, novel network of nucleotide-centric systems in biological conflicts, immunity and signaling. Nucleic Acids Res. 43, 10633–10654 (2015).

32.

Loring, H. S., Icso, J. D., Nemmara, V. V. & Thompson, P. R. Initial kinetic characterization of sterile alpha and Toll/interleukin receptor motif-containing protein 1. Biochemistry 59, 933–942 (2020).

33.

Tak, U. et al. The tuberculosis necrotizing toxin is an NAD+ and NADP+ glycohydrolase with distinct enzymatic properties. J. Biol. Chem. 294, 3024–3036 (2019).

34.

Ghosh, J., Anderson, P. J., Chandrasekaran, S. & Caparon, M. G. Characterization of Streptococcus pyogenes β-NAD+ glycohydrolase: re-evaluation of enzymatic properties associated with pathogenesis. J. Biol. Chem. 285, 5683–5694 (2010).

35.

Millman, A., Melamed, S., Amitai, G. & Sorek, R. Diversity and classification of cyclic-oligonucleotide-based anti-phage signalling systems. Nat. Microbiol. https://doi.org/10.1038/s41564-020-0777-y (2020).

36.

Chen, I. A. et al. IMG/M v.5.0: an integrated data management and comparative analysis system for microbial genomes and microbiomes. Nucleic Acids Res. 47, D666–D677 (2019).

37.

Zhou, W. et al. Structure of the human cGAS–DNA complex reveals enhanced control of immune surveillance. Cell 174, 300–311 (2018).

38.

Kabsch, W. Xds. Acta Crystallogr. D 66, 125–132 (2010).

39.

Adams, P. D. et al. PHENIX: a comprehensive Python-based system for macromolecular structure solution. Acta Crystallogr. D 66, 213–221 (2010).

40.

Emsley, P. & Cowtan, K. Coot: model-building tools for molecular graphics. Acta Crystallogr. D 60, 2126–2132 (2004).

41.

Huang, Y. H., Liu, X. Y., Du, X. X., Jiang, Z. F. & Su, X. D. The structural basis for the sensing and binding of cyclic di-GMP by STING. Nat. Struct. Mol. Biol. 19, 728–730 (2012).

42.

Shang, G. et al. Crystal structures of STING protein reveal basis for recognition of cyclic di-GMP. Nat. Struct. Mol. Biol. 19, 725–727 (2012).

43.

Shu, C., Yi, G., Watts, T., Kao, C. C. & Li, P. Structure of STING bound to cyclic di-GMP reveals the mechanism of cyclic dinucleotide recognition by the immune system. Nat. Struct. Mol. Biol. 19, 722–724 (2012).

44.

Yin, Q. et al. Cyclic di-GMP sensing via the innate immune signaling protein STING. Mol. Cell 46, 735–745 (2012).

45.

Cavlar, T., Deimling, T., Ablasser, A., Hopfner, K. P. & Hornung, V. Species-specific detection of the antiviral small-molecule compound CMA by STING. EMBO J. 32, 1440–1450 (2013).

46.

Zhang, H. et al. Rat and human STINGs profile similarly towards anticancer/antiviral compounds. Sci. Rep. 5, 18035 (2015).

47.

Cong, X. et al. Crystal structures of porcine STINGCBD–CDN complexes reveal the mechanism of ligand recognition and discrimination of STING proteins. J. Biol. Chem. 294, 11420–11432 (2019).

48.

Krissinel, E. & Henrick, K. Secondary-structure matching (SSM), a new tool for fast protein structure alignment in three dimensions. Acta Crystallogr. D 60, 2256–2268 (2004).

49.

Pei, J. & Grishin, N. V. PROMALS3D: multiple protein sequence alignment enhanced with evolutionary and three-dimensional structural information. Methods Mol. Biol. 1079, 263–271 (2014).

50.

Katoh, K., Rozewicki, J. & Yamada, K. D. MAFFT online service: multiple sequence alignment, interactive sequence choice and visualization. Brief. Bioinform. 20, 1160–1166 (2019).

51.

Waterhouse, A. M., Procter, J. B., Martin, D. M., Clamp, M. & Barton, G. J. Jalview Version 2—a multiple sequence alignment editor and analysis workbench. Bioinformatics 25, 1189–1191 (2009).

52.

Letunic, I. & Bork, P. Interactive Tree Of Life (iTOL) v4: recent updates and new developments. Nucleic Acids Res. 47, W256–W259 (2019).

53.

Kulasakara, H. et al. Analysis of Pseudomonas aeruginosa diguanylate cyclases and phosphodiesterases reveals a role for bis-(3′-5′)-cyclic-GMP in virulence. Proc. Natl Acad. Sci. USA 103, 2839–2844 (2006).

54.

Tang, G. et al. EMAN2: an extensible image processing suite for electron microscopy. J. Struct. Biol. 157, 38–46 (2007).

55.

Zivanov, J. et al. New tools for automated high-resolution cryo-EM structure determination in RELION-3. eLife 7, e42166 (2018).

56.

Zhang, K. Gctf: real-time CTF determination and correction. J. Struct. Biol. 193, 1–12 (2016).

57.

Kranzusch, P. J. et al. Structure-guided reprogramming of human cGAS dinucleotide linkage specificity. Cell 158, 1011–1021 (2014).
Acknowledgements
We thank J. Morehouse, A. Lee, K. Chat, R. Vance and members of the Kranzusch laboratory for helpful comments and discussion; K. Arnett and the Harvard University Center for Macromolecular Interactions; the Molecular Electron Microscopy Suite at Harvard Medical School; and the Harvard Center for Mass Spectrometry. The work was funded by the Richard and Susan Smith Family Foundation (P.J.K. and S.S.), DFCI-Novartis Drug Discovery Program (P.J.K.), the Parker Institute for Cancer Immunotherapy (P.J.K.), a Cancer Research Institute CLIP Grant (P.J.K.), a V Foundation V Scholar Award (P.J.K.), the Pew Biomedical Scholars program (P.J.K.), Vallee Foundation (S.S.), the Ariane de Rothschild Women Doctoral Program (A.M.), the Israeli Council for Higher Education via the Weizmann Data Science Research Center (A.M.), the European Research Council (grant ERC-CoG 681203 to R.S.), the Ernest and Bonnie Beutler Research Program of Excellence in Genomic Medicine (R.S.), the Minerva Foundation (R.S.) and the Knell Family Center for Microbiology (R.S.). B.R.M. is supported as a Ruth L. Kirschstein NRSA Postdoctoral Fellow NIH F32GM133063, A.A.G. is supported by a United States National Science Foundation Graduate Research Fellowship, B.L. is supported as a Herchel Smith Graduate Research Fellow, G.O. is supported by a Weizmann Sustainability and Energy Research Initiative (SAERI) doctoral fellowship. X-ray data were collected at the Northeastern Collaborative Access Team beamlines 24-ID-C and 24-ID-E (P30 GM124165), and used a Pilatus detector (S10RR029205), an Eiger detector (S10OD021527) and the Argonne National Laboratory Advanced Photon Source (DE-AC02-06CH11357).
Ethics declarations
Competing interests
The authors declare no competing interests.
Additional information
Peer review information Nature thanks Urs Jenal and the other, anonymous, reviewer(s) for their contribution to the peer review of this work. Peer reviewer reports are available.
Publisher's note Springer Nature remains neutral with regard to jurisdictional claims in published maps and institutional affiliations.
Extended data figures and tables
Supplementary information
This table contains a summary of X-ray data collection, phasing and refinement statistics.
About this article
Cite this article
Morehouse, B.R., Govande, A.A., Millman, A. et al. STING cyclic dinucleotide sensing originated in bacteria. Nature 586, 429–433 (2020). https://doi.org/10.1038/s41586-020-2719-5
Received:

Accepted:

Published:

Issue Date:
Further reading
Alexiane Decout

,

Jason D. Katz

,

Shankar Venkatraman

&

Andrea Ablasser

Nature Reviews Immunology (2021)

Małgorzata Łobocka

,

Krystyna Dąbrowska

&

Andrzej Górski

BioDrugs (2021)

Justin Jenson

&

Zhijian J. Chen

Nature (2020)
Comments
By submitting a comment you agree to abide by our Terms and Community Guidelines. If you find something abusive or that does not comply with our terms or guidelines please flag it as inappropriate.