Abstract
Aberrant aggregation of the RNA-binding protein TDP-43 in neurons is a hallmark of frontotemporal lobar degeneration caused by haploinsufficiency in the gene encoding progranulin1,2. However, the mechanism leading to TDP-43 proteinopathy remains unclear. Here we use single-nucleus RNA sequencing to show that progranulin deficiency promotes microglial transition from a homeostatic to a disease-specific state that causes endolysosomal dysfunction and neurodegeneration in mice. These defects persist even when Grn−/− microglia are cultured ex vivo. In addition, single-nucleus RNA sequencing reveals selective loss of excitatory neurons at disease end-stage, which is characterized by prominent nuclear and cytoplasmic TDP-43 granules and nuclear pore defects. Remarkably, conditioned media from Grn−/− microglia are sufficient to promote TDP-43 granule formation, nuclear pore defects and cell death in excitatory neurons via the complement activation pathway. Consistent with these results, deletion of the genes encoding C1qa and C3 mitigates microglial toxicity and rescues TDP-43 proteinopathy and neurodegeneration. These results uncover previously unappreciated contributions of chronic microglial toxicity to TDP-43 proteinopathy during neurodegeneration.
Relevant articles
Open Access articles citing this article.
Yueman Zhang

,

Yunlu Guo

…

Peiying Li

Journal of Neuroinflammation Open Access 15 May 2023

Yanan Lin

,

Nannan Yu

…

Yanlin Bi

BMC Geriatrics Open Access 10 May 2023

Skylar E. Davis

,

Anna K. Cook

…

Andrew E. Arrant

Acta Neuropathologica Communications Open Access 28 April 2023
Access options
Access Nature and 54 other Nature Portfolio journals
Get Nature+, our best-value online-access subscription
$29.99 / 30 days
cancel any time
Subscribe to this journal
Receive 51 print issues and online access
$199.00 per year
only $3.90 per issue
Rent or buy this article
Prices vary by article type
from$1.95
to$39.95
Prices may be subject to local taxes which are calculated during checkout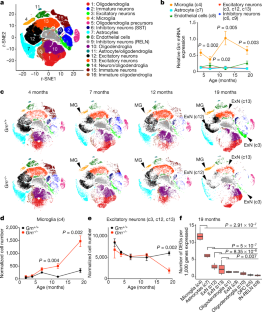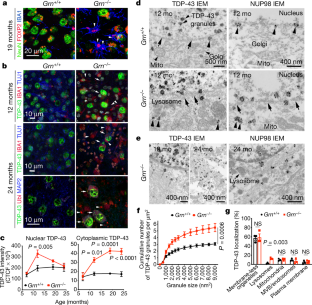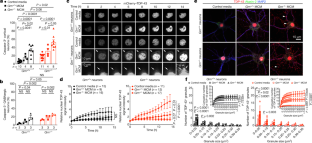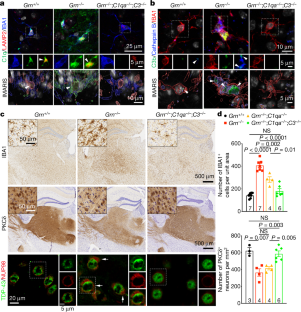 Data availability
The raw snRNA-seq and scRNA-seq data have been deposited to the Sequence Read Archive under accession no. PRJNA507872 and no. PRJNA614533, respectively. The data that support the findings of this study are included in the manuscript. Source data are provided for Figs. 1–4 and Extended Data Figs. 1–11.
References
Hofmann, J. W., Seeley, W. W. & Huang, E. J. RNA binding proteins and the pathogenesis of frontotemporal lobar degeneration. Annu. Rev. Pathol. 14, 469–495 (2019).

Mackenzie, I. R. et al. A harmonized classification system for FTLD-TDP pathology. Acta Neuropathol. 122, 111–113 (2011).

Baker, M. et al. Mutations in progranulin cause tau-negative frontotemporal dementia linked to chromosome 17. Nature 442, 916–919 (2006).

Cruts, M. et al. Null mutations in progranulin cause ubiquitin-positive frontotemporal dementia linked to chromosome 17q21. Nature 442, 920–924 (2006).

Kao, A. W., McKay, A., Singh, P. P., Brunet, A. & Huang, E. J. Progranulin, lysosomal regulation and neurodegenerative disease. Nat. Rev. Neurosci. 18, 325–333 (2017).

Lui, H. et al. Progranulin deficiency promotes circuit-specific synaptic pruning by microglia via complement activation. Cell 165, 921–935 (2016).

Chang, M. C. et al. Progranulin deficiency causes impairment of autophagy and TDP-43 accumulation. J. Exp. Med. 214, 2611–2628 (2017).

Ward, M. E. et al. Individuals with progranulin haploinsufficiency exhibit features of neuronal ceroid lipofuscinosis. Sci. Transl. Med. 9, eaah5642 (2017).

Laferrière, F. et al. TDP-43 extracted from frontotemporal lobar degeneration subject brains displays distinct aggregate assemblies and neurotoxic effects reflecting disease progression rates. Nat. Neurosci. 22, 65–77 (2019).

Habib, N. et al. Div-seq: single-nucleus RNA-seq reveals dynamics of rare adult newborn neurons. Science 353, 925–928 (2016).

Lake, B. B. et al. Neuronal subtypes and diversity revealed by single-nucleus RNA sequencing of the human brain. Science 352, 1586–1590 (2016).

Hammond, T. R. et al. Single-cell RNA sequencing of microglia throughout the mouse lifespan and in the injured brain reveals complex cell-state changes. Immunity 50, 253–271.e6 (2019).

Ximerakis, M. et al. Single-cell transcriptomic profiling of the aging mouse brain. Nat. Neurosci. 22, 1696–1708 (2019).

Cao, J. et al. Comprehensive single-cell transcriptional profiling of a multicellular organism. Science 357, 661–667 (2017).

Qiu, X. et al. Reversed graph embedding resolves complex single-cell trajectories. Nat. Methods 14, 979–982 (2017).

Matcovitch-Natan, O. et al. Microglia development follows a stepwise program to regulate brain homeostasis. Science 353, aad8670 (2016).

Keren-Shaul, H. et al. A unique microglia type associated with restricting development of Alzheimer's disease. Cell 169, 1276–1290.e17 (2017).

Kao, P. F. et al. Detection of TDP-43 oligomers in frontotemporal lobar degeneration-TDP. Ann. Neurol. 78, 211–221 (2015).

Griffis, E. R., Xu, S. & Powers, M. A. Nup98 localizes to both nuclear and cytoplasmic sides of the nuclear pore and binds to two distinct nucleoporin subcomplexes. Mol. Biol. Cell 14, 600–610 (2003).

McGurk, L. et al. Poly(ADP-ribose) prevents pathological phase separation of TDP-43 by promoting liquid demixing and stress granule localization. Mol. Cell 71, 703–717.e9 (2018).

Gasset-Rosa, F. et al. Cytoplasmic TDP-43 de-mixing independent of stress granules drives inhibition of nuclear import, loss of nuclear TDP-43, and cell death. Neuron 102, 339–357.e7 (2019).

Mann, J. R. et al. RNA binding antagonizes neurotoxic phase transitions of TDP-43. Neuron 102, 321–338.e8 (2019).

Liszewski, M. K. et al. Intracellular complement activation sustains T cell homeostasis and mediates effector differentiation. Immunity 39, 1143–1157 (2013).

West, E. E., Afzali, B. & Kemper, C. Unexpected roles for intracellular complement in the regulation of Th1 responses. Adv. Immunol. 138, 35–70 (2018).

Liu, G. et al. Endocytosis regulates TDP-43 toxicity and turnover. Nat. Commun. 8, 2092 (2017).

Moisse, K. et al. Divergent patterns of cytosolic TDP-43 and neuronal progranulin expression following axotomy: implications for TDP-43 in the physiological response to neuronal injury. Brain Res. 1249, 202–211 (2009).

Wiesner, D. et al. Reversible induction of TDP-43 granules in cortical neurons after traumatic injury. Exp. Neurol. 299, 15–25 (2018).

Vogler, T. O. et al. TDP-43 and RNA form amyloid-like myo-granules in regenerating muscle. Nature 563, 508–513 (2018).

Martens, L. H. et al. Progranulin deficiency promotes neuroinflammation and neuron loss following toxin-induced injury. J. Clin. Invest. 122, 3955–3959 (2012).

Nguyen, A. D. et al. Murine knockin model for progranulin-deficient frontotemporal dementia with nonsense-mediated mRNA decay. Proc. Natl Acad. Sci. USA 115, E2849–E2858 (2018).

Botto, M. et al. Homozygous C1q deficiency causes glomerulonephritis associated with multiple apoptotic bodies. Nat. Genet. 19, 56–59 (1998).

Bhaduri, A., Nowakowski, T. J., Pollen, A. A. & Kriegstein, A. R. Identification of cell types in a mouse brain single-cell atlas using low sampling coverage. BMC Biol. 16, 113 (2018).

Finak, G. et al. MAST: a flexible statistical framework for assessing transcriptional changes and characterizing heterogeneity in single-cell RNA sequencing data. Genome Biol. 16, 278 (2015).

Crowell, H. L. et al. On the discovery of subpopulation-specific state transitions from multi-sample multi-condition single-cell RNA sequencing data. Preprint at bioRxiv https://doi.org/10.1101/713412 (2020).

McCarthy, D. J., Chen, Y. & Smyth, G. K. Differential expression analysis of multifactor RNA-seq experiments with respect to biological variation. Nucleic Acids Res. 40, 4288–4297 (2012).

Mi, H., Muruganujan, A. & Thomas, P. D. PANTHER in 2013: modeling the evolution of gene function, and other gene attributes, in the context of phylogenetic trees. Nucleic Acids Res. 41, D377–D386 (2013).

Thomas, P. D. et al. PANTHER: a library of protein families and subfamilies indexed by function. Genome Res. 13, 2129–2141 (2003).

Zhou, Y. et al. Metascape provides a biologist-oriented resource for the analysis of systems-level datasets. Nat. Commun. 10, 1523 (2019).

Stuart, T. et al. Comprehensive integration of single-cell data. Cell 177, 1888–1902.e21 (2019).

Cao, J. et al. The single-cell transcriptional landscape of mammalian organogenesis. Nature 566, 496–502 (2019).

Huang, E. J. et al. Targeted deletion of numb and numblike in sensory neurons reveals their essential functions in axon arborization. Genes Dev. 19, 138–151 (2005).

Bohlen, C. J. et al. Diverse requirements for microglial survival, specification, and function revealed by defined-medium cultures. Neuron 94, 759–773.e8 (2017).

Lee, S. et al. Activation of HIPK2 promotes ER stress-mediated neurodegeneration in amyotrophic lateral sclerosis. Neuron 91, 41–55 (2016).

Shang, Y., Zhang, J. & Huang, E. J. HIPK2-mediated transcriptional control of NMDA receptor subunit expression regulates neuronal survival and cell death. J. Neurosci. 38, 4006–4019 (2018).

Spiegel, I. et al. Npas4 regulates excitatory–inhibitory balance within neural circuits through cell-type-specific gene programs. Cell 157, 1216–1229 (2014).

Alami, N. H. et al. Axonal transport of TDP-43 mRNA granules is impaired by ALS-causing mutations. Neuron 81, 536–543 (2014).

Stehbens, S., Pemble, H., Murrow, L. & Wittmann, T. Imaging intracellular protein dynamics by spinning disk confocal microscopy. Methods Enzymol. 504, 293–313 (2012).

Schermelleh, L. et al. Subdiffraction multicolor imaging of the nuclear periphery with 3D structured illumination microscopy. Science 320, 1332–1336 (2008).

Zhang, J. et al. Essential function of HIPK2 in TGFβ-dependent survival of midbrain dopamine neurons. Nat. Neurosci. 10, 77–86 (2007).

Martin, S. et al. Deficiency of G3BP1, the stress granules assembly factor, results in abnormal synaptic plasticity and calcium homeostasis in neurons. J. Neurochem. 125, 175–184 (2013).

Sahoo, P. K. et al. Axonal G3BP1 stress granule protein limits axonal mRNA translation and nerve regeneration. Nat. Commun. 9, 3358 (2018).
Acknowledgements
This work has been supported by grants from the US National Institutes of Health (R01 AA027074 to E.J.H. and A.R.K., R01 AG057462 to E.J.H. and J.D., R01 AG068290 to E.J.H., U01 MH105989 to A.R.K. and E.J.H., K99 MH121534 to D.V., K99 GM126136 to X.S., R01 GM124334 to B.H., R01 NS107480 to T.W. and S10 RR026758 to T.W.), the Department of Veterans Affairs (I01 BX002978 to E.J.H.), The Bluefield Project to Cure FTD (to W.W.S., B.L.M., T.C.W., R.V.F. and E.J.H.), NSF Graduate Research Fellowship (to M.K.C.), AHA Predoctoral Fellowship 19PRE3480616 and UCSF Discovery Fellowship (to J.C.), Banting Postdoctoral Fellowship from the Government of Canada 201409BPF-335868 (to A.M.L.), the Glenn Foundation and the Cure Alzheimer's Fund (to S.A.L.), and the Japan Society for the Promotion of Science and Ochanomizu University Scholarship (to K.H.). T.C.W. and J.P.T. are Howard Hughes Medical Institute (HHMI) Investigators, and B.H. is a Chan Zuckerberg Biohub Investigator. S.A.L. thanks anonymous donors for their support. We thank I. Hsieh for IEM, Y. Chen for mouse husbandry and histopathology, UCSF Nikon Imaging Center for 3D structured illumination microscopy, A. Alvarez-Buylla for many helpful advice, and L. Mitic and R. Pearlman for their support.
Ethics declarations
Competing interests
The authors declare no competing interests.
Additional information
Peer review information Nature thanks the anonymous reviewers for their contribution to the peer review of this work.
Publisher's note Springer Nature remains neutral with regard to jurisdictional claims in published maps and institutional affiliations.
Extended data figures and tables
Supplementary information
About this article
Cite this article
Zhang, J., Velmeshev, D., Hashimoto, K. et al. Neurotoxic microglia promote TDP-43 proteinopathy in progranulin deficiency. Nature 588, 459–465 (2020). https://doi.org/10.1038/s41586-020-2709-7
Received:

Accepted:

Published:

Issue Date:

DOI: https://doi.org/10.1038/s41586-020-2709-7
Comments
By submitting a comment you agree to abide by our Terms and Community Guidelines. If you find something abusive or that does not comply with our terms or guidelines please flag it as inappropriate.