Abstract
Heterochromatin that depends on histone H3 lysine 9 methylation (H3K9me) renders embedded genes transcriptionally silent1,2,3. In the fission yeast Schizosaccharomyces pombe, H3K9me heterochromatin can be transmitted through cell division provided the counteracting demethylase Epe1 is absent4,5. Heterochromatin heritability might allow wild-type cells under certain conditions to acquire epimutations, which could influence phenotype through unstable gene silencing rather than DNA change6,7. Here we show that heterochromatin-dependent epimutants resistant to caffeine arise in fission yeast grown with threshold levels of caffeine. Isolates with unstable resistance have distinct heterochromatin islands with reduced expression of embedded genes, including some whose mutation confers caffeine resistance. Forced heterochromatin formation at implicated loci confirms that resistance results from heterochromatin-mediated silencing. Our analyses reveal that epigenetic processes promote phenotypic plasticity, letting wild-type cells adapt to unfavourable environments without genetic alteration. In some isolates, subsequent or coincident gene-amplification events augment resistance. Caffeine affects two anti-silencing factors: Epe1 is downregulated, reducing its chromatin association, and a shortened isoform of Mst2 histone acetyltransferase is expressed. Thus, heterochromatin-dependent epimutation provides a bet-hedging strategy allowing cells to adapt transiently to insults while remaining genetically wild type. Isolates with unstable caffeine resistance show cross-resistance to antifungal agents, suggesting that related heterochromatin-dependent processes may contribute to resistance of plant and human fungal pathogens to such agents.
Relevant articles
Open Access articles citing this article.
Caojie Liu

,

Qiuchan Xiong

…

Ning Kang

Nature Communications Open Access 13 April 2022

Jérômine Vigneau

&

Michael Borg

Plant Reproduction Open Access 08 July 2021
Access options
Subscribe to Nature+
Get immediate online access to Nature and 55 other Nature journal
Subscribe to Journal
Get full journal access for 1 year
$199.00
only $3.90 per issue
All prices are NET prices.
VAT will be added later in the checkout.
Tax calculation will be finalised during checkout.
Buy article
Get time limited or full article access on ReadCube.
$32.00
All prices are NET prices.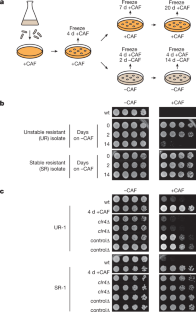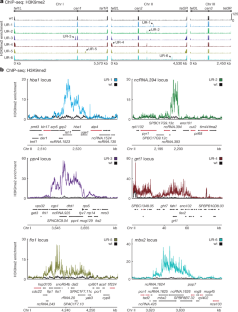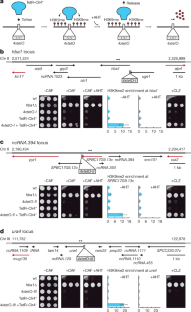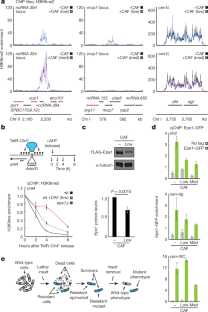 Data availability
Sequence data generated in this study have been submitted to GEO under accession number GSE138436. Source data are provided with this paper.
References
Bannister, A. J. et al. Selective recognition of methylated lysine 9 on histone H3 by the HP1 chromo domain. Nature 410, 120–124 (2001).

Lachner, M., O'Carroll, D., Rea, S., Mechtler, K. & Jenuwein, T. Methylation of histone H3 lysine 9 creates a binding site for HP1 proteins. Nature 410, 116–120 (2001).

Allshire, R. C. & Madhani, H. D. Ten principles of heterochromatin formation and function. Nat. Rev. Mol. Cell Biol. 19, 229–244 (2018).

Audergon, P. N. C. B. et al. Epigenetics. Restricted epigenetic inheritance of H3K9 methylation. Science 348, 132–135 (2015).

Ragunathan, K., Jih, G. & Moazed, D. Epigenetics. Epigenetic inheritance uncoupled from sequence-specific recruitment. Science 348, 1258699 (2015).

Jeggo, P. A. & Holliday, R. Azacytidine-induced reactivation of a DNA repair gene in Chinese hamster ovary cells. Mol. Cell. Biol. 6, 2944–2949 (1986).

Oey, H. & Whitelaw, E. On the meaning of the word 'epimutation'. Trends Genet. 30, 519–520 (2014).

Zhang, K., Mosch, K., Fischle, W. & Grewal, S. I. S. Roles of the Clr4 methyltransferase complex in nucleation, spreading and maintenance of heterochromatin. Nat. Struct. Mol. Biol. 15, 381–388 (2008).

Zofall, M. et al. RNA elimination machinery targeting meiotic mRNAs promotes facultative heterochromatin formation. Science 335, 96–100 (2012).

Wang, J., Reddy, B. D. & Jia, S. Rapid epigenetic adaptation to uncontrolled heterochromatin spreading. eLife 4, e06179 (2015).

Parsa, J.-Y., Boudoukha, S., Burke, J., Homer, C. & Madhani, H. D. Polymerase pausing induced by sequence-specific RNA-binding protein drives heterochromatin assembly. Genes Dev. 32, 953–964 (2018).

Sorida, M. et al. Regulation of ectopic heterochromatin-mediated epigenetic diversification by the JmjC family protein Epe1. PLoS Genet. 15, e1008129 (2019).

Yamanaka, S. et al. RNAi triggered by specialized machinery silences developmental genes and retrotransposons. Nature 493, 557–560 (2013).

Gallagher, P. S. et al. Iron homeostasis regulates facultative heterochromatin assembly in adaptive genome control. Nat. Struct. Mol. Biol. 25, 372–383 (2018).

Calvo, I. A. et al. Genome-wide screen of genes required for caffeine tolerance in fission yeast. PLoS ONE 4, e6619 (2009).

Ivanova, A. V., Bonaduce, M. J., Ivanov, S. V. & Klar, A. J. The chromo and SET domains of the Clr4 protein are essential for silencing in fission yeast. Nat. Genet. 19, 192–195 (1998).

Nakayama, J., Rice, J. C., Strahl, B. D., Allis, C. D. & Grewal, S. I. Role of histone H3 lysine 9 methylation in epigenetic control of heterochromatin assembly. Science 292, 110–113 (2001).

Kudo, N., Taoka, H., Toda, T., Yoshida, M. & Horinouchi, S. A novel nuclear export signal sensitive to oxidative stress in the fission yeast transcription factor Pap1. J. Biol. Chem. 274, 15151–15158 (1999).

Castillo, E. A., Vivancos, A. P., Jones, N., Ayté, J. & Hidalgo, E. Schizosaccharomyces pombe cells lacking the Ran-binding protein Hba1 show a multidrug resistance phenotype due to constitutive nuclear accumulation of Pap1. J. Biol. Chem. 278, 40565–40572 (2003).

Zofall, M., Smith, D. R., Mizuguchi, T., Dhakshnamoorthy, J. & Grewal, S. I. S. Taz1-Shelterin promotes facultative heterochromatin assembly at chromosome-internal sites containing late replication origins. Mol. Cell 62, 862–874 (2016).

Angerer, H. Eukaryotic LYR proteins interact with mitochondrial protein complexes. Biology (Basel) 4, 133–150 (2015).

Wang, S. W., Norbury, C., Harris, A. L. & Toda, T. Caffeine can override the S-M checkpoint in fission yeast. J. Cell Sci. 112, 927–937 (1999).

Libuda, D. E. & Winston, F. Amplification of histone genes by circular chromosome formation in Saccharomyces cerevisiae. Nature 443, 1003–1007 (2006).

Møller, H. D., Parsons, L., Jørgensen, T. S., Botstein, D. & Regenberg, B. Extrachromosomal circular DNA is common in yeast. Proc. Natl Acad. Sci. USA 112, E3114–E3122 (2015).

Hull, R. M. et al. Transcription-induced formation of extrachromosomal DNA during yeast ageing. PLoS Biol. 17, e3000471 (2019).

Wu, S. et al. Circular ecDNA promotes accessible chromatin and high oncogene expression. Nature 575, 699–703 (2019).

Stajic, D., Perfeito, L. & Jansen, L. E. T. Epigenetic gene silencing alters the mechanisms and rate of evolutionary adaptation. Nat. Ecol. Evol. 3, 491–498 (2019).

Thodberg, M. et al. Comprehensive profiling of the fission yeast transcription start site activity during stress and media response. Nucleic Acids Res. 47, 1671–1691 (2019).

Yan, Y., Barlev, N. A., Haley, R. H., Berger, S. L. & Marmorstein, R. Crystal structure of yeast Esa1 suggests a unified mechanism for catalysis and substrate binding by histone acetyltransferases. Mol. Cell 6, 1195–1205 (2000).

Cubas, P., Vincent, C. & Coen, E. An epigenetic mutation responsible for natural variation in floral symmetry. Nature 401, 157–161 (1999).

Heard, E. & Martienssen, R. A. Transgenerational epigenetic inheritance: myths and mechanisms. Cell 157, 95–109 (2014).

Calo, S. et al. Antifungal drug resistance evoked via RNAi-dependent epimutations. Nature 513, 555–558 (2014).

Antequera, F., Tamame, M., Villanueva, J. R. & Santos, T. DNA methylation in the fungi. J. Biol. Chem. 259, 8033–8036 (1984).

Wilkinson, C. R., Bartlett, R., Nurse, P. & Bird, A. P. The fission yeast gene pmt1 + encodes a DNA methyltransferase homologue. Nucleic Acids Res. 23, 203–210 (1995).

Fisher, M. C., Hawkins, N. J., Sanglard, D. & Gurr, S. J. Worldwide emergence of resistance to antifungal drugs challenges human health and food security. Science 360, 739–742 (2018).

Stone, N. R. et al. Dynamic ploidy changes drive fluconazole resistance in human cryptococcal meningitis. J. Clin. Invest. 129, 999–1014 (2019).

Moreno, S., Klar, A. & Nurse, P. Molecular genetic analysis of fission yeast Schizosaccharomyces pombe. Methods Enzymol. 194, 795–823 (1991).

Harigaya, Y. et al. Selective elimination of messenger RNA prevents an incidence of untimely meiosis. Nature 442, 45–50 (2006).

Watson, A. T. et al. Optimisation of the Schizosaccharomyces pombe urg1 expression system. PLoS ONE 8, e83800 (2013).

Delerue, T. et al. Loss of Msp1p in Schizosaccharomyces pombe induces a ROS-dependent nuclear mutator phenotype that affects mitochondrial fission genes. FEBS Lett. 590, 3544–3558 (2016).

Bähler, J. et al. Heterologous modules for efficient and versatile PCR-based gene targeting in Schizosaccharomyces pombe. Yeast 14, 943–951 (1998).

Tong, P. et al. Interspecies conservation of organisation and function between nonhomologous regional centromeres. Nat. Commun. 10, 2343 (2019).

Nerusheva, O. O., Galander, S., Fernius, J., Kelly, D. & Marston, A. L. Tension-dependent removal of pericentromeric shugoshin is an indicator of sister chromosome biorientation. Genes Dev. 28, 1291–1309 (2014).

Bolger, A. M., Lohse, M. & Usadel, B. Trimmomatic: a flexible trimmer for Illumina sequence data. Bioinformatics 30, 2114–2120 (2014).

Langmead, B. & Salzberg, S. L. Fast gapped-read alignment with Bowtie 2. Nat. Methods 9, 357–359 (2012).

Li, H. et al. The Sequence Alignment/Map format and SAMtools. Bioinformatics 25, 2078–2079 (2009).

Ramírez, F. et al. deepTools2: a next generation web server for deep-sequencing data analysis. Nucleic Acids Res. 44 (W1), W160–W165 (2016).

Diaz, A., Park, K., Lim, D. A. & Song, J. S. Normalization, bias correction, and peak calling for ChIP-seq. Stat. Appl. Genet. Mol. Biol. 11, 9 (2012).

Zhang, Y. et al. Model-based analysis of ChIP-Seq (MACS). Genome Biol. 9, R137 (2008).

Phanstiel, D. H., Boyle, A. P., Araya, C. L. & Snyder, M. P. Sushi.R: flexible, quantitative and integrative genomic visualizations for publication-quality multi-panel figures. Bioinformatics 30, 2808–2810 (2014).

Jeffares, D. C. et al. The genomic and phenotypic diversity of Schizosaccharomyces pombe. Nat. Genet. 47, 235–241 (2015).

McKenna, A. et al. The Genome Analysis Toolkit: a MapReduce framework for analyzing next-generation DNA sequencing data. Genome Res. 20, 1297–1303 (2010).

Van der Auwera, G. A. et al. From FastQ data to high confidence variant calls: the Genome Analysis Toolkit best practices pipeline. Curr. Protoc. Bioinformatics. 43, 11.10.1–11.10.33 (2013).

McLaren, W. et al. The Ensembl Variant Effect Predictor. Genome Biol. 17, 122 (2016).

Talevich, E., Shain, A. H., Botton, T. & Bastian, B. C. CNVkit: genome-wide copy number detection and visualization from targeted DNA sequencing. PLoS Comput. Biol. 12, e1004873 (2016).

Dobin, A. et al. STAR: ultrafast universal RNA-seq aligner. Bioinformatics 29, 15–21 (2013).

Lawrence, M. et al. Software for computing and annotating genomic ranges. PLOS Comput. Biol. 9, e1003118 (2013).

Love, M. I., Huber, W. & Anders, S. Moderated estimation of fold change and dispersion for RNA-seq data with DESeq2. Genome Biol. 15, 550 (2014).

Zhu, A., Ibrahim, J. G. & Love, M. I. Heavy-tailed prior distributions for sequence count data: removing the noise and preserving large differences. Bioinformatics 35, 2084–2092 (2019).

Fletcher, S. J., Boden, M., Mitter, N. & Carroll, B. J. SCRAM: a pipeline for fast index-free small RNA read alignment and visualization. Bioinformatics 34, 2670–2672 (2018).

Braun, S. et al. The Cul4-Ddb1(Cdt)2 ubiquitin ligase inhibits invasion of a boundary-associated antisilencing factor into heterochromatin. Cell 144, 41–54 (2011).

Woods, A. et al. Definition of individual components within the cytoskeleton of Trypanosoma brucei by a library of monoclonal antibodies. J. Cell Sci. 93, 491–500 (1989).

Pidoux, A. L. & Armstrong, J. The BiP protein and the endoplasmic reticulum of Schizosaccharomyces pombe: fate of the nuclear envelope during cell division. J. Cell Sci. 105, 1115–1120 (1993).
Acknowledgements
We thank L. Di Pompeo, A. Fellas and R. Yeboah for laboratory support; P. Tong, M. Lafos, R. Ard and S. Webb (Wellcome Centre for Cell Biology Bioinformatics Core) for sharing technical expertise; D. Kelly (Wellcome Centre Optical Instrumentation Laboratory) for microscopy and instrumentation support; members of the Allshire laboratory for valuable discussions; A. Bird, W. Bickmore and L. Massari for comments on the manuscript; T. Urano for the 5.1.1 (H3K9me) antibody; Y. Watanabe for the pRAD21 plasmid; K. Gull for the α-tubulin antibody; A. Marston for the Sgo1–GFP S. cerevisiae strain, K. Sawin for the Cdc11 antibody; and Edinburgh Genomics (NERC, R8/H10/56; MRC, MR/K001744/1; BBSRC, BB/J004243/1) and the Genetics Core, Edinburgh Clinical Research Facility, University of Edinburgh, for sequencing. S.T.-G. is supported by the Darwin Trust of Edinburgh. P.N.C.B.A. was supported by the Wellcome 4 Year PhD program in Cell Biology (093852). I.Y. is supported by an EMBO Long Term Fellowship (EMBO ALTF 130-2018). R.C.A. is a Wellcome Principal Research Fellow (095021, 200885); the Wellcome Centre for Cell Biology is supported by core funding from Wellcome (203149).
Ethics declarations
Competing interests
The authors declare no competing interests.
Additional information
Peer review information Nature thanks Songtao Jia and the other, anonymous, reviewer(s) for their contribution to the peer review of this work.
Publisher's note Springer Nature remains neutral with regard to jurisdictional claims in published maps and institutional affiliations.
Extended data figures and tables
Supplementary information
This file contains Supplementary Figure 1. a, Source gel data for Fig. 4c. b, Source gel data for Extended Data Fig. 8. c, Source gel data for Extended Data Fig. 10a. Yellow and dashed boxes indicate data used in figures. Supplementary Table 1. Summary of epigenetic (H3K9me2 domains) and genetic (SNPs, indels and copy number variation) changes found in unstable (UR) caffeine-resistant isolates. Supplementary Table 2. Schizosaccharomyces pombe strains used in this study. Supplementary Table 3. Oligonucleotides used in this study. Supplementary Table 4. Genomic coordinates used to generate heatmaps for heterochromatin islands.
About this article
Cite this article
Torres-Garcia, S., Yaseen, I., Shukla, M. et al. Epigenetic gene silencing by heterochromatin primes fungal resistance. Nature 585, 453–458 (2020). https://doi.org/10.1038/s41586-020-2706-x
Received:

Accepted:

Published:

Issue Date:

DOI: https://doi.org/10.1038/s41586-020-2706-x
Comments
By submitting a comment you agree to abide by our Terms and Community Guidelines. If you find something abusive or that does not comply with our terms or guidelines please flag it as inappropriate.