Abstract
The RNA polymerase II (Pol II) core promoter is the strategic site of convergence of the signals that lead to the initiation of DNA transcription1,2,3,4,5, but the downstream core promoter in humans has been difficult to understand1,2,3. Here we analyse the human Pol II core promoter and use machine learning to generate predictive models for the downstream core promoter region (DPR) and the TATA box. We developed a method termed HARPE (high-throughput analysis of randomized promoter elements) to create hundreds of thousands of DPR (or TATA box) variants, each with known transcriptional strength. We then analysed the HARPE data by support vector regression (SVR) to provide comprehensive models for the sequence motifs, and found that the SVR-based approach is more effective than a consensus-based method for predicting transcriptional activity. These results show that the DPR is a functionally important core promoter element that is widely used in human promoters. Notably, there appears to be a duality between the DPR and the TATA box, as many promoters contain one or the other element. More broadly, these findings show that functional DNA motifs can be identified by machine learning analysis of a comprehensive set of sequence variants.
Your institute does not have access to this article
Access options
Subscribe to Nature+
Get immediate online access to the entire Nature family of 50+ journals
Subscribe to Journal
Get full journal access for 1 year
$199.00
only $3.90 per issue
All prices are NET prices.
VAT will be added later in the checkout.
Tax calculation will be finalised during checkout.
Buy article
Get time limited or full article access on ReadCube.
$32.00
All prices are NET prices.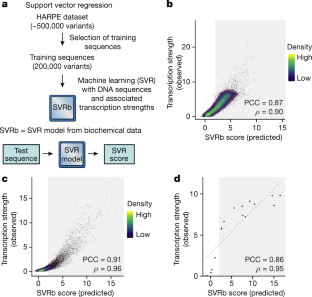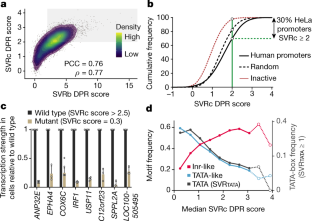 Data availability
The HARPE data are available from Gene Expression Omnibus (GEO; accession number, GSE139635). We obtained 5′-GRO-seq files (GSE6387233 and GSE9003512) and GRO-cap files (GSM1480321)37 from the Gene Expression Omnibus website (https://www.ncbi.nlm.nih.gov/geo/). Source data are provided with this paper.
Code availability
All computational analyses were performed by using R version 3.6.1 and previously described packages, as noted in the Methods.
References
Sandelin, A. et al. Mammalian RNA polymerase II core promoters: insights from genome-wide studies. Nat. Rev. Genet. 8, 424–436 (2007).

Vo ngoc, L., Wang, Y.-L., Kassavetis, G. A. & Kadonaga, J. T. The punctilious RNA polymerase II core promoter. Genes Dev. 31, 1289–1301 (2017).

Haberle, V. & Stark, A. Eukaryotic core promoters and the functional basis of transcription initiation. Nat. Rev. Mol. Cell Biol. 19, 621–637 (2018).

Meylan, P., Dreos, R., Ambrosini, G., Groux, R. & Bucher, P. EPD in 2020: enhanced data visualization and extension to ncRNA promoters. Nucleic Acids Res. 48 (D1), D65–D69 (2020).

Roeder, R. G. 50+ years of eukaryotic transcription: an expanding universe of factors and mechanisms. Nat. Struct. Mol. Biol. 26, 783–791 (2019).

Butler, J. E. & Kadonaga, J. T. Enhancer-promoter specificity mediated by DPE or TATA core promoter motifs. Genes Dev. 15, 2515–2519 (2001).

Juven-Gershon, T., Hsu, J. Y. & Kadonaga, J. T. Caudal, a key developmental regulator, is a DPE-specific transcriptional factor. Genes Dev. 22, 2823–2830 (2008).

Zabidi, M. A. et al. Enhancer-core-promoter specificity separates developmental and housekeeping gene regulation. Nature 518, 556–559 (2015).

Parry, T. J. et al. The TCT motif, a key component of an RNA polymerase II transcription system for the translational machinery. Genes Dev. 24, 2013–2018 (2010).

Wang, Y. L. et al. TRF2, but not TBP, mediates the transcription of ribosomal protein genes. Genes Dev. 28, 1550–1555 (2014).

Duttke, S. H. C., Doolittle, R. F., Wang, Y.-L. & Kadonaga, J. T. TRF2 and the evolution of the bilateria. Genes Dev. 28, 2071–2076 (2014).

Vo Ngoc, L., Cassidy, C. J., Huang, C. Y., Duttke, S. H. & Kadonaga, J. T. The human initiator is a distinct and abundant element that is precisely positioned in focused core promoters. Genes Dev. 31, 6–11 (2017).

Burke, T. W. & Kadonaga, J. T. Drosophila TFIID binds to a conserved downstream basal promoter element that is present in many TATA-box-deficient promoters. Genes Dev. 10, 711–724 (1996).

Kutach, A. K. & Kadonaga, J. T. The downstream promoter element DPE appears to be as widely used as the TATA box in Drosophila core promoters. Mol. Cell. Biol. 20, 4754–4764 (2000).

Lim, C. Y. et al. The MTE, a new core promoter element for transcription by RNA polymerase II. Genes Dev. 18, 1606–1617 (2004).

Theisen, J. W. M., Lim, C. Y. & Kadonaga, J. T. Three key subregions contribute to the function of the downstream RNA polymerase II core promoter. Mol. Cell. Biol. 30, 3471–3479 (2010).

Burke, T. W. & Kadonaga, J. T. The downstream core promoter element, DPE, is conserved from Drosophila to humans and is recognized by TAFII60 of Drosophila. Genes Dev. 11, 3020–3031 (1997).

Louder, R. K. et al. Structure of promoter-bound TFIID and model of human pre-initiation complex assembly. Nature 531, 604–609 (2016).

Patel, A. B. et al. Structure of human TFIID and mechanism of TBP loading onto promoter DNA. Science 362, eaau8872 (2018).

Patwardhan, R. P. et al. High-resolution analysis of DNA regulatory elements by synthetic saturation mutagenesis. Nat. Biotechnol. 27, 1173–1175 (2009).

Lubliner, S. et al. Core promoter sequence in yeast is a major determinant of expression level. Genome Res. 25, 1008–1017 (2015).

Arnold, C. D. et al. Genome-wide assessment of sequence-intrinsic enhancer responsiveness at single-base-pair resolution. Nat. Biotechnol. 35, 136–144 (2017).

van Arensbergen, J. et al. Genome-wide mapping of autonomous promoter activity in human cells. Nat. Biotechnol. 35, 145–153 (2017).

Weingarten-Gabbay, S. et al. Systematic interrogation of human promoters. Genome Res. 29, 171–183 (2019).

Heinz, S. et al. Simple combinations of lineage-determining transcription factors prime cis-regulatory elements required for macrophage and B cell identities. Mol. Cell 38, 576–589 (2010).

Juven-Gershon, T., Cheng, S. & Kadonaga, J. T. Rational design of a super core promoter that enhances gene expression. Nat. Methods 3, 917–922 (2006).

Cortes, C. & Vapnik, V. Support-vector networks. Mach. Learn. 20, 273–297 (1995).

Vapnik, V. N. The Nature of Statistical Learning Theory (Springer, 1995).

Willy, P. J., Kobayashi, R. & Kadonaga, J. T. A basal transcription factor that activates or represses transcription. Science 290, 982–985 (2000).

Hsu, J. Y. et al. TBP, Mot1, and NC2 establish a regulatory circuit that controls DPE-dependent versus TATA-dependent transcription. Genes Dev. 22, 2353–2358 (2008).

Chen, K. et al. A global change in RNA polymerase II pausing during the Drosophila midblastula transition. eLife 2, e00861 (2013).

Kedmi, A. et al. Drosophila TRF2 is a preferential core promoter regulator. Genes Dev. 28, 2163–2174 (2014).

Duttke, S. H. C. et al. Human promoters are intrinsically directional. Mol. Cell 57, 674–684 (2015).

Dignam, J. D., Lebovitz, R. M. & Roeder, R. G. Accurate transcription initiation by RNA polymerase II in a soluble extract from isolated mammalian nuclei. Nucleic Acids Res. 11, 1475–1489 (1983).

Crooks, G. E., Hon, G., Chandonia, J. M. & Brenner, S. E. WebLogo: a sequence logo generator. Genome Res. 14, 1188–1190 (2004).

Schneider, T. D. & Stephens, R. M. Sequence logos: a new way to display consensus sequences. Nucleic Acids Res. 18, 6097–6100 (1990).

Core, L. J. et al. Analysis of nascent RNA identifies a unified architecture of initiation regions at mammalian promoters and enhancers. Nat. Genet. 46, 1311–1320 (2014).
Acknowledgements
We thank E. P. Geiduschek, T. Juven-Gershon, G. Kassavetis, B. Delatte, J. Fei, G. Cruz-Becerra, and S. Chen for critical reading of the manuscript; J. van Arensbergen and B. van Steensel for the SuRE plasmid and protocols; B. Grant and C. Benner for advice; A. Rao for the HeLa cells; and the DNA sequencing facility at the Moores Cancer Center at UCSD (supported by NIH grant P30 CA023100 and NIH SIG grant S10 OD026929). L.V.n. received a UCSD Molecular Biology Cancer Fellowship. J.T.K. is the Amylin Chair in the Life Sciences. This work was supported by funding from NIH/NIGMS (R35 GM118060) to J.T.K.
Ethics declarations
Competing interests
The authors declare no competing interests.
Additional information
Publisher's note Springer Nature remains neutral with regard to jurisdictional claims in published maps and institutional affiliations.
Extended data figures and tables
Supplementary information
This file contains Supplementary Discussions 1 to 7, Supplementary References, Supplementary Tables 1 and 2, and Supplementary Fig. 1.
About this article
Cite this article
Vo ngoc, L., Huang, C.Y., Cassidy, C.J. et al. Identification of the human DPR core promoter element using machine learning. Nature 585, 459–463 (2020). https://doi.org/10.1038/s41586-020-2689-7
Received:

Accepted:

Published:

Issue Date:

DOI: https://doi.org/10.1038/s41586-020-2689-7
Comments
By submitting a comment you agree to abide by our Terms and Community Guidelines. If you find something abusive or that does not comply with our terms or guidelines please flag it as inappropriate.