Abstract
Gene expression in eukaryotes requires the effective separation of nuclear transcription and RNA processing from cytosolic translation1. This separation is achieved by the nuclear envelope, which controls the exchange of macromolecules through nuclear pores2. During mitosis, however, the nuclear envelope in animal and plant cells disassembles, allowing cytoplasmic and nuclear components to intermix3. When the nuclear envelope is reformed, cytoplasmic components are removed from the nucleus by receptor-mediated transport through nuclear pores2. These pores have a size limit of 39 nanometres4,5,6,7, which raises the question of how larger cytoplasmic molecules are cleared from the nucleus. Here we show in HeLa cells that large cytoplasmic components are displaced before nuclear envelope assembly by the movement of chromosomes to a dense cluster. This clustering occurs when chromosomes approach the poles of anaphase spindles, and is mediated by a microtubule-independent mechanism that involves the surfactant-like protein Ki-67. Ki-67 forms repulsive molecular brushes during the early stages of mitosis8, but during mitotic exit the brushes collapse and Ki-67 promotes chromosome clustering. We show that the exclusion of mature ribosomes from the nucleus after mitosis depends on Ki-67-regulated chromosome clustering. Thus, our study reveals that chromosome mechanics help to re-establish the compartmentalization of eukaryotic cells after open mitosis.
Access options
Access Nature and 54 other Nature Portfolio journals
Get Nature+, our best-value online-access subscription
$29.99 / 30 days
cancel any time
Subscribe to this journal
Receive 51 print issues and online access
$199.00 per year
only $3.90 per issue
Rent or buy this article
Prices vary by article type
from$1.95
to$39.95
Prices may be subject to local taxes which are calculated during checkout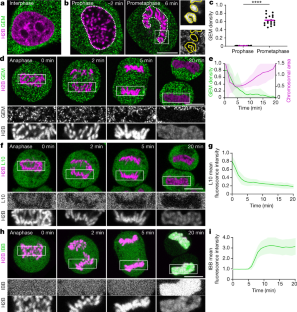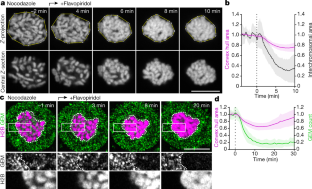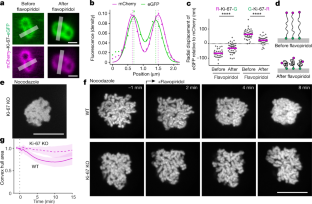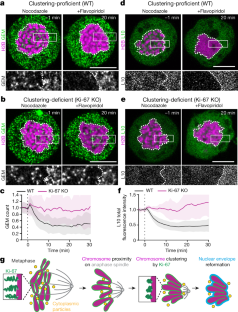 Data availability
Raw microscopy data are available from the corresponding authors upon request, given the large file sizes that are involved. Source data are provided with this paper.
Code availability
All of the steps of the image analyses that were performed in this study are described in detail to allow reproduction of the results. We will provide the code upon request.
References
Maniatis, T. & Reed, R. An extensive network of coupling among gene expression machines. Nature 416, 499–506 (2002).

Görlich, D. & Kutay, U. Transport between the cell nucleus and the cytoplasm. Annu. Rev. Cell Dev. Biol. 15, 607–660 (1999).

Ungricht, R. & Kutay, U. Mechanisms and functions of nuclear envelope remodelling. Nat. Rev. Mol. Cell Biol. 18, 229–245 (2017).

Panté, N. & Kann, M. Nuclear pore complex is able to transport macromolecules with diameters of about 39 nm. Mol. Biol. Cell 13, 425–434 (2002).

Bui, K. H. et al. Integrated structural analysis of the human nuclear pore complex scaffold. Cell 155, 1233–1243 (2013).

Eibauer, M. et al. Structure and gating of the nuclear pore complex. Nat. Commun. 6, 7532–7539 (2015).

Beck, M. & Hurt, E. The nuclear pore complex: understanding its function through structural insight. Nat. Rev. Mol. Cell Biol. 18, 73–89 (2017).

Cuylen, S. et al. Ki-67 acts as a biological surfactant to disperse mitotic chromosomes. Nature 535, 308–312 (2016).

Delarue, M. et al. mTORC1 controls phase separation and the biophysical properties of the cytoplasm by tuning crowding. Cell 174, 338–3490 (2018).

Deryło, K. et al. The uL10 protein, a component of the ribosomal P-stalk, is released from the ribosome in nucleolar stress. Biochim. Biophys. Acta Mol. Cell Res. 1865, 34–47 (2018).

Görlich, D., Henklein, P., Laskey, R. A. & Hartmann, E. A 41 amino acid motif in importin-α confers binding to importin-β and hence transit into the nucleus. EMBO J. 15, 1810–1817 (1996).

Thomas, F. & Kutay, U. Biogenesis and nuclear export of ribosomal subunits in higher eukaryotes depend on the CRM1 export pathway. J. Cell Sci. 116, 2409–2419 (2003).

Kudo, N. et al. Leptomycin B inactivates CRM1/exportin 1 by covalent modification at a cysteine residue in the central conserved region. Proc. Natl Acad. Sci. USA 96, 9112–9117 (1999).

Potapova, T. A. et al. The reversibility of mitotic exit in vertebrate cells. Nature 440, 954–958 (2006).

Samwer, M. et al. DNA cross-bridging shapes a single nucleus from a set of mitotic chromosomes. Cell 170, 956–972 (2017).

Rosen, M. J. & Kunjappu, J. T. Surfactants and Interfacial Phenomena (John Wiley & Sons, 2012).

Cimini, D., Mattiuzzo, M., Torosantucci, L. & Degrassi, F. Histone hyperacetylation in mitosis prevents sister chromatid separation and produces chromosome segregation defects. Mol. Biol. Cell 14, 3821–3833 (2003).

Booth, D. G. et al. Ki-67 is a PP1-interacting protein that organises the mitotic chromosome periphery. eLife 3, e01641 (2014).

Rivera, V. M. et al. A humanized system for pharmacologic control of gene expression. Nat. Med. 2, 1028–1032 (1996).

Gautier, T., Robert-Nicoud, M., Guilly, M. N. & Hernandez-Verdun, D. Relocation of nucleolar proteins around chromosomes at mitosis. A study by confocal laser scanning microscopy. J. Cell Sci. 102, 729–737 (1992).

Booth, D. G. et al. 3D-CLEM reveals that a major portion of mitotic chromosomes is not chromatin. Mol. Cell 64, 790–802 (2016).

Schmitz, M. H. A. et al. Live-cell imaging RNAi screen identifies PP2A-B55α and importin-β1 as key mitotic exit regulators in human cells. Nat. Cell Biol. 12, 886–893 (2010).

Lukinavičius, G. et al. SiR-Hoechst is a far-red DNA stain for live-cell nanoscopy. Nat. Commun. 6, 8497 (2015).

Ran, F. A. et al. Double nicking by RNA-guided CRISPR Cas9 for enhanced genome editing specificity. Cell 154, 1380–1389 (2013).

Huang, L.-K. & Wang, M.-J. J. Image thresholding by minimizing the measures of fuzziness. Pattern Recognit. 28, 41–51 (1995).

Sommer, C., Hoefler, R., Samwer, M. & Gerlich, D. W. A deep learning and novelty detection framework for rapid phenotyping in high-content screening. Mol. Biol. Cell 28, 3428–3436 (2017).

Thévenaz, P., Ruttimann, U. E. & Unser, M. A pyramid approach to subpixel registration based on intensity. IEEE Trans. Image Process. 7, 27–41 (1998).

Tarantino, N. et al. TNF and IL-1 exhibit distinct ubiquitin requirements for inducing NEMO-IKK supramolecular structures. J. Cell Biol. 204, 231–245 (2014).
Acknowledgements
The authors thank S. Tietscher for histone-level verification, K. F. Leesch and the IMBA/IMP/GMI BioOptics and Molecular Biology Service facilities for technical support, M. Tchórzewski for the L10-eGFP plasmid and I. Patten and Life Science Editors (https://www.lifescienceeditors.com) for comments on the manuscript. Research in the laboratory of D.W.G. was supported by the Austrian Academy of Sciences, by an ERC Starting (Consolidator) Grant (number 281198), by the Wiener Wissenschafts-, Forschungs- und Technologiefonds (WWTF; project numbers LS14-009 and LS17-003) and by the Austrian Science Fund (FWF special research program 'Chromosome Dynamics' SFB F34-06, Doktoratskolleg 'Chromosome Dynamics' DK W1238); research in the laboratory of S.C.-H. was supported by the German Research Foundation (DFG, project number 402723784); M.P., A.H.-A. and M.W.G.S. have received PhD fellowships from the Boehringer Ingelheim Fonds; S.C.-H. has received funding from a Human Frontier Science Program (LTF000996/2013 and CDA00045/2019); and L.J.H. was supported by the National Institutes of Health (R01GM132447) and by the Whitman Fellows programme of the Woods Hole Marine Biology laboratory.
Ethics declarations
Competing interests
The authors declare no competing interests.
Additional information
Publisher's note Springer Nature remains neutral with regard to jurisdictional claims in published maps and institutional affiliations.
Extended data figures and tables
Supplementary information
About this article
Cite this article
Cuylen-Haering, S., Petrovic, M., Hernandez-Armendariz, A. et al. Chromosome clustering by Ki-67 excludes cytoplasm during nuclear assembly. Nature 587, 285–290 (2020). https://doi.org/10.1038/s41586-020-2672-3
Received:

Accepted:

Published:

Issue Date:

DOI: https://doi.org/10.1038/s41586-020-2672-3
Comments
By submitting a comment you agree to abide by our Terms and Community Guidelines. If you find something abusive or that does not comply with our terms or guidelines please flag it as inappropriate.