Abstract
During meiosis, crossover recombination connects homologous chromosomes to direct their accurate segregation1. Defective crossing over causes infertility, miscarriage and congenital disease. Each pair of chromosomes attains at least one crossover via the formation and biased resolution of recombination intermediates known as double Holliday junctions2,3. A central principle of crossover resolution is that the two Holliday junctions are resolved in opposite planes by targeting nuclease incisions to specific DNA strands4. The endonuclease activity of the MutLγ complex has been implicated in the resolution of crossovers5,6,7,8,9,10, but the mechanisms that activate and direct strand-specific cleavage remain unknown. Here we show that the sliding clamp PCNA is important for crossover-biased resolution. In vitro assays with human enzymes show that PCNA and its loader RFC are sufficient to activate the MutLγ endonuclease. MutLγ is further stimulated by a co-dependent activity of the pro-crossover factors EXO1 and MutSγ, the latter of which binds Holliday junctions11. MutLγ also binds various branched DNAs, including Holliday junctions, but does not show canonical resolvase activity, implying that the endonuclease incises adjacent to junction branch points to achieve resolution. In vivo, RFC facilitates MutLγ-dependent crossing over in budding yeast. Furthermore, PCNA localizes to prospective crossover sites along synapsed chromosomes. These data highlight similarities between crossover resolution and the initiation steps of DNA mismatch repair12,13 and evoke a novel model for crossover-specific resolution of double Holliday junctions during meiosis.
This is a preview of subscription content
Access options
Subscribe to Journal
Get full journal access for 1 year
$199.00
only $3.90 per issue
All prices are NET prices.
VAT will be added later in the checkout.
Tax calculation will be finalised during checkout.
Rent or Buy article
Get time limited or full article access on ReadCube.
from$8.99
All prices are NET prices.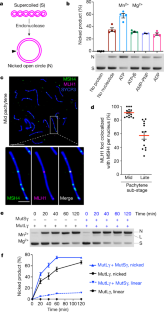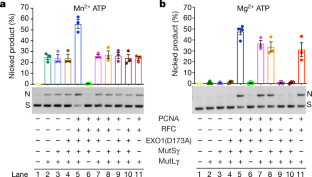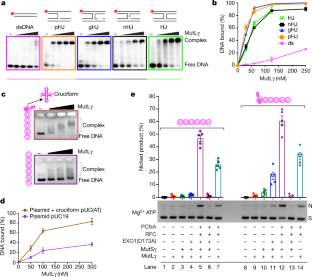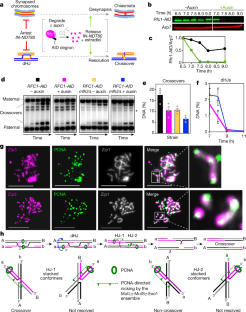 Data availability
Relevant data generated or analysed during this study are included in this Article and its Supplementary Information files. Biological materials are available from the corresponding author.
References
1.

Hunter, N. Meiotic recombination: the essence of heredity. Cold Spring Harb. Perspect. Biol. 7, a016618 (2015).

2.

Allers, T. & Lichten, M. Differential timing and control of noncrossover and crossover recombination during meiosis. Cell 106, 47–57 (2001).

3.

Marsolier-Kergoat, M. C., Khan, M. M., Schott, J., Zhu, X. & Llorente, B. Mechanistic view and genetic control of DNA recombination during meiosis. Mol. Cell 70, 9–20.e6 (2018).

4.

Szostak, J. W., Orr-Weaver, T. L., Rothstein, R. J. & Stahl, F. W. The double-strand-break repair model for recombination. Cell 33, 25–35 (1983).

5.

Nishant, K. T., Plys, A. J. & Alani, E. A mutation in the putative MLH3 endonuclease domain confers a defect in both mismatch repair and meiosis in Saccharomyces cerevisiae. Genetics 179, 747–755 (2008).

6.

Zakharyevich, K., Tang, S., Ma, Y. & Hunter, N. Delineation of joint molecule resolution pathways in meiosis identifies a crossover-specific resolvase. Cell 149, 334–347 (2012).

7.

Toledo, M. et al. A mutation in the endonuclease domain of mouse MLH3 reveals novel roles for MutLγ during crossover formation in meiotic prophase I. PLoS Genet. 15, e1008177 (2019).

8.

Ranjha, L., Anand, R. & Cejka, P. The Saccharomyces cerevisiae Mlh1-Mlh3 heterodimer is an endonuclease that preferentially binds to Holliday junctions. J. Biol. Chem. 289, 5674–5686 (2014).

9.

Rogacheva, M. V. et al. Mlh1-Mlh3, a meiotic crossover and DNA mismatch repair factor, is a Msh2-Msh3-stimulated endonuclease. J. Biol. Chem. 289, 5664–5673 (2014).

10.

Manhart, C. M. et al. The mismatch repair and meiotic recombination endonuclease Mlh1-Mlh3 is activated by polymer formation and can cleave DNA substrates in trans. PLoS Biol. 15, e2001164 (2017).

11.

Snowden, T., Acharya, S., Butz, C., Berardini, M. & Fishel, R. hMSH4-hMSH5 recognizes Holliday Junctions and forms a meiosis-specific sliding clamp that embraces homologous chromosomes. Mol. Cell 15, 437–451 (2004).

12.

Iyer, R. R., Pluciennik, A., Burdett, V. & Modrich, P. L. DNA mismatch repair: functions and mechanisms. Chem. Rev. 106, 302–323 (2006).

13.

Kolodner, R. D. A personal historical view of DNA mismatch repair with an emphasis on eukaryotic DNA mismatch repair. DNA Repair (Amst.) 38, 3–13 (2016).

14.

Manhart, C. M. & Alani, E. Roles for mismatch repair family proteins in promoting meiotic crossing over. DNA Repair (Amst.) 38, 84–93 (2016).

15.

Kadyrova, L. Y. & Kadyrov, F. A. Endonuclease activities of MutLα and its homologs in DNA mismatch repair. DNA Repair (Amst.) 38, 42–49 (2016).

16.

Kadyrov, F. A., Dzantiev, L., Constantin, N. & Modrich, P. Endonucleolytic function of MutLα in human mismatch repair. Cell 126, 297–308 (2006).

17.

Pluciennik, A. et al. PCNA function in the activation and strand direction of MutLα endonuclease in mismatch repair. Proc. Natl Acad. Sci. USA 107, 16066–16071 (2010).

18.

Pillon, M. C. et al. Structure of the endonuclease domain of MutL: unlicensed to cut. Mol. Cell 39, 145–151 (2010).

19.

Pillon, M. C. et al. The sliding clamp tethers the endonuclease domain of MutL to DNA. Nucleic Acids Res. 43, 10746–10759 (2015).

20.

Claeys Bouuaert, C. & Keeney, S. Distinct DNA-binding surfaces in the ATPase and linker domains of MutLγ determine its substrate specificities and exert separable functions in meiotic recombination and mismatch repair. PLoS Genet. 13, e1006722 (2017).

21.

Kadyrova, L. Y., Gujar, V., Burdett, V., Modrich, P. L. & Kadyrov, F. A. Human MutLγ, the MLH1-MLH3 heterodimer, is an endonuclease that promotes DNA expansion. Proc. Natl Acad. Sci. USA 117, 3535–3542 (2020).

22.

Kadyrov, F. A. et al. Saccharomyces cerevisiae MutLα is a mismatch repair endonuclease. J. Biol. Chem. 282, 37181–37190 (2007).

23.

Sonntag Brown, M., Lim, E., Chen, C., Nishant, K. T. & Alani, E. Genetic analysis of mlh3 mutations reveals interactions between crossover promoting factors during meiosis in baker's yeast. G3 (Bethesda) 3, 9–22 (2013).

24.

Lahiri, S., Li, Y., Hingorani, M. M. & Mukerji, I. MutSγ-induced dna conformational changes provide insights into its role in meiotic recombination. Biophys. J. 115, 2087–2101 (2018).

25.

Gray, S. & Cohen, P. E. Control of meiotic crossovers: from double-strand break formation to designation. Annu. Rev. Genet. 50, 175–210 (2016).

26.

Zakharyevich, K. et al. Temporally and biochemically distinct activities of Exo1 during meiosis: double-strand break resection and resolution of double Holliday junctions. Mol. Cell 40, 1001–1015 (2010).

27.

Schaetzlein, S. et al. Mammalian Exo1 encodes both structural and catalytic functions that play distinct roles in essential biological processes. Proc. Natl Acad. Sci. USA 110, E2470–E2479 (2013).

28.

Mukherjee, S., Wright, W. D., Ehmsen, K. T. & Heyer, W. D. The Mus81-Mms4 structure-selective endonuclease requires nicked DNA junctions to undergo conformational changes and bend its DNA substrates for cleavage. Nucleic Acids Res. 42, 6511–6522 (2014).

29.

Sisakova, A., Altmannova, V., Sebesta, M. & Krejci, L. Role of PCNA and RFC in promoting Mus81-complex activity. BMC Biol. 15, 90 (2017).

30.

Zhang, L. et al. Topoisomerase II mediates meiotic crossover interference. Nature 511, 551–556 (2014).

31.

Genschel, J., Bazemore, L. R. & Modrich, P. Human exonuclease I is required for 5′ and 3′ mismatch repair. J. Biol. Chem. 277, 13302–13311 (2002).

32.

Eichman, B. F., Vargason, J. M., Mooers, B. H. & Ho, P. S. The Holliday junction in an inverted repeat DNA sequence: sequence effects on the structure of four-way junctions. Proc. Natl Acad. Sci. USA 97, 3971–3976 (2000).

33.

Kolas, N. K. et al. Localization of MMR proteins on meiotic chromosomes in mice indicates distinct functions during prophase I. J. Cell Biol. 171, 447–458 (2005).

34.

Nishimura, K., Fukagawa, T., Takisawa, H., Kakimoto, T. & Kanemaki, M. An auxin-based degron system for the rapid depletion of proteins in nonplant cells. Nat. Methods 6, 917–922 (2009).

35.

Tang, S., Wu, M. K. Y., Zhang, R. & Hunter, N. Pervasive and essential roles of the Top3-Rmi1 decatenase orchestrate recombination and facilitate chromosome segregation in meiosis. Mol. Cell 57, 607–621 (2015).

36.

Morawska, M. & Ulrich, H. D. An expanded tool kit for the auxin-inducible degron system in budding yeast. Yeast 30, 341–351 (2013).

37.

Benjamin, K. R., Zhang, C., Shokat, K. M. & Herskowitz, I. Control of landmark events in meiosis by the CDK Cdc28 and the meiosis-specific kinase Ime2. Genes Dev. 17, 1524–1539 (2003).

38.

Carlile, T. M. & Amon, A. Meiosis I is established through division-specific translational control of a cyclin. Cell 133, 280–291 (2008).

39.

Louvion, J. F., Havaux-Copf, B. & Picard, D. Fusion of GAL4-VP16 to a steroid-binding domain provides a tool for gratuitous induction of galactose-responsive genes in yeast. Gene 131, 129–134 (1993).

40.

Owens, S., Tang, S. & Hunter, N. Monitoring recombination during meiosis in budding yeast. Methods Enzymol. 601, 275–307 (2018).

41.

Hunter, N. & Kleckner, N. The single-end invasion: an asymmetric intermediate at the double-strand break to double-Holliday junction transition of meiotic recombination. Cell 106, 59–70 (2001).

42.

Grubb, J., Brown, M. S. & Bishop, D. K. Surface spreading and immunostaining of yeast chromosomes. J. Vis. Exp. 102, e53081 (2015).

43.

Dzantiev, L. et al. A defined human system that supports bidirectional mismatch-provoked excision. Mol. Cell 15, 31–41 (2004).

44.

Cai, J. et al. Reconstitution of human replication factor C from its five subunits in baculovirus-infected insect cells. Proc. Natl Acad. Sci. USA 93, 12896–12901 (1996).
Acknowledgements
We thank P. Modrich, J. Hurwitz, K. Marians, S. Kowalczykowski, P. Cohen, S. Keeney and A. Shinohara for reagents; P. Cejka for reagents and communicating unpublished data; B. Llorente and members of the Hunter laboratory for support and discussions. This work was supported by NIH NIGMS grant GM074223 to N.H. S.N.O. was supported by NIH NIGMS T32 Training Program in Molecular and Cellular Biology 5T32GM007377 and an F31 Ruth L. Kirschstein National Research Service Award 1F31GM125106. M.I. was supported by a Japan Society for the Promotion of Science postdoctoral fellowship for research abroad. N.H. is an Investigator of the Howard Hughes Medical Institute.
Ethics declarations
Competing interests
The authors declare no competing interests.
Additional information
Peer review information Nature thanks Andreas Hochwagen and the other, anonymous, reviewer(s) for their contribution to the peer review of this work.
Publisher's note Springer Nature remains neutral with regard to jurisdictional claims in published maps and institutional affiliations.
Extended data figures and tables
Supplementary information
This file contains the uncropped gel images.
This file contains a list of oligonucleotides used in the study (Supplementary Table 1), and a list of strains used in the study (Supplementary Table 2).
About this article
Cite this article
Kulkarni, D.S., Owens, S.N., Honda, M. et al. PCNA activates the MutLγ endonuclease to promote meiotic crossing over. Nature 586, 623–627 (2020). https://doi.org/10.1038/s41586-020-2645-6
Received:

Accepted:

Published:

Issue Date:
Further reading
Dominic Johnson
Margaret Crawford
Matthew J. Neale

Nature (2021)
Comments
By submitting a comment you agree to abide by our Terms and Community Guidelines. If you find something abusive or that does not comply with our terms or guidelines please flag it as inappropriate.