Abstract
Temperature controls plant growth and development, and climate change has already altered the phenology of wild plants and crops1. However, the mechanisms by which plants sense temperature are not well understood. The evening complex is a major signalling hub and a core component of the plant circadian clock2,3. The evening complex acts as a temperature-responsive transcriptional repressor, providing rhythmicity and temperature responsiveness to growth through unknown mechanisms2,4,5,6. The evening complex consists of EARLY FLOWERING 3 (ELF3)4,7, a large scaffold protein and key component of temperature sensing; ELF4, a small α-helical protein; and LUX ARRYTHMO (LUX), a DNA-binding protein required to recruit the evening complex to transcriptional targets. ELF3 contains a polyglutamine (polyQ) repeat8,9,10, embedded within a predicted prion domain (PrD). Here we find that the length of the polyQ repeat correlates with thermal responsiveness. We show that ELF3 proteins in plants from hotter climates, with no detectable PrD, are active at high temperatures, and lack thermal responsiveness. The temperature sensitivity of ELF3 is also modulated by the levels of ELF4, indicating that ELF4 can stabilize the function of ELF3. In both Arabidopsis and a heterologous system, ELF3 fused with green fluorescent protein forms speckles within minutes in response to higher temperatures, in a PrD-dependent manner. A purified fragment encompassing the ELF3 PrD reversibly forms liquid droplets in response to increasing temperatures in vitro, indicating that these properties reflect a direct biophysical response conferred by the PrD. The ability of temperature to rapidly shift ELF3 between active and inactive states via phase transition represents a previously unknown thermosensory mechanism.
Relevant articles
Open Access articles citing this article.
Lucille Gorgues

,

Xuelian Li

…

Philippe Nacry

Stress Biology Open Access 05 September 2022

Yeting Bian

,

Li Chu

…

Dongqing Xu

Stress Biology Open Access 30 August 2022

Jong Hum Kim

,

Christian Danve M. Castroverde

…

Sheng Yang He

Nature Open Access 29 June 2022
Access options
Subscribe to Nature+
Get immediate online access to the entire Nature family of 50+ journals
Subscribe to Journal
Get full journal access for 1 year
$199.00
only $3.90 per issue
All prices are NET prices.
VAT will be added later in the checkout.
Tax calculation will be finalised during checkout.
Buy article
Get time limited or full article access on ReadCube.
$32.00
All prices are NET prices.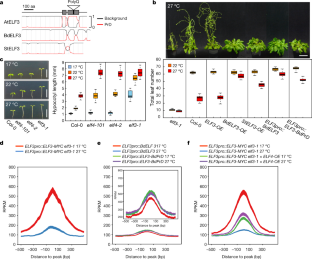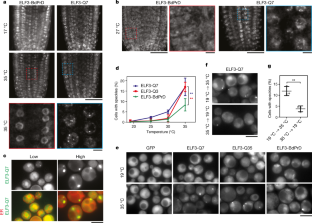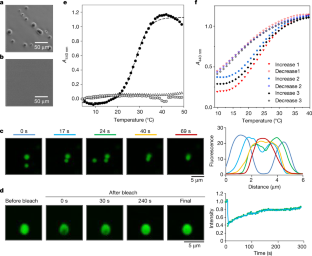 References
Scheffers, B. R. et al. The broad footprint of climate change from genes to biomes to people. Science 354, aaf7671 (2016).

Nusinow, D. A. et al. The ELF4–ELF3–LUX complex links the circadian clock to diurnal control of hypocotyl growth. Nature 475, 398–402 (2011).

Ezer, D. et al. The evening complex coordinates environmental and endogenous signals in Arabidopsis. Nat. Plants 3, 17087 (2017).

Box, M. S. et al. ELF3 controls thermoresponsive growth in Arabidopsis. Curr. Biol. 25, 194–199 (2015).

Mizuno, T. et al. Ambient temperature signal feeds into the circadian clock transcriptional circuitry through the EC night-time repressor in Arabidopsis thaliana. Plant Cell Physiol. 55, 958–976 (2014).

Raschke, A. et al. Natural variants of ELF3 affect thermomorphogenesis by transcriptionally modulating PIF4-dependent auxin response genes. BMC Plant Biol. 15, 197 (2015).

Nieto, C., López-Salmerón, V., Davière, J. M. & Prat, S. ELF3-PIF4 interaction regulates plant growth independently of the Evening Complex. Curr. Biol. 25, 187–193 (2015).

Undurraga, S. F. et al. Background-dependent effects of polyglutamine variation in the Arabidopsis thaliana gene ELF3. Proc. Natl Acad. Sci. USA 109, 19363–19367 (2012).

Tajima, T., Oda, A., Nakagawa, M., Kamada, H. & Mizoguchi, T. Natural variation of polyglutamine repeats of a circadian clock gene ELF3 in Arabidopsis. Plant Biotechnol. 24, 237–240 (2007).

Jiménez-Gómez, J. M., Wallace, A. D. & Maloof, J. N. Network analysis identifies ELF3 as a QTL for the shade avoidance response in Arabidopsis. PLoS Genet. 6, e1001100 (2010).

Press, M. O. & Queitsch, C. Variability in a short tandem repeat mediates complex epistatic interactions in Arabidopsis thaliana. Genetics 205, 455–464 (2017).

Lancaster, A. K., Nutter-Upham, A., Lindquist, S. & King, O. D. PLAAC: a web and command-line application to identify proteins with prion-like amino acid composition. Bioinformatics 30, 2501–2502 (2014).

Herrero, E. et al. EARLY FLOWERING4 recruitment of EARLY FLOWERING3 in the nucleus sustains the Arabidopsis circadian clock. Plant Cell 24, 428–443 (2012).

Doyle, M. R. et al. The ELF4 gene controls circadian rhythms and flowering time in Arabidopsis thaliana. Nature 419, 74–77 (2002).

Silva, C. S. et al. Molecular mechanisms of Evening Complex activity in Arabidopsis. Proc. Natl Acad. Sci. USA 117, 6901–6909 (2020).

Wallace, E. W. J. et al. Reversible, specific, active aggregates of endogenous proteins assemble upon heat stress. Cell 162, 1286–1298 (2015).

Franzmann, T. M. et al. Phase separation of a yeast prion protein promotes cellular fitness. Science 359, eaao5654 (2018).

Dignon, G. L., Zheng, W., Kim, Y. C. & Mittal, J. Temperature-controlled liquid–liquid phase separation of disordered proteins. ACS Cent. Sci. 5, 821–830 (2019).

Si, K. Prions: what are they good for? Annu. Rev. Cell Dev. Biol. 31, 149–169 (2015).

Jaeger, K. E., Pullen, N., Lamzin, S., Morris, R. J. & Wigge, P. A. Interlocking feedback loops govern the dynamic behavior of the floral transition in Arabidopsis. Plant Cell 25, 820–833 (2013).

Barbosa, A. D. et al. Lipid partitioning at the nuclear envelope controls membrane biogenesis. Mol. Biol. Cell 26, 3641–3657 (2015).

Guilligay, D. et al. The structural basis for cap binding by influenza virus polymerase subunit PB2. Nat. Struct. Mol. Biol. 15, 500–506 (2008).

Tarendeau, F. et al. Structure and nuclear import function of the C-terminal domain of influenza virus polymerase PB2 subunit. Nat. Struct. Mol. Biol. 14, 229–233 (2007).

Schindelin, J. et al. Fiji: an open-source platform for biological-image analysis. Nat. Methods 9, 676–682 (2012).

Koulouras, G. et al. EasyFRAP-web: a web-based tool for the analysis of fluorescence recovery after photobleaching data. Nucleic Acids Res. 46 (W1), W467–W472 (2018).
Acknowledgements
We thank M. Perutz for discussions on polyQ proteins; the microscopy facility MuLife of the Interdisciplinary Research Institute of Grenoble (IRIG)/Department of Structural and Cellular Integrative Biology (DBSCI), funded by CEA Nanobio and Labex GRAL, for equipment access and use; and L. Kurzawa and F. Senger for technical assistance and discussions. This work used the platforms of the Grenoble Instruct-ERIC Center (ISBG; grant UMS 3518; CNRS/CEA/UGA/EMBL), with support from the French Infrastructure for Integrated Structural Biology (FRISBI; grant ANR-10-INBS-05-02) and Labex GRAL (grant ANR-CBH-EUR-GS) within the Grenoble Partnership for Structural Biology (PSB). P.A.W. and C.Z. received funding from Instruct-ERIC (PID 2236). This work was also supported by a grant from the National Research Foundation of Korea (NRF), funded by the Korean government (Ministry of Science and ICT; MSIT) (grant 2019R1C1C1010507 to J.-H.J). This work was further funded by project ANR-19-CE20-0021-01 PRC (to C.Z.). P.A.W. received support from the European Research Council (grant EC FP7 ERC 243140) and the Gatsby Charitable Foundation (grant GAT3273/GLB). P.A.W. receives funding from the Leibniz Foundation.
Ethics declarations
Competing interests
The authors declare no competing interests.
Additional information
Peer review information Nature thanks Salomé Prat and the other, anonymous, reviewer(s) for their contribution to the peer review of this work.
Publisher's note Springer Nature remains neutral with regard to jurisdictional claims in published maps and institutional affiliations.
Extended data figures and tables
Supplementary information
| List of genes bound by ELF3 and genes whose expression is controlled by ELF3.
About this article
Cite this article
Jung, JH., Barbosa, A.D., Hutin, S. et al. A prion-like domain in ELF3 functions as a thermosensor in Arabidopsis. Nature 585, 256–260 (2020). https://doi.org/10.1038/s41586-020-2644-7
Received:

Accepted:

Published:

Issue Date:

DOI: https://doi.org/10.1038/s41586-020-2644-7
Comments
By submitting a comment you agree to abide by our Terms and Community Guidelines. If you find something abusive or that does not comply with our terms or guidelines please flag it as inappropriate.