Abstract
Fifty years of Moore's law scaling in microelectronics have brought remarkable opportunities for the rapidly evolving field of microscopic robotics1,2,3,4,5. Electronic, magnetic and optical systems now offer an unprecedented combination of complexity, small size and low cost6,7, and could be readily appropriated for robots that are smaller than the resolution limit of human vision (less than a hundred micrometres)8,9,10,11. However, a major roadblock exists: there is no micrometre-scale actuator system that seamlessly integrates with semiconductor processing and responds to standard electronic control signals. Here we overcome this barrier by developing a new class of voltage-controllable electrochemical actuators that operate at low voltages (200 microvolts), low power (10 nanowatts) and are completely compatible with silicon processing. To demonstrate their potential, we develop lithographic fabrication-and-release protocols to prototype sub-hundred-micrometre walking robots. Every step in this process is performed in parallel, allowing us to produce over one million robots per four-inch wafer. These results are an important advance towards mass-manufactured, silicon-based, functional robots that are too small to be resolved by the naked eye.
Your institute does not have access to this article
Relevant articles
Open Access articles citing this article.
Jingming Zhang

,

Yicheng Li

…

Rong Chen

Nanomanufacturing and Metrology Open Access 08 April 2022

Mayue Shi

&

Eric M. Yeatman

Microsystems & Nanoengineering Open Access 23 November 2021

Yangyang Chen

,

Xiaopeng Li

…

Guoliang Huang

Nature Communications Open Access 12 October 2021
Access options
Subscribe to Nature+
Get immediate online access to the entire Nature family of 50+ journals
Subscribe to Journal
Get full journal access for 1 year
$199.00
only $3.90 per issue
All prices are NET prices.
VAT will be added later in the checkout.
Tax calculation will be finalised during checkout.
Buy article
Get time limited or full article access on ReadCube.
$32.00
All prices are NET prices.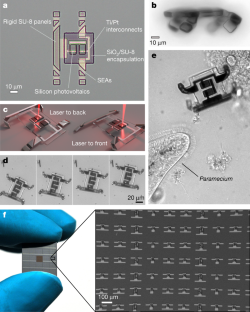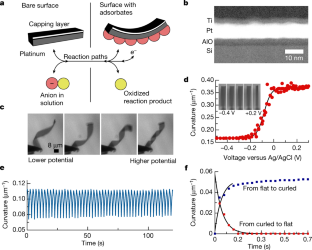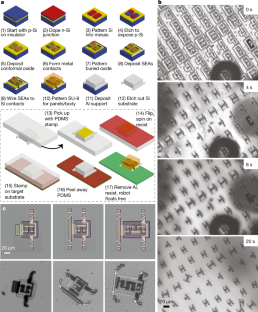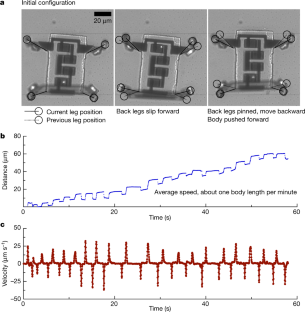 Data availability
The authors declare that the data supporting the findings of this study are available within the paper and its supplementary information files. Source data are provided with this paper.
References
Ceylan, H., Giltinan, J., Kozielski, K. & Sitti, M. Mobile microrobots for bioengineering applications. Lab Chip 17, 1705–1724 (2017).

Li, J., de Ávila, B. E.-F., Gao, W., Zhang, L. & Wang, J. Micro/nanorobots for biomedicine: delivery, surgery, sensing, and detoxification. Sci. Robot. 2, eaam6431 (2017).

Palagi, S. & Fischer, P. Bioinspired microrobots. Nat. Rev. Mater. 3, 113–124 (2018).

Hu, C., Pané, S. & Nelson, B. J. Soft micro-and nanorobotics. Annu. Rev. Control Robot. Auton. Syst. 1, 53–75 (2018).

Wang, W., Duan, W., Ahmed, S., Mallouk, T. E. & Sen, A. Small power: autonomous nano-and micromotors propelled by self-generated gradients. Nano Today 8, 531–554 (2013).

Theis, T. N. & Wong, H.-S. P. The end of Moore's law: a new beginning for information technology. Comput. Sci. Eng. 19, 41–50 (2017).

Yeric, G. Moore's law at 50: Are we planning for retirement? In 2015 IEEE Intl Electron Devices Meeting (IEDM) 1.1.1–1.1.8 (IEEE, 2015).

Wu, X. et al. A 0.04 mm3 16 nW wireless and batteryless sensor system with integrated Cortex-M0+ processor and optical communication for cellular temperature measurement. In 2018 IEEE Symp. VLSI Circuits 191–192 (IEEE, 2018).

Funke, D. A. et al. A 200 μm by 100 μm smart dust system with an average current consumption of 1.3 nA. In 2016 IEEE Intl Conf. Electronics, Circuits and Systems (ICECS) 512–515 (IEEE, 2016).

Lee, S. et al. A 250 μm × 57 μm microscale opto-electronically transduced electrodes (MOTEs) for neural recording. IEEE Trans. Biomed. Circuits Syst. 12, 1256–1266 (2018).

Seo, D., Carmena, J. M., Rabaey, J. M., Maharbiz, M. M. & Alon, E. Model validation of untethered, ultrasonic neural dust motes for cortical recording. J. Neurosci. Methods 244, 114–122 (2015).

Viswanath, R. N., Kramer, D. & Weissmüller, J. Adsorbate effects on the surface stress–charge response of platinum electrodes. Electrochim. Acta 53, 2757–2767 (2008).

Viswanath, R. N., Kramer, D. & Weissmüller, J. Variation of the surface stress–charge coefficient of platinum with electrolyte concentration. Langmuir 21, 4604–4609 (2005).

Weissmüller, J. et al. Charge-induced reversible strain in a metal. Science 300, 312–315 (2003).

Jin, H.-J. & Weissmüller, J. Bulk nanoporous metal for actuation. Adv. Eng. Mater. 12, 714–723 (2010).

Sader, J. E. Surface stress induced deflections of cantilever plates with applications to the atomic force microscope: rectangular plates. J. Appl. Phys. 89, 2911–2921 (2001).

Tamayo, J., Ruz, J. J., Pini, V., Kosaka, P. & Calleja, M. Quantification of the surface stress in microcantilever biosensors: revisiting Stoney's equation. Nanotechnology 23, 475702 (2012).

Conway, B. E., Birss, V. & Wojtowicz, J. The role and utilization of pseudocapacitance for energy storage by supercapacitors. J. Power Sources 66, 1–14 (1997).

Wiggins, C. H. & Goldstein, R. E. Flexive and propulsive dynamics of elastica at low Reynolds number. Phys. Rev. Lett. 80, 3879–3882 (1998).

Felgner, H., Frank, R. & Schliwa, M. Flexural rigidity of microtubules measured with the use of optical tweezers. J. Cell Sci. 109, 509–516 (1996).

Ananthakrishnan, R. & Ehrlicher, A. The forces behind cell movement. Int. J. Biol. Sci. 3, 303–317 (2007).

Piazza, G., Felmetsger, V., Muralt, P., Olsson, R. H. III & Ruby, R. Piezoelectric aluminum nitride thin films for microelectromechanical systems. MRS Bull. 37, 1051–1061 (2012).

Sinha, N. et al. Piezoelectric aluminum nitride nanoelectromechanical actuators. Appl. Phys. Lett. 95, 053106 (2009).

Zaghloul, U. & Piazza, G. 10–25 nm piezoelectric nano-actuators and NEMS switches for millivolt computational logic. In 2013 IEEE 26th Intl Conf. Micro Electro Mechanical Systems (MEMS) 233–236 (IEEE, 2013).

Ebefors, T., Mattsson, J. U., Kälvesten, E. & Stemme, G. A walking silicon micro-robot. In Proc. 10th Intl Conf. Solid-State Sensors and Actuators (Transducers '99) 1202–1205 (1999).

Jager, E. W., Inganäs, O. & Lundström, I. Microrobots for micrometer-size objects in aqueous media: potential tools for single-cell manipulation. Science 288, 2335–2338 (2000).

Jager, E. W., Smela, E. & Inganäs, O. Microfabricating conjugated polymer actuators. Science 290, 1540–1545 (2000).

Smela, E. Microfabrication of PPy microactuators and other conjugated polymer devices. J. Micromech. Microeng. 9, 1–18 (1999).

Palagi, S. et al. Structured light enables biomimetic swimming and versatile locomotion of photoresponsive soft microrobots. Nat. Mater. 15, 647–653 (2016).

Dai, B. et al. Programmable artificial phototactic microswimmer. Nat. Nanotechnol. 11, 1087–1092 (2016).

Ahmed, D. et al. Selectively manipulable acoustic-powered microswimmers. Sci. Rep. 5, 9744 (2015).

Rao, K. J. et al. A force to be reckoned with: a review of synthetic microswimmers powered by ultrasound. Small 11, 2836–2846 (2015).

Tottori, S. et al. Magnetic helical micromachines: fabrication, controlled swimming, and cargo transport. Adv. Mater. 24, 811–816 (2012).

Leong, T. G. et al. Tetherless thermobiochemically actuated microgrippers. Proc. Natl Acad. Sci. USA 106, 703–708 (2009).

Baraban, L. et al. Fuel-free locomotion of Janus motors: magnetically induced thermophoresis. ACS Nano 7, 1360–1367 (2013).

Bassik, N. et al. Enzymatically triggered actuation of miniaturized tools. J. Am. Chem. Soc. 132, 16314–16317 (2010).

Miskin, M. Z. et al. Graphene-based bimorphs for micron-sized, autonomous origami machines. Proc. Natl Acad. Sci. USA 115, 466–470 (2018).

Solovev, A. A., Sanchez, S., Pumera, M., Mei, Y. F. & Schmidt, O. G. Magnetic control of tubular catalytic microbots for the transport, assembly, and delivery of micro-objects. Adv. Funct. Mater. 20, 2430–2435 (2010).

Carlson, A., Bowen, A. M., Huang, Y., Nuzzo, R. G. & Rogers, J. A. Transfer printing techniques for materials assembly and micro/nanodevice fabrication. Adv. Mater. 24, 5284–5318 (2012).

Wu, Z. et al. A swarm of slippery micropropellers penetrates the vitreous body of the eye. Sci. Adv. 4, eaat4388 (2018).

Miskin, M. Z. et al. Fabrication of electronically integrated, mass-manufactured, microscopic robots. Protoc. Exch. https://doi.org/10.21203/rs.3.pex-1012/v1 (2020).

Conway, B. E. Electrochemical oxide film formation at noble metals as a surface-chemical process. Prog. Surf. Sci. 49, 331–452 (1995).

Climent, V., Gómez, R., Orts, J. M. & Feliu, J. M. Thermodynamic analysis of the temperature dependence of OH adsorption on Pt (111) and Pt (100) electrodes in acidic media in the absence of specific anion adsorption. J. Phys. Chem. B 110, 11344–11351 (2006).

van der Niet, M. J., Garcia-Araez, N., Hernández, J., Feliu, J. M. & Koper, M. T. Water dissociation on well-defined platinum surfaces: the electrochemical perspective. Catal. Today 202, 105–113 (2013).

Gisbert, R., García, G. & Koper, M. T. Adsorption of phosphate species on poly-oriented Pt and Pt (111) electrodes over a wide range of pH. Electrochim. Acta 55, 7961–7968 (2010).

Lafouresse, M., Bertocci, U. & Stafford, G. Dynamic stress analysis applied to (111)-textured Pt in HClO4 electrolyte. J. Electrochem. Soc. 160, H636–H643 (2013).

Raiteri, R. & Butt, H.-J. Measuring electrochemically induced surface stress with an atomic force microscope. J. Phys. Chem. 99, 15728–15732 (1995).

Funke, D. A. et al. Ultra low-power, -area and -frequency CMOS thyristor based oscillator for autonomous microsystems. Analog Integr. Circuits Signal Process. 89, 347–356 (2016).

Hwang, C., Bibyk, S., Ismail, M. & Lohiser, B. A very low frequency, micropower, low voltage CMOS oscillator for noncardiac pacemakers. IEEE Trans. Circ. Syst. I Fundam. Theory Appl. 42, 962–966 (1995).

Galea, F., Casha, O., Grech, I., Gatt, E. & Micallef, J. Ultra low frequency low power CMOS oscillators for MPPT and switch mode power supplies. In 14th Conf. Ph.D. Research in Microelectronics and Electronics (PRIME) 121–124 (IEEE, 2018).
Acknowledgements
We acknowledge the CNF staff, in particular T. Pennell, J. Clark, V. Genova, C. Alpha and G. Bordonaro, for guidance and support with the fabrication process; S. Norris and B. Bircan for discussions; funding from the Army Research Office (ARO W911NF-18-1-0032), the Air Force Office of Scientific Research (AFSOR) MURI Grant FA2386-13-1-4118, the Cornell Center for Materials Research DMR-1719875, NSF Grant DMR-1435829 and the Kavli Institute at Cornell for Nanoscale Science. This work was performed at the Cornell NanoScale Facility, an NNCI member supported by NSF Grant NNCI-1542081.
Ethics declarations
Competing interests
The authors declare no competing interests.
Additional information
Publisher's note Springer Nature remains neutral with regard to jurisdictional claims in published maps and institutional affiliations.
Extended data figures and tables
Supplementary information
About this article
Cite this article
Miskin, M.Z., Cortese, A.J., Dorsey, K. et al. Electronically integrated, mass-manufactured, microscopic robots. Nature 584, 557–561 (2020). https://doi.org/10.1038/s41586-020-2626-9
Received:

Accepted:

Published:

Issue Date:

DOI: https://doi.org/10.1038/s41586-020-2626-9
Comments
By submitting a comment you agree to abide by our Terms and Community Guidelines. If you find something abusive or that does not comply with our terms or guidelines please flag it as inappropriate.