Abstract
Members of the conserved Argonaute protein family use small RNA guides to locate their mRNA targets and regulate gene expression and suppress mobile genetic elements in eukaryotes1,2. Argonautes are also present in many bacterial and archaeal species3,4,5. Unlike eukaryotic proteins, several prokaryotic Argonaute proteins use small DNA guides to cleave DNA, a process known as DNA interference6,7,8,9,10. However, the natural functions and targets of DNA interference are poorly understood, and the mechanisms of DNA guide generation and target discrimination remain unknown. Here we analyse the activity of a bacterial Argonaute nuclease from Clostridium butyricum (CbAgo) in vivo. We show that CbAgo targets multicopy genetic elements and suppresses the propagation of plasmids and infection by phages. CbAgo induces DNA interference between homologous sequences and triggers DNA degradation at double-strand breaks in the target DNA. The loading of CbAgo with locus-specific small DNA guides depends on both its intrinsic endonuclease activity and the cellular double-strand break repair machinery. A similar interaction was reported for the acquisition of new spacers during CRISPR adaptation, and prokaryotic genomes that encode Ago nucleases are enriched in CRISPR–Cas systems. These results identify molecular mechanisms that generate guides for DNA interference and suggest that the recognition of foreign nucleic acids by prokaryotic defence systems involves common principles.
Relevant articles
Open Access articles citing this article.
Xinmi Song

,

Sheng Lei

…

Wenyuan Han

Nature Communications Open Access 01 November 2023

Fei Huang

,

Xiaoyi Xu

…

Yan Feng

Bioresources and Bioprocessing Open Access 24 May 2022
Access options
Access Nature and 54 other Nature Portfolio journals
Get Nature+, our best-value online-access subscription
$29.99 / 30 days
cancel any time
Subscribe to this journal
Receive 51 print issues and online access
$199.00 per year
only $3.90 per issue
Rent or buy this article
Prices vary by article type
from$1.95
to$39.95
Prices may be subject to local taxes which are calculated during checkout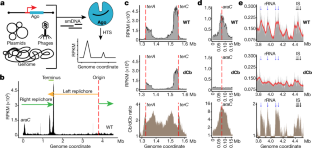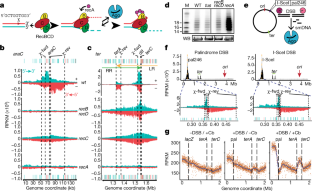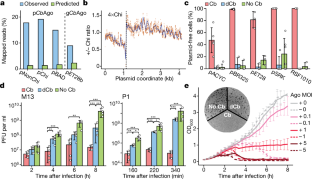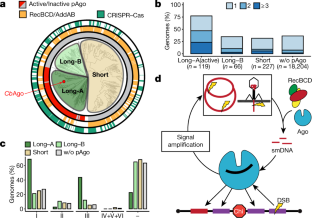 Data availability
All data generated during this study are included in the published Article and the Extended Data and are available from the Gene Expression Omnibus (GEO) database with the accession number GSE148596.
References
Gebert, D. & Rosenkranz, D. RNA-based regulation of transposon expression. Wiley Interdiscip. Rev. RNA 6, 687–708 (2015).

Meister, G. Argonaute proteins: functional insights and emerging roles. Nat. Rev. Genet. 14, 447–459 (2013).

Makarova, K. S., Wolf, Y. I., van der Oost, J. & Koonin, E. V. Prokaryotic homologs of Argonaute proteins are predicted to function as key components of a novel system of defense against mobile genetic elements. Biol. Direct 4, 29 (2009).

Ryazansky, S., Kulbachinskiy, A. & Aravin, A. A. The expanded universe of prokaryotic Argonaute proteins. MBio 9, e01935–e01918 (2018).

Swarts, D. C. et al. The evolutionary journey of Argonaute proteins. Nat. Struct. Mol. Biol. 21, 743–753 (2014).

Hegge, J. W. et al. DNA-guided DNA cleavage at moderate temperatures by Clostridium butyricum Argonaute. Nucleic Acids Res. 47, 5809–5821 (2019).

Kuzmenko, A., Yudin, D., Ryazansky, S., Kulbachinskiy, A. & Aravin, A. A. Programmable DNA cleavage by Ago nucleases from mesophilic bacteria Clostridium butyricum and Limnothrix rosea. Nucleic Acids Res. 47, 5822–5836 (2019).

Swarts, D. C. et al. Argonaute of the archaeon Pyrococcus furiosus is a DNA-guided nuclease that targets cognate DNA. Nucleic Acids Res. 43, 5120–5129 (2015).

Swarts, D. C. et al. DNA-guided DNA interference by a prokaryotic Argonaute. Nature 507, 258–261 (2014).

Zander, A. et al. Guide-independent DNA cleavage by archaeal Argonaute from Methanocaldococcus jannaschii. Nat. Microbiol. 2, 17034 (2017).

Willkomm, S., Makarova, K. S. & Grohmann, D. DNA silencing by prokaryotic Argonaute proteins adds a new layer of defense against invading nucleic acids. FEMS Microbiol. Rev. 42, 376–387 (2018).

Lisitskaya, L., Aravin, A. A. & Kulbachinskiy, A. DNA interference and beyond: structure and functions of prokaryotic Argonaute proteins. Nat. Commun. 9, 5165 (2018).

Kaya, E. et al. A bacterial Argonaute with noncanonical guide RNA specificity. Proc. Natl Acad. Sci. USA 113, 4057–4062 (2016).

Sheng, G. et al. Structure-based cleavage mechanism of Thermus thermophilus Argonaute DNA guide strand-mediated DNA target cleavage. Proc. Natl Acad. Sci. USA 111, 652–657 (2014).

Willkomm, S. et al. Structural and mechanistic insights into an archaeal DNA-guided Argonaute protein. Nat. Microbiol. 2, 17035 (2017).

Olina, A. et al. Genome-wide DNA sampling by Ago nuclease from the cyanobacterium Synechococcus elongatus. RNA Biol. 17, 677–688 (2020).

Swarts, D. C. et al. Autonomous generation and loading of DNA uides by bacterial Argonaute. Mol. Cell 65, 985–998.e6 (2017).

Olovnikov, I., Chan, K., Sachidanandam, R., Newman, D. K. & Aravin, A. A. Bacterial argonaute samples the transcriptome to identify foreign DNA. Mol. Cell 51, 594–605 (2013).

Duggin, I. G. & Bell, S. D. Termination structures in the Escherichia coli chromosome replication fork trap. J. Mol. Biol. 387, 532–539 (2009).

Dillingham, M. S. & Kowalczykowski, S. C. RecBCD enzyme and the repair of double-stranded DNA breaks. Microbiol. Mol. Biol. Rev. 72, 642–671 (2008).

Smith, G. R. How RecBCD enzyme and Chi promote DNA break repair and recombination: a molecular biologist's view. Microbiol. Mol. Biol. Rev. 76, 217–228 (2012).

Wigley, D. B. Bacterial DNA repair: recent insights into the mechanism of RecBCD, AddAB and AdnAB. Nat. Rev. Microbiol. 11, 9–13 (2013).

Chaudhury, A. M. & Smith, G. R. Escherichia coli recBC deletion mutants. J. Bacteriol. 160, 788–791 (1984).

Sinha, A. K. et al. Division-induced DNA double strand breaks in the chromosome terminus region of Escherichia coli lacking RecBCD DNA repair enzyme. PLoS Genet. 13, e1006895 (2017).

Sinha, A. K. et al. Broken replication forks trigger heritable DNA breaks in the terminus of a circular chromosome. PLoS Genet. 14, e1007256 (2018).

Capaldo, F. N. & Barbour, S. D. DNA content, synthesis and integrity in dividing and non-dividing cells of rec- strains of Escherichia coli K12. J. Mol. Biol. 91, 53–66 (1975).

Marraffini, L. A. & Sontheimer, E. J. Self versus non-self discrimination during CRISPR RNA-directed immunity. Nature 463, 568–571 (2010).

Westra, E. R. et al. Type I-E CRISPR-cas systems discriminate target from non-target DNA through base pairing-independent PAM recognition. PLoS Genet. 9, e1003742 (2013).

White, M. A., Azeroglu, B., Lopez-Vernaza, M. A., Hasan, A. M. M. & Leach, D. R. F. RecBCD coordinates repair of two ends at a DNA double-strand break, preventing aberrant chromosome amplification. Nucleic Acids Res. 46, 6670–6682 (2018).

Eykelenboom, J. K., Blackwood, J. K., Okely, E. & Leach, D. R. SbcCD causes a double-strand break at a DNA palindrome in the Escherichia coli chromosome. Mol. Cell 29, 644–651 (2008).

White, M. A., Darmon, E., Lopez-Vernaza, M. A. & Leach, D. R. F. DNA double strand break repair in Escherichia coli perturbs cell division and chromosome dynamics. PLoS Genet. 16, e1008473 (2020).

Modell, J. W., Jiang, W. & Marraffini, L. A. CRISPR-Cas systems exploit viral DNA injection to establish and maintain adaptive immunity. Nature 544, 101–104 (2017).

Levy, A. et al. CRISPR adaptation biases explain preference for acquisition of foreign DNA. Nature 520, 505–510 (2015).

Ivančić-Baće, I., Cass, S. D., Wearne, S. J. & Bolt, E. L. Different genome stability proteins underpin primed and naïve adaptation in E. coli CRISPR-Cas immunity. Nucleic Acids Res. 43, 10821–10830 (2015).

Bobay, L. M., Touchon, M. & Rocha, E. P. Manipulating or superseding host recombination functions: a dilemma that shapes phage evolvability. PLoS Genet. 9, e1003825 (2013).

Doron, S. et al. Systematic discovery of antiphage defense systems in the microbial pangenome. Science 359, eaar4120 (2018).

Ofir, G. et al. DISARM is a widespread bacterial defence system with broad anti-phage activities. Nat. Microbiol. 3, 90–98 (2018).

Koonin, E. V. Evolution of RNA- and DNA-guided antivirus defense systems in prokaryotes and eukaryotes: common ancestry vs convergence. Biol. Direct 12, 5 (2017).

El Karoui, M., Biaudet, V., Schbath, S. & Gruss, A. Characteristics of Chi distribution on different bacterial genomes. Res. Microbiol. 150, 579–587 (1999).

Jolly, S. M. et al. A DNA-guided Argonaute protein functions in DNA replication in Thermus thermophilus. Cell https://doi.org/10.1016/j.cell.2020.07.036 (2020)

Datsenko, K. A. & Wanner, B. L. One-step inactivation of chromosomal genes in Escherichia coli K-12 using PCR products. Proc. Natl Acad. Sci. USA 97, 6640–6645 (2000).

Bohn, C., Collier, J. & Bouloc, P. Dispensable PDZ domain of Escherichia coli YaeL essential protease. Mol. Microbiol. 52, 427–435 (2004).

He, F. E. coli genomic DNA extraction. Bio-101 e97, https://doi.org/10.21769/BioProtoc.97 (2011).

Thomason, L. C., Costantino, N. & Court, D. L. E. coli genome manipulation by P1 transduction. Curr. Protocols Mol. Biol. Ch. 1, Unit 1.17 (2007).

Bernheim, A., Bikard, D., Touchon, M. & Rocha, E. P. C. A matter of background: DNA repair pathways as a possible cause for the sparse distribution of CRISPR-Cas systems in bacteria. Phil. Trans. R. Soc. Lond. B 374, 20180088 (2019).

Couvin, D. et al. CRISPRCasFinder, an update of CRISRFinder, includes a portable version, enhanced performance and integrates search for Cas proteins. Nucleic Acids Res. 46 (W1), W246–W251 (2018).
Acknowledgements
We thank M. A. White for strains with engineered I-SceI sites, G. Smith for RecBCD antibodies, S. Lysenkov for the help with statistical analysis and A. Olina for the help with the phage experiments. D.Y. would like to thank M. Kolesnik for discussions. The project was in part supported by the Ministry of Science and Higher Education of the Russian Federation (14.W03.31.0007), Russian Science Foundation (19-14-00359, analysis of DSB formation), Russian Foundation for Basic Research (18-29-07086). A.A.A. is supported by an HHMI Faculty Scholar Award. D.L. is supported by grant MR/M019160/1 from the MRC (UK).
Ethics declarations
Competing interests
The authors declare no competing interests.
Additional information
Publisher's note Springer Nature remains neutral with regard to jurisdictional claims in published maps and institutional affiliations.
Extended data figures and tables
Supplementary information
About this article
Cite this article
Kuzmenko, A., Oguienko, A., Esyunina, D. et al. DNA targeting and interference by a bacterial Argonaute nuclease. Nature 587, 632–637 (2020). https://doi.org/10.1038/s41586-020-2605-1
Received:

Accepted:

Published:

Issue Date:

DOI: https://doi.org/10.1038/s41586-020-2605-1
Comments
By submitting a comment you agree to abide by our Terms and Community Guidelines. If you find something abusive or that does not comply with our terms or guidelines please flag it as inappropriate.