Abstract
The coevolution of mammalian hosts and their beneficial commensal microbes has led to development of symbiotic host–microbiota relationships1. Epigenetic machinery permits mammalian cells to integrate environmental signals2; however, how these pathways are fine-tuned by diverse cues from commensal bacteria is not well understood. Here we reveal a highly selective pathway through which microbiota-derived inositol phosphate regulates histone deacetylase 3 (HDAC3) activity in the intestine. Despite the abundant presence of HDAC inhibitors such as butyrate in the intestine, we found that HDAC3 activity was sharply increased in intestinal epithelial cells of microbiota-replete mice compared with germ-free mice. This divergence was reconciled by the finding that commensal bacteria, including Escherichia coli, stimulated HDAC activity through metabolism of phytate and production of inositol-1,4,5-trisphosphate (InsP3). Both intestinal exposure to InsP3 and phytate ingestion promoted recovery following intestinal damage. Of note, InsP3 also induced growth of intestinal organoids derived from human tissue, stimulated HDAC3-dependent proliferation and countered butyrate inhibition of colonic growth. Collectively, these results show that InsP3 is a microbiota-derived metabolite that activates a mammalian histone deacetylase to promote epithelial repair. Thus, HDAC3 represents a convergent epigenetic sensor of distinct metabolites that calibrates host responses to diverse microbial signals.
Relevant articles
Open Access articles citing this article.
Valentina Chiodi

,

Francesca Rappa

…

Manlio Vinciguerra

Scientific Reports Open Access 05 November 2023

Bing Liang

,

Yanhong Wang

…

Dongming Xing

Clinical Epigenetics Open Access 11 September 2023

Jeonghyeon Moon

,

A. Ram Lee

…

Sung-Hwan Park

Arthritis Research & Therapy Open Access 26 July 2023
Access options
Access Nature and 54 other Nature Portfolio journals
Get Nature+, our best-value online-access subscription
$29.99 / 30 days
cancel any time
Subscribe to this journal
Receive 51 print issues and online access
$199.00 per year
only $3.90 per issue
Rent or buy this article
Prices vary by article type
from$1.95
to$39.95
Prices may be subject to local taxes which are calculated during checkout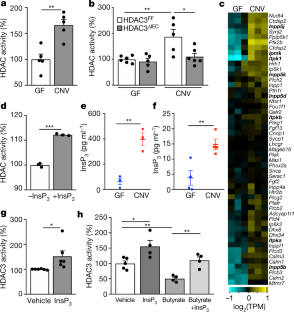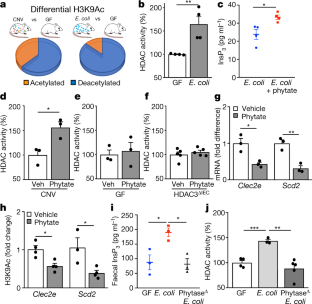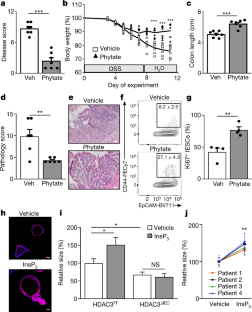 Data availability
Global datasets are available in the Gene Expression Omnibus repository under accession numbers GSE50190 and GSE148743. Raw uncropped gel scans with size markers indicated can be found in Supplementary Information. Source data are provided with this paper.
Code availability
Description of scripts used to analyse metagenomic data are provided in the Methods and the scripts are available upon request.
References
Honda, K. & Littman, D. R. The microbiome in infectious disease and inflammation. Annu. Rev. Immunol. 30, 759–795 (2012).

Feil, R. & Fraga, M. F. Epigenetics and the environment: emerging patterns and implications. Nat. Rev. Genet. 13, 97–109 (2012).

Peterson, L. W. & Artis, D. Intestinal epithelial cells: regulators of barrier function and immune homeostasis. Nat. Rev. Immunol. 14, 141–153 (2014).

Kim, T. H. et al. Broadly permissive intestinal chromatin underlies lateral inhibition and cell plasticity. Nature 506, 511–515 (2014).

Elliott, E. N., Sheaffer, K. L., Schug, J., Stappenbeck, T. S. & Kaestner, K. H. Dnmt1 is essential to maintain progenitors in the perinatal intestinal epithelium. Development 142, 2163–2172 (2015).

Wilson, A. J. et al. Histone deacetylase 3 (HDAC3) and other class I HDACs regulate colon cell maturation and p21 expression and are deregulated in human colon cancer. J. Biol. Chem. 281, 13548–13558 (2006).

Alenghat, T. et al. Histone deacetylase 3 coordinates commensal-bacteria-dependent intestinal homeostasis. Nature 504, 153–157 (2013).

Turgeon, N. et al. HDAC1 and HDAC2 restrain the intestinal inflammatory response by regulating intestinal epithelial cell differentiation. PLoS ONE 8, e73785–e73785 (2013).

Navabi, N. et al. Epithelial histone deacetylase 3 instructs intestinal immunity by coordinating local lymphocyte activation. Cell Rep. 19, 1165–1175 (2017).

Schell, M. J. Inositol trisphosphate 3-kinases: focus on immune and neuronal signaling. Cell. Mol. Life Sci. 67, 1755–1778 (2010).

Kim, E., Beon, J., Lee, S., Park, J. & Kim, S. IPMK: A versatile regulator of nuclear signaling events. Adv. Biol. Regul. 61, 25–32 (2016).

Zhang, J., Kalkum, M., Chait, B. T. & Roeder, R. G. The N-CoR–HDAC3 nuclear receptor corepressor complex inhibits the JNK pathway through the integral subunit GPS2. Mol. Cell 9, 611–623 (2002).

Guenther, M. G., Barak, O. & Lazar, M. A. The SMRT and N-CoR corepressors are activating cofactors for histone deacetylase 3. Mol. Cell. Biol. 21, 6091–6101 (2001).

Alenghat, T. et al. Nuclear receptor corepressor and histone deacetylase 3 govern circadian metabolic physiology. Nature 456, 997–1000 (2008).

Watson, P. J., Fairall, L., Santos, G. M. & Schwabe, J. W. Structure of HDAC3 bound to co-repressor and inositol tetraphosphate. Nature 481, 335–340 (2012).

Feng, D. et al. A circadian rhythm orchestrated by histone deacetylase 3 controls hepatic lipid metabolism. Science 331, 1315–1319 (2011).

Mullican, S. E. et al. Histone deacetylase 3 is an epigenomic brake in macrophage alternative activation. Genes Dev. 25, 2480–2488 (2011).

Kuang, Z. et al. The intestinal microbiota programs diurnal rhythms in host metabolism through histone deacetylase 3. Science 365, 1428–1434 (2019).

Krautkramer, K. A. et al. Diet–microbiota interactions mediate global epigenetic programming in multiple host tissues. Mol. Cell 64, 982–992 (2016).

Schlemmer, U., Frølich, W., Prieto, R. M. & Grases, F. Phytate in foods and significance for humans: food sources, intake, processing, bioavailability, protective role and analysis. Mol. Nutr. Food Res. 53 (Suppl 2), S330–S375 (2009).

Wise, A. & Gilburt, D. J. Phytate hydrolysis by germfree and conventional rats. Appl. Environ. Microbiol. 43, 753–756 (1982).

Lim, D., Golovan, S., Forsberg, C. W. & Jia, Z. Crystal structures of Escherichia coli phytase and its complex with phytate. Nat. Struct. Biol. 7, 108–113 (2000).

Woo, V. et al. Microbiota inhibit epithelial pathogen adherence by epigenetically regulating C-type lectin expression. Front. Immunol. 10, 928 (2019).

Gossman, D. G. & Zhao, H.-B. Hemichannel-mediated inositol 1,4,5-trisphosphate (IP3) release in the cochlea: a novel mechanism of IP3 intercellular signaling. Cell Commun. Adhes. 15, 305–315 (2008).

Hernández-Chirlaque, C. et al. Germ-free and antibiotic-treated mice are highly susceptible to epithelial injury in DSS colitis. J. Crohn's Colitis 10, 1324–1335 (2016).

Rakoff-Nahoum, S., Paglino, J., Eslami-Varzaneh, F., Edberg, S. & Medzhitov, R. Recognition of commensal microflora by toll-like receptors is required for intestinal homeostasis. Cell 118, 229–241 (2004).

Lloyd-Price, J. et al. Multi-omics of the gut microbial ecosystem in inflammatory bowel diseases. Nature 569, 655–662 (2019).

Gevers, D. et al. The treatment-naive microbiome in new-onset Crohn's disease. Cell Host Microbe 15, 382–392 (2014).

Franzosa, E. A. et al. Gut microbiome structure and metabolic activity in inflammatory bowel disease. Nat. Microbiol. 4, 293–305 (2019).

Kaiko, G. E. et al. The colonic crypt protects stem cells from microbiota-derived metabolites. Cell 165, 1708–1720 (2016).

Whitt, J. et al. Disruption of epithelial HDAC3 in intestine prevents diet-induced obesity in mice. Gastroenterology 155, 501–513 (2018).

Madison, B. B. et al. Cis elements of the villin gene control expression in restricted domains of the vertical (crypt) and horizontal (duodenum, cecum) axes of the intestine. J. Biol. Chem. 277, 33275–33283 (2002).

McAlees, J. W. et al. Distinct Tlr4-expressing cell compartments control neutrophilic and eosinophilic airway inflammation. Mucosal Immunol. 8, 863–873 (2015).

Schnare, M. et al. Toll-like receptors control activation of adaptive immune responses. Nat. Immunol. 2, 947–950 (2001).

Vétizou, M. et al. Anticancer immunotherapy by CTLA-4 blockade relies on the gut microbiota. Science 350, 1079–1084 (2015).

Langmead, B., Trapnell, C., Pop, M. & Salzberg, S. L. Ultrafast and memory-efficient alignment of short DNA sequences to the human genome. Genome Biol. 10, R25 (2009).

Zhang, Y. et al. Model-based analysis of ChIP–seq (MACS). Genome Biol. 9, R137 (2008).

Kartashov, A. V. & Barski, A. BioWardrobe: an integrated platform for analysis of epigenomics and transcriptomics data. Genome Biol. 16, 158 (2015).

Shao, Z., Zhang, Y., Yuan, G.-C., Orkin, S. H. & Waxman, D. J. MAnorm: a robust model for quantitative comparison of ChIP–seq data sets. Genome Biol. 13, R16 (2012).

Sagar, G. D. & Larson, D. M. Carbenoxolone inhibits junctional transfer and upregulates Connexin43 expression by a protein kinase A-dependent pathway. J. Cell. Biochem. 98, 1543–1551 (2006).

Wood, D. E. & Salzberg, S. L. Kraken: ultrafast metagenomic sequence classification using exact alignments. Genome Biol. 15, R46 (2014).

Oksanen, J. et al. vegan: Community Ecology Package. R package version 2.5–3. https://CRAN.R-project.org/package=vegan (2018).

Franzosa, E. A. et al. Species-level functional profiling of metagenomes and metatranscriptomes. Nat. Methods 15, 962–968 (2018).
Acknowledgements
We thank the Way, Qualls and Deshmukh laboratories for useful discussions; CCHMC Veterinary Services, Pathology Research Core, Research Flow Cytometry Core, NMR-based Metabolomics Core, and Confocal Imaging Core for services and technical assistance. This research is supported by the National Institutes of Health (DK114123 and DK116868 to T.A.; DK098231 to L.A.D.; and F32AI147591 to. E.M.E.), Pew Charitable Trust, and a Kenneth Rainin Foundation award to T.A. T.A. holds an Investigator in the Pathogenesis of Infectious Disease Award from the Burroughs Wellcome Fund. This project is supported in part by NIH P30 DK078392 and the CCHMC Trustee Award and Procter Scholar's Program.
Ethics declarations
Competing interests
The authors declare no competing interests.
Additional information
Peer review information Nature thanks Matthew Hirschey, Philip Rosenstiel and the other, anonymous, reviewer(s) for their contribution to the peer review of this work.
Publisher's note Springer Nature remains neutral with regard to jurisdictional claims in published maps and institutional affiliations.
Extended data figures and tables
Supplementary information
This file contains Supplementary Figures 1-2. Supplementary Fig. 1 contains the uncropped data for western blots, and Supplementary Fig. 2 the flow cytometry gating strategy.
About this article
Cite this article
Wu, Se., Hashimoto-Hill, S., Woo, V. et al. Microbiota-derived metabolite promotes HDAC3 activity in the gut. Nature 586, 108–112 (2020). https://doi.org/10.1038/s41586-020-2604-2
Received:

Accepted:

Published:

Issue Date:

DOI: https://doi.org/10.1038/s41586-020-2604-2
Comments
By submitting a comment you agree to abide by our Terms and Community Guidelines. If you find something abusive or that does not comply with our terms or guidelines please flag it as inappropriate.