Abstract
During prophase of the first meiotic division, cells deliberately break their DNA1. These DNA breaks are repaired by homologous recombination, which facilitates proper chromosome segregation and enables the reciprocal exchange of DNA segments between homologous chromosomes2. A pathway that depends on the MLH1–MLH3 (MutLγ) nuclease has been implicated in the biased processing of meiotic recombination intermediates into crossovers by an unknown mechanism3,4,5,6,7. Here we have biochemically reconstituted key elements of this pro-crossover pathway. We show that human MSH4–MSH5 (MutSγ), which supports crossing over8, binds branched recombination intermediates and associates with MutLγ, stabilizing the ensemble at joint molecule structures and adjacent double-stranded DNA. MutSγ directly stimulates DNA cleavage by the MutLγ endonuclease. MutLγ activity is further stimulated by EXO1, but only when MutSγ is present. Replication factor C (RFC) and the proliferating cell nuclear antigen (PCNA) are additional components of the nuclease ensemble, thereby triggering crossing-over. Saccharomyces cerevisiae strains in which MutLγ cannot interact with PCNA present defects in forming crossovers. Finally, the MutLγ–MutSγ–EXO1–RFC–PCNA nuclease ensemble preferentially cleaves DNA with Holliday junctions, but shows no canonical resolvase activity. Instead, it probably processes meiotic recombination intermediates by nicking double-stranded DNA adjacent to the junction points9. As DNA nicking by MutLγ depends on its co-factors, the asymmetric distribution of MutSγ and RFC–PCNA on meiotic recombination intermediates may drive biased DNA cleavage. This mode of MutLγ nuclease activation might explain crossover-specific processing of Holliday junctions or their precursors in meiotic chromosomes4.
Access options
Subscribe to Journal
Get full journal access for 1 year
$199.00
only $3.90 per issue
All prices are NET prices.
VAT will be added later in the checkout.
Tax calculation will be finalised during checkout.
Rent or Buy article
Get time limited or full article access on ReadCube.
from$8.99
All prices are NET prices.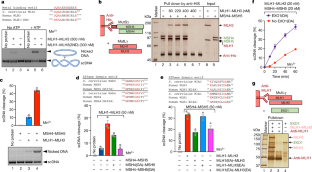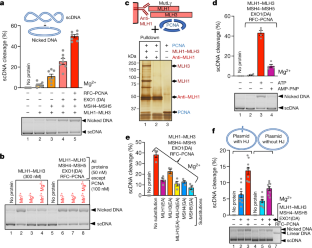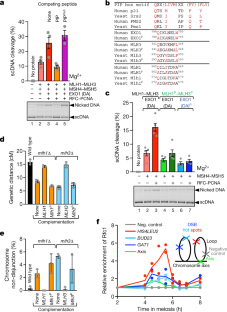 References
1.

Keeney, S., Giroux, C. N. & Kleckner, N. Meiosis-specific DNA double-strand breaks are catalyzed by Spo11, a member of a widely conserved protein family. Cell 88, 375–384 (1997).

2.

Hunter, N. Meiotic recombination: the essence of heredity. Cold Spring Harb. Perspect. Biol. 7, a016618 (2015).

3.

Nishant, K. T., Plys, A. J. & Alani, E. A mutation in the putative MLH3 endonuclease domain confers a defect in both mismatch repair and meiosis in Saccharomyces cerevisiae. Genetics 179, 747–755 (2008).

4.

Zakharyevich, K., Tang, S., Ma, Y. & Hunter, N. Delineation of joint molecule resolution pathways in meiosis identifies a crossover-specific resolvase. Cell 149, 334–347 (2012).

5.

Zakharyevich, K. et al. Temporally and biochemically distinct activities of Exo1 during meiosis: double-strand break resection and resolution of double Holliday junctions. Mol. Cell 40, 1001–1015 (2010).

6.

De Muyt, A. et al. BLM helicase ortholog Sgs1 is a central regulator of meiotic recombination intermediate metabolism. Mol. Cell 46, 43–53 (2012).

7.

Svetlanov, A., Baudat, F., Cohen, P. E. & de Massy, B. Distinct functions of MLH3 at recombination hot spots in the mouse. Genetics 178, 1937–1945 (2008).

8.

Snowden, T., Acharya, S., Butz, C., Berardini, M. & Fishel, R. hMSH4-hMSH5 recognizes Holliday Junctions and forms a meiosis-specific sliding clamp that embraces homologous chromosomes. Mol. Cell 15, 437–451 (2004).

9.

Marsolier-Kergoat, M. C., Khan, M. M., Schott, J., Zhu, X. & Llorente, B. Mechanistic view and genetic control of DNA recombination during meiosis. Mol. Cell 70, 9–20 (2018).

10.

Kadyrov, F. A., Dzantiev, L., Constantin, N. & Modrich, P. Endonucleolytic function of MutLα in human mismatch repair. Cell 126, 297–308 (2006).

11.

Ranjha, L., Anand, R. & Cejka, P. The Saccharomyces cerevisiae Mlh1-Mlh3 heterodimer is an endonuclease that preferentially binds to Holliday junctions. J. Biol. Chem. 289, 5674–5686 (2014).

12.

Rogacheva, M. V. et al. Mlh1-Mlh3, a meiotic crossover and DNA mismatch repair factor, is a Msh2-Msh3-stimulated endonuclease. J. Biol. Chem. 289, 5664–5673 (2014).

13.

Kadyrova, L. Y., Gujar, V., Burdett, V., Modrich, P. L. & Kadyrov, F. A. Human MutLγ, the MLH1-MLH3 heterodimer, is an endonuclease that promotes DNA expansion. Proc. Natl Acad. Sci. USA 117, 3535–3542 (2020).

14.

Sonntag Brown, M., Lim, E., Chen, C., Nishant, K. T. & Alani, E. Genetic analysis of mlh3 mutations reveals interactions between crossover promoting factors during meiosis in baker's yeast. G3 3, 9–22 (2013).

15.

Claeys Bouuaert, C. & Keeney, S. Distinct DNA-binding surfaces in the ATPase and linker domains of MutLγ determine its substrate specificities and exert separable functions in meiotic recombination and mismatch repair. PLoS Genet. 13, e1006722 (2017).

16.

Nishant, K. T., Chen, C., Shinohara, M., Shinohara, A. & Alani, E. Genetic analysis of baker's yeast Msh4-Msh5 reveals a threshold crossover level for meiotic viability. PLoS Genet. 6, e1001083 (2010).

17.

Santucci-Darmanin, S. et al. The DNA mismatch-repair MLH3 protein interacts with MSH4 in meiotic cells, supporting a role for this MutL homolog in mammalian meiotic recombination. Hum. Mol. Genet. 11, 1697–1706 (2002).

18.

Manhart, C. M. et al. The mismatch repair and meiotic recombination endonuclease Mlh1-Mlh3 is activated by polymer formation and can cleave DNA substrates in trans. PLoS Biol. 15, e2001164 (2017).

19.

Kneitz, B. et al. MutS homolog 4 localization to meiotic chromosomes is required for chromosome pairing during meiosis in male and female mice. Genes Dev. 14, 1085–1097 (2000).

20.

Flores-Rozas, H. & Kolodner, R. D. The Saccharomyces cerevisiae MLH3 gene functions in MSH3-dependent suppression of frameshift mutations. Proc. Natl Acad. Sci. USA 95, 12404–12409 (1998).

21.

Lipkin, S. M. et al. MLH3: a DNA mismatch repair gene associated with mammalian microsatellite instability. Nat. Genet. 24, 27–35 (2000).

22.

Wu, Y. et al. A role for MLH3 in hereditary nonpolyposis colorectal cancer. Nat. Genet. 29, 137–138 (2001).

23.

Dherin, C. et al. Characterization of a highly conserved binding site of Mlh1 required for exonuclease I-dependent mismatch repair. Mol. Cell. Biol. 29, 907–918 (2009).

24.

Pluciennik, A. et al. PCNA function in the activation and strand direction of MutLα endonuclease in mismatch repair. Proc. Natl Acad. Sci. USA 107, 16066–16071 (2010).

25.

Rass, U. et al. Mechanism of Holliday junction resolution by the human GEN1 protein. Genes Dev. 24, 1559–1569 (2010).

26.

Bruning, J. B. & Shamoo, Y. Structural and thermodynamic analysis of human PCNA with peptides derived from DNA polymerase-delta p66 subunit and flap endonuclease-1. Structure 12, 2209–2219 (2004).

27.

Lee, S. D. & Alani, E. Analysis of interactions between mismatch repair initiation factors and the replication processivity factor PCNA. J. Mol. Biol. 355, 175–184 (2006).

28.

Liberti, S. E. et al. Bi-directional routing of DNA mismatch repair protein human exonuclease 1 to replication foci and DNA double strand breaks. DNA Repair 10, 73–86 (2011).

29.

Genschel, J. et al. Interaction of proliferating cell nuclear antigen with PMS2 is required for MutLα activation and function in mismatch repair. Proc. Natl Acad. Sci. USA 114, 4930–4935 (2017).

30.

Sanchez, A. A. et al. Mechanism of in vivo activation of the MutLγ-Exo1 complex for meiotic crossover formation. Preprint at https://doi.org/10.1101/2019.12.16.876623 (2019).

31.

El-Shemerly, M., Hess, D., Pyakurel, A. K., Moselhy, S. & Ferrari, S. ATR-dependent pathways control hEXO1 stability in response to stalled forks. Nucleic Acids Res. 36, 511–519 (2008).

32.

Cannavo, E. & Cejka, P. Sae2 promotes dsDNA endonuclease activity within Mre11-Rad50-Xrs2 to resect DNA breaks. Nature 514, 122–125 (2014).

33.

Iaccarino, I., Marra, G., Palombo, F. & Jiricny, J. hMSH2 and hMSH6 play distinct roles in mismatch binding and contribute differently to the ATPase activity of hMutSα. EMBO J. 17, 2677–2686 (1998).

34.

Anand, R., Pinto, C. & Cejka, P. Methods to study DNA end resection I: recombinant protein purification. Methods Enzymol. 600, 25–66 (2018).

35.

Palombo, F. et al. hMutSβ, a heterodimer of hMSH2 and hMSH3, binds to insertion/deletion loops in DNA. Curr. Biol. 6, 1181–1184 (1996).

36.

Biswas, E. E., Chen, P. H. & Biswas, S. B. Overexpression and rapid purification of biologically active yeast proliferating cell nuclear antigen. Protein Expr. Purif. 6, 763–770 (1995).

37.

Reginato, G., Cannavo, E. & Cejka, P. Physiological protein blocks direct the Mre11-Rad50-Xrs2 and Sae2 nuclease complex to initiate DNA end resection. Genes Dev. 31, 2325–2330 (2017).

38.

Arter, M. et al. Regulated crossing-over requires inactivation of Yen1/GEN1 resolvase during meiotic prophase I. Dev. Cell 45, 785–800 (2018).

39.

Thacker, D., Lam, I., Knop, M. & Keeney, S. Exploiting spore-autonomous fluorescent protein expression to quantify meiotic chromosome behaviors in Saccharomyces cerevisiae. Genetics 189, 423–439 (2011).

40.

Wild, P. et al. Network rewiring of homologous recombination enzymes during mitotic proliferation and meiosis. Mol. Cell 75, 859–874 (2019).

41.

Duroc, Y. et al. Concerted action of the MutLβ heterodimer and Mer3 helicase regulates the global extent of meiotic gene conversion. eLife 6, e21900 (2017).

42.

Murakami, H., Borde, V., Nicolas, A. & Keeney, S. Gel electrophoresis assays for analyzing DNA double-strand breaks in Saccharomyces cerevisiae at various spatial resolutions. Methods Mol. Biol. 557, 117–142 (2009).

43.

Chia, M. & van Werven, F. J. Temporal expression of a master regulator drives synchronous sporulation in budding yeast. G3 6, 3553–3560 (2016).

44.

Stahl, F. W. & Lande, R. Estimating interference and linkage map distance from two-factor tetrad data. Genetics 139, 1449–1454 (1995).

45.

Matos, J. et al. Dbf4-dependent CDC7 kinase links DNA replication to the segregation of homologous chromosomes in meiosis I. Cell 135, 662–678 (2008).

46.

Borde, V. et al. Histone H3 lysine 4 trimethylation marks meiotic recombination initiation sites. EMBO J. 28, 99–111 (2009).
Acknowledgements
This work was supported by grants from the Swiss National Science Foundation (31003A_17544) and ERC (681-630) to P.C., Institut Curie and CNRS to V.B., Agence Nationale de la Recherche (ANR-15-CE11-0011) to V.B. and J.-B.C., the Novo Nordisk Foundation (NNF15OC0016662) and ERC (724718) to E.R.H., and the Swiss National Science Foundation (155823 and 176108) to J.M. We thank J. Jiricny (ETH Zurich) and members of the Cejka laboratory for helpful comments on the manuscript and N. Hunter for communicating results before publication. We thank ScopeM at ETH Zurich for instrument access.
Ethics declarations
Competing interests
The authors declare no competing interests.
Additional information
Peer review information Nature thanks Andreas Hochwagen and the other, anonymous, reviewer(s) for their contribution to the peer review of this work.
Publisher's note Springer Nature remains neutral with regard to jurisdictional claims in published maps and institutional affiliations.
Extended data figures and tables
Supplementary information
About this article
Cite this article
Cannavo, E., Sanchez, A., Anand, R. et al. Regulation of the MLH1–MLH3 endonuclease in meiosis. Nature 586, 618–622 (2020). https://doi.org/10.1038/s41586-020-2592-2
Received:

Accepted:

Published:

Issue Date:
Further reading
Dominic Johnson

,

Margaret Crawford

,

Tim Cooper

,

Corentin Claeys Bouuaert

,

Scott Keeney

,

Bertrand Llorente

,

Valerie Garcia

&

Matthew J. Neale

Nature (2021)

Parinaz Kazemi

&

Teruko Taketo

Chromosoma (2021)
Comments
By submitting a comment you agree to abide by our Terms and Community Guidelines. If you find something abusive or that does not comply with our terms or guidelines please flag it as inappropriate.