Abstract
Signalling between cells of the neurovascular unit, or neurovascular coupling, is essential to match local blood flow with neuronal activity. Pericytes interact with endothelial cells and extend processes that wrap capillaries, covering up to 90% of their surface area1,2. Pericytes are candidates to regulate microcirculatory blood flow because they are strategically positioned along capillaries, contain contractile proteins and respond rapidly to neuronal stimulation3,4, but whether they synchronize microvascular dynamics and neurovascular coupling within a capillary network was unknown. Here we identify nanotube-like processes that connect two bona fide pericytes on separate capillary systems, forming a functional network in the mouse retina, which we named interpericyte tunnelling nanotubes (IP-TNTs). We provide evidence that these (i) have an open-ended proximal side and a closed-ended terminal (end-foot) that connects with distal pericyte processes via gap junctions, (ii) carry organelles including mitochondria, which can travel along these processes, and (iii) serve as a conduit for intercellular Ca2+ waves, thus mediating communication between pericytes. Using two-photon microscope live imaging, we demonstrate that retinal pericytes rely on IP-TNTs to control local neurovascular coupling and coordinate light-evoked responses between adjacent capillaries. IP-TNT damage following ablation or ischaemia disrupts intercellular Ca2+ waves, impairing blood flow regulation and neurovascular coupling. Notably, pharmacological blockade of Ca2+ influx preserves IP-TNTs, rescues light-evoked capillary responses and restores blood flow after reperfusion. Our study thus defines IP-TNTs and characterizes their critical role in regulating neurovascular coupling in the living retina under both physiological and pathological conditions.
Relevant articles
Open Access articles citing this article.
Braxton Phillips

,

Jenna Clark

…

Ravi L. Rungta

Communications Biology Open Access 06 May 2023

Zi-Sen Zhang

,

Yi-Yan Liu

…

Liang-Ming Liu

Military Medical Research Open Access 13 March 2023

Sharyn L. Rossi

,

Preeti Subramanian

…

Diane E. Bovenkamp

Molecular Neurodegeneration Open Access 01 November 2022
Access options
Access Nature and 54 other Nature Portfolio journals
Get Nature+, our best-value online-access subscription
$29.99 / 30 days
cancel any time
Subscribe to this journal
Receive 51 print issues and online access
$199.00 per year
only $3.90 per issue
Rent or buy this article
Get just this article for as long as you need it
$39.95
Prices may be subject to local taxes which are calculated during checkout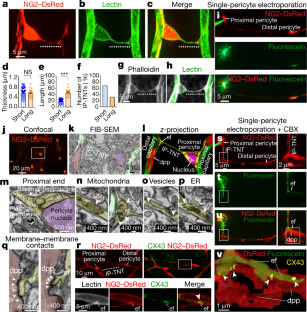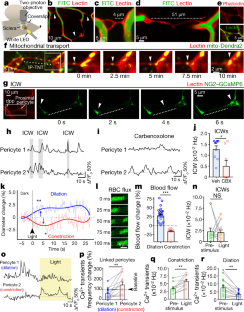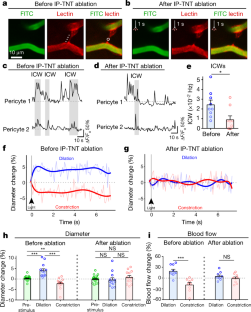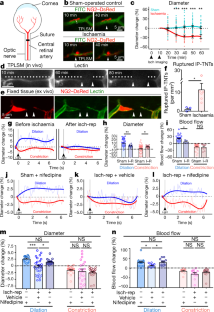 Data availability
All the data analysed in this study, including raw data, are provided in this published article and the supplementary information files. There are no restrictions on data availability. Source data are provided with this paper.
Code availability
The R code used for data analysis is included in the Supplementary Information files.
References
Attwell, D., Mishra, A., Hall, C. N., O'Farrell, F. M. & Dalkara, T. What is a pericyte? J. Cereb. Blood Flow Metab. 36, 451–455 (2016).

Dalkara, T. & Alarcon-Martinez, L. Cerebral microvascular pericytes and neurogliovascular signaling in health and disease. Brain Res. 1623, 3–17 (2015).

Alarcon-Martinez, L. et al. Capillary pericytes express α-smooth muscle actin, which requires prevention of filamentous-actin depolymerization for detection. eLife 7, e34861 (2018).

Hall, C. N. et al. Capillary pericytes regulate cerebral blood flow in health and disease. Nature 508, 55–60 (2014).

Hamilton, N. B., Attwell, D. & Hall, C. N. Pericyte-mediated regulation of capillary diameter: a component of neurovascular coupling in health and disease. Front. Neuroenergetics 2, 5 (2010).

Zhu, X., Bergles, D. E. & Nishiyama, A. NG2 cells generate both oligodendrocytes and gray matter astrocytes. Development 135, 145–157 (2008).

Henle, F. Ueber die Ausbreitung des Epithelium im menschlichen Körper. Arch. Anat. Physiol. Wiss. Med. 1838, 103–128 (1838).

Cerletti, U. Die gefassvermehrung in zentralnervensystem. Histol. Histopathol. Arb. Grosshirnr. 4, 1–168 (1910).

Cammermeyer, J. A comparative study of intervascular connective tissue strands in the central nervous system. J. Comp. Neurol. 114, 189–208 (1960).

Reissenweber, N. J. & Pessacq, T. Intervascular strands in the central nervous system. A histochemical approach. Acta Anat. 78, 51–57 (1971).

Williamson, J. R., Tilton, R. G., Kilo, C. & Yu, S. Immunofluorescent imaging of capillaries and pericytes in human skeletal muscle and retina. Microvasc. Res. 20, 233–241 (1980).

Leibnitz, L. & Bär, B. A blood capillaries-bridging cell type in adult mammalian brains. J. Hirnforsch. 29, 367–375 (1988).

Mendes-Jorge, L. et al. Intercapillary bridging cells: immunocytochemical characteristics of cells that connect blood vessels in the retina. Exp. Eye Res. 98, 79–87 (2012).

Korenkova, O., Pepe, A. & Zurzolo, C. Fine intercellular connections in development: TNTs, cytonemes, or intercellular bridges? Cell Stress 4, 30–43 (2020).

Harris, A. L. Connexin channel permeability to cytoplasmic molecules. Prog. Biophys. Mol. Biol. 94, 120–143 (2007).

Sartori-Rupp, A. et al. Correlative cryo-electron microscopy reveals the structure of TNTs in neuronal cells. Nat. Commun. 10, 342 (2019).

Theofilas, P., Steinhäuser, C., Theis, M. & Derouiche, A. Morphological study of a connexin 43-GFP reporter mouse highlights glial heterogeneity, amacrine cells, and olfactory ensheathing cells. J. Neurosci. Res. 95, 2182–2194 (2017).

Rustom, A., Saffrich, R., Markovic, I., Walther, P. & Gerdes, H.-H. Nanotubular highways for intercellular organelle transport. Science 303, 1007–1010 (2004).

Pham, A. H., McCaffery, J. M. & Chan, D. C. Mouse lines with photo-activatable mitochondria to study mitochondrial dynamics. Genesis 50, 833–843 (2012).

Osswald, M. et al. Brain tumour cells interconnect to a functional and resistant network. Nature 528, 93–98 (2015).

Wang, X., Veruki, M. L., Bukoreshtliev, N. V., Hartveit, E. & Gerdes, H.-H. Animal cells connected by nanotubes can be electrically coupled through interposed gap-junction channels. Proc. Natl Acad. Sci. USA 107, 17194–17199 (2010).

Longden, T. A. et al. Capillary K+-sensing initiates retrograde hyperpolarization to increase local cerebral blood flow. Nat. Neurosci. 20, 717–726 (2017).

Nilsson, S. F. & Alm, A. in Ocular Blood Flow (eds Kiel, J. W. & Schmetterer, L.) 25–47 (Springer-Verlag, 2012).

Alarcon-Martinez, L. et al. Retinal ischemia induces α-SMA-mediated capillary pericyte contraction coincident with perivascular glycogen depletion. Acta Neuropathol. Commun. 7, 134 (2019).

Underly, R. G. & Shih, A. Y. Photothrombotic induction of capillary ischemia in the mouse cortex during in vivo two-photon imaging. Bio Protoc. 7, e2378 (2017).

Borysova, L., Wray, S., Eisner, D. A. & Burdyga, T. How calcium signals in myocytes and pericytes are integrated across in situ microvascular networks and control microvascular tone. Cell Calcium 54, 163–174 (2013).

Franco, C. A. et al. Dynamic endothelial cell rearrangements drive developmental vessel regression. PLoS Biol. 13, e1002125 (2015).

Yu, D.-Y. et al. Retinal capillary perfusion: spatial and temporal heterogeneity. Prog. Retin. Eye Res. 70, 23–54 (2019).

Mouton, P. R. Principles and Practices of Unbiased Stereology: An Introduction for Bioscientists (Johns Hopkins Univ. Press, Baltimore, 2002).

Takihara, Y. et al. In vivo imaging of axonal transport of mitochondria in the diseased and aged mammalian CNS. Proc. Natl Acad. Sci. USA 112, 10515–10520 (2015).
Acknowledgements
We thank T. Kennedy, N. Belforte, P. D'Onofrio, Y. Shiga, and R. Araya for comments on the manuscript; J. Mui and W. Leelapornpisit for assistance with sample preparation, microscope operation and data collection; and G. Seifert and C. Steinhäuser for providing eyes from CX43–ECFP mice. Supported by grants from the Canadian Institutes of Health Research (A.D.P.).
Ethics declarations
Competing interests
The authors declare no competing interests.
Additional information
Peer review information Nature thanks Mark Nelson, Frank Winkler, Chiara Zurzolo and the other, anonymous, reviewer(s) for their contribution to the peer review of this work.
Publisher's note Springer Nature remains neutral with regard to jurisdictional claims in published maps and institutional affiliations.
Extended data figures and tables
Supplementary information
About this article
Cite this article
Alarcon-Martinez, L., Villafranca-Baughman, D., Quintero, H. et al. Interpericyte tunnelling nanotubes regulate neurovascular coupling. Nature 585, 91–95 (2020). https://doi.org/10.1038/s41586-020-2589-x
Received:

Accepted:

Published:

Issue Date:

DOI: https://doi.org/10.1038/s41586-020-2589-x
Comments
By submitting a comment you agree to abide by our Terms and Community Guidelines. If you find something abusive or that does not comply with our terms or guidelines please flag it as inappropriate.