Abstract
Methyl CpG binding protein 2 (MeCP2) is a key component of constitutive heterochromatin, which is crucial for chromosome maintenance and transcriptional silencing1,2,3. Mutations in the MECP2 gene cause the progressive neurodevelopmental disorder Rett syndrome3,4,5, which is associated with severe mental disability and autism-like symptoms that affect girls during early childhood. Although previously thought to be a dense and relatively static structure1,2, heterochromatin is now understood to exhibit properties consistent with a liquid-like condensate6,7. Here we show that MeCP2 is a dynamic component of heterochromatin condensates in cells, and is stimulated by DNA to form liquid-like condensates. MeCP2 contains several domains that contribute to the formation of condensates, and mutations in MECP2 that lead to Rett syndrome disrupt the ability of MeCP2 to form condensates. Condensates formed by MeCP2 selectively incorporate and concentrate heterochromatin cofactors rather than components of euchromatic transcriptionally active condensates. We propose that MeCP2 enhances the separation of heterochromatin and euchromatin through its condensate partitioning properties, and that disruption of condensates may be a common consequence of mutations in MeCP2 that cause Rett syndrome.
Your institute does not have access to this article
Relevant articles
Open Access articles citing this article.
Yun-Long Wang

,

Wan-Wen Zhao

…

Xiang-Bo Wan

Nature Communications Open Access 12 May 2022

Alexander V. Beribisky

,

Hannes Steinkellner

…

Franco Laccone

The Protein Journal Open Access 01 April 2022

Daniel Ta

,

Jenny Downs

…

Helen Leonard

Orphanet Journal of Rare Diseases Open Access 21 March 2022
Access options
Subscribe to Nature+
Get immediate online access to the entire Nature family of 50+ journals
Subscribe to Journal
Get full journal access for 1 year
$199.00
only $3.90 per issue
All prices are NET prices.
VAT will be added later in the checkout.
Tax calculation will be finalised during checkout.
Buy article
Get time limited or full article access on ReadCube.
$32.00
All prices are NET prices.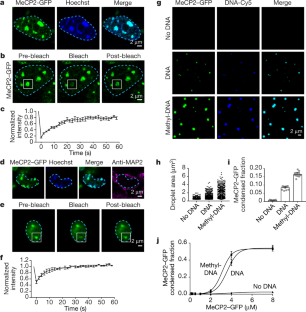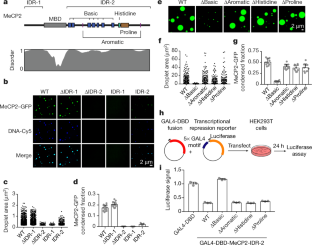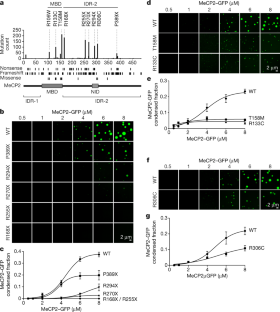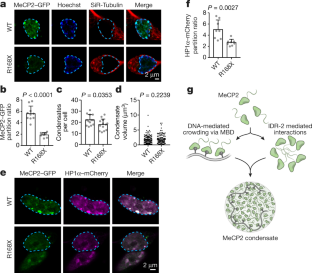 Data availability
Relevant data supporting the findings of this study are available within the paper and its Supplementary Information. RNA-seq datasets generated in this study have been deposited in the Gene Expression Omnibus under accession code GSE139033. Uncropped gel images can be found in Supplementary Fig. 1. Additional data are available from the corresponding author upon reasonable request. The following publicly available data were used in this study: GTEx v. 7 RNA-seq Median Gene TPMs by Tissue (www.gtexportal.org), RettBASE MECP2 Variant List (mecp2.chw.edu.au/mecp2/mecp2_home.php), and UniProt Cluster ID: UniRef50_Q9Z2D6 (www.uniprot.org/uniref/UniRef50_Q9Z2D6). Source data are provided with this paper.
References
Janssen, A., Colmenares, S. U. & Karpen, G. H. Heterochromatin: guardian of the genome. Annu. Rev. Cell Dev. Biol. 34, 265–288 (2018).

Allshire, R. C. & Madhani, H. D. Ten principles of heterochromatin formation and function. Nat. Rev. Mol. Cell Biol. 19, 229–244 (2018).

Lyst, M. J. & Bird, A. Rett syndrome: a complex disorder with simple roots. Nat. Rev. Genet. 16, 261–275 (2015).

Ip, J. P. K., Mellios, N. & Sur, M. Rett syndrome: insights into genetic, molecular and circuit mechanisms. Nat. Rev. Neurosci. 19, 368–382 (2018).

Amir, R. E. et al. Rett syndrome is caused by mutations in X-linked MECP2, encoding methyl-CpG-binding protein 2. Nat. Genet. 23, 185–188 (1999).

Larson, A. G. et al. Liquid droplet formation by HP1α suggests a role for phase separation in heterochromatin. Nature 547, 236–240 (2017).

Strom, A. R. et al. Phase separation drives heterochromatin domain formation. Nature 547, 241–245 (2017).

Skene, P. J. et al. Neuronal MeCP2 is expressed at near histone-octamer levels and globally alters the chromatin state. Mol. Cell 37, 457–468 (2010).

Shrinivas, K. et al. Enhancer features that drive formation of transcriptional condensates. Mol. Cell 75, 549–561.e7 (2019).

Shin, Y. & Brangwynne, C. P. Liquid phase condensation in cell physiology and disease. Science 357, eaaf4382 (2017).

Kumar, A. et al. Analysis of protein domains and Rett syndrome mutations indicate that multiple regions influence chromatin-binding dynamics of the chromatin-associated protein MECP2 in vivo. J. Cell Sci. 121, 1128–1137 (2008).

Georgel, P. T. et al. Chromatin compaction by human MeCP2. Assembly of novel secondary chromatin structures in the absence of DNA methylation. J. Biol. Chem. 278, 32181–32188 (2003).

Lyst, M. J. et al. Rett syndrome mutations abolish the interaction of MeCP2 with the NCoR/SMRT co-repressor. Nat. Neurosci. 16, 898–902 (2013).

Nan, X., Campoy, F. J. & Bird, A. MeCP2 is a transcriptional repressor with abundant binding sites in genomic chromatin. Cell 88, 471–481 (1997).

Baker, S. A. et al. An AT-hook domain in MeCP2 determines the clinical course of Rett syndrome and related disorders. Cell 152, 984–996 (2013).

Sabari, B. R. et al. Coactivator condensation at super-enhancers links phase separation and gene control. Science 361, eaar3958 (2018).

Boija, A. et al. Transcription factors activate genes through the phase-separation capacity of their activation domains. Cell 175, 1842–1855.e16 (2018).

van Steensel, B. & Belmont, A. S. Lamina-associated domains: links with chromosome architecture, heterochromatin, and gene repression. Cell 169, 780–791 (2017).

Gibson, B. A. et al. Organization of chromatin by intrinsic and regulated phase separation. Cell 179, 470–484.e21 (2019).

Chahrour, M. et al. MeCP2, a key contributor to neurological disease, activates and represses transcription. Science 320, 1224–1229 (2008).

Kruusvee, V. et al. Structure of the MeCP2-TBLR1 complex reveals a molecular basis for Rett syndrome and related disorders. Proc. Natl Acad. Sci. USA 114, E3243–E3250 (2017).

Tillotson, R. et al. Radically truncated MeCP2 rescues Rett syndrome-like neurological defects. Nature 550, 398–401 (2017).

Linhoff, M. W., Garg, S. K. & Mandel, G. A high-resolution imaging approach to investigate chromatin architecture in complex tissues. Cell 163, 246–255 (2015).

Li, Y. et al. Global transcriptional and translational repression in human-embryonic-stem-cell-derived Rett syndrome neurons. Cell Stem Cell 13, 446–458 (2013).

Wang, L. et al. Rett syndrome-causing mutations compromise MeCP2-mediated liquid-liquid phase separation of chromatin. Cell Res. 30, 393–407 (2020).

Brown, K. et al. The molecular basis of variable phenotypic severity among common missense mutations causing Rett syndrome. Hum. Mol. Genet. 25, 558–570 (2016).

Guy, J., Gan, J., Selfridge, J., Cobb, S. & Bird, A. Reversal of neurological defects in a mouse model of Rett syndrome. Science 315, 1143–1147 (2007).

Giacometti, E., Luikenhuis, S., Beard, C. & Jaenisch, R. Partial rescue of MeCP2 deficiency by postnatal activation of MeCP2. Proc. Natl Acad. Sci. USA 104, 1931–1936 (2007).

Wheeler, R. J. et al. Small molecules for modulating protein driven liquid-liquid phase separation in treating neurodegenerative disease. Preprint at  https://www.biorxiv.org/content/10.1101/721001v2 (2019).

Klein, I. A. et al. Partitioning of cancer therapeutics in nuclear condensates. Science 368, 1386–1392 (2020).

Thoma, E. C. et al. Ectopic expression of neurogenin 2 alone is sufficient to induce differentiation of embryonic stem cells into mature neurons. PLoS ONE 7, e38651 (2012).

Zhang, Y. et al. Rapid single-step induction of functional neurons from human pluripotent stem cells. Neuron 78, 785–798 (2013).

Alberti, S., Gladfelter, A. & Mittag, T. Considerations and challenges in studying liquid-liquid phase separation and biomolecular condensates. Cell 176, 419–434 (2019).

Jang, S. et al. Long-term culture of organotypic hippocampal slice from old 3xTg-AD mouse: an ex vivo model of Alzheimer's disease. Psychiatry Investig. 15, 205–213 (2018).

Alberti, S. et al. A user's guide for phase separation assays with purified proteins. J. Mol. Biol. 430, 4806–4820 (2018).

Wang, J. et al. A molecular grammar governing the driving forces for phase separation of prion-like RNA binding proteins. Cell 174, 688–699.e16 (2018).

Loyola, A., Bonaldi, T., Roche, D., Imhof, A. & Almouzni, G. PTMs on H3 variants before chromatin assembly potentiate their final epigenetic state. Mol. Cell 24, 309–316 (2006).

Li, P. et al. Phase transitions in the assembly of multivalent signalling proteins. Nature 483, 336–340 (2012).

Martin, E. W. et al. Valence and patterning of aromatic residues determine the phase behavior of prion-like domains. Science 367, 694–699 (2020).

Lu, H. et al. Phase-separation mechanism for C-terminal hyperphosphorylation of RNA polymerase II. Nature 558, 318–323 (2018).

Zamudio, A. V. et al. Mediator condensates localize signaling factors to key cell kdentity genes. Mol. Cell 76, 753–766.e6 (2019).

Pak, C. W. et al. Sequence determinants of intracellular phase separation by complex coacervation of a disordered protein. Mol. Cell 63, 72–85 (2016).

Dao, T. P. et al. ALS-linked mutations affect UBQLN2 oligomerization and phase separation in a position- and amino acid-dependent manner. Structure 27, 937–951.e5 (2019).

Holehouse, A. S., Das, R. K., Ahad, J. N., Richardson, M. O. G. & Pappu, R. V. CIDER: resources to analyze sequence-ensemble relationships of intrinsically disordered proteins. Biophys. J. 112, 16–21 (2017).

Lovén, J. et al. Revisiting global gene expression analysis. Cell 151, 476–482 (2012).

Dobin, A. et al. STAR: ultrafast universal RNA-seq aligner. Bioinformatics 29, 15–21 (2013).

Li, B. & Dewey, C. N. RSEM: accurate transcript quantification from RNA-Seq data with or without a reference genome. BMC Bioinformatics 12, 323 (2011).

Anders, S. & Huber, W. Differential expression analysis for sequence count data. Genome Biol. 11, R106 (2010).

Christodoulou, J., Grimm, A., Maher, T. & Bennetts, B. RettBASE: The IRSA MECP2 variation database-a new mutation database in evolution. Hum. Mutat. 21, 466–472 (2003).

Capra, J. A. & Singh, M. Predicting functionally important residues from sequence conservation. Bioinformatics 23, 1875–1882 (2007).
Acknowledgements
We thank A. P. Bird for sharing Mecp2 mutant cell lines; D. Reinberg for sharing purified poly-nucleosomes; P. A. Sharp for discussions; D. Richardson and the Harvard Center for Biological Imaging; W. Salmon and the Whitehead W.M. Keck Microscopy Facility; and R. Flannery, J. Drotar, N. Rosenau and the Whitehead Genetically Engineered Models Center for technical support. The work was supported by NIH grant R01 GM123511 (R.A.Y.), NSF grant PHY1743900 (R.A.Y.), NIH grant 2 R01 MH104610-20 (R.J., R.A.Y.), NIH grant R37 CA084198 (R.J.), Hope Funds for Cancer Research Fellowship (A.D.), NIH grant T32 5T32DK007191-45 (J.M.P.), NSF Graduate Research Fellowship (A.V.Z.), and NIH grant K99/R00 MH113813 (X.S.L.).
Ethics declarations
Competing interests
R.A.Y. is a founder and shareholder of Syros Pharmaceuticals, Camp4 Therapeutics, Omega Therapeutics, and Dewpoint Therapeutics. R.J. is an advisor/co-founder of Fate Therapeutics, Fulcrum Therapeutics, Omega Therapeutics, and Dewpoint Therapeutics. T.I.L. is a shareholder of Syros Pharmaceuticals and a consultant to Camp4 Therapeutics. All other authors declare no competing interests.
Additional information
Publisher's note Springer Nature remains neutral with regard to jurisdictional claims in published maps and institutional affiliations.
Extended data figures and tables
Supplementary information
This file contains Supplementary Figures 1 and 2. Supplementary Figure 1: Gel source data with size markers. Regions used for display in the indicated figures are denoted with dashed boxes. Supplementary Figure 2: Example flow cytometry gating strategy. Related to Extended Data Fig. 9c, i.
About this article
Cite this article
Li, C.H., Coffey, E.L., Dall'Agnese, A. et al. MeCP2 links heterochromatin condensates and neurodevelopmental disease. Nature 586, 440–444 (2020). https://doi.org/10.1038/s41586-020-2574-4
Received:

Accepted:

Published:

Issue Date:

DOI: https://doi.org/10.1038/s41586-020-2574-4
Comments
By submitting a comment you agree to abide by our Terms and Community Guidelines. If you find something abusive or that does not comply with our terms or guidelines please flag it as inappropriate.