Abstract
A fundamental challenge in developing treatments for autism spectrum disorders is the heterogeneity of the condition. More than one hundred genetic mutations confer high risk for autism, with each individual mutation accounting for only a small fraction of cases1,2,3. Subsets of risk genes can be grouped into functionally related pathways, most prominently those involving synaptic proteins, translational regulation, and chromatin modifications. To attempt to minimize this genetic complexity, recent therapeutic strategies have focused on the neuropeptides oxytocin and vasopressin4,5,6, which regulate aspects of social behaviour in mammals7. However, it is unclear whether genetic risk factors predispose individuals to autism as a result of modifications to oxytocinergic signalling. Here we report that an autism-associated mutation in the synaptic adhesion molecule Nlgn3 results in impaired oxytocin signalling in dopaminergic neurons and in altered behavioural responses to social novelty tests in mice. Notably, loss of Nlgn3 is accompanied by a disruption of translation homeostasis in the ventral tegmental area. Treatment of Nlgn3-knockout mice with a new, highly specific, brain-penetrant inhibitor of MAP kinase-interacting kinases resets the translation of mRNA and restores oxytocin signalling and social novelty responses. Thus, this work identifies a convergence between the genetic autism risk factor Nlgn3, regulation of translation, and oxytocinergic signalling. Focusing on such common core plasticity elements might provide a pragmatic approach to overcoming the heterogeneity of autism. Ultimately, this would enable mechanism-based stratification of patient populations to increase the success of therapeutic interventions.
Access options
Subscribe to Journal
Get full journal access for 1 year
$199.00
only $3.90 per issue
All prices are NET prices.
VAT will be added later in the checkout.
Tax calculation will be finalised during checkout.
Rent or Buy article
Get time limited or full article access on ReadCube.
from$8.99
All prices are NET prices.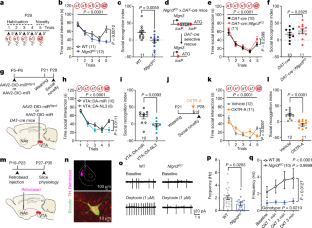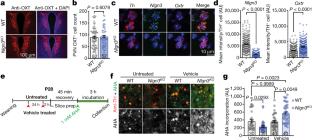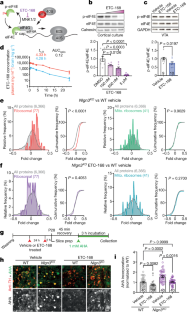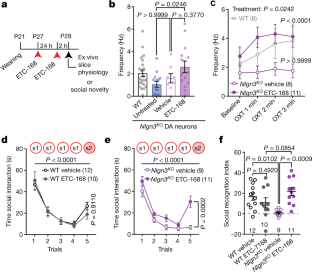 Data availability
Raw mass spectrometry data associated with the manuscript have been deposited in to the ProteomeXchange Consortium via the PRIDE60 partner repository with the dataset identifier PXD018808 and 10.6019/PXD018808. All renewable reagents and detailed protocols will be made available on request. Source data are provided with this paper.
References
1.

de la Torre-Ubieta, L., Won, H., Stein, J. L. & Geschwind, D. H. Advancing the understanding of autism disease mechanisms through genetics. Nat. Med. 22, 345–361 (2016).

2.

O'Roak, B. J. et al. Sporadic autism exomes reveal a highly interconnected protein network of de novo mutations. Nature 485, 246–250 (2012).

3.

Iossifov, I. et al. De novo gene disruptions in children on the autistic spectrum. Neuron 74, 285–299 (2012).

4.

Yamasue, H., Aran, A. & Berry-Kravis, E. Emerging pharmacological therapies in fragile X syndrome and autism. Curr. Opin. Neurol. 32, 635–640 (2019).

5.

Bolognani, F. et al. A phase 2 clinical trial of a vasopressin V1a receptor antagonist shows improved adaptive behaviors in men with autism spectrum disorder. Sci. Transl. Med. 11, eaat7838 (2019).

6.

Parker, K. J. et al. A randomized placebo-controlled pilot trial shows that intranasal vasopressin improves social deficits in children with autism. Sci. Transl. Med. 11, eaau7356 (2019).

7.

Walum, H. & Young, L. J. The neural mechanisms and circuitry of the pair bond. Nat. Rev. Neurosci. 19, 643–654 (2018).

8.

Dölen, G., Darvishzadeh, A., Huang, K. W. & Malenka, R. C. Social reward requires coordinated activity of nucleus accumbens oxytocin and serotonin. Nature 501, 179–184 (2013).

9.

Cataldo, I., Azhari, A. & Esposito, G. A review of oxytocin and arginine-vasopressin receptors and their modulation of autism spectrum disorder. Front. Mol. Neurosci. 11, 27 (2018).

10.

Ferguson, J. N. et al. Social amnesia in mice lacking the oxytocin gene. Nat. Genet. 25, 284–288 (2000).

11.

Oettl, L. L. et al. Oxytocin enhances social recognition by modulating cortical control of early olfactory processing. Neuron 90, 609–621 (2016).

12.

Hung, L. W. et al. Gating of social reward by oxytocin in the ventral tegmental area. Science 357, 1406–1411 (2017).

13.

Xiao, L., Priest, M. F., Nasenbeny, J., Lu, T. & Kozorovitskiy, Y. Biased oxytocinergic modulation of midbrain dopamine systems. Neuron 95, 368–384 (2017).

14.

Sgritta, M. et al. Mechanisms underlying microbial-mediated changes in social behavior in mouse models of autism spectrum disorder. Neuron 101, 246–259 (2019).

15.

Peñagarikano, O. et al. Exogenous and evoked oxytocin restores social behavior in the Cntnap2 mouse model of autism. Sci. Transl. Med. 7, 271ra8 (2015).

16.

Ebert, D. H. & Greenberg, M. E. Activity-dependent neuronal signalling and autism spectrum disorder. Nature 493, 327–337 (2013).

17.

Sanders, S. J. et al. Multiple recurrent de novo CNVs, including duplications of the 7q11.23 Williams syndrome region, are strongly associated with autism. Neuron 70, 863–885 (2011).

18.

Gilman, S. R. et al. Rare de novo variants associated with autism implicate a large functional network of genes involved in formation and function of synapses. Neuron 70, 898–907 (2011).

19.

Tanaka, K. F. et al. Flexible Accelerated STOP Tetracycline Operator-knockin (FAST): a versatile and efficient new gene modulating system. Biol. Psychiatry 67, 770–773 (2010).

20.

Ichtchenko, K., Nguyen, T. & Südhof, T. C. Structures, alternative splicing, and neurexin binding of multiple neuroligins. J. Biol. Chem. 271, 2676–2682 (1996).

21.

Budreck, E. C. & Scheiffele, P. Neuroligin-3 is a neuronal adhesion protein at GABAergic and glutamatergic synapses. Eur. J. Neurosci. 26, 1738–1748 (2007).

22.

Chih, B., Afridi, S. K., Clark, L. & Scheiffele, P. Disorder-associated mutations lead to functional inactivation of neuroligins. Hum. Mol. Genet. 13, 1471–1477 (2004).

23.

Baudouin, S. J. et al. Shared synaptic pathophysiology in syndromic and nonsyndromic rodent models of autism. Science 338, 128–132 (2012).

24.

Rothwell, P. E. et al. Autism-associated neuroligin-3 mutations commonly impair striatal circuits to boost repetitive behaviors. Cell 158, 198–212 (2014).

25.

Tabuchi, K. et al. A neuroligin-3 mutation implicated in autism increases inhibitory synaptic transmission in mice. Science 318, 71–76 (2007).

26.

Radyushkin, K. et al. Neuroligin-3-deficient mice: model of a monogenic heritable form of autism with an olfactory deficit. Genes Brain Behav. 8, 416–425 (2009).

27.

Cao, W. et al. Gamma oscillation dysfunction in mPFC leads to social deficits in neuroligin 3 R451C knockin mice. Neuron 97, 1253–1260 (2018).

28.

Modi, B. et al. Possible implication of the CA2 hippocampal circuit in social cognition deficits observed in the neuroligin 3 knock-out mouse, a non-syndromic animal model of autism. Front. Psychiatry 10, 513 (2019).

29.

Chadman, K. K. et al. Minimal aberrant behavioral phenotypes of neuroligin-3 R451C knockin mice. Autism Res. 1, 147–158 (2008).

30.

Jaramillo, T. C. et al. Genetic background effects in Neuroligin-3 mutant mice: Minimal behavioral abnormalities on C57 background. Autism Res. 11, 234–244 (2017).

31.

Bariselli, S. et al. Role of VTA dopamine neurons and neuroligin 3 in sociability traits related to nonfamiliar conspecific interaction. Nat. Commun. 9, 3173 (2018).

32.

Hitti, F. L. & Siegelbaum, S. A. The hippocampal CA2 region is essential for social memory. Nature 508, 88–92 (2014).

33.

Gunaydin, L. A. et al. Natural neural projection dynamics underlying social behavior. Cell 157, 1535–1551 (2014).

34.

Xu, J. et al. Neuroligin 3 regulates dendritic outgrowth by modulating Akt/mTOR signaling. Front. Cell. Neurosci. 13, 518 (2019).

35.

Dieterich, D. C. et al. In situ visualization and dynamics of newly synthesized proteins in rat hippocampal neurons. Nat. Neurosci. 13, 897–905 (2010).

36.

Gkogkas, C. G. et al. Autism-related deficits via dysregulated eIF4E-dependent translational control. Nature 493, 371–377 (2013).

37.

Barnes, S. A. et al. Convergence of hippocampal pathophysiology in Syngap +/− and Fmr1 −/y mice. J. Neurosci. 35, 15073–15081 (2015).

38.

Auerbach, B. D., Osterweil, E. K. & Bear, M. F. Mutations causing syndromic autism define an axis of synaptic pathophysiology. Nature 480, 63–68 (2011).

39.

Darnell, J. C. & Klann, E. The translation of translational control by FMRP: therapeutic targets for FXS. Nat. Neurosci. 16, 1530–1536 (2013).

40.

Asiminas, A. et al. Sustained correction of associative learning deficits after brief, early treatment in a rat model of Fragile X Syndrome. Sci. Transl. Med. 11, eaao0498 (2019).

41.

Gkogkas, C. G. et al. Pharmacogenetic inhibition of eIF4E-dependent Mmp9 mRNA translation reverses fragile X syndrome-like phenotypes. Cell Rep. 9, 1742–1755 (2014).

42.

Richter, J. D., Bassell, G. J. & Klann, E. Dysregulation and restoration of translational homeostasis in fragile X syndrome. Nat. Rev. Neurosci. 16, 595–605 (2015).

43.

Bramham, C. R., Jensen, K. B. & Proud, C. G. Tuning specific translation in cancer metastasis and synaptic memory: control at the MNK-eIF4E axis. Trends Biochem. Sci. 41, 847–858 (2016).

44.

Yang, H. et al. Optimization of selective mitogen-activated protein kinase interacting kinases 1 and 2 inhibitors for the treatment of blast crisis leukemia. J. Med. Chem. 61, 4348–4369 (2018).

45.

Lavallée-Adam, M., Rauniyar, N., McClatchy, D. B. & Yates, J. R. III. PSEA-Quant: a protein set enrichment analysis on label-free and label-based protein quantification data. J. Proteome Res. 13, 5496–5509 (2014).

46.

Ueda, T. et al. Combined deficiency for MAP kinase-interacting kinase 1 and 2 (Mnk1 and Mnk2) delays tumor development. Proc. Natl Acad. Sci. USA 107, 13984–13990 (2010).

47.

Xu, Y. et al. Translation control of the immune checkpoint in cancer and its therapeutic targeting. Nat. Med. 25, 301–311 (2019).

48.

The Dutch-Belgian Fragile X Consortium. Fmr1 knockout mice: a model to study fragile X mental retardation. Cell 78, 23–33 (1994).

49.

El-Brolosy, M. A. et al. Genetic compensation triggered by mutant mRNA degradation. Nature 568, 193–197 (2019).

50.

Turiault, M. et al. Analysis of dopamine transporter gene expression pattern — generation of DAT-iCre transgenic mice. FEBS J. 274, 3568–3577 (2007).

51.

Weigelt, S., Koldewyn, K. & Kanwisher, N. Face identity recognition in autism spectrum disorders: a review of behavioral studies. Neurosci. Biobehav. Rev. 36, 1060–1084 (2012).

52.

McPartland, J. C., Webb, S. J., Keehn, B. & Dawson, G. Patterns of visual attention to faces and objects in autism spectrum disorder. J. Autism Dev. Disord. 41, 148–157 (2011).

53.

Dantzer, R., Bluthe, R. M., Koob, G. F. & Le Moal, M. Modulation of social memory in male rats by neurohypophyseal peptides. Psychopharmacology (Berl.) 91, 363–368 (1987).

54.

Mitre, M., Minder, J., Morina, E. X., Chao, M. V. & Froemke, R. C. Oxytocin Modulation of Neural Circuits. Curr. Top. Behav. Neurosci. 35, 31–53 (2018).

55.

Tom Dieck, S. et al. Metabolic labeling with noncanonical amino acids and visualization by chemoselective fluorescent tagging. Curr. Protoc. Cell Biol. Chapter 7, Unit7.11 (2012).

56.

Bowling, H. et al. BONLAC: A combinatorial proteomic technique to measure stimulus-induced translational profiles in brain slices. Neuropharmacology 100, 76–89 (2016).

57.

Peterson, A. C., Russell, J. D., Bailey, D. J., Westphall, M. S. & Coon, J. J. Parallel reaction monitoring for high resolution and high mass accuracy quantitative, targeted proteomics. Mol. Cell. Proteomics 11, 1475–1488 (2012).

58.

Ahrné, E. et al. Evaluation and improvement of quantification accuracy in isobaric mass tag-based protein quantification experiments. J. Proteome Res. 15, 2537–2547 (2016).

59.

Wang, Y. et al. Reversed-phase chromatography with multiple fraction concatenation strategy for proteome profiling of human MCF10A cells. Proteomics 11, 2019–2026 (2011).

60.

Vizcaíno, J. A. et al. 2016 update of the PRIDE database and its related tools. Nucleic Acids Res. 44 (D1), D447–D456 (2016).

61.

Szklarczyk, D. et al. STRING v11: protein-protein association networks with increased coverage, supporting functional discovery in genome-wide experimental datasets. Nucleic Acids Res. 47 (D1), D607–D613 (2019).

62.

Supek, F., Bošnjak, M., Škunca, N. & Šmuc, T. REVIGO summarizes and visualizes long lists of gene ontology terms. PLoS One 6, e21800 (2011).

63.

DiBenedictis, B. T., Nussbaum, E. R., Cheung, H. K. & Veenema, A. H. Quantitative mapping reveals age and sex differences in vasopressin, but not oxytocin, immunoreactivity in the rat social behavior neural network. J. Comp. Neurol. 525, 2549–2570 (2017).
Acknowledgements
We are grateful to A. Gomez, K. Tan, L. Traunmüller and F. Filice for comments on the manuscript and to members of the Scheiffele laboratory for discussions. We thank B. Boury Jamot for performing tests on Fmr1KO mice, F. Filice for experimental support, and A. Schmidt and the Biozentrum Proteomics Core Facility for conducting proteomics analysis. Funding: H.H. was supported by a Long-term Fellowship from the Human Frontiers Science Program. This work was supported by funds to P.S. from the Swiss National Science Foundation, a European Research Council Advanced Grant (SPLICECODE), EU-AIMS and AIMS-2-TRIALS which are supported by the Innovative Medicines Initiatives from the European Commission. The results leading to this publication has received funding from the Innovative Medicines Initiative 2 Joint Undertaking under grant agreement no. 777394. This Joint Undertaking receives support from the European Union's Horizon 2020 research and innovation programme and EFPIA and AUTISM SPEAKS, Autistica, SFARI. The Scheiffele Laboratory is an associate member of the Swiss National Science Foundation's National Competence Centre for Research (NCCR) RNA and Disease. F.M. was supported by NCCR SYNAPSY. Discovery of ETC-168 was financially supported by Biomedical Sciences Institutes (BMSI) and Joint Council Office (JCO Project 11 03 FG 07 05), Agency for Science, Technology and Research (A*STAR), Singapore.
Ethics declarations
Competing interests
S.B. P.S. A.M. and K.N. have filed patents on the use of MNK inhibitors for treatment of neurodevelopmental disorders. A.M. and K.N. are current or former employees of the Experimental Drug Development Centre Singapore which has a commercial interest in the development of MNK1/2 inhibitors.
Additional information
Publisher's note Springer Nature remains neutral with regard to jurisdictional claims in published maps and institutional affiliations.
Extended data figures and tables
Supplementary information
About this article
Cite this article
Hörnberg, H., Pérez-Garci, E., Schreiner, D. et al. Rescue of oxytocin response and social behaviour in a mouse model of autism. Nature 584, 252–256 (2020). https://doi.org/10.1038/s41586-020-2563-7
Received:

Accepted:

Published:

Issue Date:
Comments
By submitting a comment you agree to abide by our Terms and Community Guidelines. If you find something abusive or that does not comply with our terms or guidelines please flag it as inappropriate.