Abstract
Land use change—for example, the conversion of natural habitats to agricultural or urban ecosystems—is widely recognized to influence the risk and emergence of zoonotic disease in humans1,2. However, whether such changes in risk are underpinned by predictable ecological changes remains unclear. It has been suggested that habitat disturbance might cause predictable changes in the local diversity and taxonomic composition of potential reservoir hosts, owing to systematic, trait-mediated differences in species resilience to human pressures3,4. Here we analyse 6,801 ecological assemblages and 376 host species worldwide, controlling for research effort, and show that land use has global and systematic effects on local zoonotic host communities. Known wildlife hosts of human-shared pathogens and parasites overall comprise a greater proportion of local species richness (18–72% higher) and total abundance (21–144% higher) in sites under substantial human use (secondary, agricultural and urban ecosystems) compared with nearby undisturbed habitats. The magnitude of this effect varies taxonomically and is strongest for rodent, bat and passerine bird zoonotic host species, which may be one factor that underpins the global importance of these taxa as zoonotic reservoirs. We further show that mammal species that harbour more pathogens overall (either human-shared or non-human-shared) are more likely to occur in human-managed ecosystems, suggesting that these trends may be mediated by ecological or life-history traits that influence both host status and tolerance to human disturbance5,6. Our results suggest that global changes in the mode and the intensity of land use are creating expanding hazardous interfaces between people, livestock and wildlife reservoirs of zoonotic disease.
Relevant articles
Open Access articles citing this article.
Shaun Danielli

,

Hutan Ashrafian

&

Ara Darzi

BMC Public Health Open Access 01 July 2023

Casey L. Taylor

,

Henry W. Lydecker

…

Peter B. Banks

Urban Ecosystems Open Access 23 June 2023

Paige Van de Vuurst

&

Luis E. Escobar

Infectious Diseases of Poverty Open Access 16 May 2023
Access options
Access Nature and 54 other Nature Portfolio journals
Get Nature+, our best-value online-access subscription
$29.99 / 30 days
cancel any time
Subscribe to this journal
Receive 51 print issues and online access
$199.00 per year
only $3.90 per issue
Rent or buy this article
Prices vary by article type
from$1.95
to$39.95
Prices may be subject to local taxes which are calculated during checkout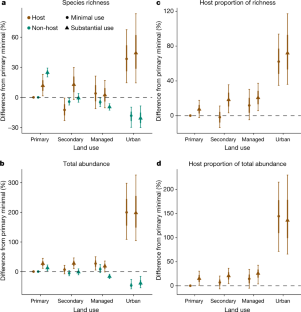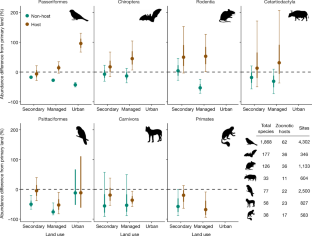 References
Myers, S. S. et al. Human health impacts of ecosystem alteration. Proc. Natl Acad. Sci. USA 110, 18753–18760 (2013).

Gottdenker, N. L., Streicker, D. G., Faust, C. L. & Carroll, C. R. Anthropogenic land use change and infectious diseases: a review of the evidence. EcoHealth 11, 619–632 (2014).

Keesing, F. et al. Impacts of biodiversity on the emergence and transmission of infectious diseases. Nature 468, 647–652 (2010).

Ostfeld, R. S. & LoGiudice, K. Community disassembly, biodiversity loss, and the erosion of an ecosystem service. Ecology 84, 1421–1427 (2003).

Johnson, P. T. J. et al. Living fast and dying of infection: host life history drives interspecific variation in infection and disease risk. Ecol. Lett. 15, 235–242 (2012).

Johnson, P. T. J., Preston, D. L., Hoverman, J. T. & Richgels, K. L. D. Biodiversity decreases disease through predictable changes in host community competence. Nature 494, 230–233 (2013).

Newbold, T. et al. Global effects of land use on local terrestrial biodiversity. Nature 520, 45–50 (2015).

Newbold, T. et al. Widespread winners and narrow-ranged losers: land use homogenizes biodiversity in local assemblages worldwide. PLoS Biol. 16, e2006841 (2018).

Faust, C. L. et al. Pathogen spillover during land conversion. Ecol. Lett. 21, 471–483 (2018).

Becker, D. J., Streicker, D. G. & Altizer, S. Using host species traits to understand the consequences of resource provisioning for host-parasite interactions. J. Anim. Ecol. 87, 511–525 (2018).

Plowright, R. K. et al. Pathways to zoonotic spillover. Nat. Rev. Microbiol. 15, 502–510 (2017).

Shah, H. A., Huxley, P., Elmes, J. & Murray, K. A. Agricultural land-uses consistently exacerbate infectious disease risks in Southeast Asia. Nat. Commun. 10, 4299 (2019).

Gottdenker, N. L., Chaves, L. F., Calzada, J. E., Saldaña, A. & Carroll, C. R. Host life history strategy, species diversity, and habitat influence Trypanosoma cruzi vector infection in changing landscapes. PLoS Negl. Trop. Dis. 6, e1884 (2012).

Fornace, K. M. et al. Association between landscape factors and spatial patterns of Plasmodium knowlesi infections in Sabah, Malaysia. Emerg. Infect. Dis. 22, 201–209 (2016).

Pulliam, J. R. C. et al. Agricultural intensification, priming for persistence and the emergence of Nipah virus: a lethal bat-borne zoonosis. J. R. Soc. Interface 9, 89–101 (2012).

Kilpatrick, A. M. Globalization, land use, and the invasion of West Nile virus. Science 334, 323–327 (2011).

Popp, A. et al. Land-use futures in the shared socio-economic pathways. Glob. Environ. Change 42, 331–345 (2017).

Civitello, D. J. et al. Biodiversity inhibits parasites: broad evidence for the dilution effect. Proc. Natl Acad. Sci. USA 112, 8667–8671 (2015).

LoGiudice, K., Ostfeld, R. S., Schmidt, K. A. & Keesing, F. The ecology of infectious disease: effects of host diversity and community composition on Lyme disease risk. Proc. Natl Acad. Sci. USA 100, 567–571 (2003).

Purvis, A., Gittleman, J. L., Cowlishaw, G. & Mace, G. M. Predicting extinction risk in declining species. Proc. Biol. Soc 267, 1947–1952 (2000).

Johnson, P. T. J., Ostfeld, R. S. & Keesing, F. Frontiers in research on biodiversity and disease. Ecol. Lett. 18, 1119–1133 (2015).

Olival, K. J. et al. Host and viral traits predict zoonotic spillover from mammals. Nature 546, 646–650 (2017).

Young, H., Griffin, R. H., Wood, C. L. & Nunn, C. L. Does habitat disturbance increase infectious disease risk for primates? Ecol. Lett. 16, 656–663 (2013).

Hudson, L. N. et al. The database of the PREDICTS (Projecting Responses of Ecological Diversity In Changing Terrestrial Systems) project. Ecol. Evol. 7, 145–188 (2017).

Lloyd-Smith, J. O. et al. Epidemic dynamics at the human–animal interface. Science 326, 1362–1367 (2009).

Joseph, M. B., Mihaljevic, J. R., Orlofske, S. A. & Paull, S. H. Does life history mediate changing disease risk when communities disassemble? Ecol. Lett. 16, 1405–1412 (2013).

Kamiya, T., O'Dwyer, K., Nakagawa, S. & Poulin, R. What determines species richness of parasitic organisms? A meta-analysis across animal, plant and fungal hosts. Biol. Rev. Camb. Philos. Soc. 89, 123–134 (2014).

Lee, K. A., Wikelski, M., Robinson, W. D., Robinson, T. R. & Klasing, K. C. Constitutive immune defences correlate with life-history variables in tropical birds. J. Anim. Ecol. 77, 356–363 (2008).

Rohr, J. R. et al. Towards common ground in the biodiversity–disease debate. Nat. Ecol. Evol. 4, 24–33 (2020).

Hosseini, P. et al. Does the impact of biodiversity differ between emerging and endemic pathogens? The need to separate the concepts of hazard and risk. Philos. Trans. R. Soc. Lond. B 372, 20160129 (2017).

Brearley, G. et al. Wildlife disease prevalence in human-modified landscapes. Biol. Rev. Camb. Philos. Soc. 88, 427–442 (2013).

Burkett-Cadena, N. D. & Vittor, A. Y. Deforestation and vector-borne disease: Forest conversion favors important mosquito vectors of human pathogens. Basic Appl. Ecol. 26, 101–110 (2018).

Hassell, J. M., Begon, M., Ward, M. J. & Fèvre, E. M. Urbanization and disease emergence: dynamics at the wildlife–livestock-human interface. Trends Ecol. Evol. 32, 55–67 (2017).

Holmes, E. C., Rambaut, A. & Andersen, K. G. Pandemics: spend on surveillance, not prediction. Nature 558, 180–182 (2018).

Wardeh, M. et al. Database of host-pathogen and related species interactions, and their global distribution. Sci. Data 2, 150049 (2015).

Stephens, P. R. et al. Global Mammal Parasite Database version 2.0. Ecology 98, 1476 (2017).

Plourde, B. T. et al. Are disease reservoirs special? Taxonomic and life history characteristics. PLoS ONE 12, e0180716 (2017).

Han, B. A., Schmidt, J. P., Bowden, S. E. & Drake, J. M. Rodent reservoirs of future zoonotic diseases. Proc. Natl Acad. Sci. USA 112, 7039–7044 (2015).

Chamberlain, S. & Szocs, E. Taxize: taxonomic search and retrival in R. F1000Res 18, 191 (2013).

Wertheim, H. F. L., Horby, P. & Woodall, J. P. Atlas of Human Infectious Diseases (Wiley-Blackwell, 2012).

Taylor, L. H., Latham, S. M. & Woolhouse, M. Risk factors for human disease emergence. Philos. Trans. R. Soc. B 356, 983–989 (2001).

Han, B. A., Kramer, A. M. & Drake, J. M. Global patterns of zoonotic disease in mammals. Trends Parasitol. 32, 565–577 (2016).

Røttingen, J. A. et al. New vaccines against epidemic infectious diseases. N. Engl. J. Med. 376, 610–613 (2017).

Harris, N. C. & Dunn, R. R. Using host associations to predict spatial patterns in the species richness of the parasites of North American carnivores. Ecol. Lett. 13, 1411–1418 (2010).

Cooper, N. et al. Phylogenetic host specificity and understanding parasite sharing in primates. Ecol. Lett. 15, 1370–1377 (2012).

Young, H. S. et al. Interacting effects of land use and climate on rodent-borne pathogens in central Kenya. Philos. Trans. R. Soc. B 372, 20160116 (2017).

Newbold, T. et al. Global patterns of terrestrial assemblage turnover within and among land uses. Ecography 39, 1151–1163 (2016).

Cooper, N., Kamilar, J. M. & Nunn, C. L. Host longevity and parasite species richness in mammals. PLoS ONE 7, e42190 (2012).

González-Suárez, M., Lucas, P. M. & Revilla, E. Biases in comparative analyses of extinction risk: mind the gap. J. Anim. Ecol. 81, 1211–1222 (2012).

Ducatez, S. & Lefebvre, L. Patterns of research effort in birds. PLoS ONE 9, e89955 (2014).

Paull, S. H. et al. From superspreaders to disease hotspots: linking transmission across hosts and space. Front. Ecol. Environ. 10, 75–82 (2012).

Blangiardo, M., Cameletti, M., Baio, G. & Rue, H. Spatial and spatio-temporal models with R-INLA. Spat. Spatio-Temporal Epidemiol. 4, 33–49 (2013).

Hooten, M. B. & Hobbs, N. T. A guide to Bayesian model selection for ecologists. Ecol. Monogr. 85, 3–28 (2015).

Zuur, A. F., Ieno, E. N., Walker, N., Saveliev, A. A. & Smith, G. M. Mixed Effects Models and Extensions in Ecology with R (Springer, 2010).

Dallas, T. A. et al. Host traits associated with species roles in parasite sharing networks. Oikos 128, 23–32 (2019).

R: A language and environment for statistical computing. http://www.R-project.org/ (R Foundation for Statistical Computing, 2019).
Acknowledgements
We thank L. Enright, A. Etard, L. Franklinos, R. Freeman, R. Lowe and R. Pearson for discussion on previous versions of the manuscript. This research was supported by a University College London Graduate Research Scholarship (R.G.); the Ecosystem Services for Poverty Alleviation Programme, Dynamic Drivers of Disease in Africa Consortium, NERC project no. NE-J001570-1 (D.W.R. and K.E.J.); an MRC UKRI/Rutherford Fellowship (MR/R02491X/1) and Wellcome Trust Institutional Strategic Support Fund (204841/Z/16/Z) (both to D.W.R.); and a Royal Society University Research Fellowship (T.N.). C.A.D. thanks the UK MRC and DFID for Centre funding (MR/R015600/1), and the UK National Institute for Health Research Health Protection Research Unit in Modelling Methodology at Imperial College London in partnership with Public Health England for funding (grant HPRU-2012–10080).
Ethics declarations
Competing interests
The authors declare no competing interests.
Additional information
Peer review information Nature thanks Noam Ross and the other, anonymous, reviewer(s) for their contribution to the peer review of this work.
Publisher's note Springer Nature remains neutral with regard to jurisdictional claims in published maps and institutional affiliations.
Extended data figures and tables
Supplementary information
This file contains Supplementary Methods (x1; approximation of research effort bias for non-host species) and Supplementary Tables (x8; includes tabular summaries of host-pathogen and ecological communities data, and full numeric summaries of model results).
About this article
Cite this article
Gibb, R., Redding, D.W., Chin, K.Q. et al. Zoonotic host diversity increases in human-dominated ecosystems. Nature 584, 398–402 (2020). https://doi.org/10.1038/s41586-020-2562-8
Received:

Accepted:

Published:

Issue Date:

DOI: https://doi.org/10.1038/s41586-020-2562-8
Comments
By submitting a comment you agree to abide by our Terms and Community Guidelines. If you find something abusive or that does not comply with our terms or guidelines please flag it as inappropriate.