Abstract
Malignant transformation of cells typically involves several genetic lesions, whose combined activity gives rise to cancer1. Here we analyse 1,148 patient-derived B-cell leukaemia (B-ALL) samples, and find that individual mutations do not promote leukaemogenesis unless they converge on one single oncogenic pathway that is characteristic of the differentiation stage of transformed B cells. Mutations that are not aligned with this central oncogenic driver activate divergent pathways and subvert transformation. Oncogenic lesions in B-ALL frequently mimic signalling through cytokine receptors at the pro-B-cell stage (via activation of the signal-transduction protein STAT5)2,3,4 or pre-B-cell receptors in more mature cells (via activation of the protein kinase ERK)5,6,7,8. STAT5- and ERK-activating lesions are found frequently, but occur together in only around 3% of cases (P = 2.2 × 10−16). Single-cell mutation and phospho-protein analyses reveal the segregation of oncogenic STAT5 and ERK activation to competing clones. STAT5 and ERK engage opposing biochemical and transcriptional programs that are orchestrated by the transcription factors MYC and BCL6, respectively. Genetic reactivation of the divergent (suppressed) pathway comes at the expense of the principal oncogenic driver and reverses transformation. Conversely, deletion of divergent pathway components accelerates leukaemogenesis. Thus, persistence of divergent signalling pathways represents a powerful barrier to transformation, while convergence on one principal driver defines a central event in leukaemia initiation. Pharmacological reactivation of suppressed divergent circuits synergizes strongly with inhibition of the principal oncogenic driver. Hence, reactivation of divergent pathways can be leveraged as a previously unrecognized strategy to enhance treatment responses.
Relevant articles
Open Access articles citing this article.
Franz Ketzer

,

Hend Abdelrasoul

…

Alexey Ushmorov

Oncogenesis Open Access 10 January 2022
Access options
Access Nature and 54 other Nature Portfolio journals
Get Nature+, our best-value online-access subscription
$29.99 per month
cancel any time
Subscribe to this journal
Receive 51 print issues and online access
$199.00 per year
only $3.90 per issue
Rent or buy this article
Get just this article for as long as you need it
$39.95
Prices may be subject to local taxes which are calculated during checkout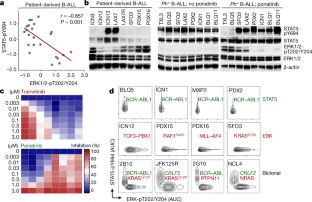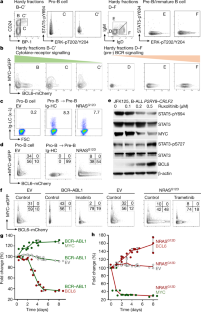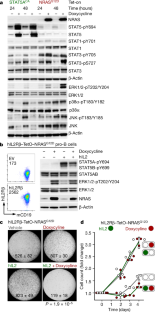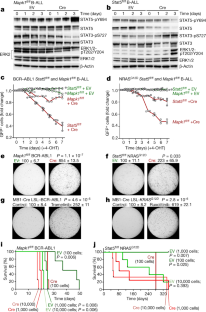 Data availability
Gel scans are provided in Supplementary Fig. 1. All other data are available from M.M. upon reasonable request. The Gene Expression Omnibus (GEO; https://www.ncbi.nlm.nih.gov/geo/) accession number for the gene-expression profiles of diagnostic samples from 207 patients (COG P9906) is GSE11877 (Supplementary Table 10). ChIP–seq data from human B lymphocytes (GM12878) are from ENCODE. Further information and requests for reagents can directed to and will be fulfilled by M.M. Source data are provided with this paper.
References
Fearon, E. R., Hamilton, S. R. & Vogelstein, B. Clonal analysis of human colorectal tumors. Science 238, 193–197 (1987).

Goetz, C. A., Harmon, I. R., O'Neil, J. J., Burchill, M. A. & Farrar, M. A. STAT5 activation underlies IL7 receptor-dependent B cell development. J. Immunol. 172, 4770–4778 (2004).

Malin, S. et al. Role of STAT5 in controlling cell survival and immunoglobulin gene recombination during pro-B cell development. Nat. Immunol. 11, 171–179 (2010).

Katerndahl, C. D. S. et al. Antagonism of B cell enhancer networks by STAT5 drives leukemia and poor patient survival. Nat. Immunol. 18, 694–704 (2017).

Shaw, A. C., Swat, W., Ferrini, R., Davidson, L. & Alt, F. W. Activated Ras signals developmental progression of recombinase-activating gene (RAG)-deficient pro-B lymphocytes. J. Exp. Med. 189, 123–129 (1999).

Irving, J. et al. Ras pathway mutations are prevalent in relapsed childhood acute lymphoblastic leukemia and confer sensitivity to MEK inhibition. Blood 124, 3420–3430 (2014).

Anderson, L. J. & Longnecker, R. EBV LMP2A provides a surrogate pre-B cell receptor signal through constitutive activation of the ERK/MAPK pathway. J. Gen. Virol. 89, 1563–1568 (2008).

Feldhahn, N. et al. Mimicry of a constitutively active pre-B cell receptor in acute lymphoblastic leukemia cells. J. Exp. Med. 201, 1837–1852 (2005).

Yasuda, T. et al. Erk kinases link pre-B cell receptor signaling to transcriptional events required for early B cell expansion. Immunity 28, 499–508 (2008).

Shojaee, S. et al. PTEN opposes negative selection and enables oncogenic transformation of pre-B cells. Nat. Med. 22, 379–387 (2016).

Martincorena, I. et al. Somatic mutant clones colonize the human esophagus with age. Science 362, 911–917 (2018).

Mandal, M. et al. Ras orchestrates exit from the cell cycle and light-chain recombination during early B cell development. Nat. Immunol. 10, 1110–1117 (2009).

Duy, C. et al. BCL6 is critical for the development of a diverse primary B cell repertoire. J. Exp. Med. 207, 1209–1221 (2010).

Geng, H. et al. Self-enforcing feedback activation between BCL6 and pre-B cell receptor signaling defines a distinct subtype of acute lymphoblastic leukemia. Cancer Cell 27, 409–425 (2015).

Swaminathan, S. et al. Mechanisms of clonal evolution in childhood acute lymphoblastic leukemia. Nat. Immunol. 16, 766–774 (2015).

Walker, S. R. et al. STAT5 outcompetes STAT3 to regulate the expression of the oncogenic transcriptional modulator BCL6. Mol. Cell. Biol. 33, 2879–2890 (2013).

Korotchenko, V. N. et al. In vivo structure-activity relationship studies support allosteric targeting of a dual specificity phosphatase. ChemBioChem 15, 1436–1445 (2014).

Shojaee, S. et al. Erk negative feedback control enables pre-B cell transformation and represents a therapeutic target in acute lymphoblastic leukemia. Cancer Cell 28, 114–128 (2015).

Yang, J. et al. Discovery and characterization of a cell-permeable, small-molecule c-Abl kinase activator that binds to the myristoyl binding site. Chem. Biol. 18, 177–186 (2011).

Heltemes-Harris, L. M. et al. Sleeping Beauty transposon screen identifies signaling modules that cooperate with STAT5 activation to induce B-cell acute lymphoblastic leukemia. Oncogene 35, 3454–3464 (2016).

Porpaczy, E. et al. Aggressive B-cell lymphomas in patients with myelofibrosis receiving JAK1/2 inhibitor therapy. Blood 132, 694–706 (2018).

Xiao, W. et al. Tumor suppression by phospholipase C-beta3 via SHP-1-mediated dephosphorylation of Stat5. Cancer Cell 16, 161–171 (2009).

Fusaki, N. et al. BLNK is associated with the CD72/SHP-1/Grb2 complex in the WEHI231 cell line after membrane IgM cross-linking. Eur. J. Immunol. 30, 1326–1330 (2000).

Imamura, Y. et al. BLNK binds active H-Ras to promote B cell receptor-mediated capping and ERK activation. J. Biol. Chem. 284, 9804–9813 (2009).

Nikolaev, S. I. et al. Frequent cases of RAS-mutated Down syndrome acute lymphoblastic leukaemia lack JAK2 mutations. Nat. Commun. 5, 4654 (2014).

Herold, T. et al. Adults with Philadelphia chromosome-like acute lymphoblastic leukemia frequently have IGH-CRLF2 and JAK2 mutations, persistence of minimal residual disease and poor prognosis. Haematologica 102, 130–138 (2017).

Jerchel, I. S. et al. RAS pathway mutations as a predictive biomarker for treatment adaptation in pediatric B-cell precursor acute lymphoblastic leukemia. Leukemia 32, 931–940 (2018).

Cerami, E. et al. The cBio Cancer Genomics Portal: An opening platform for exploring multidimensional cancer genomics data. Cancer Discov. 2, 401–404 (2012).

Koch, R. et al. Biomarker-driven strategy for MCL1 inhibition in T-cell lymphomas. Blood 133, 566–575 (2019).

Bliss, C. I. The toxicity of poisons applied jointly. Ann. Appl. Biol. 26, 585–615 (1939).

Weibull, W. A statistical distribution function of wide applicability. J. Appl. Mech. 18, 293–297 (1951).

R Development Core Team. A language and environment for statistical computing. R Foundation for Statistical Computing, Vienna (2009).
Acknowledgements
We thank L. Klemm, F. Auer and J. Winchester for help with some of the experiments, and present and former members of the Müschen Laboratory for their support and helpful discussions. Research in the Müschen Laboratory is funded by the National Institutes of Health (NIH) through National Cancer Institute (NCI) R35CA197628, R01CA157644, R01CA213138 and P01CA233412 (to M.M.); the Howard Hughes Medical Institute (HHMI-55108547 to M.M.); the Norman and Sadie Lee Foundation; the Falk Trust through a Falk Medical Research Trust Transformational Award; the Pediatric Cancer Research Foundation (PCRF) and the V Foundation for Cancer Research, the Leukemia and Lymphoma Society through MCL-7000-18 and a Blood Cancer Discoveries Grant BCDG-20327-20 (to M.M.); and the California Institute for Regenerative Medicine (CIRM) through DISC2-10061. D.M.W. is supported by NCI grants R35CA231958 and U54CA217377. M.M. is a Howard Hughes Medical Institute (HHMI) Faculty Scholar. M.M. and S.I. are supported by the Jacki & Bruce Barron Cancer Research Scholars' Program. M.A.M. is supported by K08 Clinical Investigator Award CA212252-01A1. T.S. is a Lymphoma Research Foundation Grantee. V.K. is supported by Career Development Fellow grant (5491-20) from the Leukemia and Lymphoma Society, and by a Young Investigator Award from Alex's Lemonade Stand Foundation.
Ethics declarations
Competing interests
The authors declare no competing interests.
Additional information
Peer review information Nature thanks Michael Reth, Oscar Rueda, Veronika Sexl and the other, anonymous, reviewer(s) for their contribution to the peer review of this work.
Publisher's note Springer Nature remains neutral with regard to jurisdictional claims in published maps and institutional affiliations.
Extended data figures and tables
Supplementary information
About this article
Cite this article
Chan, L.N., Murakami, M.A., Robinson, M.E. et al. Signalling input from divergent pathways subverts B cell transformation. Nature 583, 845–851 (2020). https://doi.org/10.1038/s41586-020-2513-4
Received:

Accepted:

Published:

Issue Date:

DOI: https://doi.org/10.1038/s41586-020-2513-4
Comments
By submitting a comment you agree to abide by our Terms and Community Guidelines. If you find something abusive or that does not comply with our terms or guidelines please flag it as inappropriate.