Abstract
Most sensory information destined for the neocortex is relayed through the thalamus, where considerable transformation occurs1,2. One means of transformation involves interactions between excitatory thalamocortical neurons that carry data to the cortex and inhibitory neurons of the thalamic reticular nucleus (TRN) that regulate the flow of those data3,4,5,6. Although the importance of the TRN has long been recognised7,8,9, understanding of its cell types, their organization and their functional properties has lagged behind that of the thalamocortical systems they control. Here we address this by investigating the somatosensory and visual circuits of the TRN in mice. In the somatosensory TRN we observed two groups of genetically defined neurons that are topographically segregated and physiologically distinct, and that connect reciprocally with independent thalamocortical nuclei through dynamically divergent synapses. Calbindin-expressing cells—located in the central core—connect with the ventral posterior nucleus, the primary somatosensory thalamocortical relay. By contrast, somatostatin-expressing cells—which reside along the surrounding edges of the TRN—synapse with the posterior medial thalamic nucleus, a higher-order structure that carries both top-down and bottom-up information10,11,12. The two TRN cell groups process their inputs in pathway-specific ways. Synapses from the ventral posterior nucleus to central TRN cells transmit rapid excitatory currents that depress deeply during repetitive activity, driving phasic spike output. Synapses from the posterior medial thalamic nucleus to edge TRN cells evoke slower, less depressing excitatory currents that drive more persistent spiking. Differences in the intrinsic physiology of TRN cell types, including state-dependent bursting, contribute to these output dynamics. The processing specializations of these two somatosensory TRN subcircuits therefore appear to be tuned to the signals they carry—a primary central subcircuit tuned to discrete sensory events, and a higher-order edge subcircuit tuned to temporally distributed signals integrated from multiple sources. The structure and function of visual TRN subcircuits closely resemble those of the somatosensory TRN. These results provide insights into how subnetworks of TRN neurons may differentially process distinct classes of thalamic information.
Access options
Subscribe to Journal
Get full journal access for 1 year
$199.00
only $3.90 per issue
All prices are NET prices.
VAT will be added later in the checkout.
Rent or Buy article
Get time limited or full article access on ReadCube.
from$8.99
All prices are NET prices.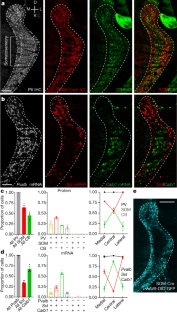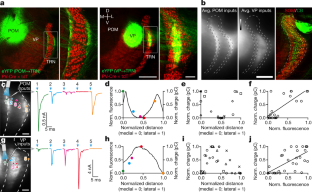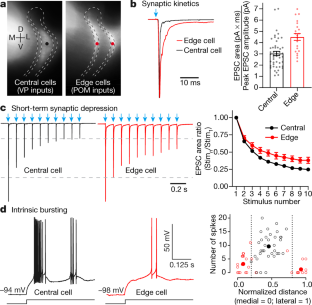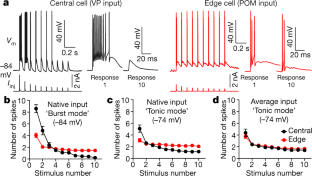 Data availability
All data are available from the corresponding author upon reasonable request.
References
1.

Jones, E. G. The Thalamus (Cambridge Univ. Press, 2007).

2.

Sherman, S. M. & Guillery, R. W. Functional organization of thalamocortical relays. J. Neurophysiol. 76, 1367–1395 (1996).

3.

Hirsch, J. A., Wang, X., Sommer, F. T. & Martinez, L. M. How inhibitory circuits in the thalamus serve vision. Annu. Rev. Neurosci. 38, 309–329 (2015).

4.

Crabtree, J. W. Functional diversity of thalamic reticular subnetworks. Front. Syst. Neurosci. 12, 41 (2018).

5.

Halassa, M. M. & Acsády, L. Thalamic inhibition: diverse sources, diverse scales. Trends Neurosci. 39, 680–693 (2016).

6.

Fogerson, P. M. & Huguenard, J. R. Tapping the brakes: cellular and synaptic mechanisms that regulate thalamic oscillations. Neuron 92, 687–704 (2016).

7.

Guillery, R. W., Feig, S. L. & Lozsádi, D. A. Paying attention to the thalamic reticular nucleus. Trends Neurosci. 21, 28–32 (1998).

8.

Pinault, D. The thalamic reticular nucleus: structure, function and concept. Brain Res. Rev. 46, 1–31 (2004).

9.

Crick, F. Function of the thalamic reticular complex: the searchlight hypothesis. Proc. Natl Acad. Sci. USA 81, 4586–4590 (1984).

10.

Diamond, M. E., von Heimendahl, M., Knutsen, P. M., Kleinfeld, D. & Ahissar, E. 'Where' and 'what' in the whisker sensorimotor system. Nat. Rev. Neurosci. 9, 601–612 (2008).

11.

Mease, R. A., Sumser, A., Sakmann, B. & Groh, A. Cortical dependence of whisker responses in posterior medial thalamus in vivo. Cereb. Cortex 26, 3534–3543 (2016).

12.

Sherman, S. M. Thalamus plays a central role in ongoing cortical functioning. Nat. Neurosci. 19, 533–541 (2016).

13.

Fishell, G. & Rudy, B. Mechanisms of inhibition within the telencephalon: "where the wild things are". Annu. Rev. Neurosci. 34, 535–567 (2011).

14.

Hou, G., Smith, A. G. & Zhang, Z. W. Lack of intrinsic GABAergic connections in the thalamic reticular nucleus of the mouse. J. Neurosci. 36, 7246–7252 (2016).

15.

Hu, H., Cavendish, J. Z. & Agmon, A. Not all that glitters is gold: off-target recombination in the somatostatin-IRES-Cre mouse line labels a subset of fast-spiking interneurons. Front. Neural Circuits 7, 195 (2013).

16.

Lam, Y. W. & Sherman, S. M. Functional organization of the thalamic input to the thalamic reticular nucleus. J. Neurosci. 31, 6791–6799 (2011).

17.

Lee, S. H., Govindaiah, G. & Cox, C. L. Heterogeneity of firing properties among rat thalamic reticular nucleus neurons. J. Physiol. (Lond.) 582, 195–208 (2007).

18.

Diamond, M. E., Armstrong-James, M. & Ebner, F. F. Somatic sensory responses in the rostral sector of the posterior group (POm) and in the ventral posterior medial nucleus (VPM) of the rat thalamus. J. Comp. Neurol. 318, 462–476 (1992).

19.

Roth, M. M. et al. Thalamic nuclei convey diverse contextual information to layer 1 of visual cortex. Nat. Neurosci. 19, 299–307 (2016).

20.

Audette, N. J., Bernhard, S. M., Ray, A., Stewart, L. T. & Barth, A. L. Rapid plasticity of higher-order thalamocortical inputs during sensory learning. Neuron 103, 277–291.e4 (2019).

21.

Zhang, W. & Bruno, R. M. High-order thalamic inputs to primary somatosensory cortex are stronger and longer lasting than cortical inputs. eLife 8, e44158 (2019).

22.

Steriade, M., Domich, L. & Oakson, G. Reticularis thalami neurons revisited: activity changes during shifts in states of vigilance. J. Neurosci. 6, 68–81 (1986).

23.

McCormick, D. A. & Bal, T. Sleep and arousal: thalamocortical mechanisms. Annu. Rev. Neurosci. 20, 185–215 (1997).

24.

Marlinski, V. & Beloozerova, I. N. Burst firing of neurons in the thalamic reticular nucleus during locomotion. J. Neurophysiol. 112, 181–192 (2014).

25.

Whitmire, C. J., Waiblinger, C., Schwarz, C. & Stanley, G. B. Information coding through adaptive gating of synchronized thalamic bursting. Cell Rep. 14, 795–807 (2016).

26.

Llinás, R. R. & Steriade, M. Bursting of thalamic neurons and states of vigilance. J. Neurophysiol. 95, 3297–3308 (2006).

27.

Clemente-Perez, A. et al. Distinct thalamic reticular cell types differentially modulate normal and pathological cortical rhythms. Cell Rep. 19, 2130–2142 (2017).

28.

Destexhe, A., Contreras, D., Steriade, M., Sejnowski, T. J. & Huguenard, J. R. In vivo, in vitro, and computational analysis of dendritic calcium currents in thalamic reticular neurons. J. Neurosci. 16, 169–185 (1996).

29.

Llinás, R. & Jahnsen, H. Electrophysiology of mammalian thalamic neurones in vitro. Nature 297, 406–408 (1982).

30.

Lambert, R. C., Bessaïh, T., Crunelli, V. & Leresche, N. The many faces of T-type calcium channels. Pflugers Arch. 466, 415–423 (2014).

31.

Kimura, A. & Imbe, H. Anatomically structured burst spiking of thalamic reticular nucleus cells: implications for distinct modulations of sensory processing in lemniscal and non-lemniscal thalamocortical loop circuitries. Eur. J. Neurosci. 41, 1276–1293 (2015).

32.

Pinault, D., Bourassa, J. & Deschênes, M. The axonal arborization of single thalamic reticular neurons in the somatosensory thalamus of the rat. Eur. J. Neurosci. 7, 31–40 (1995).

33.

McAlonan, K., Cavanaugh, J. & Wurtz, R. H. Guarding the gateway to cortex with attention in visual thalamus. Nature 456, 391–394 (2008).

34.

Lee, S. C., Patrick, S. L., Richardson, K. A. & Connors, B. W. Two functionally distinct networks of gap junction-coupled inhibitory neurons in the thalamic reticular nucleus. J. Neurosci. 34, 13170–13182 (2014).

35.

Crabtree, J. W. & Isaac, J. T. New intrathalamic pathways allowing modality-related and cross-modality switching in the dorsal thalamus. J. Neurosci. 22, 8754–8761 (2002).

36.

Kimura, A. & Imbe, H. Robust subthreshold cross-modal modulation of auditory response by cutaneous electrical stimulation in first- and higher-order auditory thalamic nuclei. Neuroscience 372, 161–180 (2018).

37.

Briggs, F. & Usrey, W. M. Emerging views of corticothalamic function. Curr. Opin. Neurobiol. 18, 403–407 (2008).

38.

Crandall, S. R., Cruikshank, S. J. & Connors, B. W. A corticothalamic switch: controlling the thalamus with dynamic synapses. Neuron 86, 768–782 (2015).

39.

Wimmer, R. D. et al. Thalamic control of sensory selection in divided attention. Nature 526, 705–709 (2015).

40.

Nakajima, M., Schmitt, L. I. & Halassa, M. M. Prefrontal cortex regulates sensory filtering through a basal ganglia-to-thalamus pathway. Neuron 103, 445–458.e10 (2019).

41.

Beierlein, M. Synaptic mechanisms underlying cholinergic control of thalamic reticular nucleus neurons. J. Physiol. (Lond.) 592, 4137–4145 (2014).

42.

Conley, M., Kupersmith, A. C. & Diamond, I. T. The organization of projections from subdivisions of the auditory cortex and thalamus to the auditory sector of the thalamic reticular nucleus in galago. Eur. J. Neurosci. 3, 1089–1103 (1991).

43.

Conley, M., Schmechel, D. E. & Diamond, I. T. Differential distribution of somatostatin-like immunoreactivity in the visual sector of the thalamic reticular nucleus in galago. Eur. J. Neurosci. 3, 237–242 (1991).

44.

Graybiel, A. M. & Elde, R. P. Somatostatin-like immunoreactivity characterizes neurons of the nucleus reticularis thalami in the cat and monkey. J. Neurosci. 3, 1308–1321 (1983).

45.

Daigle, T. L. et al. A suite of transgenic driver and reporter mouse lines with enhanced brain-cell-type targeting and functionality. Cell 174, 465–480. e22 (2018).

46.

Agmon, A. & Connors, B. W. Thalamocortical responses of mouse somatosensory (barrel) cortex in vitro. Neuroscience 41, 365–379 (1991).

47.

Jackman, S. L., Beneduce, B. M., Drew, I. R. & Regehr, W. G. Achieving high-frequency optical control of synaptic transmission. J. Neurosci. 34, 7704–7714 (2014).
Acknowledgements
We thank Z. Fu, G. Feng and their associates for interactions surrounding this project. We also thank S. Crandall, O. Ahmed, M. Zervas, D. Lipscombe, C. Chen, G. Manzano, S. Baskoylu, F. Pouille, B. Theyel and F. S. Susi for discussions. This work was supported by grants R01 NS100016, P20 GM103645, NSF 1738633, NSFGRFP 1058262 and NSF 1632738.
Ethics declarations
Competing interests
The authors declare no competing interests.
Additional information
Peer review information Nature thanks Karel Svoboda and the other, anonymous, reviewer(s) for their contribution to the peer review of this work.
Publisher's note Springer Nature remains neutral with regard to jurisdictional claims in published maps and institutional affiliations.
Extended data figures and tables
Supplementary information
Supplementary Information Table 1 | Intrinsic physiological properties of central and edge TRN cells. Passive membrane properties, action potential (AP) kinetics, and repetitive firing properties are shown for central and edge neurons of somatosensory TRN (page 1) and visual TRN (page 2). Properties were measured in current-clamp mode, with steady-state Vm set to either -84 mV ("burst mode", left) or -74 mV ("tonic mode", right). "Offset bursts" are intrinsic bursts triggered by the offset of hyperpolarizing current pulses, as illustrated in Fig. 3d and Extended Data Fig. 9f. The numbers of cells are shown in parenthesis. T-tests were unpaired and two-tailed. Data are expressed as mean ± SEM.
About this article
Cite this article
Martinez-Garcia, R.I., Voelcker, B., Zaltsman, J.B. et al. Two dynamically distinct circuits drive inhibition in the sensory thalamus. Nature 583, 813–818 (2020). https://doi.org/10.1038/s41586-020-2512-5
Received:

Accepted:

Published:

Issue Date:
Comments
By submitting a comment you agree to abide by our Terms and Community Guidelines. If you find something abusive or that does not comply with our terms or guidelines please flag it as inappropriate.