Abstract
In the regime of deep strong light–matter coupling, the coupling strength exceeds the transition energies of the material1,2,3, fundamentally changing its properties4,5; for example, the ground state of the system contains virtual photons and the internal electromagnetic field gets redistributed by photon self-interaction1,6. So far, no electronic excitation of a material has shown such strong coupling to free-space photons. Here we show that three-dimensional crystals of plasmonic nanoparticles can realize deep strong coupling under ambient conditions, if the particles are ten times larger than the interparticle gaps. The experimental Rabi frequencies (1.9 to 3.3 electronvolts) of face-centred cubic crystals of gold nanoparticles with diameters between 25 and 60 nanometres exceed their plasmon energy by up to 180 per cent. We show that the continuum of photons and plasmons hybridizes into polaritons that violate the rotating-wave approximation. The coupling leads to a breakdown of the Purcell effect—the increase of radiative damping through light–matter coupling—and increases the radiative polariton lifetime. The results indicate that metallic and semiconducting nanoparticles can be used as building blocks for an entire class of materials with extreme light–matter interaction, which will find application in nonlinear optics, the search for cooperative effects and ground states, polariton chemistry and quantum technology4,5.
Relevant articles
Open Access articles citing this article.
Rakesh Arul

,

David-Benjamin Grys

…

Jeremy J. Baumberg

Light: Science & Applications Open Access 23 September 2022

C. A. Downing

&

A. J. Toghill

Scientific Reports Open Access 08 July 2022

Kimin Park

,

Jacob Hastrup

…

Ulrik L. Andersen

npj Quantum Information Open Access 15 June 2022
Access options
Subscribe to Nature+
Get immediate online access to Nature and 55 other Nature journal
Subscribe to Journal
Get full journal access for 1 year
$199.00
only $3.90 per issue
All prices are NET prices.
VAT will be added later in the checkout.
Tax calculation will be finalised during checkout.
Buy article
Get time limited or full article access on ReadCube.
$32.00
All prices are NET prices.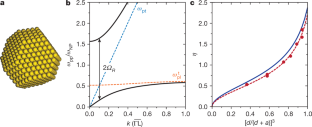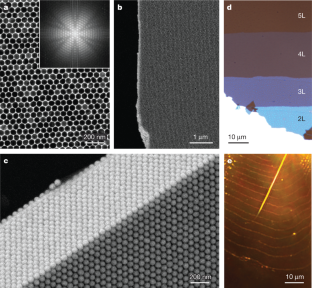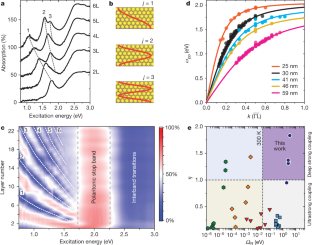 References
Ciuti, C., Bastard, G. & Carusotto, I. Quantum vacuum properties of the intersubband cavity polariton field. Phys. Rev. B 72, 115303 (2005).

Bayer, A. et al. Terahertz light-matter interaction beyond unity coupling strength. Nano Lett. 17, 6340–6344 (2017).

Yoshihara, F. et al. Superconducting qubit-oscillator circuit beyond the ultrastrong-coupling regime. Nat. Phys. 13, 44–47 (2017).

Frisk Kockum, A., Miranowicz, A., De Liberato, S., Savasta, S. & Nori, F. Ultrastrong coupling between light and matter. Nat. Rev. Phys. 1, 19–40 (2019); publisher correction 1, 295 (2019).

Forn-Díaz, P., Lamata, L., Rico, E., Kono, J. & Solano, E. Ultrastrong coupling regimes of light–matter interaction. Rev. Mod. Phys. 91, 025005 (2019).

De Liberato, S. Light-matter decoupling in the deep strong coupling regime: the breakdown of the Purcell effect. Phys. Rev. Lett. 112, 016401 (2014).

Baranov, D. G., Wersäll, M., Cuadra, J., Antosiewicz, T. J. & Shegai, T. Novel nanostructures and materials for strong light-matter interactions. ACS Photon. 5, 24–42 (2018).

Li, X. et al. Vacuum Bloch–Siegert shift in Landau polaritons with ultra-high cooperativity. Nat. Photon. 12, 324 (2018).

Rossatto, D. Z., Villas-Bôas, C. J., Sanz, M. & Solano, E. Spectral classification of coupling regimes in the quantum Rabi model. Phys. Rev. A 96, 013849 (2017).

Kockum, A. F., Miranowicz, A., Macrì, V., Savasta, S. & Nori, F. Deterministic quantum nonlinear optics with single atoms and virtual photons. Phys. Rev. A 95, 063849 (2017).

Garziano, L. et al. One photon can simultaneously excite two or more atoms. Phys. Rev. Lett. 117, 043601 (2016).

Hutchison, J. A., Schwartz, T., Genet, C., Devaux, E. & Ebbesen, T. W. Modifying chemical landscapes by coupling to vacuum fields. Angew. Chem. Int. Ed. 51, 1592–1596 (2012).

Nataf, P. & Ciuti, C. Protected quantum computation with multiple resonators in ultrastrong coupling circuit QED. Phys. Rev. Lett. 107, 190402 (2011).

Romero, G., Ballester, D., Wang, Y. M., Scarani, V. & Solano, E. Ultrafast quantum gates in circuit QED. Phys. Rev. Lett. 108, 120501 (2012).

Askenazi, B. et al. Midinfrared ultrastrong light-matter coupling for THz thermal emission. ACS Photon. 4, 2550–2555 (2017).

Forn-Díaz, P. et al. Ultrastrong coupling of a single artificial atom to an electromagnetic continuum in the nonperturbative regime. Nat. Phys. 13, 39–43 (2017).

Chen, P.-Y., Soric, J. & Alù, A. Invisibility and cloaking based on scattering cancellation. Adv. Mater. 24, OP281–OP304 (2012).

Joannopoulos, J. D., Johnson, S. G., Winn, J. N. & Meade, R. D. Photonic Crystals: Molding the Flow of Light 2nd edn (Princeton Univ. Press, 2008).

Maier, S. Plasmonics: Fundamentals and Applications (Springer, 2007).

Halas, N. J., Lal, S., Chang, W.-S., Link, S. & Nordlander, P. Plasmons in strongly coupled metallic nanostructures. Chem. Rev. 111, 3913–3961 (2011).

Yannopapas, V., Modinos, A. & Stefanou, N. Optical properties of metallodielectric photonic crystals. Phys. Rev. B 60, 5359–5365 (1999).

Huang, C.-P., Yin, X.-G., Wang, Q.-J., Huang, H. & Zhu, Y.-Y. Long-wavelength optical properties of a plasmonic crystal. Phys. Rev. Lett. 104, 016402 (2010).

Park, D. J. et al. Plasmonic photonic crystals realized through DNA-programmable assembly. Proc. Natl Acad. Sci. USA 112, 977–981 (2015).

Lamowski, S. et al. Plasmon polaritons in cubic lattices of spherical metallic nanoparticles. Phys. Rev. B 97, 125409 (2018).

Hopfield, J. J. Theory of the contribution of excitons to the complex dielectric constant of crystals. Phys. Rev. 112, 1555–1567 (1958).

Hanske, C. et al. Large-scale plasmonic pyramidal supercrystals via templated self-assembly of monodisperse gold nanospheres. J. Phys. Chem. C 121, 10899–10906 (2017).

Matricardi, C. et al. Gold nanoparticle plasmonic superlattices as surface-enhanced Raman spectroscopy substrates. ACS Nano 12, 8531–8539 (2018).

Lau, C. Y. et al. Enhanced ordering in gold nanoparticles self-assembly through excess free ligands. Langmuir 27, 3355–3360 (2011).

Ross, M. B., Ku, J. C., Vaccarezza, V. M., Schatz, G. C. & Mirkin, C. A. Nanoscale form dictates mesoscale function in plasmonic DNA-nanoparticle superlattices. Nat. Nanotechnol. 10, 453 (2015).

Sun, L., Lin, H., Kohlstedt, K. L., Schatz, G. C. & Mirkin, C. A. Design principles for photonic crystals based on plasmonic nanoparticle superlattices. Proc. Natl Acad. Sci. USA 115, 7242–7247 (2018).

Schulz, F., Tober, S. & Lange, H. Size-dependent phase transfer functionalization of gold nanoparticles to promote well-ordered self-assembly. Langmuir 33, 14437–14444 (2017).

Ye, X. et al. Structural diversity in binary superlattices self-assembled from polymer-grafted nanocrystals. Nat. Commun. 6, 10052 (2015).

Mueller, N. S. et al. Dark interlayer plasmons in colloidal gold nanoparticle bi- and few-layers. ACS Photon. 5, 3962–3969 (2018).

Mueller, N. S. et al. Direct optical excitation of dark plasmons for hot electron generation. Faraday Discuss. 214, 159–173 (2019).

De Liberato, S. Virtual photons in the ground state of a dissipative system. Nat. Commun. 8, 1465 (2017).

Rivera, N., Kaminer, I., Zhen, B., Joannopoulos, J. D. & Soljačić, M. Shrinking light to allow forbidden transitions on the atomic scale. Science 353, 263–269 (2016).

Purcell, E. M., Torrey, H. C. & Pound, R. V. Resonance absorption by nuclear magnetic moments in a solid. Phys. Rev. 69, 37–38 (1946).

Ciuti, C. & Carusotto, I. Input-output theory of cavities in the ultrastrong coupling regime: the case of time-independent cavity parameters. Phys. Rev. A 74, 033811 (2006).

Günter, G. et al. Sub-cycle switch-on of ultrastrong light–matter interaction. Nature 458, 178–181 (2009).

Artoni, M. & Birman, J. L. Quantum-optical properties of polariton waves. Phys. Rev. B 44, 3736–3756 (1991).

Bastús, N. G., Comenge, J. & Puntes, V. Kinetically controlled seeded growth synthesis of citrate-stabilized gold nanoparticles of up to 200 nm: size focusing versus Ostwald ripening. Langmuir 27, 11098–11105 (2011).

Zheng, Y., Zhong, X., Li, Z. & Xia, Y. Successive, seed-mediated growth for the synthesis of single-crystal gold nanospheres with uniform diameters controlled in the range of 5–150 nm. Part. Part. Syst. Charact. 31, 266–273 (2014).

Dong, A., Chen, J., Vora, P. M., Kikkawa, J. M. & Murray, C. B. Binary nanocrystal superlattice membranes self-assembled at the liquid-air interface. Nature 466, 474–477 (2010).

Olmon, R. L. et al. Optical dielectric function of gold. Phys. Rev. B 86, 235147 (2012).

Yu, P. & Cardona, M. Fundamentals of Semiconductor Physics (Springer, 1996).

Mihailovic, M. et al. Optical and excitonic properties of ZnO films. Opt. Mater. 31, 532–536 (2009).

Liu, N. et al. Three-dimensional photonic metamaterials at optical frequencies. Nat. Mat. 7, 31–37 (2007).

Nicolson, A. M. & Ross, G. F. Measurement of the intrinsic properties of materials by time- domain techniques. IEEE Trans. Instrum. Meas. 19, 377–382 (1970).

Rakić, A. D. Algorithm for the determination of intrinsic optical constants of metal films: application to aluminum. Appl. Opt. 34, 4755–4767 (1995).
Acknowledgements
We are grateful to A. Knorr, G. Weick and S. De Liberato for discussions and comments. We thank M. Wolf for the use of the supercontinuum light source. This work was supported by the European Research Council (ERC) under grant DarkSERS (772108). S.R. acknowledges the Focus Area NanoScale of Freie Universität Berlin. F.S. was supported by the DFG via project SCHU 3019/2-1. H.L. and F.S. acknowledge support by the Cluster of Excellence 'Advanced Imaging of Matter' of the DFG (EXC 2056, project 390715994). B.G.M.V. acknowledges the Coordenação de Aperfeiçoamento de Pessoal de Nivel Superior (CAPES) for financial support under the programme PDSE (grant number 88881.134611/2016-01) and Dahlem Research School (DRS). E.B.B. and B.G.M.V. acknowledge financial support from CNPq, CAPES (finance code 001) and FUNCAP (PRONEX PR2-0101-00006.01.00/15).
Ethics declarations
Competing interests
The authors declare no competing interests.
Additional information
Peer review information Nature thanks Junichiro Kono, Salvatore Savasta and the other, anonymous, reviewer(s) for their contribution to the peer review of this work.
Publisher's note Springer Nature remains neutral with regard to jurisdictional claims in published maps and institutional affiliations.
Extended data figures and tables
Supplementary information
The Supplementary Information contains a Supplementary Table with all variables used in the manuscript and Supplementary Discussion on the Hopfield model.
About this article
Cite this article
Mueller, N.S., Okamura, Y., Vieira, B.G.M. et al. Deep strong light–matter coupling in plasmonic nanoparticle crystals. Nature 583, 780–784 (2020). https://doi.org/10.1038/s41586-020-2508-1
Received:

Accepted:

Published:

Issue Date:

DOI: https://doi.org/10.1038/s41586-020-2508-1
Comments
By submitting a comment you agree to abide by our Terms and Community Guidelines. If you find something abusive or that does not comply with our terms or guidelines please flag it as inappropriate.