Abstract
The size of plants is largely determined by growth of the stem. Stem elongation is stimulated by gibberellic acid1,2,3. Here we show that internode stem elongation in rice is regulated antagonistically by an 'accelerator' and a 'decelerator' in concert with gibberellic acid. Expression of a gene we name ACCELERATOR OF INTERNODE ELONGATION 1 (ACE1), which encodes a protein of unknown function, confers cells of the intercalary meristematic region with the competence for cell division, leading to internode elongation in the presence of gibberellic acid. By contrast, upregulation of DECELERATOR OF INTERNODE ELONGATION 1 (DEC1), which encodes a zinc-finger transcription factor, suppresses internode elongation, whereas downregulation of DEC1 allows internode elongation. We also show that the mechanism of internode elongation that is mediated by ACE1 and DEC1 is conserved in the Gramineae family. Furthermore, an analysis of genetic diversity suggests that mutations in ACE1 and DEC1 have historically contributed to the selection of shorter plants in domesticated populations of rice to increase their resistance to lodging, and of taller plants in wild species of rice for adaptation to growth in deep water. Our identification of these antagonistic regulatory factors enhances our understanding of the gibberellic acid response as an additional mechanism that regulates internode elongation and environmental fitness, beyond biosynthesis and gibberellic acid signal transduction.
This is a preview of subscription content
Access options
Subscribe to Journal
Get full journal access for 1 year
$199.00
only $3.90 per issue
All prices are NET prices.
VAT will be added later in the checkout.
Tax calculation will be finalised during checkout.
Rent or Buy article
Get time limited or full article access on ReadCube.
from$8.99
All prices are NET prices.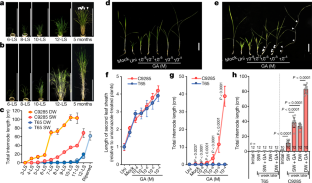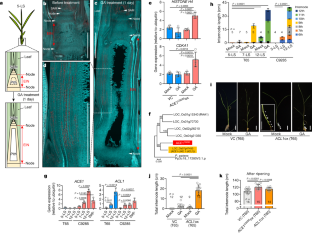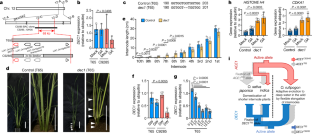 References
1.

Kaneko, M. et al. Where do gibberellin biosynthesis and gibberellin signaling occur in rice plants? Plant J. 35, 104–115 (2003).

2.

Kende, H., van de Knaap, E. & Cho, H.-T. Deepwater rice: a model plant to study stem elongation. Plant Physiol. 118, 1105–1110 (1998).

3.

Sauter, M., Mekhedov, S. L. & Kende, H. Gibberellin promotes histone H1 kinase activity and the expression of cdc2 and cyclin genes during the induction of rapid growth in deepwater rice internodes. Plant J. 7, 623–632 (1995).

4.

Cronk, Q. C. B. The Molecular Organography of Plants (Oxford Univ. Press, 2009).

5.

Sasaki, A. et al. Green revolution: a mutant gibberellin-synthesis gene in rice. Nature 416, 701–702 (2002).

6.

Peng, J. et al. 'Green revolution' genes encode mutant gibberellin response modulators. Nature 400, 256–261 (1999).

7.

Catling, D. Rice in Deep Water (Palgrave Macmillan, 1992).

8.

Kuroha, T. et al. Ethylene-gibberellin signaling underlies adaptation of rice to periodic flooding. Science 361, 181–186 (2018).

9.

Kawahara, H., Chonan, N. & Wada, K. Studies on morphogenesis in rice plants. 3. Interrelation of the growth among leaves, panicle and internodes, and a histological observation on the meristem of culm. Proc. Crop Sci. Soc. Jpn 37, 372–383 (1968).

10.

Suetsugu, I. Studies on the first jointing stage in rice plants. Proc. Crop Sci. Soc. Jpn 37, 489–498 (1968).

11.

Inouye, J. On floating rice and its ecological traits in Southeast Asia. Southeast Asian Studies 25, 51–61 (1987).

12.

Hedden, P. & Thomas, S. G. (eds) Annual Plant Reviews: the Gibberellins (Wiley-Blackwell, 2016).

13.

Nagai, K. et al. QTL analysis of internode elongation in response to gibberellin in deepwater rice. AoB Plants 6, plu028 (2014).

14.

Hattori, Y. et al. A major QTL confers rapid internode elongation in response to water rise in deepwater rice. Breed. Sci. 57, 305–314 (2007).

15.

Inouye, J., Kyuragi, T. & Xuan, V.-T. On the growth habits of floating, single- and double-transplanted rice plants in the Mekong Delta. Japan. J. Trop. Agr. 22, 67–70 (1978).

16.

Kotogány, E., Dudits, D., Horváth, G. V. & Ayaydin, F. A rapid and robust assay for detection of S-phase cell cycle progression in plant cells and tissues by using ethynyl deoxyuridine. Plant Methods 6, 5 (2010).

17.

Kania, T., Russenberger, D., Peng, S., Apel, K. & Melzer, S. FPF1 promotes flowering in Arabidopsis. Plant Cell 9, 1327–1338 (1997).

18.

Sakamoto, T. et al. An overview of gibberellin metabolism enzyme genes and their related mutants in rice. Plant Physiol. 134, 1642–1653 (2004).

19.

Hattori, Y. et al. The ethylene response factors SNORKEL1 and SNORKEL2 allow rice to adapt to deep water. Nature 460, 1026–1030 (2009).

20.

Gómez-Ariza, J. et al. A transcription factor coordinating internode elongation and photoperiodic signals in rice. Nat. Plants 5, 358–362 (2019).

21.

Pauwels, L. et al. NINJA connects the co-repressor TOPLESS to jasmonate signalling. Nature 464, 788–791 (2010).

22.

Li, S. et al. Rice zinc finger protein DST enhances grain production through controlling Gn1a/OsCKX2 expression. Proc. Natl Acad. Sci. USA 110, 3167–3172 (2013).

23.

Kojima, M. et al. Highly sensitive and high-throughput analysis of plant hormones using MS-probe modification and liquid chromatography-tandem mass spectrometry: an application for hormone profiling in Oryza sativa. Plant Cell Physiol. 50, 1201–1214 (2009).

24.

Shinozaki, Y. et al. Ethylene suppresses tomato (Solanum lycopersicum) fruit set through modification of gibberellin metabolism. Plant J. 83, 237–251 (2015).

25.

Minami, A. et al. Cold acclimation in bryophytes: low-temperature-induced freezing tolerance in Physcomitrella patens is associated with increases in expression levels of stress-related genes but not with increase in level of endogenous abscisic acid. Planta 220, 414–423 (2005).

26.

Ueguchi-Tanaka, M. et al. Molecular interactions of a soluble gibberellin receptor, GID1, with a rice DELLA protein, SLR1, and gibberellin. Plant Cell 19, 2140–2155 (2007).

27.

Zhang, H.-B., Zhao, X., Ding, X., Paterson, A. H. & Wing, R. A. Preparation of megabase-size DNA from plant nuclei. Plant J. 7, 175–184 (1995).

28.

International Rice Genome Sequencing Project. The map-based sequence of the rice genome. Nature 436, 793–800 (2005).

29.

Mikami, M., Toki, S. & Endo, M. Comparison of CRISPR/Cas9 expression constructs for efficient targeted mutagenesis in rice. Plant Mol. Biol. 88, 561–572 (2015).

30.

Hiei, Y., Ohta, S., Komari, T. & Kumashiro, T. Efficient transformation of rice (Oryza sativa L.) mediated by Agrobacterium and sequence analysis of the boundaries of the T-DNA. Plant J. 6, 271–282 (1994).

31.

Kuroha, T. et al. eQTLs regulating transcript variations associated with rapid internode elongation in deepwater rice. Front. Plant Sci. 8, 1753 (2017).

32.

Arends, D., Prins, P., Jansen, R. C. & Broman, K. W. R/qtl: high-throughput multiple QTL mapping. Bioinformatics 26, 2990–2992 (2010).

33.

Cubillos, F. A. et al. Expression variation in connected recombinant populations of Arabidopsis thaliana highlights distinct transcriptome architectures. BMC Genomics 13, 117 (2012).

34.

Yamaji, N. & Ma, J. F. Spatial distribution and temporal variation of the rice silicon transporter Lsi1. Plant Physiol. 143, 1306–1313 (2007).

35.

Himuro, Y. et al. Arabidopsis galactinol synthase AtGolS2 improves drought tolerance in the monocot model Brachypodium distachyon. J. Plant Physiol. 171, 1127–1131 (2014).

36.

Alves, S. C. et al. A protocol for Agrobacterium-mediated transformation of Brachypodium distachyon community standard line Bd21. Nat. Protocols 4, 638–649 (2009).

37.

Hisano, H. & Sato, K. Genomic regions responsible for amenability to Agrobacterium-mediated transformation in barley. Sci. Rep. 6, 37505 (2016).

38.

Takahashi, W. & Takamizo, T. Plant regeneration from embryogenic calli of the wild sugarcane (Saccharum spontaneum L.) clone 'Glagah Kloet '. Bull. NARO Inst. Livest. Grassl. Sci. 13, 23–32 (2013).

39.

Takahashi, W., Oishi, H., Ebina, M., Takamizo, T. & Komatsu, T. Production of transgenic italian ryegrass (Lolium multiflorum Lam.) via microprojectile bombardment of embryogenic calli. Plant Biotechnol. 19, 241–249 (2002).

40.

Spangenberg, G. et al. Transgenic tall fescue (Festuca arundinacea) and red fescue (F. rubra) plants from microprojectile bombardment of embryogenic suspension cells. J. Plant Physiol. 145, 693–701 (1995).

41.

Li, H. & Durbin, R. Fast and accurate short read alignment with Burrows–Wheeler transform. Bioinformatics 25, 1754–1760 (2009).

42.

Browning, B. L. & Browning, S. R. Genotype imputation with millions of reference samples. Am. J. Hum. Genet. 98, 116–126 (2016).

43.

Szpiech, Z. A. & Hernandez, R. D. selscan: an efficient multithreaded program to perform EHH-based scans for positive selection. Mol. Biol. Evol. 31, 2824–2827 (2014).

44.

Sabeti, P. C. et al. Detecting recent positive selection in the human genome from haplotype structure. Nature 419, 832–837 (2002).

45.

Voight, B. F., Kudaravalli, S., Wen, X. & Pritchard, J. K. A map of recent positive selection in the human genome. PLoS Biol. 4, e72 (2006).

46.

Minami, A. et al. Time-course transcriptomics analysis reveals key responses of submerged deepwater rice to flooding. Plant Physiol. 176, 3081–3102 (2018).

47.

Taoka, K. et al. 14-3-3 proteins act as intracellular receptors for rice Hd3a florigen. Nature 476, 332–335 (2011).

48.

Kobayashi, K. et al. Inflorescence meristem identity in rice is specified by overlapping functions of three AP1/FUL-like MADS box genes and PAP2, a SEPALLATA MADS box gene. Plant Cell 24, 1848–1859 (2012).

49.

Tsuji, H. et al. Hd3a promotes lateral branching in rice. Plant J. 82, 256–266 (2015).

50.

Kaneko-Suzuki, M. et al. TFL1-like proteins in rice antagonize rice FT-like protein in inflorescence development by competition for complex formation with 14-3-3 and FD. Plant Cell Physiol. 59, 458–468 (2018).

51.

Ikeda, A. et al. slender rice, a constitutive gibberellin response mutant, is caused by a null mutation of the SLR1 gene, an ortholog of the height-regulating gene GAI/RGA/RHT/D8. Plant Cell 13, 999–1010 (2001).

52.

Fu, X. et al. Gibberellin-mediated proteasome-dependent degradation of the barley DELLA protein SLN1 repressor. Plant Cell 14, 3191–3200 (2002).

53.

Hoffmann-Benning, S. & Kende, H. On the role of abscisic acid and gibberellin in the regulation of growth in rice. Plant Physiol. 99, 1156–1161 (1992).

54.

Azuma, T., Mihara, F., Uchida, N., Yasuda, T. & Yamaguchi, T. Plant hormonal regulation of internodal elongation of floating rice stem sections. Japan. J. Trop. Agr. 34, 271–275 (1990).

55.

Nemoto, K., Ukai, Y., Tang, D.-Q., Kasai, Y. & Morita, M. Inheritance of early elongation ability in floating rice revealed by diallel and QTL analyses. Theor. Appl. Genet. 109, 42–47 (2004).

56.

Tang, D.-Q., Kasai, Y., Miyamoto, N., Ukai, Y. & Nemoto, K. Comparison of QTLs for early elongation ability between two floating rice cultivars with a different phylogenetic origin. Breed. Sci. 55, 1–5 (2005).

57.

Kawano, R., Doi, K., Yasui, H., Mochizuki, T. & Yoshimura, A. Mapping of QTLs for floating ability in rice. Breed. Sci. 58, 47–53 (2008).

58.

Han, Y. et al. Overexpression of OsSIN, encoding a novel small protein, causes short internodes in Oryza sativa. Plant Sci. 169, 487–495 (2005).

59.

Ohtsubo, Y., Ikeda-Ohtsubo, W., Nagata, Y. & Tsuda, M. GenomeMatcher: a graphical user interface for DNA sequence comparison. BMC Bioinformatics 9, 376 (2008).

60.

Sauter, M. & Kende, H. Gibberellin-induced growth and regulation of the cell division cycle in deepwater rice. Planta 188, 362–368 (1992).

61.

Ge, L. et al. Overexpression of OsRAA1 causes pleiotropic phenotypes in transgenic rice plants, including altered leaf, flower, and root development and root response to gravity. Plant Physiol. 135, 1502–1513 (2004).
Acknowledgements
We thank H. Morishima (deceased 2010) for encouragement to do this work and K. Suzuki, Y. Kondo, M. Koike, A. Minami, S. Reuscher, N. Yamaji, J. F. Ma and S. Sasaki for technical assistance; M. Mikami, S. Toki and M. Endo (NARO) for providing the CRISPR–Cas9 vectors; M. Ueguchi-Tanaka for providing the SLR1 antibody; and R. B. Angeles-Shim for English language editing. Deepwater rice, wild rice accessions and barley cv. Golden Promise were provided by the National Bioresource Project (NBRP) of the Ministry of Education, Culture, Sports, Science and Technology (MEXT) of Japan. This work was supported by the CREST programme of the Japan Science and Technology Agency (JST) (JPMJCR13B1); by the SATREPS programme (JPMJSA1706) of the JST and Japan International Cooperation Agency (JICA); by MEXT/JSPS KAKENHI (16K18565, 16H06466, 17H06473 and 19K15815); and by Genomics for Agricultural Innovation (QTL5003) of the Ministry of Agriculture, Forestry, and Fisheries of Japan (MAFF). This study was supported in part by RIKEN-Nagoya University Science and Technology Hub.
Ethics declarations
Competing interests
The authors declare no competing interests.
Additional information
Peer review information Nature thanks Patrick Achard, Julia Bailey-Serres and Bin Han for their contribution to the peer review of this work.
Publisher's note Springer Nature remains neutral with regard to jurisdictional claims in published maps and institutional affiliations.
Extended data figures and tables
Supplementary information
About this article
Cite this article
Nagai, K., Mori, Y., Ishikawa, S. et al. Antagonistic regulation of the gibberellic acid response during stem growth in rice. Nature 584, 109–114 (2020). https://doi.org/10.1038/s41586-020-2501-8
Received:

Accepted:

Published:

Issue Date:
Comments
By submitting a comment you agree to abide by our Terms and Community Guidelines. If you find something abusive or that does not comply with our terms or guidelines please flag it as inappropriate.