Abstract
The quantum-level interplay between geometry, topology and correlation is at the forefront of fundamental physics1,2,3,4,5,6,7,8,9,10,11,12,13,14,15. Kagome magnets are predicted to support intrinsic Chern quantum phases owing to their unusual lattice geometry and breaking of time-reversal symmetry14,15. However, quantum materials hosting ideal spin–orbit-coupled kagome lattices with strong out-of-plane magnetization are lacking16,17,18,19,20,21. Here, using scanning tunnelling microscopy, we identify a new topological kagome magnet, TbMn6Sn6, that is close to satisfying these criteria. We visualize its effectively defect-free, purely manganese-based ferromagnetic kagome lattice with atomic resolution. Remarkably, its electronic state shows distinct Landau quantization on application of a magnetic field, and the quantized Landau fan structure features spin-polarized Dirac dispersion with a large Chern gap. We further demonstrate the bulk–boundary correspondence between the Chern gap and the topological edge state, as well as the Berry curvature field correspondence of Chern gapped Dirac fermions. Our results point to the realization of a quantum-limit Chern phase in TbMn6Sn6, and may enable the observation of topological quantum phenomena in the RMn6Sn6 (where R is a rare earth element) family with a variety of magnetic structures. Our visualization of the magnetic bulk–boundary–Berry correspondence covering real space and momentum space demonstrates a proof-of-principle method for revealing topological magnets.
Relevant articles
Open Access articles citing this article.
S. X. M. Riberolles

,

Tyler J. Slade

…

R. J. McQueeney

Nature Communications Open Access 09 May 2023

Boqin Song

,

Tianping Ying

…

Shiyan Li

Nature Communications Open Access 29 April 2023

Hui Zhou

,

Hang Liu

…

Jia-Tao Sun

npj Quantum Materials Open Access 08 April 2023
Access options
Access Nature and 54 other Nature Portfolio journals
Get Nature+, our best-value online-access subscription
$29.99 / 30 days
cancel any time
Subscribe to this journal
Receive 51 print issues and online access
$199.00 per year
only $3.90 per issue
Rent or buy this article
Get just this article for as long as you need it
$39.95
Prices may be subject to local taxes which are calculated during checkout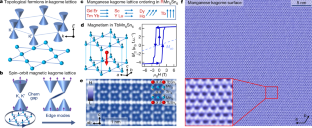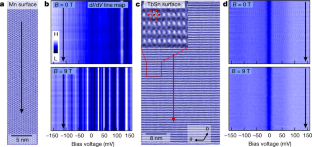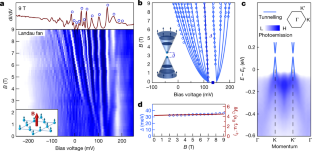 Data availability
The data that support the findings of this study are available from the corresponding authors upon reasonable request. Source data are provided with this paper.
References
Keimer, B. & Moore, J. E. The physics of quantum materials. Nat. Phys. 13, 1045–1055 (2017).

Sachdev, S. Topological order, emergent gauge fields, and Fermi surface reconstruction. Rep. Prog. Phys. 82, 014001 (2019).

Hasan, M. Z. et al. Topological insulators, topological superconductors and Weyl fermion semimetals: discoveries, perspectives and outlooks. Phys. Scr. 2015, 014001 (2015); corrigendum 2016, 019501 (2016).

He, K., Wang, Y. & Xue, Q.-K. Topological materials: quantum anomalous Hall system. Annu. Rev. Condens. Matter Phys. 9, 329–344 (2018).

Franz, M. & Rozali, M. Mimicking black hole event horizons in atomic and solid-state systems. Nat. Rev. Mater. 3, 491–501 (2018).

Armitage, N. P., Mele, E. J. & Vishwanath, A. Weyl and Dirac semimetals in three-dimensional solids. Rev. Mod. Phys. 90, 015001 (2018).

Yin, J. X. et al. Giant and anisotropic many-body spin–orbit tunability in a strongly correlated kagome magnet. Nature 562, 91–95 (2018).

Yin, J.-X. et al. Negative flat band magnetism in a spin–orbit-coupled correlated kagome magnet. Nat. Phys. 15, 443–448 (2019).

Thouless, D. J. et al. Quantized Hall conductance in a two-dimensional periodic potential. Phys. Rev. Lett. 49, 405–408 (1982).

Haldane, F. D. M. Model for a quantum Hall effect without Landau levels: condensed-matter realization of the "parity anomaly". Phys. Rev. Lett. 61, 2015–2018 (1988).

Chang, C. Z. et al. Experimental observation of the quantum anomalous Hall effect in a magnetic topological insulator. Science 340, 167–170 (2013).

Sharpe, A. L. et al. Emergent ferromagnetism near three-quarters filling in twisted bilayer graphene. Science 365, 605–608 (2019).

Zou, J., He, Z. & Xu, G. The study of magnetic topological semimetals by first principles calculations. npj Comput. Mater. 5, 96 (2019).

Tang, E., Mei, J. W. & Wen, X. G. High-temperature fractional quantum Hall states. Phys. Rev. Lett. 106, 236802 (2011).

Xu, G., Lian, B. & Zhang, S.-C. Intrinsic quantum anomalous Hall effect in the kagome lattice Cs2LiMn3F12. Phys. Rev. Lett. 115, 186802 (2015).

Nakatsuji, S., Kiyohara, N. & Higo, T. Large anomalous Hall effect in a non-collinear antiferromagnet at room temperature. Nature 527, 212–215 (2015).

Ye, L. et al. Massive Dirac fermions in a ferromagnetic kagome metal. Nature 555, 638–642 (2018).

Liu, E. et al. Giant anomalous Hall effect in a ferromagnetic kagome-lattice semimetal. Nat. Phys. 14, 1125–1131 (2018).

Kang, M. et al. Dirac fermions and flat bands in the ideal kagome metal FeSn. Nat. Mater. 19, 163–169 (2020).

Lin, Z. et al. Flatbands and emergent ferromagnetic ordering in Fe3Sn2 kagome lattices. Phys. Rev. Lett. 121, 096401 (2018).

Kane, C. L. & Mele, E. J. Quantum spin Hall effect in graphene. Phys. Rev. Lett. 95, 226801 (2005).

Venturini, G., ElIdrissi, B. C. & Malaman, B. Magnetic properties of RMn6Sn6 (R = Sc, Y, Gd–Tm, Lu) compounds with HfFe6Ge6 type structure. J. Magn. Magn. Mater. 94, 35–42 (1991).

Malaman, B. et al. Magnetic properties of RMn6Sn6 (R = Gd–Er) compounds from neutron diffraction and Mössbauer measurements. J. Magn. Magn. Mater. 202, 519–534 (1999).

El Idrissi, B. C., Venturini, G., Malaman, B. & Fruchart, D. Magnetic structures of TbMn6Sn6 and HoMn6Sn6 compounds from neutron diffraction study. J. Less Common Met. 175, 143–154 (1991).

Jiao, L. et al. Signatures for half-metallicity and nontrivial surface states in the kagome lattice Weyl semimetal Co3Sn2S2. Phys. Rev. B 99, 245158 (2019).

Yang, H.-H. et al. Scanning tunneling microscopy on cleaved Mn3Sn(0001) surface. Sci. Rep. 9, 9677 (2019).

Rößler, S. et al. Hybridization gap and Fano resonance in SmB6. Proc. Natl Acad. Sci. USA 111, 4798–4802 (2014).

Miller, D. L. et al. Observing the quantization of zero mass carriers in graphene. Science 324, 924–927 (2009).

Feldman, B. E. et al. Observation of a nematic quantum Hall liquid on the surface of bismuth. Science 354, 316–321 (2016).

Okada, Y., Serbyn, M., Lin, H. & Walkup, D. Observation of Dirac node formation and mass acquisition in a topological crystalline insulator. Science 341, 1496–1499 (2013).

Hanaguri, T., Igarashi, K. & Kawamura, M. Momentum-resolved Landau-level spectroscopy of Dirac surface state in Bi2Se3. Phys. Rev. B 82, 081305 (2010).

Wu, R. et al. Evidence for topological edge states in a large energy gap near the step edges on the surface of ZrTe5. Phys. Rev. X 6, 021017 (2016).

Tang, S. et al. Quantum spin Hall state in monolayer 1T′-WTe2. Nat. Phys. 13, 683–687 (2017).

Tian, Y. et al. Proper scaling of the anomalous Hall effect. Phys. Rev. Lett. 103, 087206 (2009).

Nagaosa, N., Sinova, J., Onoda, S., MacDonald, A. H. & Ong, N. P. Anomalous Hall effect. Rev. Mod. Phys. 82, 1539–1592 (2010).

Haldane, F. D. M. Berry curvature on the Fermi surface: anomalous Hall effect as a topological Fermi-liquid property. Phys. Rev. Lett. 93, 206602 (2004).

Yates, J. et al. Spectral and Fermi surface properties from Wannier interpolation. Phys. Rev. B 75, 195121 (2007).

Chang, M.-C. et al. Berry phase, hyperorbits, and the Hofstadter spectrum: semiclassical dynamics in magnetic Bloch bands. Phys. Rev. B 53, 7010–7023 (1996).

Sinitsyn, N. A., MacDonald, A. H., Jungwirth, T., Dugaev, V. K. & Sinova, J. Anomalous Hall effect in a two-dimensional Dirac band: the link between the Kubo–Streda formula and the semiclassical Boltzmann equation approach. Phys. Rev. B 75, 045315 (2007).

Kou, X. et al. Scale-invariant quantum anomalous Hall effect in magnetic topological insulators beyond the two-dimensional limit. Phys. Rev. Lett. 113, 137201 (2014).

Canfield, P. C. & Fisk, Z. Growth of single crystals from metallic fluxes. Phil. Mag. B 65, 1117–1123 (1992).

Clatterbuck, D. M. & Gschneidner, K. A. Magnetic properties of RMn6Sn6 (R = Tb, Ho, Er, Tm, Lu) single crystals. J. Magn. Magn. Mater. 207, 78–94 (1999).

Zajkov, N. K. et al. Magnetization processes in the TbMn6Sn6 compound. J. Alloys Compd 309, 26–30 (2000).

Shoenberg, D. Magnetic Oscillations in Metals (Cambridge Univ. Press, 2009).

Castro Neto, A. H., Guinea, F., Peres, N. M. R., Novoselov, K. S. & Geim, A. K. The electronic properties of graphene. Rev. Mod. Phys. 81, 109–162 (2009).

Blöchl, P. E. Projector augmented-wave method. Phys. Rev. B 50, 17953–17979 (1994).

Kresse, G. & Joubert, D. From ultrasoft pseudopotentials to the projector augmented-wave method. Phys. Rev. B 59, 1758–1775 (1999).

Kresse, G. & Furthmüller, J. Efficiency of ab-initio total energy calculations for metals and semiconductors using a plane-wave basis set. Comput. Mater. Sci. 6, 15–50 (1996).

Perdew, J. P., Burke, K. & Ernzerhof, M. Generalized gradient approximation made simple. Phys. Rev. Lett. 77, 3865–3868 (1996).

Vanpoucke, D. E. P. & Brocks, G. Formation of Pt-induced Ge atomic nanowires on Pt/Ge(001): a density functional theory study. Phys. Rev. B 77, 241308 (2008).
Acknowledgements
We thank B. Sales and Y. Xiong for providing other kagome materials for comparison study. We thank P. W. Anderson, D. Huse, D. Haldane, S. Wu and N. P. Ong for discussions. Experimental and theoretical work at Princeton University was supported by the Gordon and Betty Moore Foundation (GBMF4547; M.Z.H.). The material characterization (ARPES) is supported by the United States Department of Energy (US DOE) under the Basic Energy Sciences programme (grant number DOE/BES DE-FG-02-05ER46200). The work in Peking University was supported by the National Natural Science Foundation of China numbers U1832214 and 11774007, the National Key R&D Program of China (2018YFA0305601) and the strategic Priority Research Program of Chinese Academy of Sciences (XDB28000000). Work at Princeton's Imaging and Analysis Center is partially supported by the Princeton Center for Complex Materials, a National Science Foundation (NSF)-MRSEC program (DMR-1420541). Work at Boston College was supported by the US Department of Energy, Basic Energy Sciences grant number DE-FG02-99ER45747. T.N. acknowledges supports from the European Union's Horizon 2020 research and innovation programme (ERC-StG-Neupert-757867-PARATOP). T.A.C. acknowledges support by the National Science Foundation Graduate Research Fellowship Program under grant number DGE-1656466. This research used resources of the Advanced Light Source, a DOE Office of Science User Facility under contract number DE-AC02-05CH11231. We thank S.-K. Mo for support at beamline 10.0.1 of the Advanced Light Source. We acknowledge Diamond Light Source for time on beamline i05 under Proposal SI22332-1. We thank C. Cacho and T. Kim for support at beamline i05 of Diamond Light Source. T.-R.C. was supported by the Young Scholar Fellowship Program from the Ministry of Science and Technology (MOST) in Taiwan, under a MOST grant for the Columbus Program MOST109-2636-M-006-002, National Cheng Kung University, Taiwan, and National Center for Theoretical Sciences, Taiwan. This work was supported partially by the MOST, Taiwan, grant MOST107-2627-E-006-001. This research was supported in part by Higher Education Sprout Project, Ministry of Education to the Headquarters of University Advancement at National Cheng Kung University (NCKU). M.Z.H. acknowledges support from Lawrence Berkeley National Laboratory and the Miller Institute of Basic Research in Science at the University of California, Berkeley in the form of a Visiting Miller Professorship.
Ethics declarations
Competing interests
The authors declare no competing interests.
Additional information
Publisher's note Springer Nature remains neutral with regard to jurisdictional claims in published maps and institutional affiliations.
Extended data figures and tables
About this article
Cite this article
Yin, JX., Ma, W., Cochran, T.A. et al. Quantum-limit Chern topological magnetism in TbMn6Sn6. Nature 583, 533–536 (2020). https://doi.org/10.1038/s41586-020-2482-7
Received:

Accepted:

Published:

Issue Date:

DOI: https://doi.org/10.1038/s41586-020-2482-7
Comments
By submitting a comment you agree to abide by our Terms and Community Guidelines. If you find something abusive or that does not comply with our terms or guidelines please flag it as inappropriate.