Abstract
Bacterial toxins represent a vast reservoir of biochemical diversity that can be repurposed for biomedical applications. Such proteins include a group of predicted interbacterial toxins of the deaminase superfamily, members of which have found application in gene-editing techniques1,2. Because previously described cytidine deaminases operate on single-stranded nucleic acids3, their use in base editing requires the unwinding of double-stranded DNA (dsDNA)—for example by a CRISPR–Cas9 system. Base editing within mitochondrial DNA (mtDNA), however, has thus far been hindered by challenges associated with the delivery of guide RNA into the mitochondria4. As a consequence, manipulation of mtDNA to date has been limited to the targeted destruction of the mitochondrial genome by designer nucleases9,10.Here we describe an interbacterial toxin, which we name DddA, that catalyses the deamination of cytidines within dsDNA. We engineered split-DddA halves that are non-toxic and inactive until brought together on target DNA by adjacently bound programmable DNA-binding proteins. Fusions of the split-DddA halves, transcription activator-like effector array proteins, and a uracil glycosylase inhibitor resulted in RNA-free DddA-derived cytosine base editors (DdCBEs) that catalyse C•G-to-T•A conversions in human mtDNA with high target specificity and product purity. We used DdCBEs to model a disease-associated mtDNA mutation in human cells, resulting in changes in respiration rates and oxidative phosphorylation. CRISPR-free DdCBEs enable the precise manipulation of mtDNA, rather than the elimination of mtDNA copies that results from its cleavage by targeted nucleases, with broad implications for the study and potential treatment of mitochondrial disorders.
Relevant articles
Open Access articles citing this article.
Rui Wang

,

Jingyun Li

…

Fuchou Tang

Genome Medicine Open Access 16 August 2022

Young Geun Mok

,

Ji Min Lee

…

Jin-Soo Kim

Nature Communications Open Access 12 July 2022

Allison R. Hanaford

,

Yoon-Jae Cho

&

Hiroyuki Nakai

Orphanet Journal of Rare Diseases Open Access 06 June 2022
Access options
Subscribe to Nature+
Get immediate online access to the entire Nature family of 50+ journals
Subscribe to Journal
Get full journal access for 1 year
$199.00
only $3.90 per issue
All prices are NET prices.
VAT will be added later in the checkout.
Tax calculation will be finalised during checkout.
Buy article
Get time limited or full article access on ReadCube.
$32.00
All prices are NET prices.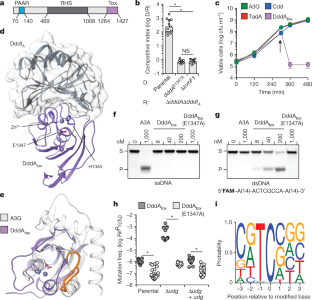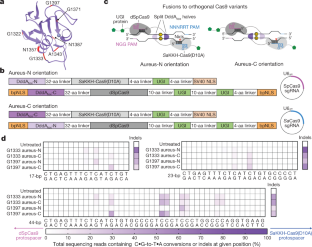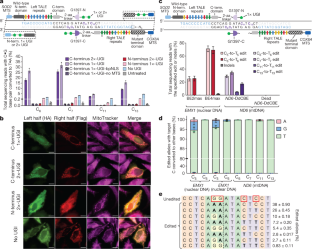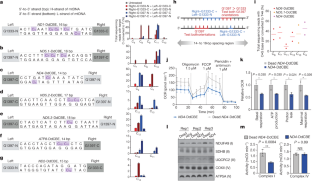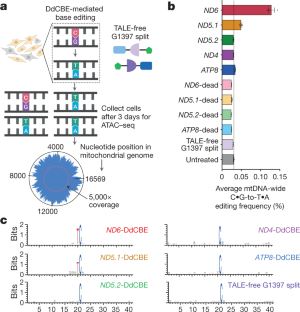 Data availability
Coordinates and structure factors for DddA have been deposited in the PDB under accession code 6U08. High-throughput sequencing and whole-mitochondria sequencing data have been deposited in the NCBI Sequence Read Archive under accession code PRJNA603010. Amino acids sequences of all base editors in this study are provided in the Supplementary Information, sequences 1–4.
References
Rees, H. A. & Liu, D. R. Base editing: precision chemistry on the genome and transcriptome of living cells. Nat. Rev. Genet. 19, 770–788 (2018).

Komor, A. C., Badran, A. H. & Liu, D. R. CRISPR-based technologies for the manipulation of eukaryotic genomes. Cell 169, 559 (2017).

Salter, J. D. & Smith, H. C. Modeling the embrace of a mutator: APOBEC selection of nucleic acid ligands. Trends Biochem. Sci. 43, 606–622 (2018).

Gammage, P. A., Moraes, C. T. & Minczuk, M. Mitochondrial genome engineering: the revolution may not be CRISPR-ized. Trends Genet. 34, 101–110 (2018).

Vafai, S. B. & Mootha, V. K. Mitochondrial disorders as windows into an ancient organelle. Nature 491, 374–383 (2012).

Gopal, R. K. et al. Early loss of mitochondrial complex I and rewiring of glutathione metabolism in renal oncocytoma. Proc. Natl Acad. Sci. USA 115, E6283–E6290 (2018).

Stewart, J. B. & Chinnery, P. F. The dynamics of mitochondrial DNA heteroplasmy: implications for human health and disease. Nat. Rev. Genet. 16, 530–542 (2015).

Bacman, S. R. et al. MitoTALEN reduces mutant mtDNA load and restores tRNAAla levels in a mouse model of heteroplasmic mtDNA mutation. Nat. Med. 24, 1696–1700 (2018).

Bacman, S. R., Williams, S. L., Pinto, M., Peralta, S. & Moraes, C. T. Specific elimination of mutant mitochondrial genomes in patient-derived cells by mitoTALENs. Nat. Med. 19, 1111–1113 (2013).

Gammage, P. A., Rorbach, J., Vincent, A. I., Rebar, E. J. & Minczuk, M. Mitochondrially targeted ZFNs for selective degradation of pathogenic mitochondrial genomes bearing large-scale deletions or point mutations. EMBO Mol. Med. 6, 458–466 (2014).

Nissanka, N., Bacman, S. R., Plastini, M. J. & Moraes, C. T. The mitochondrial DNA polymerase gamma degrades linear DNA fragments precluding the formation of deletions. Nat. Commun. 9, 2491 (2018).

Peeva, V. et al. Linear mitochondrial DNA is rapidly degraded by components of the replication machinery. Nat. Commun. 9, 1727 (2018).

Gaudelli, N. M. et al. Programmable base editing of A•T to G•C in genomic DNA without DNA cleavage. Nature 551, 464–471 (2017).

Komor, A. C., Kim, Y. B., Packer, M. S., Zuris, J. A. & Liu, D. R. Programmable editing of a target base in genomic DNA without double-stranded DNA cleavage. Nature 533, 420–424 (2016).

Iyer, L. M., Zhang, D., Rogozin, I. B. & Aravind, L. Evolution of the deaminase fold and multiple origins of eukaryotic editing and mutagenic nucleic acid deaminases from bacterial toxin systems. Nucleic Acids Res. 39, 9473–9497 (2011).

Coulthurst, S. The type VI secretion system: a versatile bacterial weapon. Microbiology 165, 503–515 (2019).

Hood, R. D. et al. A type VI secretion system of Pseudomonas aeruginosa targets a toxin to bacteria. Cell Host Microbe 7, 25–37 (2010).

Richardson, S. R., Narvaiza, I., Planegger, R. A., Weitzman, M. D. & Moran, J. V. APOBEC3A deaminates transiently exposed single-strand DNA during LINE-1 retrotransposition. eLife 3, e02008 (2014).

Krokan, H. E. & Bjørås, M. Base excision repair. Cold Spring Harb. Perspect. Biol. 5, a012583 (2013).

Urnov, F. D., Rebar, E. J., Holmes, M. C., Zhang, H. S. & Gregory, P. D. Genome editing with engineered zinc finger nucleases. Nat. Rev. Genet. 11, 636–646 (2010).

Joung, J. K. & Sander, J. D. TALENs: a widely applicable technology for targeted genome editing. Nat. Rev. Mol. Cell Biol. 14, 49–55 (2013).

Guilinger, J. P., Thompson, D. B. & Liu, D. R. Fusion of catalytically inactive Cas9 to FokI nuclease improves the specificity of genome modification. Nat. Biotechnol. 32, 577–582 (2014).

Qi, L. S. et al. Repurposing CRISPR as an RNA-guided platform for sequence-specific control of gene expression. Cell 152, 1173–1183 (2013).

Kleinstiver, B. P. et al. Broadening the targeting range of Staphylococcus aureus CRISPR–Cas9 by modifying PAM recognition. Nat. Biotechnol. 33, 1293–1298 (2015).

Nishimasu, H. et al. Crystal structure of Staphylococcus aureus Cas9. Cell 162, 1113–1126 (2015).

Anzalone, A. V. et al. Search-and-replace genome editing without double-strand breaks or donor DNA. Nature 576, 149–157 (2019).

Nishida, K. et al. Targeted nucleotide editing using hybrid prokaryotic and vertebrate adaptive immune systems. Science 353, aaf8729 (2016).

Komor, A. C. et al. Improved base excision repair inhibition and bacteriophage Mu Gam protein yields C:G-to-T:A base editors with higher efficiency and product purity. Sci. Adv. 3, eaao4774 (2017).

Nilsen, H. et al. Nuclear and mitochondrial uracil-DNA glycosylases are generated by alternative splicing and transcription from different positions in the UNG gene. Nucleic Acids Res. 25, 750–755 (1997).

Koblan, L. W. et al. Improving cytidine and adenine base editors by expression optimization and ancestral reconstruction. Nat. Biotechnol. 36, 843–846 (2018).

Bao, X. R. et al. Mitochondrial dysfunction remodels one-carbon metabolism in human cells. eLife 5, e10575 (2016).

Magnusson, J., Orth, M., Lestienne, P. & Taanman, J.-W. Replication of mitochondrial DNA occurs throughout the mitochondria of cultured human cells. Exp. Cell Res. 289, 133–142 (2003).

Gopal, R. K. et al. Widespread chromosomal losses and mitochondrial DNA alterations as genetic drivers in Hürthle cell carcinoma. Cancer Cell 34, 242–255.e5 (2018).

Rinaldi, F. C., Doyle, L. A., Stoddard, B. L. & Bogdanove, A. J. The effect of increasing numbers of repeats on TAL effector DNA binding specificity. Nucleic Acids Res. 45, 6960–6970 (2017).

Yang, L. et al. Engineering and optimising deaminase fusions for genome editing. Nat. Commun. 7, 13330 (2016).

Finn, R. D., Clements, J. & Eddy, S. R. HMMER web server: interactive sequence similarity searching. Nucleic Acids Res. 39, W29–W37 (2011).

Fazli, M., Harrison, J. J., Gambino, M., Givskov, M. & Tolker-Nielsen, T. In-frame and unmarked gene deletions in Burkholderia cenocepacia via an allelic exchange system compatible with gateway technology. Appl. Environ. Microbiol. 81, 3623–3630 (2015).

Spiewak, H. L. et al. Burkholderia cenocepacia utilizes a type VI secretion system for bacterial competition. MicrobiologyOpen 8, e774 (2019).

Choi, K. H., DeShazer, D. & Schweizer, H. P. mini-Tn7 insertion in bacteria with multiple glmS-linked attTn7 sites: example Burkholderia mallei ATCC 23344. Nat. Protoc. 1, 162–169 (2006).

Rees, H. A., Wilson, C., Doman, J. L. & Liu, D. R. Analysis and minimization of cellular RNA editing by DNA adenine base editors. Sci. Adv. 5, eaax5717 (2019).

Otwinowski, Z. & Minor, W. Processing of X-ray diffraction data collected in oscillation mode. Methods Enzymol. 276, 307–326 (1997).

Adams, P. D. et al. PHENIX: a comprehensive Python-based system for macromolecular structure solution. Acta Crystallogr. D 66, 213–221 (2010).

Emsley, P. & Cowtan, K. Coot: model-building tools for molecular graphics. Acta Crystallogr. D 60, 2126–2132 (2004).

Painter, J. & Merritt, E. A. Optimal description of a protein structure in terms of multiple groups undergoing TLS motion. Acta Crystallogr. D 62, 439–450 (2006).

Chen, V. B. et al. MolProbity: all-atom structure validation for macromolecular crystallography. Acta Crystallogr. D 66, 12–21 (2010).

Bhagwat, A. S. et al. Strand-biased cytosine deamination at the replication fork causes cytosine to thymine mutations in Escherichia coli. Proc. Natl Acad. Sci. USA 113, 2176–2181 (2016).

Kotrys, A. V. et al. Quantitative proteomics revealed C6orf203/MTRES1 as a factor preventing stress-induced transcription deficiency in human mitochondria. Nucleic Acids Res. 47, 7502–7517 (2019).

Schindelin, J. et al. Fiji: an open-source platform for biological-image analysis. Nat. Methods 9, 676–682 (2012).

Li, H. & Durbin, R. Fast and accurate short read alignment with Burrows–Wheeler transform. Bioinformatics 25, 1754–1760 (2009).

Koboldt, D. C. et al. VarScan 2: somatic mutation and copy number alteration discovery in cancer by exome sequencing. Genome Res. 22, 568–576 (2012).

Miller, S. M. et al. Continuous evolution of SpCas9 variants compatible with non-G PAMs. Nat. Biotechnol. 38, 471–481 (2020).

Rees, H. A. et al. Improving the DNA specificity and applicability of base editing through protein engineering and protein delivery. Nat. Commun. 8, 15790 (2017).

Clement, K. et al. CRISPResso2 provides accurate and rapid genome editing sequence analysis. Nat. Biotechnol. 37, 224–226 (2019).

Ludwig, L. S. et al. Lineage tracing in humans enabled by mitochondrial mutations and single-cell genomics. Cell 176, 1325–1339.e22 (2019).

Diroma, M. A., Ciaccia, L., Pesole, G. & Picardi, E. Elucidating the editome: bioinformatics approaches for RNA editing detection. Brief. Bioinform. 20, 436–447 (2019).

Doman, J. L., Raguram, A., Newby, G. A. & Liu, D. R. Evaluation and minimization of Cas9-independent off-target DNA editing by cytosine base editors. Nat. Biotechnol. 38, 620–628 (2020).

Vaser, R., Adusumalli, S., Leng, S. N., Sikic, M. & Ng, P. C. SIFT missense predictions for genomes. Nat. Protoc. 11, 1–9 (2016).
Acknowledgements
We thank C. Wilson, L. Ludwig, T. Wang, K. Zhao, W. H. Yeh, S. Miller, A. Sousa, H. Hayden and A. Vo for materials and technical advice. R. Harris provided APOBEC3A and L. Eberl provided B. cen H111. This work was supported by the Merkin Institute of Transformative Technologies in Healthcare; US National Institutes of Health (NIH) grants R01AI080609, U01AI142756, RM1HG009490, R35GM122455, R35GM118062 and P30DK089507; US Defense Threat Reduction Agency (DTRA) grant 1-13-1-0014; and the University of Washington Cystic Fibrosis Foundation Research Development Program (RDP) SINGH15R0. B.Y.M. was supported by a Singapore A*STAR National Science Scholarship (NSS) fellowship; M.H.d.M. was supported by Cystic Fibrosis Foundation Fellowship DEMORAA18F0; A.V.K. was supported by a National Science Centre (NCN) Poland mobility grant UMO-2019/32/T/NZ1/00459; and A.R. was supported by NIH T32 GM095450 and a National Science Foundation graduate research fellowship. V.K.M., J.D.M. and D.R.L. are supported by the Howard Hughes Medical Institute.
Ethics declarations
Competing interests
The Broad Institute and the University of Washington have filed provisional patent applications on base-editing systems described in this study, listing B.Y.M., M.H.d.M., S.B.P., J.D.M. and D.R.L. as inventors. D.R.L. is a consultant and co-founder of Prime Medicine, Beam Therapeutics, Pairwise Plants and Editas Medicine, companies that use genome editing. V.K.M. is a consultant to 5am Ventures and Janssen Pharmaceuticals.
Additional information
Peer review information Nature thanks Rahul Kohli, Fyodor Urnov and the other, anonymous, reviewer(s) for their contribution to the peer review of this work.
Publisher's note Springer Nature remains neutral with regard to jurisdictional claims in published maps and institutional affiliations.
Extended data figures and tables
Supplementary information
About this article
Cite this article
Mok, B.Y., de Moraes, M.H., Zeng, J. et al. A bacterial cytidine deaminase toxin enables CRISPR-free mitochondrial base editing. Nature 583, 631–637 (2020). https://doi.org/10.1038/s41586-020-2477-4
Received:

Accepted:

Published:

Issue Date:

DOI: https://doi.org/10.1038/s41586-020-2477-4
Comments
By submitting a comment you agree to abide by our Terms and Community Guidelines. If you find something abusive or that does not comply with our terms or guidelines please flag it as inappropriate.