Abstract
Connections between the gut and brain monitor the intestinal tissue and its microbial and dietary content1, regulating both physiological intestinal functions such as nutrient absorption and motility2,3, and brain-wired feeding behaviour2. It is therefore plausible that circuits exist to detect gut microorganisms and relay this information to areas of the central nervous system that, in turn, regulate gut physiology4. Here we characterize the influence of the microbiota on enteric-associated neurons by combining gnotobiotic mouse models with transcriptomics, circuit-tracing methods and functional manipulations. We find that the gut microbiome modulates gut-extrinsic sympathetic neurons: microbiota depletion leads to increased expression of the neuronal transcription factor cFos, and colonization of germ-free mice with bacteria that produce short-chain fatty acids suppresses cFos expression in the gut sympathetic ganglia. Chemogenetic manipulations, translational profiling and anterograde tracing identify a subset of distal intestine-projecting vagal neurons that are positioned to have an afferent role in microbiota-mediated modulation of gut sympathetic neurons. Retrograde polysynaptic neuronal tracing from the intestinal wall identifies brainstem sensory nuclei that are activated during microbial depletion, as well as efferent sympathetic premotor glutamatergic neurons that regulate gastrointestinal transit. These results reveal microbiota-dependent control of gut-extrinsic sympathetic activation through a gut–brain circuit.
Access options
Subscribe to Journal
Get full journal access for 1 year
$199.00
only $3.90 per issue
All prices are NET prices.
VAT will be added later in the checkout.
Tax calculation will be finalised during checkout.
Rent or Buy article
Get time limited or full article access on ReadCube.
from$8.99
All prices are NET prices.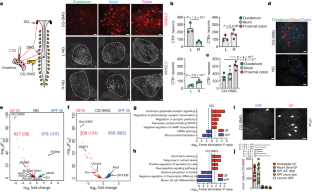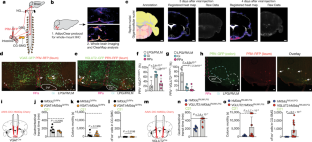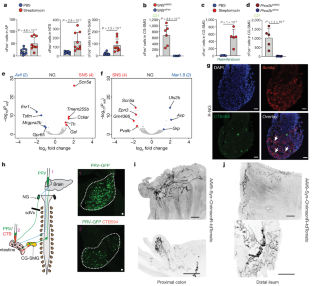 Data availability
TRAP RNA sequencing and 16S sequencing data that support the findings of this study have been deposited in the Gene Expression Omnibus repository (https://www.ncbi.nlm.nih.gov/geo/) under accession code GSE145986. Raw data are provided for all figures with bar graphs, namely Figs. 1–4 and Extended Data Figs. 1–10. Source data are provided with this paper.
References
1.

Furness, J. B., Rivera, L. R., Cho, H. J., Bravo, D. M. & Callaghan, B. The gut as a sensory organ. Nat. Rev. Gastroenterol. Hepatol. 10, 729–740 (2013).

2.

Han, W. et al. A neural circuit for gut-induced reward. Cell 175, 665–678 (2018).

3.

Williams, E. K. et al. Sensory neurons that detect stretch and nutrients in the digestive system. Cell 166, 209–221 (2016).

4.

Fung, T. C., Olson, C. A. & Hsiao, E. Y. Interactions between the microbiota, immune and nervous systems in health and disease. Nat. Neurosci. 20, 145–155 (2017).

5.

Veiga-Fernandes, H. & Mucida, D. Neuro-immune interactions at barrier surfaces. Cell 165, 801–811 (2016).

6.

Heiman, M., Kulicke, R., Fenster, R. J., Greengard, P. & Heintz, N. Cell type-specific mRNA purification by translating ribosome affinity purification (TRAP). Nat. Protocols 9, 1282–1291 (2014).

7.

Mei, Q., Mundinger, T. O., Kung, D., Baskin, D. G. & Taborsky, G. J., Jr. Fos expression in rat celiac ganglion: an index of the activation of postganglionic sympathetic nerves. Am. J. Physiol. Endocrinol. Metab. 281, E655–E664 (2001).

8.

Biggs, M. B. et al. Systems-level metabolism of the altered Schaedler flora, a complete gut microbiota. ISME J. 11, 426–438 (2017).

9.

Atarashi, K. et al. Treg induction by a rationally selected mixture of Clostridia strains from the human microbiota. Nature 500, 232–236 (2013).

10.

Gabanyi, I. et al. Neuro-immune interactions drive tissue programming in intestinal macrophages. Cell 164, 378–391 (2016).

11.

Braniste, V. et al. The gut microbiota influences blood-brain barrier permeability in mice. Sci. Transl. Med. 6, 263ra158 (2014).

12.

Rivera-Chávez, F. et al. Depletion of butyrate-producing Clostridia from the gut microbiota drives an aerobic luminal expansion of Salmonella. Cell Host Microbe 19, 443–454 (2016).

13.

Koh, A., De Vadder, F., Kovatcheva-Datchary, P. & Bäckhed, F. From dietary fiber to host physiology: short-chain fatty acids as key bacterial metabolites. Cell 165, 1332–1345 (2016).

14.

Nøhr, M. K. et al. Expression of the short chain fatty acid receptor GPR41/FFAR3 in autonomic and somatic sensory ganglia. Neuroscience 290, 126–137 (2015).

15.

Selwyn, F. P., Csanaky, I. L., Zhang, Y. & Klaassen, C. D. Importance of large intestine in regulating bile acids and glucagon-like peptide-1 in germ-free mice. Drug Metab. Dispos. 43, 1544–1556 (2015).

16.

Harach, T. et al. TGR5 potentiates GLP-1 secretion in response to anionic exchange resins. Sci. Rep. 2, 430 (2012).

17.

Young, J. B. & Landsberg, L. Suppression of sympathetic nervous system during fasting. Science 196, 1473–1475 (1977).

18.

Chi, J. et al. Three-dimensional adipose tissue imaging reveals regional variation in beige fat biogenesis and PRDM16-dependent sympathetic neurite density. Cell Metabolism 27, 226–236 (2018).

19.

Browning, K. N. & Travagli, R. A. Central nervous system control of gastrointestinal motility and secretion and modulation of gastrointestinal functions. Compr. Physiol. 4, 1339–1368 (2014).

20.

Barbara, G. et al. Interactions between commensal bacteria and gut sensorimotor function in health and disease. Am. J. Gastroenterol. 100, 2560–2568 (2005).

21.

Allen, W. E. et al. Thirst-associated preoptic neurons encode an aversive motivational drive. Science 357, 1149–1155 (2017).

22.

Renier, N. et al. Mapping of brain activity by automated volume analysis of immediate early genes. Cell 165, 1789–1802 (2016).

23.

Fung, C. et al. Cholinergic submucosal neurons display increased excitability following in vivo cholera toxin exposure in mouse ileum. Front. Physiol. 9, 260 (2018).

24.

Young, A. A. Brainstem sensing of meal-related signals in energy homeostasis. Neuropharmacology 63, 31–45 (2012).

25.

Pavlov, V. A., Chavan, S. S. & Tracey, K. J. Molecular and functional neuroscience in immunity. Annu. Rev. Immunol. 36, 783–812 (2018).

26.

Zeng, W. Z. et al. PIEZOs mediate neuronal sensing of blood pressure and the baroreceptor reflex. Science 362, 464–467 (2018).

27.

Berthoud, H. R., Jedrzejewska, A. & Powley, T. L. Simultaneous labeling of vagal innervation of the gut and afferent projections from the visceral forebrain with dil injected into the dorsal vagal complex in the rat. J. Comp. Neurol. 301, 65–79 (1990).

28.

Wang, F. B. & Powley, T. L. Topographic inventories of vagal afferents in gastrointestinal muscle. J. Comp. Neurol. 421, 302–324 (2000).

29.

Moriyama, S. et al. β2-adrenergic receptor-mediated negative regulation of group 2 innate lymphoid cell responses. Science 359, 1056–1061 (2018).

30.

Matheis, F. et al. Adrenergic signaling in muscularis macrophages limits infection-induced neuronal loss. Cell 180, 64–78 (2020).

31.

Zhang, B. et al. Hyperactivation of sympathetic nerves drives depletion of melanocyte stem cells. Nature 577, 676–681 (2020).

32.

Lai, N. Y. et al. Gut-innervating nociceptor neurons regulate Peyer's patch microfold cells and SFB levels to mediate Salmonella host defense. Cell 180, 33–49 (2020).

33.

Yadav, V. K. et al. Lrp5 controls bone formation by inhibiting serotonin synthesis in the duodenum. Cell 135, 825–837 (2008).

34.

Gomes-Neto, J. C. et al. A real-time PCR assay for accurate quantification of the individual members of the Altered Schaedler Flora microbiota in gnotobiotic mice. J. Microbiol. Methods 135, 52–62 (2017).

35.

Bai, L. et al. Genetic identification of vagal sensory neurons that control feeding. Cell 179, 1129–1143 (2019).

36.

Ye, L. et al. Wiring and molecular features of prefrontal ensembles representing distinct experiences. Cell 165, 1776–1788 (2016).

37.

Kennedy, H. S., Jones, C., III & Caplazi, P. Comparison of standard laminectomy with an optimized ejection method for the removal of spinal cords from rats and mice. J. Histotechnol. 36, 86–91 (2013).

38.

Bray, N. L., Pimentel, H., Melsted, P. & Pachter, L. Near-optimal probabilistic RNA-seq quantification. Nat. Biotechnol. 34, 525–527 (2016); erratum 34, 888 (2016).

39.

Love, M. I., Huber, W. & Anders, S. Moderated estimation of fold change and dispersion for RNA-seq data with DESeq2. Genome Biol. 15, 550 (2014).

40.

Edgar, R. C. Search and clustering orders of magnitude faster than BLAST. Bioinformatics 26, 2460–2461 (2010).

41.

Schloss, P. D. et al. Introducing mothur: open-source, platform-independent, community-supported software for describing and comparing microbial communities. Appl. Environ. Microbiol. 75, 7537–7541 (2009).

42.

McMurdie, P. J. & Holmes, S. phyloseq: an R package for reproducible interactive analysis and graphics of microbiome census data. PLoS ONE 8, e61217 (2013).

43.

Ertürk, A. et al. Three-dimensional imaging of solvent-cleared organs using 3DISCO. Nat. Protocols 7, 1983–1995 (2012).

44.

Abe, C. et al. C1 neurons mediate a stress-induced anti-inflammatory reflex in mice. Nat. Neurosci. 20, 700–707 (2017).

45.

Haak, B. W. et al. Impact of gut colonization with butyrate-producing microbiota on respiratory viral infection following allo-HCT. Blood 131, 2978–2986 (2018).
Acknowledgements
We thank all members of the Mucida laboratory, past and present, for assistance with experiments, fruitful discussions and critical reading of the manuscript. In particular we thank: A. Rogoz for maintaining gnotobiotic mice; S. Gonzalez for maintaining SPF mice; T. Rendon and B. Lopez for genotyping; C. Nowosad for setting up the ASF; A. North, C. Pyrgaki, T. Tong, C. Rico and P. Ariel of The Rockefeller University Bio-imaging Research Center for assistance with light-sheet microscopy and image analysis; The Rockefeller University Genomics Center for RNA sequencing; Rockefeller University employees for continuous assistance; T. Y. Oliveira for valuable discussions on TRAP-seq approaches and help with initial analysis; S. Poliak (Kallyope) for help in setting up tracing experiments and valuable input throughout the project; K. Loh and A. Ilanges for fruitful experimental discussions; J. Friedman and V. Ruta for the use of laboratory equipment; A. Lockhart, V. Jové and V. Ruta for critical reading of the manuscript; V. Jové for critical reading of reviewer responses; L. Vosshall, M. Nussenzweig, G. Victora and J. Lafaille and their respective laboratory members for fruitful discussions and suggestions; D. Littman and M. Xu for providing faeces from SFB monocolonized mice; D. Artis and G. Sonnenberg for providing germ-free mice and Clostridium consortium colonized mice; N. Arpaia for Gpr43−/− mice; S. Mehandru for Gpr109a−/− Gpr43−/− mice; J. Pluznick, J. Gordon and M. Yanagisawa for Gpr41−/− mice; I. Chiu and J. Wood for Nav1.8Cre mice; C. Woolf and R. Kuhner for SNSCre mice; A. Ramer-Tait for ASF caeca; J. Faith for germ-free mice; G. Donaldson for A. muciniphilia and B. fragilis monocolonized mice; and C. Nowosad for OligoMM12 mice. We finally thank R. U. Muller for his inspiration. This work was supported by National Institute of Diabetes and Digestive Kidney Diseases (NIDDK) grant K99 DK120869 (to M.S.); NIH Virus Center grant P40 OD010996; a NIH F31 Kirchstein Fellowship (to P.A.M.); National Center for Advancing Translational Sciences (NCATS) NIH grant UL1TR001866 (to P.A.M. and D.M.); a Philip M. Levine Fellowship (to P.A.M.); a Kavli Graduate Fellowship (to P.A.M.); a Kavli Postdoctoral Fellowship (to M.S.); an Anderson Graduate Fellowship (to F.M.); a Leon Levy Fellowship in Neuroscience (to J.d.M.); the Leona M. and Harry B. Helmsley Charitable Trust (to D.M.); the Kenneth Rainin Foundation (to D.M.); a Burroughs Wellcome Fund PATH Award (to D.M.); and Transformative grant R01DK116646 (to D.M).
Ethics declarations
Competing interests
The authors declare no competing financial interests.
Additional information
Peer review information Nature thanks Ulrika Marklund, Scott Russo and the other, anonymous, reviewer(s) for their contribution to the peer review of this work.
Publisher's note Springer Nature remains neutral with regard to jurisdictional claims in published maps and institutional affiliations.
Extended data figures and tables
Supplementary information
About this article
Cite this article
Muller, P.A., Schneeberger, M., Matheis, F. et al. Microbiota modulate sympathetic neurons via a gut–brain circuit. Nature 583, 441–446 (2020). https://doi.org/10.1038/s41586-020-2474-7
Received:

Accepted:

Published:

Issue Date:
Comments
By submitting a comment you agree to abide by our Terms and Community Guidelines. If you find something abusive or that does not comply with our terms or guidelines please flag it as inappropriate.