Abstract
Sexual dimorphism arises from genetic differences between male and female cells, and from systemic hormonal differences1,2,3. How sex hormones affect non-reproductive organs is poorly understood, yet highly relevant to health given the sex-biased incidence of many diseases4. Here we report that steroid signalling in Drosophila from the ovaries to the gut promotes growth of the intestine specifically in mated females, and enhances their reproductive output. The active ovaries of the fly produce the steroid hormone ecdysone, which stimulates the division and expansion of intestinal stem cells in two distinct proliferative phases via the steroid receptors EcR and Usp and their downstream targets Broad, Eip75B and Hr3. Although ecdysone-dependent growth of the female gut augments fecundity, the more active and more numerous intestinal stem cells also increase female susceptibility to age-dependent gut dysplasia and tumorigenesis, thus potentially reducing lifespan. This work highlights the trade-offs in fitness traits that occur when inter-organ signalling alters stem-cell behaviour to optimize organ size.
Relevant articles
Open Access articles citing this article.
Jennifer C. Regan

,

Yu-Xuan Lu

…

Linda Partridge

Nature Aging Open Access 01 December 2022

Shisi Xing

,

Dan Deng

…

Wei Peng

BMC Genomics Open Access 25 October 2022

Ben Liu

,

Meng Zhou

…

Kexin Chen

Cell Death & Disease Open Access 04 May 2021
Access options
Subscribe to Nature+
Get immediate online access to Nature and 55 other Nature journal
Subscribe to Journal
Get full journal access for 1 year
$199.00
only $3.90 per issue
All prices are NET prices.
VAT will be added later in the checkout.
Tax calculation will be finalised during checkout.
Buy article
Get time limited or full article access on ReadCube.
$32.00
All prices are NET prices.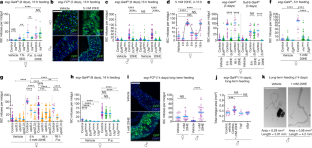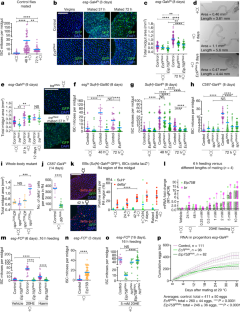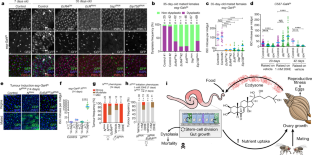 Code availability
Code for all FIJI macros used in this study is available for download via the Supplementary Information. These macros are available as Supplementary Data 1–6.
References
Capel, B. Vertebrate sex determination: evolutionary plasticity of a fundamental switch. Nat. Rev. Genet. 18, 675–689 (2017).

Hudry, B., Khadayate, S. & Miguel-Aliaga, I. The sexual identity of adult intestinal stem cells controls organ size and plasticity. Nature 530, 344–348 (2016).

Sieber, M. H. & Spradling, A. C. Steroid signaling establishes a female metabolic state and regulates SREBP to control oocyte lipid accumulation. Curr. Biol. 25, 993–1004 (2015).

Ober, C., Loisel, D. A. & Gilad, Y. Sex-specific genetic architecture of human disease. Nat. Rev. Genet. 9, 911–922 (2008).

Schwedes, C. C. & Carney, G. E. Ecdysone signaling in adult Drosophila melanogaster. J. Insect Physiol. 58, 293–302 (2012).

Lavrynenko, O. et al. The ecdysteroidome of Drosophila: influence of diet and development. Development 142, 3758–3768 (2015).

Ameku, T. & Niwa, R. Mating-induced increase in germline stem cells via the neuroendocrine system in female Drosophila. PLoS Genet. 12, e1006123 (2016).

Meiselman, M. et al. Endocrine network essential for reproductive success in Drosophila melanogaster. Proc. Natl Acad. Sci. USA 114, E3849–E3858 (2017).

Simon, A. F., Shih, C., Mack, A. & Benzer, S. Steroid control of longevity in Drosophila melanogaster. Science 299, 1407–1410 (2003).

Tricoire, H. et al. The steroid hormone receptor EcR finely modulates Drosophila lifespan during adulthood in a sex-specific manner. Mech. Ageing Dev. 130, 547–552 (2009).

Jiang, H. et al. Cytokine/Jak/Stat signaling mediates regeneration and homeostasis in the Drosophila midgut. Cell 137, 1343–1355 (2009).

Regan, J. C. et al. Sex difference in pathology of the ageing gut mediates the greater response of female lifespan to dietary restriction. eLife 5, e10956 (2016).

Jiang, H., Grenley, M. O., Bravo, M. J., Blumhagen, R. Z. & Edgar, B. A. EGFR/Ras/MAPK signaling mediates adult midgut epithelial homeostasis and regeneration in Drosophila. Cell Stem Cell 8, 84–95 (2011).

Zhang, P. et al. An SH3PX1-dependent endocytosis-autophagy network restrains intestinal stem cell proliferation by counteracting EGFR-ERK signaling. Dev. Cell 49, 574–589 (2019).

Reiff, T. et al. Endocrine remodelling of the adult intestine sustains reproduction in Drosophila. eLife 4, e06930 (2015).

Ono, H. et al. Spook and Spookier code for stage-specific components of the ecdysone biosynthetic pathway in Diptera. Dev. Biol. 298, 555–570 (2006).

Marvin, K. A. et al. Nuclear receptors Homo sapiens Rev-erbβ and Drosophila melanogaster E75 are thiolate-ligated heme proteins which undergo redox-mediated ligand switching and bind CO and NO. Biochemistry 48, 7056–7071 (2009).

White, K. P., Hurban, P., Watanabe, T. & Hogness, D. S. Coordination of Drosophila metamorphosis by two ecdysone-induced nuclear receptors. Science 276, 114–117 (1997).

Biteau, B., Hochmuth, C. E. & Jasper, H. JNK activity in somatic stem cells causes loss of tissue homeostasis in the aging Drosophila gut. Cell Stem Cell 3, 442–455 (2008).

Biteau, B. et al. Lifespan extension by preserving proliferative homeostasis in Drosophila. PLoS Genet. 6, e1001159 (2010).

Patel, P. H., Dutta, D. & Edgar, B. A. Niche appropriation by Drosophila intestinal stem cell tumours. Nat. Cell Biol. 17, 1182–1192 (2015).

O'Brien, D. M., Min, K.-J., Larsen, T. & Tatar, M. Use of stable isotopes to examine how dietary restriction extends Drosophila lifespan. Curr. Biol. 18, R155–R156 (2008).

Speakman, J. R. The physiological costs of reproduction in small mammals. Phil. Trans. R. Soc. Lond. B 363, 375–398 (2008).

Hammond, K. A. Adaptation of the maternal intestine during lactation. J. Mammary Gland Biol. Neoplasia 2, 243–252 (1997).

Amos-Landgraf, J. M. et al. Sex disparity in colonic adenomagenesis involves promotion by male hormones, not protection by female hormones. Proc. Natl Acad. Sci. USA 111, 16514–16519 (2014).

Manson, J. E. et al. Menopausal hormone therapy and long-term all-cause and cause-specific mortality: the women's health initiative randomized trials. J. Am. Med. Assoc. 318, 927–938 (2017).

Gunter, M. J. et al. Insulin, insulin-like growth factor-I, endogenous estradiol, and risk of colorectal cancer in postmenopausal women. Cancer Res. 68, 329–337 (2008).

Jiang, H. & Edgar, B. A. EGFR signaling regulates the proliferation of Drosophila adult midgut progenitors. Development 136, 483–493 (2009).

Lee, T. & Luo, L. Mosaic analysis with a repressible cell marker for studies of gene function in neuronal morphogenesis. Neuron 22, 451–461 (1999).

Palanker, L. et al. Dynamic regulation of Drosophila nuclear receptor activity in vivo. Development 133, 3549–3562 (2006).

Kozlova, T. & Thummel, C. S. Spatial patterns of ecdysteroid receptor activation during the onset of Drosophila metamorphosis. Development 129, 1739–1750 (2002).

Han, S. K. et al. OASIS 2: online application for survival analysis 2 with features for the analysis of maximal lifespan and healthspan in aging research. Oncotarget 7, 56147–56152 (2016).

Schindelin, J. et al. Fiji: an open-source platform for biological-image analysis. Nat. Methods 9, 676–682 (2012).

Liang, J., Balachandra, S., Ngo, S. & O'Brien, L. E. Feedback regulation of steady-state epithelial turnover and organ size. Nature 548, 588–591 (2017).

Zheng, W. et al. Dehydration triggers ecdysone-mediated recognition-protein priming and elevated anti-bacterial immune responses in Drosophila Malpighian tubule renal cells. BMC Biol. 16, 60 (2018).

Su, Y.-H. et al. Diet regulates membrane extension and survival of niche escort cells for germline homeostasis via insulin signaling. Development 145, dev159186 (2018).

Cáceres, L. et al. Nitric oxide coordinates metabolism, growth, and development via the nuclear receptor E75. Genes Dev. 25, 1476–1485 (2011).
Acknowledgements
We thank J. Zhou, I. Miguel-Aliaga, C. Thummel, P. Patel and L. O'Brien for stocks and discussions. We thank O. Salem of McMaster Immunology Research Centre for Fig. 3i and M. AbdelMoety of American University of the Middle East for the chemical structure in Fig. 3i. This work was supported by ERC AdG 268515, DFG SFB873 and NIH GM124434 to B.A.E., and by the Helmholtz Zukunftsthema 'Aging and Metabolic Programming' (AMPro) to A.A.T.
Ethics declarations
Competing interests
The authors declare no competing interests.
Additional information
Peer review information Nature thanks Henri Jasper, Marc Tatar and the other, anonymous, reviewer(s) for their contribution to the peer review of this work.
Publisher's note Springer Nature remains neutral with regard to jurisdictional claims in published maps and institutional affiliations.
Extended data figures and tables
Supplementary information
About this article
Cite this article
Ahmed, S.M.H., Maldera, J.A., Krunic, D. et al. Fitness trade-offs incurred by ovary-to-gut steroid signalling in Drosophila. Nature 584, 415–419 (2020). https://doi.org/10.1038/s41586-020-2462-y
Received:

Accepted:

Published:

Issue Date:

DOI: https://doi.org/10.1038/s41586-020-2462-y
Comments
By submitting a comment you agree to abide by our Terms and Community Guidelines. If you find something abusive or that does not comply with our terms or guidelines please flag it as inappropriate.