Abstract
Zika virus (ZIKV) belongs to the family Flaviviridae, and is related to other viruses that cause human diseases. Unlike other flaviviruses, ZIKV infection can cause congenital neurological disorders and replicates efficiently in reproductive tissues1,2,3. Here we show that the envelope protein (E) of ZIKV is polyubiquitinated by the E3 ubiquitin ligase TRIM7 through Lys63 (K63)-linked polyubiquitination. Accordingly, ZIKV replicates less efficiently in the brain and reproductive tissues of Trim7−/− mice. Ubiquitinated E is present on infectious virions of ZIKV when they are released from specific cell types, and enhances virus attachment and entry into cells. Specifically, K63-linked polyubiquitin chains directly interact with the TIM1 (also known as HAVCR1) receptor of host cells, which enhances virus entry in cells as well as in brain tissue in vivo. Recombinant ZIKV mutants that lack ubiquitination are attenuated in human cells and in wild-type mice, but not in live mosquitoes. Monoclonal antibodies against K63-linked polyubiquitin specifically neutralize ZIKV and reduce viraemia in mice. Our results demonstrate that the ubiquitination of ZIKV E is an important determinant of virus entry, tropism and pathogenesis.
Your institute does not have access to this article
Relevant articles
Open Access articles citing this article.
Shuai Wang

,

Zongyang Qiu

…

Xu Li

Cell Research Open Access 08 January 2021
Access options
Subscribe to Nature+
Get immediate online access to the entire Nature family of 50+ journals
Subscribe to Journal
Get full journal access for 1 year
$199.00
only $3.90 per issue
All prices are NET prices.
VAT will be added later in the checkout.
Tax calculation will be finalised during checkout.
Buy article
Get time limited or full article access on ReadCube.
$32.00
All prices are NET prices.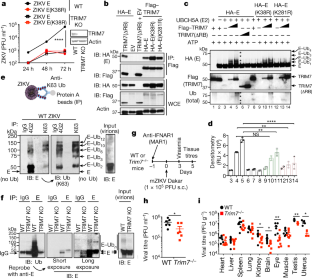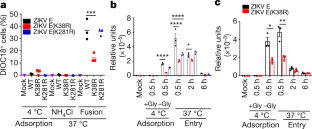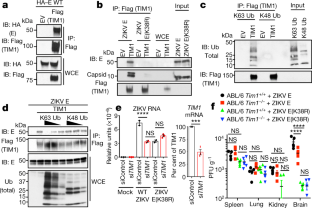 Data availability
All data are available in the Article and its Supplementary Information. Mutant viruses may be available upon request to the corresponding authors, after respective material transfer agreements are completed. Source data are provided with this paper.
References
Musso, D. et al. Potential sexual transmission of Zika virus. Emerg. Infect. Dis. 21, 359–361 (2015).

Hills, S. L. et al. Transmission of Zika virus through sexual contact with travelers to areas of ongoing transmission — continental United States, 2016. MMWR Morb. Mortal Wkly Rep. 65, 215–216 (2016).

Driggers, R. W. et al. Zika virus infection with prolonged maternal viremia and fetal brain abnormalities. N. Engl. J. Med. 374, 2142–2151 (2016).

van Tol, S., Hage, A., Giraldo, M. I., Bharaj, P. & Rajsbaum, R. The TRIMendous role of TRIMs in virus–host interactions. Vaccines (Basel) 5, 23 (2017).

Byk, L. A. et al. Dengue virus genome uncoating requires ubiquitination. MBio 7, e00804-16 (2016).

Fernandez-Garcia, M. D. et al. Appraising the roles of CBLL1 and the ubiquitin/proteasome system for flavivirus entry and replication. J. Virol. 85, 2980–2989 (2011).

Choy, M. M. et al. Proteasome inhibition suppresses dengue virus egress in antibody dependent infection. PLoS Negl. Trop. Dis. 9, e0004058 (2015).

Versteeg, G. A. et al. The E3-ligase TRIM family of proteins regulates signaling pathways triggered by innate immune pattern-recognition receptors. Immunity 38, 384–398 (2013).

Hage, A. & Rajsbaum, R. To TRIM or not to TRIM: the balance of host–virus interactions mediated by the ubiquitin system. J. Gen. Virol. 100, 1641–1662 (2019).

Bharaj, P. et al. The host E3-ubiquitin ligase TRIM6 ubiquitinates the Ebola Virus VP35 protein and promotes virus replication. J. Virol. 91, e00833-17 (2017).

Fink, J. et al. Host gene expression profiling of dengue virus infection in cell lines and patients. PLoS Negl. Trop. Dis. 1, e86 (2007).

Padilla-S, L., Rodríguez, A., Gonzales, M. M., Gallego-G, J. C. & Castaño-O, J. C. Inhibitory effects of curcumin on dengue virus type 2-infected cells in vitro. Arch. Virol. 159, 573–579 (2014).

Choy, M. M., Sessions, O. M., Gubler, D. J. & Ooi, E. E. Production of infectious dengue virus in Aedes aegypti is dependent on the ubiquitin proteasome pathway. PLoS Negl. Trop. Dis. 9, e0004227 (2015).

Kostyuchenko, V. A. et al. Structure of the thermally stable Zika virus. Nature 533, 425–428 (2016).

Pierson, T. C. & Kielian, M. Flaviviruses: braking the entering. Curr. Opin. Virol. 3, 3–12 (2013).

Rossi, S. L. et al. Characterization of a novel murine model to study Zika virus. Am. J. Trop. Med. Hyg. 94, 1362–1369 (2016).

Zhao, Z. et al. Viral retinopathy in experimental models of Zika infection. Invest. Ophthalmol. Vis. Sci. 58, 4355–4365 (2017).

Montori-Grau, M. et al. GNIP1 E3 ubiquitin ligase is a novel player in regulating glycogen metabolism in skeletal muscle. Metabolism 83, 177–187 (2018).

Le Sommer, C., Barrows, N. J., Bradrick, S. S., Pearson, J. L. & Garcia-Blanco, M. A. G protein-coupled receptor kinase 2 promotes flaviviridae entry and replication. PLoS Negl. Trop. Dis. 6, e1820 (2012).

Skurat, A. V., Dietrich, A. D., Zhai, L. & Roach, P. J. GNIP, a novel protein that binds and activates glycogenin, the self-glucosylating initiator of glycogen biosynthesis. J. Biol. Chem. 277, 19331–19338 (2002).

Zhai, L., Dietrich, A., Skurat, A. V. & Roach, P. J. Structure–function analysis of GNIP, the glycogenin-interacting protein. Arch. Biochem. Biophys. 421, 236–242 (2004).

Orchard, R. C. et al. Identification of antinorovirus genes in human cells using genome-wide CRISPR activation screening. J. Virol. 93, e01324-18 (2018).

Lu, M. et al. E3 ubiquitin ligase tripartite motif 7 positively regulates the TLR4-mediated immune response via its E3 ligase domain in macrophages. Mol. Immunol. 109, 126–133 (2019).

Chakraborty, A., Diefenbacher, M. E., Mylona, A., Kassel, O. & Behrens, A. The E3 ubiquitin ligase Trim7 mediates c-Jun/AP-1 activation by Ras signalling. Nat. Commun. 6, 6782 (2015).

Napolitano, L. M., Jaffray, E. G., Hay, R. T. & Meroni, G. Functional interactions between ubiquitin E2 enzymes and TRIM proteins. Biochem. J. 434, 309–319 (2011).

Chazotte, B. Labeling membrane glycoproteins or glycolipids with fluorescent wheat germ agglutinin. Cold Spring Harb. Protoc. 2011, pdb.prot5623 (2011).

Rossignol, E. D., Peters, K. N., Connor, J. H. & Bullitt, E. Zika virus induced cellular remodelling. Cell. Microbiol. 19, e12740 (2017).

Gorman, M. J. et al. An immunocompetent mouse model of Zika virus infection. Cell Host Microbe 23, 672–685 (2018).

Fontes-Garfias, C. R. et al. Functional analysis of glycosylation of Zika virus envelope protein. Cell Rep. 21, 1180–1190 (2017).

Modis, Y., Ogata, S., Clements, D. & Harrison, S. C. Structure of the dengue virus envelope protein after membrane fusion. Nature 427, 313–319 (2004).

Frias-Staheli, N. et al. Ovarian tumor domain-containing viral proteases evade ubiquitin- and ISG15-dependent innate immune responses. Cell Host Microbe 2, 404–416 (2007).

Hamel, R. et al. Biology of Zika virus infection in human skin cells. J. Virol. 89, 8880–8896 (2015).

Dai, L. et al. Structures of the Zika virus envelope protein and its complex with a flavivirus broadly protective antibody. Cell Host Microbe 19, 696–704 (2016).

Sirohi, D. et al. The 3.8 Å resolution cryo-EM structure of Zika virus. Science 352, 467–470 (2016).

Fibriansah, G. et al. Cryo-EM structure of an antibody that neutralizes dengue virus type 2 by locking E protein dimers. Science 349, 88–91 (2015).

Therkelsen, M. D. et al. Flaviviruses have imperfect icosahedral symmetry. Proc. Natl Acad. Sci. USA 115, 11608–11612 (2018).
Acknowledgements
We thank M. A. Garcia-Blanco, S. Bradrick and R. Soto for their generosity in sharing reagents and advice; Y. Liang for his technical advice on flow cytometry; M. Fan for providing the lentivirus to establish stable cell lines that express HA–Ub (pLenti puro HA-Ub), through Addgene; A. Gamarnik, R. Stephens and V. Menachery for suggestions and helpful discussions; T. Wang for providing some control mice; and L. Yeager for editing. The laboratory of R.R. was supported in part by the John Sealy Memorial Endowment Fund for Biomedical Research (UTMB), a research career development award (K12HD052023: BIRCWH program, from NIH ORWH/NICHD), and NIH/NIAID grants R21 AI132479-01, R21 AI126012-01A1 and R01 AI134907-01. S.V.T. was supported by NIH/NIAID T32-AI060549, and A.H. by NIH/NIAID T32 AI007526. P.-Y.S. was supported by NIH grants AI142759, AI134907, AI145617 and UL1TR001439, and awards from the Sealy & Smith Foundation, Kleberg Foundation, John S. Dunn Foundation, Amon G. Carter Foundation, Gilson Longenbaugh Foundation and Summerfield Robert Foundation. The laboratory of S.M.B. was supported in part by the Division of Intramural Research of the NIH/NIAID. J.R.J. and N.J.K. were supported by NIH/NIAID grant U19 AI118610.
Ethics declarations
Competing interests
The authors declare no competing interests.
Additional information
Peer review information Nature thanks Jan Carette and the other, anonymous, reviewer(s) for their contribution to the peer review of this work.
Publisher's note Springer Nature remains neutral with regard to jurisdictional claims in published maps and institutional affiliations.
Extended data figures and tables
Supplementary information
About this article
Cite this article
Giraldo, M.I., Xia, H., Aguilera-Aguirre, L. et al. Envelope protein ubiquitination drives entry and pathogenesis of Zika virus. Nature 585, 414–419 (2020). https://doi.org/10.1038/s41586-020-2457-8
Received:

Accepted:

Published:

Issue Date:

DOI: https://doi.org/10.1038/s41586-020-2457-8
Further reading
Shuai Wang
Zongyang Qiu
Xu Li

Cell Research (2021)

Moujian Guo
Lixia Hui
Ying Wu

Science China Life Sciences (2021)

Maria I. Giraldo
Adam Hage
Ricardo Rajsbaum

Current Clinical Microbiology Reports (2020)
Comments
By submitting a comment you agree to abide by our Terms and Community Guidelines. If you find something abusive or that does not comply with our terms or guidelines please flag it as inappropriate.