Abstract
The vascular interface of the brain, known as the blood–brain barrier (BBB), is understood to maintain brain function in part via its low transcellular permeability1,2,3. Yet, recent studies have demonstrated that brain ageing is sensitive to circulatory proteins4,5. Thus, it is unclear whether permeability to individually injected exogenous tracers—as is standard in BBB studies—fully represents blood-to-brain transport. Here we label hundreds of proteins constituting the mouse blood plasma proteome, and upon their systemic administration, study the BBB with its physiological ligand. We find that plasma proteins readily permeate the healthy brain parenchyma, with transport maintained by BBB-specific transcriptional programmes. Unlike IgG antibody, plasma protein uptake diminishes in the aged brain, driven by an age-related shift in transport from ligand-specific receptor-mediated to non-specific caveolar transcytosis. This age-related shift occurs alongside a specific loss of pericyte coverage. Pharmacological inhibition of the age-upregulated phosphatase ALPL, a predicted negative regulator of transport, enhances brain uptake of therapeutically relevant transferrin, transferrin receptor antibody and plasma. These findings reveal the extent of physiological protein transcytosis to the healthy brain, a mechanism of widespread BBB dysfunction with age and a strategy for enhanced drug delivery.
Your institute does not have access to this article
Relevant articles
Open Access articles citing this article.
Xiaotao Zhang

,

Rui Wang

…

Ligen Shi

Immunity & Ageing Open Access 25 July 2022

Kyle D. Brewer

,

Sophia M. Shi

&

Tony Wyss-Coray

Molecular Neurodegeneration Open Access 18 June 2022

Parvez Alam

,

Mikkel R. Holst

…

Morten S. Nielsen

Fluids and Barriers of the CNS Open Access 30 May 2022
Access options
Subscribe to Nature+
Get immediate online access to the entire Nature family of 50+ journals
Subscribe to Journal
Get full journal access for 1 year
$199.00
only $3.90 per issue
All prices are NET prices.
VAT will be added later in the checkout.
Tax calculation will be finalised during checkout.
Buy article
Get time limited or full article access on ReadCube.
$32.00
All prices are NET prices.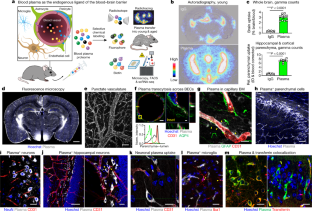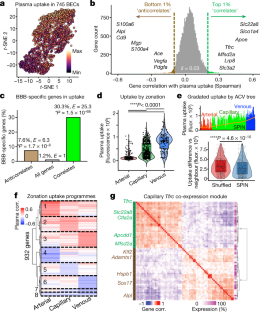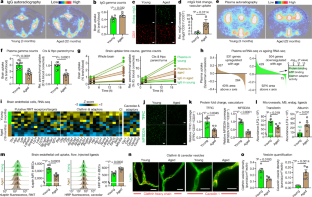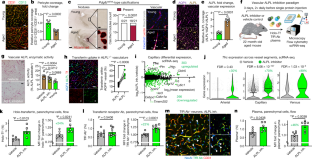 References
Obermeier, B., Daneman, R. & Ransohoff, R. M. Development, maintenance and disruption of the blood–brain barrier. Nat. Med. 19, 1584–1596 (2013).

Chow, B. W. & Gu, C. The molecular constituents of the blood–brain barrier. Trends Neurosci. 38, 598–608 (2015).

Profaci, C. P., Munji, R. N., Pulido, R. S. & Daneman, R. The blood–brain barrier in health and disease: important unanswered questions. J. Exp. Med. 217, e20190062 (2020).

Conboy, I. M. et al. Rejuvenation of aged progenitor cells by exposure to a young systemic environment. Nature 433, 760–764 (2005).

Villeda, S. A. et al. The ageing systemic milieu negatively regulates neurogenesis and cognitive function. Nature 477, 90–94 (2011).

Saunders, N. R., Daneman, R., Dziegielewska, K. M. & Liddelow, S. A. Transporters of the blood–brain and blood–CSF interfaces in development and in the adult. Mol. Aspects Med. 34, 742–752 (2013).

Saunders, N. R. et al. The rights and wrongs of blood–brain barrier permeability studies: a walk through 100 years of history. Front. Neurosci. 8, 404 (2014).

Reese, T. S. & Karnovsky, M. J. Fine structural localization of a blood–brain barrier to exogenous peroxidase. J. Cell Biol. 34, 207–217 (1967).

Poduslo, J. F., Curran, G. L. & Berg, C. T. Macromolecular permeability across the blood–nerve and blood–brain barriers. Proc. Natl Acad. Sci. USA 91, 5705–5709 (1994).

Yu, Y. J. & Watts, R. J. Developing therapeutic antibodies for neurodegenerative disease. Neurotherapeutics 10, 459–472 (2013).

Zuchero, Y. J. Y. et al. Discovery of novel blood–brain barrier targets to enhance brain uptake of therapeutic antibodies. Neuron 89, 70–82 (2016).

Niewoehner, J. et al. Increased brain penetration and potency of a therapeutic antibody using a monovalent molecular shuttle. Neuron 81, 49–60 (2014).

Bell, R. D. et al. Apolipoprotein E controls cerebrovascular integrity via cyclophilin A. Nature 485, 512–516 (2012).

Ben-Zvi, A. et al. Mfsd2a is critical for the formation and function of the blood–brain barrier. Nature 509, 507–511 (2014).

Daneman, R. et al. The mouse blood–brain barrier transcriptome: a new resource for understanding the development and function of brain endothelial cells. PLoS ONE 5, e13741 (2010).

Vanlandewijck, M. et al. A molecular atlas of cell types and zonation in the brain vasculature. Nature 554, 475–480 (2018).

Montagne, A. et al. Blood–brain barrier breakdown in the aging human hippocampus. Neuron 85, 296–302 (2015).

Yousef, H. et al. Aged blood impairs hippocampal neural precursor activity and activates microglia via brain endothelial cell VCAM1. Nat. Med. 25, 988–1000 (2019).

Andreone, B. J. et al. Blood–brain barrier permeability is regulated by lipid transport-dependent suppression of caveolae-mediated transcytosis. Neuron 94, 581–594.e5 (2017).

Armulik, A. et al. Pericytes regulate the blood–brain barrier. Nature 468, 557–561 (2010).

Keller, A. et al. Mutations in the gene encoding PDGF-B cause brain calcifications in humans and mice. Nat. Genet. 45, 1077–1082 (2013).

Zarb, Y. et al. Ossified blood vessels in primary familial brain calcification elicit a neurotoxic astrocyte response. Brain 142, 885–902 (2019).

Murshed, M., Harmey, D., Millán, J. L., McKee, M. D. & Karsenty, G. Unique coexpression in osteoblasts of broadly expressed genes accounts for the spatial restriction of ECM mineralization to bone. Genes Dev. 19, 1093–1104 (2005).

Dahl, R. et al. Discovery and validation of a series of aryl sulfonamides as selective inhibitors of tissue-nonspecific alkaline phosphatase (TNAP). J. Med. Chem. 52, 6919–6925 (2009).

Montagne, A., Zhao, Z. & Zlokovic, B. V. Alzheimer's disease: a matter of blood–brain barrier dysfunction? J. Exp. Med. 214, 3151–3169 (2017).

Zlokovic, B. V. Neurovascular pathways to neurodegeneration in Alzheimer's disease and other disorders. Nat. Rev. Neurosci. 12, 723–738 (2011).

Petersen, M. A., Ryu, J. K. & Akassoglou, K. Fibrinogen in neurological diseases: mechanisms, imaging and therapeutics. Nat. Rev. Neurosci. 19, 283–301 (2018).

Erdő, F., Denes, L. & de Lange, E. Age-associated physiological and pathological changes at the blood–brain barrier: a review. J. Cereb. Blood Flow Metab. 37, 4–24 (2017).

Daneman, R., Zhou, L., Kebede, A. A. & Barres, B. A. Pericytes are required for blood–brain barrier integrity during embryogenesis. Nature 468, 562–566 (2010).

Hall, C. N. et al. Capillary pericytes regulate cerebral blood flow in health and disease. Nature 508, 55–60 (2014).

Vardy, E. R. L. C., Kellett, K. A. B., Cocklin, S. L. & Hooper, N. M. Alkaline phosphatase is increased in both brain and plasma in Alzheimer's disease. Neurodegener. Dis. 9, 31–37 (2012).

Zlokovic, B. V., Deane, R., Sagare, A. P., Bell, R. D. & Winkler, E. A. Low-density lipoprotein receptor-related protein-1: a serial clearance homeostatic mechanism controlling Alzheimer's amyloid β-peptide elimination from the brain. J. Neurochem. 115, 1077–1089 (2010).

Yang, A. C. et al. Multiple click-selective tRNA synthetases expand mammalian cell-specific proteomics. J. Am. Chem. Soc. 140, 7046–7051 (2018).

Hughes, C. S. et al. Ultrasensitive proteome analysis using paramagnetic bead technology. Mol. Syst. Biol. 10, 757 (2014).

Cox, J. & Mann, M. MaxQuant enables high peptide identification rates, individualized p.p.b.-range mass accuracies and proteome-wide protein quantification. Nat. Biotechnol. 26, 1367–1372 (2008).

Tyanova, S., Temu, T. & Cox, J. The MaxQuant computational platform for mass spectrometry-based shotgun proteomics. Nat. Protoc. 11, 2301–2319 (2016).

Castellano, J. M. et al. Human umbilical cord plasma proteins revitalize hippocampal function in aged mice. Nature 544, 488–492 (2017).

Treweek, J. B. et al. Whole-body tissue stabilization and selective extractions via tissue-hydrogel hybrids for high-resolution intact circuit mapping and phenotyping. Nat. Protoc. 10, 1860–1896 (2015).

Tournoux, F. et al. Validation of noninvasive measurements of cardiac output in mice using echocardiography. J. Am. Soc. Echocardiogr. 24, 465–470 (2011).

Domínguez, E. et al. Non-invasive in vivo measurement of cardiac output in C57BL/6 mice using high frequency transthoracic ultrasound: evaluation of gender and body weight effects. Int. J. Cardiovasc. Imaging 30, 1237–1244 (2014).

Villeda, S. A. et al. Young blood reverses age-related impairments in cognitive function and synaptic plasticity in mice. Nat. Med. 20, 659–663 (2014).

Schnell, S. A., Staines, W. A. & Wessendorf, M. W. Reduction of lipofuscin-like autofluorescence in fluorescently labeled tissue. J. Histochem. Cytochem. 47, 719–730 (1999).

Triguero, D., Buciak, J. & Pardridge, W. M. Capillary depletion method for quantification of blood–brain barrier transport of circulating peptides and plasma proteins. J. Neurochem. 54, 1882–1888 (1990).

Singh, I. et al. Low levels of copper disrupt brain amyloid-β homeostasis by altering its production and clearance. Proc. Natl Acad. Sci. USA 110, 14771–14776 (2013).

Paris-Robidas, S., Brouard, D., Emond, V., Parent, M. & Calon, F. Internalization of targeted quantum dots by brain capillary endothelial cells in vivo. J. Cereb. Blood Flow Metab. 36, 731–742 (2016).

Preston, J. E., al-Sarraf, H. & Segal, M. B. Permeability of the developing blood–brain barrier to 14C-mannitol using the rat in situ brain perfusion technique. Brain Res. Dev. Brain Res. 87, 69–76 (1995).

Dan, M., Cochran, D. B., Yokel, R. A. & Dziubla, T. D. Binding, transcytosis and biodistribution of anti-PECAM-1 iron oxide nanoparticles for brain-targeted delivery. PLoS ONE 8, e81051 (2013).

Boulay, A. C., Saubaméa, B., Declèves, X. & Cohen-Salmon, M. Purification of mouse brain vessels. J. Vis. Exp. 105, e53208 (2015).

Ferreira, C. L. et al. Comparison of bifunctional chelates for 64Cu antibody imaging. Eur. J. Nucl. Med. Mol. Imaging 37, 2117–2126 (2010).

Ilovich, O. et al. Development and validation of an immuno-PET tracer as a companion diagnostic agent for antibody–drug conjugate therapy to target the CA6 epitope. Radiology 276, 191–198 (2015).

Chaney, A. et al. 11C-DPA-713 versus 18F-GE-180: a preclinical comparison of translocator protein 18 kDa PET tracers to visualize acute and chronic neuroinflammation in a mouse model of ischemic stroke. J. Nucl. Med. 60, 122–128 (2018).

Chaney, A. M., Johnson, E. M., Cropper, H. C. & James, M. L. PET imaging of neuroinflammation using [11C]DPA-713 in a mouse model of ischemic stroke. J. Vis. Exp. 136, 57243 (2018).

James, M. L. et al. New positron emission tomography (PET) radioligand for imaging σ-1 receptors in living subjects. J. Med. Chem. 55, 8272–8282 (2012).

Tabula Muris Consortium. Single-cell transcriptomics of 20 mouse organs creates a Tabula Muris. Nature 562, 367–372 (2018).

Picelli, S. et al. Full-length RNA-seq from single cells using Smart-seq2. Nat. Protoc. 9, 171–181 (2014).

Wu, A. R. et al. Quantitative assessment of single-cell RNA-sequencing methods. Nat. Methods 11, 41–46 (2014).

Chen, M. B. et al. Brain endothelial cells are exquisite sensors of age-related circulatory cues. Cell Rep. 30, 4418–4432.e4 (2020).

Li, Q. et al. Developmental heterogeneity of microglia and brain myeloid cells revealed by deep single-cell RNA sequencing. Neuron 101, 207–223.e10 (2019).

Tsafrir, D. et al. Sorting points into neighborhoods (SPIN): data analysis and visualization by ordering distance matrices. Bioinformatics 21, 2301–2308 (2005).

Yanagida, K. et al. Size-selective opening of the blood–brain barrier by targeting endothelial sphingosine 1-phosphate receptor 1. Proc. Natl Acad. Sci. USA 114, 4531–4536 (2017).

Butler, A., Hoffman, P., Smibert, P., Papalexi, E. & Satija, R. Integrating single-cell transcriptomic data across different conditions, technologies, and species. Nat. Biotechnol. 36, 411–420 (2018).

Pluvinage, J. V. et al. CD22 blockade restores homeostatic microglial phagocytosis in ageing brains. Nature 568, 187–192 (2019).

Iliff, J. J. et al. A paravascular pathway facilitates CSF flow through the brain parenchyma and the clearance of interstitial solutes, including amyloid β. Sci. Transl. Med. 4, 147ra111 (2012).

Xavier, A. L. R. et al. Cannula implantation into the cisterna magna of rodents. J. Vis. Exp. 135, 57378 (2018).

Renier, N. et al. iDISCO: a simple, rapid method to immunolabel large tissue samples for volume imaging. Cell 159, 896–910 (2014).

Cajka, T., Smilowitz, J. T. & Fiehn, O. Validating quantitative untargeted lipidomics across nine liquid chromatography-high-resolution mass spectrometry platforms. Anal. Chem. 89, 12360–12368 (2017).

Contrepois, K. et al. Cross-platform comparison of untargeted and targeted lipidomics approaches on aging mouse plasma. Sci. Rep. 8, 17747 (2018).

Zemski Berry, K. A., Murphy, R. C., Kosmider, B. & Mason, R. J. Lipidomic characterization and localization of phospholipids in the human lung. J. Lipid Res. 58, 926–933 (2017).

Luo, J. et al. Long-term cognitive impairments and pathological alterations in a mouse model of repetitive mild traumatic brain injury. Front. Neurol. 5, 12 (2014).

Kadakkuzha, B. M. et al. Transcriptome analyses of adult mouse brain reveal enrichment of lncRNAs in specific brain regions and neuronal populations. Front. Cell. Neurosci. 9, 63 (2015).

Sharma, K. et al. Cell type- and brain region-resolved mouse brain proteome. Nat. Neurosci. 18, 1819–1831 (2015).

Dougherty, J. D., Schmidt, E. F., Nakajima, M. & Heintz, N. Analytical approaches to RNA profiling data for the identification of genes enriched in specific cells. Nucleic Acids Res. 38, 4218–4230 (2010).

Ashburner, M. et al. Gene Ontology: tool for the unification of biology. Nat. Genet. 25, 25–29 (2000).

Harris, M. A. et al. The Gene Ontology (GO) database and informatics resource. Nucleic Acids Res. 32, D258–D261 (2004).

Zhang, X. D. et al. Traumatic brain injury imaging in the second near-infrared window with a molecular fluorophore. Adv. Mater. 28, 6872–6879 (2016).

Kiick, K. L., Saxon, E., Tirrell, D. A. & Bertozzi, C. R. Incorporation of azides into recombinant proteins for chemoselective modification by the Staudinger ligation. Proc. Natl Acad. Sci. USA 99, 19–24 (2002).

Calve, S., Witten, A. J., Ocken, A. R. & Kinzer-Ursem, T. L. Incorporation of non-canonical amino acids into the developing murine proteome. Sci. Rep. 6, 32377 (2016).

Liu, A. P., Aguet, F., Danuser, G. & Schmid, S. L. Local clustering of transferrin receptors promotes clathrin-coated pit initiation. J. Cell Biol. 191, 1381–1393 (2010).

Baruch, K. et al. Aging-induced type I interferon response at the choroid plexus negatively affects brain function. Science 346, 89–93 (2014).

Da Mesquita, S. et al. Functional aspects of meningeal lymphatics in ageing and Alzheimer's disease. Nature 560, 185–191 (2018).

Fuchs, S. B. A. et al. GeneAnalytics: an integrative gene set analysis tool for next generation sequencing, RNAseq and microarray data. OMICS 20, 139–151 (2016).

Eden, E., Navon, R., Steinfeld, I., Lipson, D. & Yakhini, Z. GOrilla: a tool for discovery and visualization of enriched GO terms in ranked gene lists. BMC Bioinformatics 10, 48 (2009).

Saunders, N. R., Dziegielewska, K. M., Møllgård, K. & Habgood, M. D. Physiology and molecular biology of barrier mechanisms in the fetal and neonatal brain. J. Physiol. (Lond.) 596, 5723–5756 (2018).

Zhao, Z., Nelson, A. R., Betsholtz, C. & Zlokovic, B. V. Establishment and dysfunction of the blood–brain barrier. Cell 163, 1064–1078 (2015).

Ximerakis, M. et al. Single-cell transcriptomic profiling of the aging mouse brain. Nat. Neurosci. 22, 1696–1708 (2019).

Simionescu, M. et al. The cerebral microvasculature of the rat: structure and luminal surface properties during early development. J. Submicrosc. Cytol. Pathol. 20, 243–261 (1988).

Hervé, F., Ghinea, N. & Scherrmann, J.-M. CNS delivery via adsorptive transcytosis. AAPS J. 10, 455–472 (2008).

Sabbagh, M. F. et al. Transcriptional and epigenomic landscapes of CNS and non-CNS vascular endothelial cells. eLife 7, e36187 (2018).

Zhang, Y. et al. Purification and characterization of progenitor and mature human astrocytes reveals transcriptional and functional differences with mouse. Neuron 89, 37–53 (2016).

Thul, P. J. et al. A subcellular map of the human proteome. Science 356, eaal3321 (2017).

Uhlén, M. et al. Tissue-based map of the human proteome. Science 347, 1260419 (2015).

Harold, D. et al. Genome-wide association study identifies variants at CLU and PICALM associated with Alzheimer's disease. Nat. Genet. 41, 1088–1093 (2009).
Acknowledgements
We thank K. Brewer, O. Leventhal, N. Schaum, S. R. Shuken, C. Munson, J. V. Pluvinage, C. A. Maat, N. Khoury and other members of the Wyss-Coray, James, Snyder and Elias laboratories for feedback and support; H. Zhang and K. Dickey for laboratory management; B. Carter for flow cytometry technical expertise; J. Mulholland and Y. Lim of the Stanford Cell Sciences Imaging Facility for help with high-resolution microscopy; and U. Langen and C. Gu for the MFSD2A antibody. This work was funded by the Department of Veterans Affairs (to T.W.-C.), the National Institute on Aging (DP1-AG053015 to T.W.-C., T32-AG0047126 to A.C.Y. and 1RF1AG059694 to T.W.-C. and J.L.), the National Institute of General Medical Sciences (R01-GM059907 to C.R.B.), the NOMIS Foundation (to T.W.-C.), the Glenn Foundation for Aging Research (to T.W.-C.), the National Institutes of Health (3P50HG00773505S1 to M.P.S.), and the Big Idea Brain Rejuvenation Project from the Wu Tsai Neurosciences Institute (to T.W.-C., J.E.E. and C.R.B.). A.C.Y was supported by a Siebel Scholarship. M.Y.S. is a Wallenberg Foundation postdoctoral fellow. S.R.Q. is a Chan Zuckerberg Investigator. We acknowledge the National Institutes of Health shared equipment grants, 1S10OD025091-01 and 1S10OD01227601 from the National Center for Research Resources (NCRR). This study was supported by the AHA-Allen Initiative in Brain Health and Cognitive Impairment: 19PABHI34580007. The statements in this work are solely the responsibility of the authors and do not necessarily represent the views of the American Heart Association (AHA) or the Paul G. Allen Frontiers Group.
Ethics declarations
Competing interests
C.R.B. is a co-founder and Scientific Advisory Board member of Palleon Pharmaceuticals, Enable Bioscience, InterVenn Bio and Redwood Bioscience (a subsidiary of Catalent), and a member of the Board of Directors of Eli Lilly and Company. T.W.-C. is a co-founder and scientific advisor of Alkahest Inc. T.W.-C. and A.C.Y. are co-inventors on a patent application related to the work published in this paper. N.O. is affiliated with Calico Life Sciences and has no financial interests to declare.
Additional information
Peer review information Nature thanks Peter Meikle, Christopher Walsh, and the other, anonymous, reviewer(s) for their contribution to the peer review of this work.
Publisher's note Springer Nature remains neutral with regard to jurisdictional claims in published maps and institutional affiliations.
Extended data figures and tables
Supplementary information
About this article
Cite this article
Yang, A.C., Stevens, M.Y., Chen, M.B. et al. Physiological blood–brain transport is impaired with age by a shift in transcytosis. Nature 583, 425–430 (2020). https://doi.org/10.1038/s41586-020-2453-z
Received:

Accepted:

Published:

Issue Date:

DOI: https://doi.org/10.1038/s41586-020-2453-z
Comments
By submitting a comment you agree to abide by our Terms and Community Guidelines. If you find something abusive or that does not comply with our terms or guidelines please flag it as inappropriate.