Abstract
The cortex organizes sensory information to enable discrimination and generalization1,2,3,4. As systematic representations of chemical odour space have not yet been described in the olfactory cortex, it remains unclear how odour relationships are encoded to place chemically distinct but similar odours, such as lemon and orange, into perceptual categories, such as citrus5,6,7. Here, by combining chemoinformatics and multiphoton imaging in the mouse, we show that both the piriform cortex and its sensory inputs from the olfactory bulb represent chemical odour relationships through correlated patterns of activity. However, cortical odour codes differ from those in the bulb: cortex more strongly clusters together representations for related odours, selectively rewrites pairwise odour relationships, and better matches odour perception. The bulb-to-cortex transformation depends on the associative network originating within the piriform cortex, and can be reshaped by passive odour experience. Thus, cortex actively builds a structured representation of chemical odour space that highlights odour relationships; this representation is similar across individuals but remains plastic, suggesting a means through which the olfactory system can assign related odour cues to common and yet personalized percepts.
Access options
Access Nature and 54 other Nature Portfolio journals
Get Nature+, our best-value online-access subscription
$29.99 / 30 days
cancel any time
Subscribe to this journal
Receive 51 print issues and online access
$199.00 per year
only $3.90 per issue
Rent or buy this article
Prices vary by article type
from$1.95
to$39.95
Prices may be subject to local taxes which are calculated during checkout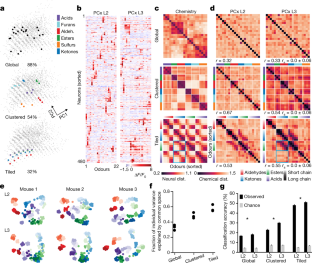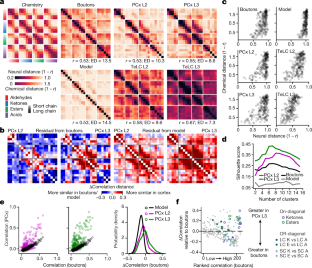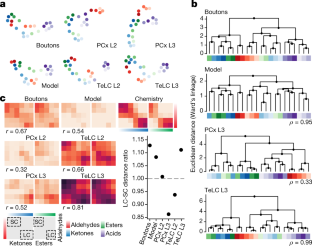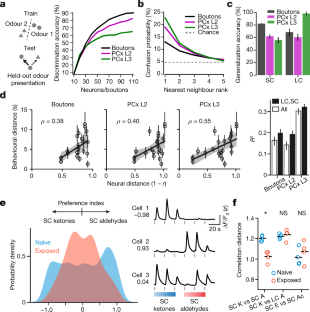 Similar content being viewed by others
References
Haberly, L. B. Parallel-distributed processing in olfactory cortex: new insights from morphological and physiological analysis of neuronal circuitry. Chem. Senses 26, 551–576 (2001).

Courtiol, E. & Wilson, D. A. The olfactory mosaic: bringing an olfactory network together for odor perception. Perception 46, 320–332 (2017).

Barnes, D. C., Hofacer, R. D., Zaman, A. R., Rennaker, R. L. & Wilson, D. A. Olfactory perceptual stability and discrimination. Nat. Neurosci. 11, 1378–1380 (2008).

Wilson, D. A. & Sullivan, R. M. Cortical processing of odor objects. Neuron 72, 506–519 (2011).

Haddad, R. et al. A metric for odorant comparison. Nat. Methods 5, 425–429 (2008).

Dravnieks, A. Odor quality: semantically generated multidimensional profiles are stable. Science 218, 799–801 (1982).

Schiffman, S. S. Physicochemical correlates of olfactory quality. Science 185, 112–117 (1974).

Amoore, J. E. Stereochemical theory of olfaction. Nature 198, 271–272 (1963).

Buck, L. & Axel, R. A novel multigene family may encode odorant receptors: a molecular basis for odor recognition. Cell 65, 175–187 (1991).

Malnic, B., Hirono, J., Sato, T. & Buck, L. B. Combinatorial receptor codes for odors. Cell 96, 713–723 (1999).

Mombaerts, P. et al. Visualizing an olfactory sensory map. Cell 87, 675–686 (1996).

Otazu, G. H., Chae, H., Davis, M. B. & Albeanu, D. F. Cortical feedback decorrelates olfactory bulb output in awake mice. Neuron 86, 1461–1477 (2015).

Friedrich, R. W. & Wiechert, M. T. Neuronal circuits and computations: pattern decorrelation in the olfactory bulb. FEBS Lett. 588, 2504–2513 (2014).

Chae, H. et al. Mosaic representations of odors in the input and output layers of the mouse olfactory bulb. Nat. Neurosci. 22, 1306–1317 (2019).

Sosulski, D. L., Bloom, M. L., Cutforth, T., Axel, R. & Datta, S. R. Distinct representations of olfactory information in different cortical centres. Nature 472, 213–216 (2011).

Miyamichi, K. et al. Cortical representations of olfactory input by trans-synaptic tracing. Nature 472, 191–196 (2011).

Davison, I. G. & Ehlers, M. D. Neural circuit mechanisms for pattern detection and feature combination in olfactory cortex. Neuron 70, 82–94 (2011).

Stettler, D. D. & Axel, R. Representations of odor in the piriform cortex. Neuron 63, 854–864 (2009).

Schaffer, E. S. et al. Odor perception on the two sides of the brain: consistency despite randomness. Neuron 98, 736–742.e3 (2018).

Roland, B., Deneux, T., Franks, K. M., Bathellier, B. & Fleischmann, A. Odor identity coding by distributed ensembles of neurons in the mouse olfactory cortex. eLife 6, e26337 (2017).

Iurilli, G. & Datta, S. R. Population coding in an innately relevant olfactory area. Neuron 93, 1180–1197 (2017).

Babadi, B. & Sompolinsky, H. Sparseness and expansion in sensory representations. Neuron 83, 1213–1226 (2014).

Barak, O., Rigotti, M. & Fusi, S. The sparseness of mixed selectivity neurons controls the generalization-discrimination trade-off. J. Neurosci. 33, 3844–3856 (2013).

Dasgupta, S., Stevens, C. F. & Navlakha, S. A neural algorithm for a fundamental computing problem. Science 358, 793–796 (2017).

Haberly, L. B. & Bower, J. M. Olfactory cortex: model circuit for study of associative memory? Trends Neurosci. 12, 258–264 (1989).

Bekkers, J. M. & Suzuki, N. Neurons and circuits for odor processing in the piriform cortex. Trends Neurosci. 36, 429–438 (2013).

Saito, H., Chi, Q., Zhuang, H., Matsunami, H. & Mainland, J. D. Odor coding by a Mammalian receptor repertoire. Sci. Signal. 2, ra9 (2009).

Cleland, T. A., Morse, A., Yue, E. L. & Linster, C. Behavioral models of odor similarity. Behav. Neurosci. 116, 222–231 (2002).

Bolding, K. A. & Franks, K. M. Recurrent cortical circuits implement concentration-invariant odor coding. Science 361, eaat6904 (2018).

Chapuis, J. & Wilson, D. A. Bidirectional plasticity of cortical pattern recognition and behavioral sensory acuity. Nat. Neurosci. 15, 155–161 (2011).

Shakhawat, A. M., Harley, C. W. & Yuan, Q. Arc visualization of odor objects reveals experience-dependent ensemble sharpening, separation, and merging in anterior piriform cortex in adult rat. J. Neurosci. 34, 10206–10210 (2014).

Sell, C. S. in Chemistry and the Sense of Smell Ch. 5, 237–296 (Wiley, 2014).

Gottfried, J. A., Winston, J. S. & Dolan, R. J. Dissociable codes of odor quality and odorant structure in human piriform cortex. Neuron 49, 467–479 (2006).

Fournel, A., Ferdenzi, C., Sezille, C., Rouby, C. & Bensafi, M. Multidimensional representation of odors in the human olfactory cortex. Hum. Brain Mapp. 37, 2161–2172 (2016).

Diodato, A. et al. Molecular signatures of neural connectivity in the olfactory cortex. Nat. Commun. 7, 12238 (2016).

Boyd, A. M., Kato, H. K., Komiyama, T. & Isaacson, J. S. Broadcasting of cortical activity to the olfactory bulb. Cell Rep. 10, 1032–1039 (2015).

Schoenfeld, T. A. & Macrides, F. Topographic organization of connections between the main olfactory bulb and pars externa of the anterior olfactory nucleus in the hamster. J. Comp. Neurol. 227, 121–135 (1984).

Challis, R. C. et al. Systemic AAV vectors for widespread and targeted gene delivery in rodents. Nat. Protoc. 14, 379–414 (2019).

Bruno, R. M. & Sakmann, B. Cortex is driven by weak but synchronously active thalamocortical synapses. Science 312, 1622–1627 (2006).

Minamisawa, G., Funayama, K., Matsuki, N. & Ikegaya, Y. Intact internal dynamics of the neocortex in acutely paralyzed mice. J. Physiol. Sci. 61, 343–348 (2011).

Simons, D. J. & Carvell, G. E. Thalamocortical response transformation in the rat vibrissa/barrel system. J. Neurophysiol. 61, 311–330 (1989).

Maklad, A., Quinn, T. & Fritzsch, B. Intracranial distribution of the sympathetic system in mice: DiI tracing and immunocytochemical labeling. Anat. Rec. 263, 99–111 (2001).

Doevendans, P. A. J., Daemen, M. J., de Muinck, E. D. & Smits, J. F. Cardiovascular phenotyping in mice. Cardiovasc. Res. 39, 34–49 (1998).

Carey, R. M. & Wachowiak, M. Effect of sniffing on the temporal structure of mitral/tufted cell output from the olfactory bulb. J. Neurosci. 31, 10615–10626 (2011).

Kepecs, A. & Uchida, N. The sniff as a unit of olfactory processing. Chem. Senses 31, 167–179 (2006).

Cheung, M. & Carey, R. A method for generating natural and user-defined sniffing patterns in anesthetized or reduced preparations. Chem. Senses 34, 63–76 (2009).

Moldestad, O., Karlsen, P., Molden, S. & Storm, J. F. Tracheotomy improves experiment success rate in mice during urethane anesthesia and stereotaxic surgery. J. Neurosci. Methods 176, 57–62 (2009).

Ecker, A. S. et al. State dependence of noise correlations in macaque primary visual cortex. Neuron 82, 235–248 (2014).

Goard, M. & Dan, Y. Basal forebrain activation enhances cortical coding of natural scenes. Nat. Neurosci. 12, 1444–1449 (2009).

Ma, L. et al. Distributed representation of chemical features and tunotopic organization of glomeruli in the mouse olfactory bulb. Proc. Natl. Acad. Sci. USA 109, 5481–5486 (2012).

Srinivasan, S. & Stevens, C. A quantitative description of the mouse piriform cortex. Preprint at https://www.bioRxiv.org/content/ 10.1101/099002v1.full (2017).

Hagiwara, A., Pal, S. K., Sato, T. F., Wienisch, M. & Murthy, V. N. Optophysiological analysis of associational circuits in the olfactory cortex. Front. Neural Circuits 6, 18 (2012).

Luna, V. M. & Morozov, A. Input-specific excitation of olfactory cortex microcircuits. Front. Neural Circuits 6, 69 (2012).

Pachitariu, M., Stringer, C., Dipoppa, M. & Schröder, S. Suite2p: beyond 10,000 neurons with standard two-photon microscopy. Preprint at https://www.bioRxiv.org/content/10.1101/061507v2 (2017).

Willmore, B. & Tolhurst, D. J. Characterizing the sparseness of neural codes. Network 12, 255–270 (2001).

McInnes, L., Healy, J. & Melville, J. UMAP: Uniform Manifold Approximation and Projection for Dimension Reduction. Preprint at https://arXiv.org/abs/1802.03426 (2018).

Haxby, J. V. et al. A common, high-dimensional model of the representational space in human ventral temporal cortex. Neuron 72, 404–416 (2011).

Cowley, B. et al. Distance Covariance Analysis. Proc. 20th International Conference on Artificial Intelligence and Statistics 54, 242–251 (2017).

Litwin-Kumar, A., Harris, K. D., Axel, R., Sompolinsky, H. & Abbott, L. F. Optimal degrees of synaptic connectivity. Neuron 93, 1153–1164 (2017).

Abbott, L. F., Rajan, K. & Sompolinsky, H. Interactions between intrinsic and stimulus-evoked activity in recurrent neural networks. Preprint at https://arXiv.org/abs/0912.3832 (2009).

Pedregosa, F. et al. Scikit-learn: Machine Learning in Python. J. Mach. Learn. Res. 12, 2825–2830 (2011).

Platt, J. Probabilistic outputs for support vector machines and comparisons to regularized likelihood methods. Adv. Large Margin Classifiers 10, 61–74 (1999).

Kirkpatrick, S., Gelatt, C. D. Jr & Vecchi, M. P. Optimization by simulated annealing. Science 220, 671–680 (1983).

Wilson, D. A. & Linster, C. Neurobiology of a simple memory. J. Neurophysiol. 100, 2–7 (2008).
Acknowledgements
We thank members of the Datta laboratory, J. Pillow, R. Axel, L. Abbott, A. Litvin-Kumar, C. Schoonover, A. Fink and V. Ruta for comments on the manuscript, S. Knemeyer for technical illustrations, and N. Bhagat for laboratory assistance. We thank N. Mathur for assistance with viral delivery of GCaMP6s. We thank A. Giessel for early development of tools for image acquisition and analysis. We thank O. Mazor and P. Gorelik from the Research Instrumentation Core Facility and Ludo Cacheux for engineering support. Core facility support is provided by NIH P30 grants HD18655 and NS072030. S.R.D. is supported by fellowships from the Vallee Foundation, by grants RO11DC016222 and U19 NS112953 from the National Institutes of Health and by the Simons Collaboration on the Global Brain. S.P. is supported by grant NS108410 from the National Institutes of Health. D.C. is supported by a Bertarelli Foundation Fellowship. S.L.P. is supported by grant DA036922 from the National Institutes of Health and the Stuart H.Q. and Victoria Quan Fellowship. G.I. is supported by the Armenise Foundation Career Development Award.
Ethics declarations
Competing interests
The authors declare no competing interests.
Additional information
Peer review information Nature thanks Vijay Balasubramanian and the other, anonymous, reviewer(s) for their contribution to the peer review of this work.
Publisher's note Springer Nature remains neutral with regard to jurisdictional claims in published maps and institutional affiliations.
Extended data figures and tables
Supplementary information
Physiochemical descriptor sets that maximize correspondence between chemistry and neural activity. Sets of physiochemical descriptors identified for each cortical odour set experiment and the bouton experiment with the tiled odour set. Terms reflecting the semantic meaning of a subset of these descriptors are highlighted, with terms associated with functional groups shown in blue, and those associated with molecular weight shown in red; identified features can be positively or negatively weighted, and therefore be either correlated or anti-correlated with neural activity driven by each of the odour sets. These results demonstrate that both cortex and boutons encode information about wide array of chemical features.
About this article
Cite this article
Pashkovski, S.L., Iurilli, G., Brann, D. et al. Structure and flexibility in cortical representations of odour space. Nature 583, 253–258 (2020). https://doi.org/10.1038/s41586-020-2451-1
Received:

Accepted:

Published:

Issue Date:

DOI: https://doi.org/10.1038/s41586-020-2451-1
Comments
By submitting a comment you agree to abide by our Terms and Community Guidelines. If you find something abusive or that does not comply with our terms or guidelines please flag it as inappropriate.