Abstract
Mammalian cells reorganize their proteomes in response to nutrient stress through translational suppression and degradative mechanisms using the proteasome and autophagy systems1,2. Ribosomes are central targets of this response, as they are responsible for translation and subject to lysosomal turnover during nutrient stress3,4,5. The abundance of ribosomal (r)-proteins (around 6% of the proteome; 107 copies per cell)6,7 and their high arginine and lysine content has led to the hypothesis that they are selectively used as a source of basic amino acids during nutrient stress through autophagy4,7. However, the relative contributions of translational and degradative mechanisms to the control of r-protein abundance during acute stress responses is poorly understood, as is the extent to which r-proteins are used to generate amino acids when specific building blocks are limited7. Here, we integrate quantitative global translatome and degradome proteomics8 with genetically encoded Ribo–Keima5 and Ribo–Halo reporters to interrogate r-protein homeostasis with and without active autophagy. In conditions of acute nutrient stress, cells strongly suppress the translation of r-proteins, but, notably, r-protein degradation occurs largely through non-autophagic pathways. Simultaneously, the decrease in r-protein abundance is compensated for by a reduced dilution of pre-existing ribosomes and a reduction in cell volume, thereby maintaining the density of ribosomes within single cells. Withdrawal of basic or hydrophobic amino acids induces translational repression without differential induction of ribophagy, indicating that ribophagy is not used to selectively produce basic amino acids during acute nutrient stress. We present a quantitative framework that describes the contributions of biosynthetic and degradative mechanisms to r-protein abundance and proteome remodelling in conditions of nutrient stress.
Access options
Access Nature and 54 other Nature Portfolio journals
Get Nature+, our best-value online-access subscription
$29.99 / 30 days
cancel any time
Subscribe to this journal
Receive 51 print issues and online access
$199.00 per year
only $3.90 per issue
Rent or buy this article
Prices vary by article type
from$1.95
to$39.95
Prices may be subject to local taxes which are calculated during checkout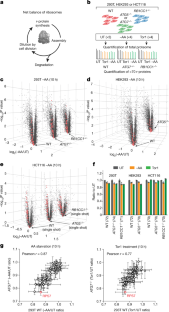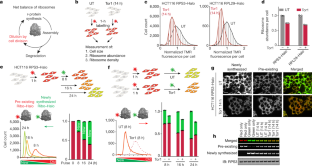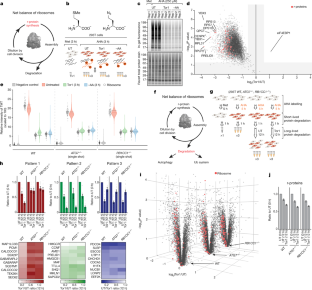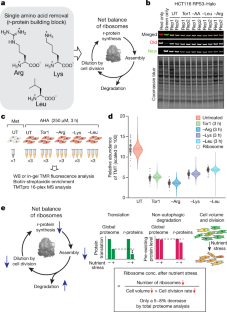 Similar content being viewed by others
Data availability
All the mass spectrometry proteomics data have been deposited to the ProteomeXchange Consortium via the PRIDE repository (http://www.proteomexchange.org/): dataset 1 (related to Supplementary Table 1; PXD017852, PXD017853); dataset 2 (related to Supplementary Table 2; PXD018252); dataset 3 (related to Supplementary Table 3; PXD017857, PXD018158); dataset 4 (related to Supplementary Table 4; PXD017856, PXD017855); dataset 5 (related to Supplementary Table 5; PXD017858, PXD017851); dataset 6 (related to Supplementary Table 6; PXD017861, PXD017860, PXD017859). Source data are provided with this paper. Full gel data for immunoblots are provided in Supplementary Fig. 1. All datasets generated within this study are available online, and the reagents are available from the corresponding author on request. Source data are provided with this paper.
References
Thoreen, C. C. et al. A unifying model for mTORC1-mediated regulation of mRNA translation. Nature 485, 109–113 (2012).

Saxton, R. A. & Sabatini, D. M. mTOR signaling in growth, metabolism, and disease. Cell 168, 960–976 (2017).

Kraft, C., Deplazes, A., Sohrmann, M. & Peter, M. Mature ribosomes are selectively degraded upon starvation by an autophagy pathway requiring the Ubp3p/Bre5p ubiquitin protease. Nat. Cell Biol. 10, 602–610 (2008).

Wyant, G. A. et al. NUFIP1 is a ribosome receptor for starvation-induced ribophagy. Science 360, 751–758 (2018).

An, H. & Harper, J. W. Systematic analysis of ribophagy in human cells reveals bystander flux during selective autophagy. Nat. Cell Biol. 20, 135–143 (2018).

Wiśniewski, J. R., Hein, M. Y., Cox, J. & Mann, M. A "proteomic ruler" for protein copy number and concentration estimation without spike-in standards. Mol. Cell. Proteomics 13, 3497–3506 (2014).

An, H. & Harper, J. W. Ribosome abundance control via the ubiquitin-proteasome system and autophagy. J. Mol. Biol. 432, 170–184 (2020).

Dieterich, D. C., Link, A. J., Graumann, J., Tirrell, D. A. & Schuman, E. M. Selective identification of newly synthesized proteins in mammalian cells using bioorthogonal noncanonical amino acid tagging (BONCAT). Proc. Natl Acad. Sci. USA 103, 9482–9487 (2006).

Sung, M. K. et al. A conserved quality-control pathway that mediates degradation of unassembled ribosomal proteins. eLife 5, e19105 (2016).

Nguyen, A. T. et al. UBE2O remodels the proteome during terminal erythroid differentiation. Science 357, eaan0218 (2017).

Yanagitani, K., Juszkiewicz, S. & Hegde, R. S. UBE2O is a quality control factor for orphans of multiprotein complexes. Science 357, 472–475 (2017).

An, H. et al. TEX264 is an endoplasmic reticulum-resident ATG8-interacting protein critical for ER remodeling during nutrient stress. Mol. Cell 74, 891–908 (2019).

Miettinen, T. P. & Björklund, M. Mevalonate pathway regulates cell size homeostasis and proteostasis through autophagy. Cell Rep. 13, 2610–2620 (2015).

Kiick, K. L., Saxon, E., Tirrell, D. A. & Bertozzi, C. R. Incorporation of azides into recombinant proteins for chemoselective modification by the Staudinger ligation. Proc. Natl Acad. Sci. USA 99, 19–24 (2002).

Thoreen, C. C. The molecular basis of mTORC1-regulated translation. Biochem. Soc. Trans. 45, 213–221 (2017).

Kirkin, V. & Rogov, V. V. A diversity of selective autophagy receptors determines the specificity of the autophagy pathway. Mol. Cell 76, 268–285 (2019).

Zhao, J., Zhai, B., Gygi, S. P. & Goldberg, A. L. mTOR inhibition activates overall protein degradation by the ubiquitin proteasome system as well as by autophagy. Proc. Natl Acad. Sci. USA 112, 15790–15797 (2015).

Settembre, C. et al. TFEB links autophagy to lysosomal biogenesis. Science 332, 1429–1433 (2011).

Liu, Y. et al. PWP1 mediates nutrient-dependent growth control through nucleolar regulation of ribosomal gene expression. Dev. Cell 43, 240–252 (2017).

de la Cruz, J., Karbstein, K. & Woolford, J. L. Jr. Functions of ribosomal proteins in assembly of eukaryotic ribosomes in vivo. Annu. Rev. Biochem. 84, 93–129 (2015).

Kakihara, Y. & Houry, W. A. The R2TP complex: discovery and functions. Biochim. Biophys. Acta 1823, 101–107 (2012).

Shim, M. S., Nettesheim, A., Hirt, J. & Liton, P. B. The autophagic protein LC3 translocates to the nucleus and localizes in the nucleolus associated to NUFIP1 in response to cyclic mechanical stress. Autophagy https://doi.org/10.1080/15548627.2019.1662584 (2019).

Wolfson, R. L. & Sabatini, D. M. The dawn of the age of amino acid sensors for the mTORC1 pathway. Cell Metab. 26, 301–309 (2017).

Darnell, A. M., Subramaniam, A. R. & O'Shea, E. K. Translational control through differential ribosome pausing during amino acid limitation in mammalian cells. Mol. Cell 71, 229–243 (2018).

Hoxhaj, G. et al. The mTORC1 signaling network senses changes in cellular purine nucleotide levels. Cell Rep. 21, 1331–1346 (2017).

Weinberg, D. E. et al. Improved ribosome-footprint and mRNA measurements provide insights into dynamics and regulation of yeast translation. Cell Rep. 14, 1787–1799 (2016).

Chino, H., Hatta, T., Natsume, T. & Mizushima, N. Intrinsically disordered protein TEX264 mediates ER-phagy. Mol. Cell 74, 909–921 (2019).

Poillet-Perez, L. et al. Autophagy maintains tumour growth through circulating arginine. Nature 563, 569–573 (2018).

Ran, F. A. et al. Genome engineering using the CRISPR–Cas9 system. Nat. Protoc. 8, 2281–2308 (2013).

Ohana, R. F. et al. HaloTag7: a genetically engineered tag that enhances bacterial expression of soluble proteins and improves protein purification. Protein Expr. Purif. 68, 110–120 (2009).

Gu, X. et al. SAMTOR is an S-adenosylmethionine sensor for the mTORC1 pathway. Science 358, 813–818 (2017).

Suzuki, K., Bose, P., Leong-Quong, R. Y., Fujita, D. J. & Riabowol, K. REAP: a two minute cell fractionation method. BMC Res. Notes 3, 294 (2010).

Paulo, J. A. et al. Quantitative mass spectrometry-based multiplexing compares the abundance of 5000 S. cerevisiae proteins across 10 carbon sources. J. Proteomics 148, 85–93 (2016).

McAlister, G. C. et al. MultiNotch MS3 enables accurate, sensitive, and multiplexed detection of differential expression across cancer cell line proteomes. Anal. Chem. 86, 7150–7158 (2014).

Erickson, B. K. et al. Active instrument engagement combined with a real-time database search for improved performance of sample multiplexing workflows. J. Proteome Res. 18, 1299–1306 (2019).

Schweppe, D. K. et al. Full-featured, real-time database searching platform enables fast and accurate multiplexed quantitative proteomics. J. Proteome Res. 19, 2026–2034 (2020).

Schweppe, D. K. et al. Characterization and optimization of multiplexed quantitative analyses using high-field asymmetric-waveform ion mobility mass spectrometry. Anal. Chem. 91, 4010–4016 (2019).

Huttlin, E. L. et al. A tissue-specific atlas of mouse protein phosphorylation and expression. Cell 143, 1174–1189 (2010).

Eng, J. K., Jahan, T. A. & Hoopmann, M. R. Comet: an open-source MS/MS sequence database search tool. Proteomics 13, 22–24 (2013).

Savitski, M. M., Wilhelm, M., Hahne, H., Kuster, B. & Bantscheff, M. A scalable approach for protein false discovery rate estimation in large proteomic data sets. Mol. Cell. Proteomics 14, 2394–2404 (2015).

Beausoleil, S. A., Villén, J., Gerber, S. A., Rush, J. & Gygi, S. P. A probability-based approach for high-throughput protein phosphorylation analysis and site localization. Nat. Biotechnol. 24, 1285–1292 (2006).

Tyanova, S. et al. The Perseus computational platform for comprehensive analysis of (prote)omics data. Nat. Methods 13, 731–740 (2016).

McShane, E. et al. Kinetic analysis of protein stability reveals age-dependent degradation. Cell 167, 803–815 (2016).

Itzhak, D. N., Tyanova, S., Cox, J. & Borner, G. H. Global, quantitative and dynamic mapping of protein subcellular localization. eLife 5, e16950 (2016).
Acknowledgements
This work was supported by the National Institutes of Health (grants R37NS083524, RO1AG011085 and RO1GM095567 to J.W.H. and grant RO1GM132129 to J.A.P.). We acknowledge the Nikon Imaging Center (Harvard Medical School) for imaging assistance. We thank S. Gruver and M. Kirschner for providing MoxiGo II access and training.
Ethics declarations
Competing interests
J.W.H. is a founder and consultant for Caraway Therapeutics and a consultant for X-Chem, Inc.
Additional information
Peer review information Nature thanks Kris Gevaert, Suresh Subramani and the other, anonymous, reviewer(s) for their contribution to the peer review of this work. Peer reviewer reports are available.
Publisher's note Springer Nature remains neutral with regard to jurisdictional claims in published maps and institutional affiliations.
Extended data figures and tables
Supplementary information
About this article
Cite this article
An, H., Ordureau, A., Körner, M. et al. Systematic quantitative analysis of ribosome inventory during nutrient stress. Nature 583, 303–309 (2020). https://doi.org/10.1038/s41586-020-2446-y
Received:

Accepted:

Published:

Issue Date:

DOI: https://doi.org/10.1038/s41586-020-2446-y
Comments
By submitting a comment you agree to abide by our Terms and Community Guidelines. If you find something abusive or that does not comply with our terms or guidelines please flag it as inappropriate.