Abstract
Active optical control over matter is desirable in many scientific disciplines, with prominent examples in all-optical magnetic switching1,2, light-induced metastable or exotic phases of solids3,4,5,6,7,8 and the coherent control of chemical reactions9,10. Typically, these approaches dynamically steer a system towards states or reaction products far from equilibrium. In solids, metal-to-insulator transitions are an important target for optical manipulation, offering ultrafast changes of the electronic4 and lattice11,12,13,14,15,16 properties. The impact of coherences on the efficiencies and thresholds of such transitions, however, remains a largely open subject. Here, we demonstrate coherent control over a metal–insulator structural phase transition in a quasi-one-dimensional solid-state surface system. A femtosecond double-pulse excitation scheme17,18,19,20 is used to switch the system from the insulating to a metastable metallic state, and the corresponding structural changes are monitored by ultrafast low-energy electron diffraction21,22. To govern the transition, we harness vibrational coherence in key structural modes connecting both phases, and observe delay-dependent oscillations in the double-pulse switching efficiency. Mode-selective coherent control of solids and surfaces could open new routes to switching chemical and physical functionalities, enabled by metastable and non-equilibrium states.
Your institute does not have access to this article
Relevant articles
Open Access articles citing this article.
Andrea Ronchi

,

Paolo Franceschini

…

Claudio Giannetti

Nature Communications Open Access 28 June 2022

N. Boutabba

,

S. Grira

&

H. Eleuch

Scientific Reports Open Access 03 June 2022

Chiwon Lee

,

Alexander Marx

…

R. J. Dwayne Miller

Communications Materials Open Access 16 February 2022
Access options
Subscribe to Nature+
Get immediate online access to the entire Nature family of 50+ journals
Subscribe to Journal
Get full journal access for 1 year
$199.00
only $3.90 per issue
All prices are NET prices.
VAT will be added later in the checkout.
Tax calculation will be finalised during checkout.
Buy article
Get time limited or full article access on ReadCube.
$32.00
All prices are NET prices.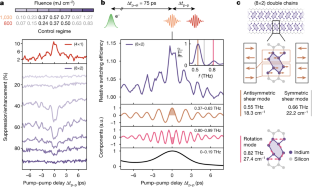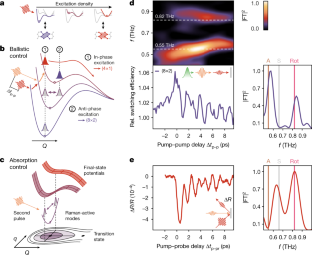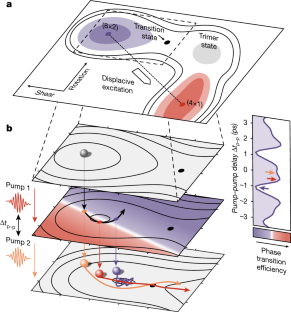 Data availability
The data that support the findings of this study are available on request from the corresponding author.
References
Kimel, A. V. et al. Ultrafast non-thermal control of magnetization by instantaneous photomagnetic pulses. Nature 435, 655–657 (2005).

Schlauderer, S. et al. Temporal and spectral fingerprints of ultrafast all-coherent spin switching. Nature 569, 383–387 (2019).

Stojchevska, L. et al. Ultrafast switching to a stable hidden quantum state in an electronic crystal. Science 344, 177–180 (2014).

Rini, M. et al. Control of the electronic phase of a manganite by mode-selective vibrational excitation. Nature 449, 72–74 (2007).

Mitrano, M. et al. Possible light-induced superconductivity in K3C60 at high temperature. Nature 530, 461–464 (2016).

Nova, T. F., Disa, A. S., Fechner, M. & Cavalleri, A. Metastable ferroelectricity in optically strained SrTiO3. Science 364, 1075–1079 (2019).

Sie, E. J. et al. An ultrafast symmetry switch in a Weyl semimetal. Nature 565, 61–66 (2019).

Wang, Y. H., Steinberg, H., Jarillo-Herrero, P. & Gedik, N. Observation of Floquet–Bloch states on the surface of a topological insulator. Science 342, 453–457 (2013).

Zewail, A. H. Femtochemistry: atomic-scale dynamics of the chemical bond using ultrafast lasers (Nobel lecture). Angew. Chem. Int. Ed. 39, 2586–2631 (2000).

Nuernberger, P., Vogt, G., Brixner, T. & Gerber, G. Femtosecond quantum control of molecular dynamics in the condensed phase. Phys. Chem. Chem. Phys. 9, 2470–2497 (2007).

Morrison, V. R. et al. A photoinduced metal-like phase of monoclinic VO2 revealed by ultrafast electron diffraction. Science 346, 445–448 (2014).

Liu, M. et al. Terahertz-field-induced insulator-to-metal transition in vanadium dioxide metamaterial. Nature 487, 345–348 (2012).

Wall, S. et al. Atomistic picture of charge density wave formation at surfaces. Phys. Rev. Lett. 109, 186101 (2012).

Frigge, T. et al. Optically excited structural transition in atomic wires on surfaces at the quantum limit. Nature 544, 207–211 (2017).

Nicholson, C. W. et al. Beyond the molecular movie: dynamics of bands and bonds during a photoinduced phase transition. Science 362, 821–825 (2018).

Chávez-Cervantes, M., Krause, R., Aeschlimann, S. & Gierz, I. Band structure dynamics in indium wires. Phys. Rev. B 97, 201401 (2018).

Hase, M., Fons, P., Mitrofanov, K., Kolobov, A. V. & Tominaga, J. Femtosecond structural transformation of phase-change materials far from equilibrium monitored by coherent phonons. Nat. Commun. 6, 8367 (2015).

Weiner, A. M., Leaird, D. E., Wiederrecht, G. P. & Nelson, K. A. Femtosecond pulse sequences used for optical manipulation of molecular motion. Science 247, 1317–1319 (1990).

Feurer, T., Vaughan, J. C. & Nelson, K. A. Spatiotemporal coherent control of lattice vibrational waves. Science 299, 374–377 (2003).

Potter, E. D., Herek, J. L., Pedersen, S., Liu, Q. & Zewail, A. H. Femtosecond laser control of a chemical reaction. Nature 355, 66 (1992).

Gulde, M. et al. Ultrafast low-energy electron diffraction in transmission resolves polymer/graphene superstructure dynamics. Science 345, 200–204 (2014).

Vogelgesang, S. et al. Phase ordering of charge density waves traced by ultrafast low-energy electron diffraction. Nat. Phys. 14, 184–190 (2018).

Polanyi, J. C., Wong, W. H. & Mok, M. H. Location of energy barriers. J. Chem. Phys. 51, 1439–1450 (1969).

Haupt, K. et al. Ultrafast metamorphosis of a complex charge-density wave. Phys. Rev. Lett. 116, 016402 (2016).

Zeiger, H. J. et al. Theory for displacive excitation of coherent phonons. Phys. Rev. B 45, 768–778 (1992).

Sciaini, G. et al. Electronic acceleration of atomic motions and disordering in bismuth. Nature 458, 56–59 (2009).

Peierls, R. E. Quantum Theory of Solids (Oxford Univ. Press, 2001).

Eichberger, M. et al. Snapshots of cooperative atomic motions in the optical suppression of charge density waves. Nature 468, 799–802 (2010).

Wall, S. et al. Ultrafast changes in lattice symmetry probed by coherent phonons. Nat. Commun. 3, 721 (2012).

Sokolowski-Tinten, K. et al. Femtosecond X-ray measurement of coherent lattice vibrations near the Lindemann stability limit. Nature 422, 287–289 (2003).

Rettig, L., Chu, J.-H., Fisher, I. R., Bovensiepen, U. & Wolf, M. Coherent dynamics of the charge density wave gap in tritellurides. Faraday Discuss. 171, 299–310 (2014).

Beaud, P. et al. A time-dependent order parameter for ultrafast photoinduced phase transitions. Nat. Mater. 13, 923–927 (2014).

Neugebauer, M. J. et al. Optical control of vibrational coherence triggered by an ultrafast phase transition. Phys. Rev. B 99, 220302 (2019).

Nibbering, E. T. J., Fidder, H. & Pines, E. Ultrafast chemistry: using time-resolved vibrational spectroscopy for interrogation of structural dynamics. Annu. Rev. Phys. Chem. 56, 337–367 (2005).

Yeom, H. W. et al. Instability and charge density wave of metallic quantum chains on a silicon surface. Phys. Rev. Lett. 82, 4898–4901 (1999).

Song, S. K., Samad, A., Wippermann, S. & Yeom, H. W. Dynamical metal to charge-density-wave junctions in an atomic wire array. Nano Lett. 19, 5769–5773 (2019).

Speiser, E., Esser, N., Wippermann, S. & Schmidt, W. G. Surface vibrational Raman modes of In:Si(111) (4 × 1) and (8 × 2) nanowires. Phys. Rev. B 94, 075417 (2016).

Nicholson, C. W. et al. Excited-state band mapping and momentum-resolved ultrafast population dynamics in In/Si(111) nanowires investigated with XUV-based time- and angle-resolved photoemission spectroscopy. Phys. Rev. B 99, 155107 (2019).

Wippermann, S. & Schmidt, W. G. Entropy explains metal–insulator transition of the Si(111)–In nanowire array. Phys. Rev. Lett. 105, 126102 (2010).

Jeckelmann, E., Sanna, S., Schmidt, W. G., Speiser, E. & Esser, N. Grand canonical Peierls transition in In/Si(111). Phys. Rev. B 93, 241407 (2016).

Li, Y. & Heinz, T. F. Optical models for thin layers. Preprint at https://arxiv.org/abs/1801.00402 (2018).

Wippermann, S. Understanding Substrate-Supported Atomic-Scale Nanowires from Ab Initio Theory. PhD thesis, Univ. Paderborn (2010).

Stekolnikov, A. A. et al. Hexagon versus trimer formation in In nanowires on Si(111): energetics and quantum conductance. Phys. Rev. Lett. 98, 026105 (2007).

Kumpf, C. et al. Low-temperature structure of indium quantum chains on silicon. Phys. Rev. Lett. 85, 4916–4919 (2000).

González, C., Ortega, J. & Flores, F. Metal–insulator transition in one-dimensional In-chains on Si(111): combination of a soft shear distortion and a double-band Peierls instability. New J. Phys. 7, 100 (2005).

Nelson, K. A. in Mode Selective Chemistry (eds Jortner, J. et al.) 527–533 (Springer, 1991).

Storeck, G., Vogelgesang, S., Sivis, M., Schäfer, S. & Ropers, C. Nanotip-based photoelectron microgun for ultrafast LEED. Struct. Dyn. 4, 044024 (2017).

Van Hove, M. A., Weinberg, W. H. & Chan, C.-M. Low-Energy Electron Diffraction: Experiment, Theory and Surface Structure Determination (Springer, 1986).

Terada, Y. et al. Optical doping: active control of metal−insulator transition in nanowire. Nano Lett. 8, 3577–3581 (2008).

Snijders, P. C. & Weitering, H. H. Colloquium: Electronic instabilities in self-assembled atom wires. Rev. Mod. Phys. 82, 307–329 (2010).

Klasing, F. et al. Hysteresis proves that the In/Si(111) (8×2) to (4×1) phase transition is first-order. Phys. Rev. B Condens. Matter Mater. Phys. 89, 121107 (2014).
Acknowledgements
This work was funded by the European Research Council (ERC Starting Grant 'ULEED', ID: 639119) and the Deutsche Forschungsgemeinschaft (SFB-1073, project A05). We acknowledge discussions with N. S. Kozák, H. Schwoerer, R. Ernstorfer, M. Wolf, A. M. Wodtke and M. Horn-von Hoegen.
Ethics declarations
Competing interests
The authors declare no competing interests.
Additional information
Peer review information Nature thanks Stefan Wippermann and the other, anonymous, reviewer(s) for their contribution to the peer review of this work.
Publisher's note Springer Nature remains neutral with regard to jurisdictional claims in published maps and institutional affiliations.
Extended data figures and tables
About this article
Cite this article
Horstmann, J.G., Böckmann, H., Wit, B. et al. Coherent control of a surface structural phase transition. Nature 583, 232–236 (2020). https://doi.org/10.1038/s41586-020-2440-4
Received:

Accepted:

Published:

Issue Date:

DOI: https://doi.org/10.1038/s41586-020-2440-4
Comments
By submitting a comment you agree to abide by our Terms and Community Guidelines. If you find something abusive or that does not comply with our terms or guidelines please flag it as inappropriate.