Abstract
N4-acetylcytidine (ac4C) is an ancient and highly conserved RNA modification that is present on tRNA and rRNA and has recently been investigated in eukaryotic mRNA1,2,3. However, the distribution, dynamics and functions of cytidine acetylation have yet to be fully elucidated. Here we report ac4C-seq, a chemical genomic method for the transcriptome-wide quantitative mapping of ac4C at single-nucleotide resolution. In human and yeast mRNAs, ac4C sites are not detected but can be induced—at a conserved sequence motif—via the ectopic overexpression of eukaryotic acetyltransferase complexes. By contrast, cross-evolutionary profiling revealed unprecedented levels of ac4C across hundreds of residues in rRNA, tRNA, non-coding RNA and mRNA from hyperthermophilic archaea. Ac4C is markedly induced in response to increases in temperature, and acetyltransferase-deficient archaeal strains exhibit temperature-dependent growth defects. Visualization of wild-type and acetyltransferase-deficient archaeal ribosomes by cryo-electron microscopy provided structural insights into the temperature-dependent distribution of ac4C and its potential thermoadaptive role. Our studies quantitatively define the ac4C landscape, providing a technical and conceptual foundation for elucidating the role of this modification in biology and disease4,5,6.
Relevant articles
Open Access articles citing this article.
Nozomi Takahashi

,

Federica Franciosi

…

Marco Conti

Nature Communications Open Access 26 January 2023

Thiago Rodrigues-Oliveira

,

Florian Wollweber

…

Christa Schleper

Nature Open Access 21 December 2022

Yan Zhang

,

Liang Lu

&

Xiaoyu Li

Experimental & Molecular Medicine Open Access 21 October 2022
Access options
Access Nature and 54 other Nature Portfolio journals
Get Nature+, our best-value online-access subscription
$29.99 per month
cancel any time
Subscribe to this journal
Receive 51 print issues and online access
$199.00 per year
only $3.90 per issue
Rent or buy this article
Get just this article for as long as you need it
$39.95
Prices may be subject to local taxes which are calculated during checkout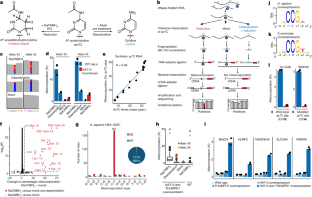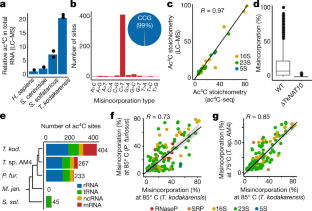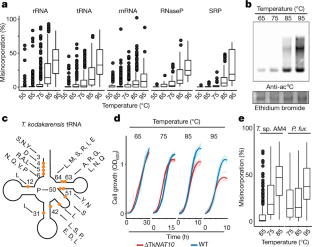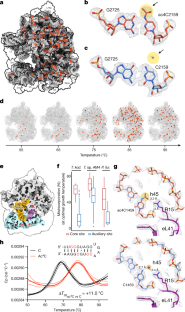 Data availability
Ac4C-seq datasets generated in this manuscript have been deposited in the Gene Expression Omnibus (GEO) under accession number GSE135826. The cryo-EM density maps have been deposited in the Electron Microscopy Data Bank (EMDB) under accession codes EMD-10223 and EMD-10503 for the wild-type strain grown at 85 °C and 65 °C, respectively, and EMD-10224 for the TkNAT10-deletion strain. Model coordinates have been deposited in the Protein Data Bank (PDB) under accession numbers 6SKF, 6TH6 and 6SKG. Mass spectrometry proteomics data has been deposited to the ProteomeXchange Consortium via Pride77,78 partner repository with the dataset identifier PXD014814.
Code availability
Code for the analyses described in this paper is available from the corresponding author upon request.
References
Sharma, S. et al. Yeast Kre33 and human NAT10 are conserved 18S rRNA cytosine acetyltransferases that modify tRNAs assisted by the adaptor Tan1/THUMPD1. Nucleic Acids Res. 43, 2242–2258 (2015).

Ito, S. et al. A single acetylation of 18S rRNA is essential for biogenesis of the small ribosomal subunit in Saccharomyces cerevisiae. J. Biol. Chem. 289, 26201–26212 (2014).

Ito, S. et al. Human NAT10 is an ATP-dependent RNA acetyltransferase responsible for N4-acetylcytidine formation in 18 S ribosomal RNA (rRNA). J. Biol. Chem. 289, 35724–35730 (2014).

Larrieu, D., Britton, S., Demir, M., Rodriguez, R. & Jackson, S. P. Chemical inhibition of NAT10 corrects defects of laminopathic cells. Science 344, 527–532 (2014).

Tschida, B. R. et al. Sleeping Beauty insertional mutagenesis in mice identifies drivers of steatosis-associated hepatic tumors. Cancer Res. 77, 6576–6588 (2017).

Zhang, H. et al. GSK-3β-regulated N-acetyltransferase 10 is involved in colorectal cancer invasion. Clin. Cancer Res. 20, 4717–4729 (2014).

Kotelawala, L., Grayhack, E. J. & Phizicky, E. M. Identification of yeast tRNA Um44 2′-O-methyltransferase (Trm44) and demonstration of a Trm44 role in sustaining levels of specific tRNASer species. RNA 14, 158–169 (2008).

Dewe, J. M., Whipple, J. M., Chernyakov, I., Jaramillo, L. N. & Phizicky, E. M. The yeast rapid tRNA decay pathway competes with elongation factor 1A for substrate tRNAs and acts on tRNAs lacking one or more of several modifications. RNA 18, 1886–1896 (2012).

Sharma, S. et al. Specialized box C/D snoRNPs act as antisense guides to target RNA base acetylation. PLoS Genet. 13, e1006804 (2017).

Arango, D. et al. Acetylation of cytidine in mRNA promotes translation efficiency. Cell 175, 1872–1886.e24 (2018).

Thomas, J. M. et al. A chemical signature for cytidine acetylation in RNA. J. Am. Chem. Soc. 140, 12667–12670 (2018).

Sinclair, W. R. et al. Profiling cytidine acetylation with specific affinity and reactivity. ACS Chem. Biol. 12, 2922–2926 (2017).

Tardu, M., Jones, J. D., Kennedy, R. T., Lin, Q. & Koutmou, K. S. Identification and quantification of modified nucleosides in Saccharomyces cerevisiae mRNAs. ACS Chem. Biol. 14, 1403–1409 (2019).

Kowalak, J. A., Dalluge, J. J., McCloskey, J. A. & Stetter, K. O. The role of posttranscriptional modification in stabilization of transfer RNA from hyperthermophiles. Biochemistry 33, 7869–7876 (1994).

Taoka, M. et al. Landscape of the complete RNA chemical modifications in the human 80S ribosome. Nucleic Acids Res. 46, 9289–9298 (2018).

Orita, I. et al. Random mutagenesis of a hyperthermophilic archaeon identified tRNA modifications associated with cellular hyperthermotolerance. Nucleic Acids Res. 47, 1964–1976 (2019).

Yu, N. et al. tRNA modification profiles and codon-decoding strategies in Methanocaldococcus jannaschii. J. Bacteriol. 201, e00690-18 (2019).

Sharma, S. & Lafontaine, D. L. J. 'View from a bridge': a new perspective on eukaryotic rRNA base modification. Trends Biochem. Sci. 40, 560–575 (2015).

Fischer, N. et al. Structure of the E. coli ribosome–EF-Tu complex at <3 Å resolution by Cs-corrected cryo-EM. Nature 520, 567–570 (2015).

Polikanov, Y. S., Melnikov, S. V., Söll, D. & Steitz, T. A. Structural insights into the role of rRNA modifications in protein synthesis and ribosome assembly. Nat. Struct. Mol. Biol. 22, 342–344 (2015).

Kawai, G. et al. Conformational rigidity of N4-acetyl-2′-O-methylcytidine found in tRNA of extremely thermophilic Archaebacteria (Archaea). Nucleosides Nucleotides 11, 759–771 (1992).

Bruenger, E. et al. 5S rRNA modification in the hyperthermophilic archaea Sulfolobus solfataricus and Pyrodictium occultum. FASEB J. 7, 196–200 (1993).

Kumbhar, B. V., Kamble, A. D. & Sonawane, K. D. Conformational preferences of modified nucleoside N4-acetylcytidine, ac4C occur at "wobble" 34th position in the anticodon loop of tRNA. Cell Biochem. Biophys. 66, 797–816 (2013).

Parthasarathy, R., Ginell, S. L., De, N. C. & Chheda, G. B. Conformation of N4-acetylcytidine, a modified nucleoside of tRNA, and stereochemistry of codon–anticodon interaction. Biochem. Biophys. Res. Commun. 83, 657–663 (1978).

Safra, M. et al. The m1A landscape on cytosolic and mitochondrial mRNA at single-base resolution. Nature 551, 251–255 (2017).

Li, X. et al. Base-resolution mapping reveals distinct m1a methylome in nuclear- and mitochondrial-encoded transcripts. Mol. Cell 68, 993–1005.e9 (2017).

Grozhik, A. V. et al. Antibody cross-reactivity accounts for widespread appearance of m1A in 5′ UTRs. Nat. Commun. 10, 5126 (2019).

Helm, M., Lyko, F. & Motorin, Y. Limited antibody specificity compromises epitranscriptomic analyses. Nat. Commun. 10, 5669 (2019).

Gehring, A. M., Sanders, T. J. & Santangelo, T. J. Markerless gene editing in the hyperthermophilic archaeon Thermococcus kodakarensis. Bio Protoc. 7, e2604 (2017).

Hileman, T. H. & Santangelo, T. J. Genetics techniques for Thermococcus kodakarensis. Front. Microbiol. 3, 195 (2012).

Santangelo, T. J., Cubonová, L., James, C. L. & Reeve, J. N. TFB1 or TFB2 is sufficient for Thermococcus kodakaraensis viability and for basal transcription in vitro. J. Mol. Biol. 367, 344–357 (2007).

Santangelo, T. J. & Reeve, J. N. Deletion of switch 3 results in an archaeal RNA polymerase that is defective in transcript elongation. J. Biol. Chem. 285, 23908–23915 (2010).

Lipscomb, G. L. et al. Natural competence in the hyperthermophilic archaeon Pyrococcus furiosus facilitates genetic manipulation: construction of markerless deletions of genes encoding the two cytoplasmic hydrogenases. Appl. Environ. Microbiol. 77, 2232–2238 (2011).

Oger, P. et al. Complete genome sequence of the hyperthermophilic archaeon Thermococcus sp. strain AM4, capable of organotrophic growth and growth at the expense of hydrogenogenic or sulfidogenic oxidation of carbon monoxide. J. Bacteriol. 193, 7019–7020 (2011).

Farkas, J. A., Picking, J. W. & Santangelo, T. J. Genetic techniques for the archaea. Annu. Rev. Genet. 47, 539–561 (2013).

Wickham, H. ggplot2: Elegant Graphics for Data Analysis (Springer, 2016).

Matzov, D. et al. The cryo-EM structure of hibernating 100S ribosome dimer from pathogenic Staphylococcus aureus. Nat. Commun. 8, 723 (2017).

Morlan, J. D., Qu, K. & Sinicropi, D. V. Selective depletion of rRNA enables whole transcriptome profiling of archival fixed tissue. PLoS ONE 7, e42882 (2012).

Shishkin, A. A. et al. Simultaneous generation of many RNA-seq libraries in a single reaction. Nat. Methods 12, 323–325 (2015).

Engreitz, J. M. et al. The Xist lncRNA exploits three-dimensional genome architecture to spread across the X chromosome. Science 341, 1237973 (2013).

Machnicka, M. A. et al. MODOMICS: a database of RNA modification pathways—2013 update. Nucleic Acids Res. 41, D262–D267 (2013).

Dobin, A. et al. STAR: ultrafast universal RNA-seq aligner. Bioinformatics 29, 15–21 (2013).

Smith, T., Heger, A. & Sudbery, I. UMI-tools: modeling sequencing errors in unique molecular identifiers to improve quantification accuracy. Genome Res. 27, 491–499 (2017).

Jun, G., Wing, M. K., Abecasis, G. R. & Kang, H. M. An efficient and scalable analysis framework for variant extraction and refinement from population-scale DNA sequence data. Genome Res. 25, 918–925 (2015).

Piechotta, M., Wyler, E., Ohler, U., Landthaler, M. & Dieterich, C. JACUSA: site-specific identification of RNA editing events from replicate sequencing data. BMC Bioinformatics 18, 7 (2017).

Crooks, G. E., Hon, G., Chandonia, J.-M. & Brenner, S. E. WebLogo: a sequence logo generator. Genome Res. 14, 1188–1190 (2004).

Vainberg Slutskin, I., Weingarten-Gabbay, S., Nir, R., Weinberger, A. & Segal, E. Unraveling the determinants of microRNA mediated regulation using a massively parallel reporter assay. Nat. Commun. 9, 529 (2018).

Weingarten-Gabbay, S. et al. Systematic discovery of cap-independent translation sequences in human and viral genomes. Science 351, aad4939 (2016).

Li, B. & Dewey, C. N. RSEM: accurate transcript quantification from RNA-Seq data with or without a reference genome. BMC Bioinformatics 12, 323 (2011).

Robinson, M. D. & Oshlack, A. A scaling normalization method for differential expression analysis of RNA-seq data. Genome Biol. 11, R25 (2010).

Tarazona, S., García, F., Ferrer, A., Dopazo, J. & Conesa, A. NOIseq: a RNA-seq differential expression method robust for sequencing depth biases. EMBnet.journal 17, 18–19 (2012).

Katoh, K., Misawa, K., Kuma, K. & Miyata, T. MAFFT: a novel method for rapid multiple sequence alignment based on fast Fourier transform. Nucleic Acids Res. 30, 3059–3066 (2002).

Sievers, F. et al. Fast, scalable generation of high-quality protein multiple sequence alignments using Clustal Omega. Mol. Syst. Biol. 7, 539 (2011).

Basanta-Sanchez, M., Temple, S., Ansari, S. A., D'Amico, A. & Agris, P. F. Attomole quantification and global profile of RNA modifications: Epitranscriptome of human neural stem cells. Nucleic Acids Res. 44, e26 (2016).

Yamauchi, Y. et al. Denaturing reversed phase liquid chromatographic separation of non-coding ribonucleic acids on macro-porous polystyrene-divinylbenzene resins. J. Chromatogr. A 1312, 87–92 (2013).

Taoka, M. et al. An analytical platform for mass spectrometry-based identification and chemical analysis of RNA in ribonucleoprotein complexes. Nucleic Acids Res. 37, e140 (2009).

Nakayama, H., Yamauchi, Y., Taoka, M. & Isobe, T. Direct identification of human cellular microRNAs by nanoflow liquid chromatography-high-resolution tandem mass spectrometry and database searching. Anal. Chem. 87, 2884–2891 (2015).

Nakayama, H. et al. Ariadne: a database search engine for identification and chemical analysis of RNA using tandem mass spectrometry data. Nucleic Acids Res. 37, e47 (2009).

Zhang, Y., Wen, Z., Washburn, M. P. & Florens, L. Evaluating chromatographic approaches for the quantitative analysis of a human proteome on Orbitrap-based mass spectrometry systems. J. Proteome Res. 18, 1857–1869 (2019).

Zhang, Y., Wen, Z., Washburn, M. P. & Florens, L. Effect of dynamic exclusion duration on spectral count based quantitative proteomics. Anal. Chem. 81, 6317–6326 (2009).

Zhang, Y., Wen, Z., Washburn, M. P. & Florens, L. Improving proteomics mass accuracy by dynamic offline lock mass. Anal. Chem. 83, 9344–9351 (2011).

McDonald, W. H. et al. MS1, MS2, and SQT-three unified, compact, and easily parsed file formats for the storage of shotgun proteomic spectra and identifications. Rapid Commun. Mass Spectrom. 18, 2162–2168 (2004).

Xu, T. et al. ProLuCID: An improved SEQUEST-like algorithm with enhanced sensitivity and specificity. J. Proteomics 129, 16–24 (2015).

Tabb, D. L., McDonald, W. H. & Yates, J. R., III. DTASelect and Contrast: tools for assembling and comparing protein identifications from shotgun proteomics. J. Proteome Res. 1, 21–26 (2002).

Zhang, Y., Wen, Z., Washburn, M. P. & Florens, L. Refinements to label free proteome quantitation: how to deal with peptides shared by multiple proteins. Anal. Chem. 82, 2272–2281 (2010).

Zheng, S. Q. et al. MotionCor2: anisotropic correction of beam-induced motion for improved cryo-electron microscopy. Nat. Methods 14, 331–332 (2017).

Rohou, A. & Grigorieff, N. CTFFIND4: fast and accurate defocus estimation from electron micrographs. J. Struct. Biol. 192, 216–221 (2015).

Mindell, J. A. & Grigorieff, N. Accurate determination of local defocus and specimen tilt in electron microscopy. J. Struct. Biol. 142, 334–347 (2003).

Zivanov, J. et al. New tools for automated high-resolution cryo-EM structure determination in RELION-3. eLife 7, e42166(2018).

Rosenthal, P. B. & Henderson, R. Optimal determination of particle orientation, absolute hand, and contrast loss in single-particle electron cryomicroscopy. J. Mol. Biol. 333, 721–745 (2003).

Afonine, P. V. et al. Real-space refinement in PHENIX for cryo-EM and crystallography. Acta Crystallogr. D 74, 531–544 (2018).

Kucukelbir, A., Sigworth, F. J. & Tagare, H. D. Quantifying the local resolution of cryo-EM density maps. Nat. Methods 11, 63–65 (2014).

Pettersen, E. F., Goddard, T. D. & Huang, C. C. UCSF Chimera—a visualization system for exploratory research and analysis. J. Comput. Chem. 25, 1605–1612 (2004).

Emsley, P., Lohkamp, B., Scott, W. G. & Cowtan, K. Features and development of Coot. Acta Crystallogr. D 66, 486–501 (2010).

Moriarty, N. W., Grosse-Kunstleve, R. W. & Adams, P. D. electronic Ligand Builder and Optimization Workbench (eLBOW): a tool for ligand coordinate and restraint generation. Acta Crystallogr. D 65, 1074–1080 (2009).

Williams, C. J. et al. MolProbity: more and better reference data for improved all-atom structure validation. Protein Sci. 27, 293–315 (2018).

Deutsch, E. W. et al. The ProteomeXchange consortium in 2017: supporting the cultural change in proteomics public data deposition. Nucleic Acids Res. 45, D1100–D1106 (2017).

Perez-Riverol, Y. et al. The PRIDE database and related tools and resources in 2019: improving support for quantification data. Nucleic Acids Res. 47, D442–D450 (2019).

Ueda, T. et al. Mutation of the gene encoding the ribonuclease P RNA in the hyperthermophilic archaeon Thermococcus kodakarensis causes decreased growth rate and impaired processing of tRNA precursors. Biochem. Biophys. Res. Commun. 468, 660–665 (2015).
Acknowledgements
We thank S. Fox (Laboratory of Proteomics and Analytical Technology) for LC–MS analyses, C. Grose (Protein Expression Laboratory) for assisting with cloning and preparation of plasmid DNA, P. Blum (University of Nebraska) and B. Mukhopadhyay (Virginia Tech) for archaeal RNA samples, and N. Elad (Electron Microscopy unit, Weizmann Institute of Science) for assistance in setting up the cryo-EM data collection. We thank the Biophysics Resource in the Structural Biophysics Laboratory, Center for Cancer Research, National Cancer Institute for assistance with DSC and circular dichroism spectroscopy studies. We thank E. Westhof for insights into RNA structure. S. Schwartz is funded by the Israel Science Foundation (543165), the European Research Council (ERC) under the European Union's Horizon 2020 research and innovation programme (grant agreement no. 714023), and the Estate of Emile Mimran. S. Schwartz is the incumbent of the Robert Edward and Roselyn Rich Manson Career Development Chair in Perpetuity. M.S.B. is supported by the Zuckerman STEM Leadership Program, by Ilse Katz Institute for Material Sciences and Magnetic Resonance Research and by the Helen & Milton A. Kimmelman Center for Biomolecular Structure & Assembly. S. Schwartz and M.S.B. are jointly supported by the Weizmann-Krenter-Katz Interdisciplinary Research grant. J.L.M. is supported by the Intramural Research Program of the National Institutes of Health (NIH), the National Cancer Institute, The Center for Cancer Research (ZIA BC011488-06). M.P.W. is supported by the Stowers Institute for Medical Research and the National Institute of General Medical Sciences of the NIH (R01GM112639). T.J.S. is supported by the National Institute of General Medical Sciences of the NIH (R01GM100329) and the Department of Energy, Basic Energy Sciences Division (DE-SC0014597).
Ethics declarations
Competing interests
The authors declare no competing interests.
Additional information
Peer review information Nature thanks Danica Fujimori and the other, anonymous, reviewer(s) for their contribution to the peer review of this work.
Publisher's note Springer Nature remains neutral with regard to jurisdictional claims in published maps and institutional affiliations.
Extended data figures and tables
Supplementary information
About this article
Cite this article
Sas-Chen, A., Thomas, J.M., Matzov, D. et al. Dynamic RNA acetylation revealed by quantitative cross-evolutionary mapping. Nature 583, 638–643 (2020). https://doi.org/10.1038/s41586-020-2418-2
Received:

Accepted:

Published:

Issue Date:

DOI: https://doi.org/10.1038/s41586-020-2418-2
Comments
By submitting a comment you agree to abide by our Terms and Community Guidelines. If you find something abusive or that does not comply with our terms or guidelines please flag it as inappropriate.