Abstract
Fundamental studies of chemical reactions often consider the molecular dynamics along a reaction coordinate using a calculated or suggested potential energy surface1,2,3,4,5. But fully mapping such dynamics experimentally, by following all nuclear motions in a time-resolved manner—that is, the motions of wavepackets—is challenging and has not yet been realized even for the simple stereotypical bimolecular reaction6,7,8: A–B + C → A + B–C. Here we track the trajectories of these vibrational wavepackets during photoinduced bond formation of the gold trimer complex [Au(CN)2−]3 in an aqueous monomer solution, using femtosecond X-ray liquidography9,10,11,12 with X-ray free-electron lasers13,14. In the complex, which forms when three monomers A, B and C cluster together through non-covalent interactions15,16, the distance between A and B is shorter than that between B and C. Tracking the wavepacket in three-dimensional nuclear coordinates reveals that within the first 60 femtoseconds after photoexcitation, a covalent bond forms between A and B to give A–B + C. The second covalent bond, between B and C, subsequently forms within 360 femtoseconds to give a linear and covalently bonded trimer complex A–B–C. The trimer exhibits harmonic vibrations that we map and unambiguously assign to specific normal modes using only the experimental data. In principle, more intense X-rays could visualize the motion not only of highly scattering atoms such as gold but also of lighter atoms such as carbon and nitrogen, which will open the door to the direct tracking of the atomic motions involved in many chemical reactions.
Your institute does not have access to this article
Relevant articles
Open Access articles citing this article.
Jun Heo

,

Jong Goo Kim

…

Hyotcherl Ihee

Nature Communications Open Access 26 January 2022

Eun Hyuk Choi

,

Jong Goo Kim

…

Hyotcherl Ihee

Nature Communications Open Access 05 August 2021

Yunbeom Lee

,

Jong Goo Kim

…

Hyotcherl Ihee

Nature Communications Open Access 16 June 2021
Access options
Subscribe to Nature+
Get immediate online access to the entire Nature family of 50+ journals
Subscribe to Journal
Get full journal access for 1 year
$199.00
only $3.90 per issue
All prices are NET prices.
VAT will be added later in the checkout.
Tax calculation will be finalised during checkout.
Buy article
Get time limited or full article access on ReadCube.
$32.00
All prices are NET prices.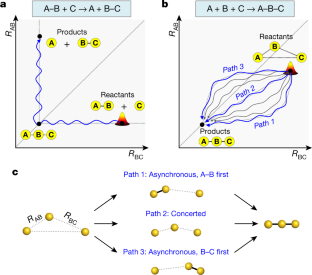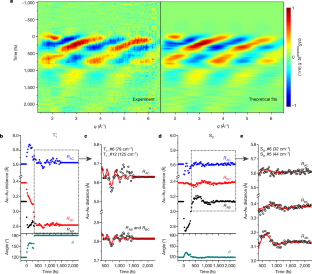 Data availability
The datasets generated and analysed here are available from the corresponding author on reasonable request.
Code availability
The codes used for the analysis here are available from the corresponding author on reasonable request.
References
Krause, J. L., Whitnell, R. M., Wilson, K. R., Yan, Y. J. & Mukamel, S. Optical control of molecular dynamics – molecular cannons, reflectrons, and wave-packet focusers. J. Chem. Phys. 99, 6562–6578 (1993).

Kukura, P., McCamant, D. W. & Mathies, R. A. Femtosecond stimulated Raman spectroscopy. Annu. Rev. Phys. Chem. 58, 461–488 (2007).

McClure, S. D., Turner, D. B., Arpin, P. C., Mirkovic, T. & Scholes, G. D. Coherent oscillations in the PC577 cryptophyte antenna occur in the excited electronic state. J. Phys. Chem. B 118, 1296–1308 (2014).

Cho, S. et al. Coherence in metal–metal-to-ligand-charge-transfer excited states of a dimetallic complex investigated by ultrafast transient absorption anisotropy. J. Phys. Chem. A 115, 3990–3996 (2011).

Baumert, T., Engel, V., Rottgermann, C., Strunz, W. T. & Gerber, G. Femtosecond pump–probe study of the spreading and recurrence of a vibrational wavepacket in Na2. Chem. Phys. Lett. 191, 639–644 (1992).

Lin, J. J., Zhou, J. G., Shiu, W. C. & Liu, K. P. State-specific correlation of coincident product pairs in the F + CD4 reaction. Science 300, 966–969 (2003).

Pan, H. L., Wang, F. Y., Czako, G. & Liu, K. P. Direct mapping of the angle-dependent barrier to reaction for Cl + CHD3 using polarized scattering data. Nat. Chem. 9, 1175–1180 (2017).

Ren, Z. F., Sun, Z. G., Zhang, D. H. & Yang, X. M. A review of dynamical resonances in A + BC chemical reactions. Rep. Prog. Phys. 80, 026401 (2017).

Kim, K. H. et al. Direct observation of bond formation in solution with femtosecond X-ray scattering. Nature 518, 385–389 (2015).

Biasin, E. et al. Femtosecond X-ray scattering study of ultrafast photoinduced structural dynamics in solvated [Co(terpy)2]2+. Phys. Rev. Lett. 117, 013002 (2016).

Haldrup, K. et al. Ultrafast X-ray scattering measurements of coherent structural dynamics on the ground-state potential energy surface of a diplatinum molecule. Phys. Rev. Lett. 122, 063001 (2019).

van Driel, T. B. et al. Atomistic characterization of the active-site solvation dynamics of a model photocatalyst. Nat. Commun. 7, 13678 (2016).

Ishikawa, T. et al. A compact X-ray free-electron laser emitting in the sub-angstrom region. Nat. Photon. 6, 540–544 (2012).

Kang, H. S. et al. Hard X-ray free-electron laser with femtosecond-scale timing jitter. Nat. Photon. 11, 708–713 (2017).

Cui, G. L., Cao, X. Y., Fang, W. H., Dolg, M. & Thiel, W. Photoinduced gold(i)–gold(i) chemical bonding in dicyanoaurate oligomers. Angew. Chem. Int. Ed. 52, 10281–10285 (2013).

Pyykkö, P. Theoretical chemistry of gold. Angew. Chem. Int. Ed. 43, 4412–4456 (2004).

Sohn, S. H., Heo, W., Lee, C., Kim, J. & Joo, T. Electronic and structural dynamics of dicyanoaurate trimer in excited state. J. Phys. Chem. A 123, 6904–6910 (2019).

Iwamura, M., Nozaki, K., Takeuchi, S. & Tahara, T. Real-time observation of tight Au–Au bond formation and relevant coherent motion upon photoexcitation of [Au(CN)2−] oligomers. J. Am. Chem. Soc. 135, 538–541 (2013).

Kjær, K. S. et al. Finding intersections between electronic excited state potential energy surfaces with simultaneous ultrafast X-ray scattering and spectroscopy. Chem. Sci. 10, 5749–5760 (2019).

Stankus, B. et al. Ultrafast X-ray scattering reveals vibrational coherence following Rydberg excitation. Nat. Chem. 11, 716–721 (2019).

Wolf, T. J. A. et al. The photochemical ring-opening of 1,3-cyclohexadiene imaged by ultrafast electron diffraction. Nat. Chem. 11, 504–509 (2019).

Glownia, J. M. et al. Self-referenced coherent diffraction X-ray movie of angstrom- and femtosecond-scale atomic motion. Phys. Rev. Lett. 117, 153003 (2016).

Yang, J. et al. Diffractive imaging of coherent nuclear motion in isolated molecules. Phys. Rev. Lett. 117, 153002 (2016).

Yang, J. et al. Imaging CF3I conical intersection and photodissociation dynamics with ultrafast electron diffraction. Science 361, 64–67 (2018).

Debnarova, A., Techert, S. & Schmatz, S. Ab initio treatment of time-resolved X-ray scattering: application to the photoisomerization of stilbene. J. Chem. Phys. 125, 224101 (2006).

Henriksen, N. E. & Moller, K. B. On the theory of time-resolved X-ray diffraction. J. Phys. Chem. B 112, 558–567 (2008).

Katayama, T. et al. Tracking multiple components of a nuclear wavepacket in photoexcited Cu(i)-phenanthroline complex using ultrafast X-ray spectroscopy. Nat. Commun. 10, 3606 (2019).

Lemke, H. T. et al. Coherent structural trapping through wavepacket dispersion during photoinduced spin state switching. Nat. Commun. 8, 15342 (2017).

Pollard, W. T. & Mathies, R. A. Analysis of femtosecond dynamic absorption spectra of nonstationary states. Annu. Rev. Phys. Chem. 43, 497–523 (1992).

Schoenlein, R. W., Boutet, S., Minitti, M. P. & Dunne, A. M. The Linac Coherent Light Source: recent developments and future plans. Appl. Sci. 7, 850 (2017).
Acknowledgements
This work was supported by the Institute for Basic Science (IBS-R004). This work was supported by the X-ray Free-Electron Laser Priority Strategic Program and the Photon and Quantum Basic Research Coordinated Development Program of MEXT, Japan. This work was supported by JSPS KAKENHI grant numbers JP17H06141, JP17H06372, JP17H06438 and JP19H05782. This work was supported by the Basic Science Research Program through the National Research Foundation of Korea (NRF) funded by the Ministry of Science, ICT and Future Planning (NRF-2016R1E1A1A01941978). Experiments were performed at the XSS of PAL-XFEL (proposal numbers 2017-2nd-XSS-001 and 2018-2nd-XSS-005), and at the BL3 of SACLA with the approval of the Japan Synchrotron Radiation Research Institute (proposal numbers 2016A8035, 2016A8055, 2016B8056, 2016B8073, 2017A8043, 2017A8053, 2017B8029, 2018A8006, 2018B8015, 2019A8012 and 2019B8025).
Ethics declarations
Competing interests
The authors declare no competing interests.
Additional information
Peer review information Nature thanks Richard A. Mathies, Martin Meedom Nielsen and the other, anonymous, reviewer(s) for their contribution to the peer review of this work.
Publisher's note Springer Nature remains neutral with regard to jurisdictional claims in published maps and institutional affiliations.
Extended data figures and tables
Supplementary information
This file contains Supplementary Text and Data, Supplementary Table 1 and Supplementary Figures 1-5.
About this article
Cite this article
Kim, J.G., Nozawa, S., Kim, H. et al. Mapping the emergence of molecular vibrations mediating bond formation. Nature 582, 520–524 (2020). https://doi.org/10.1038/s41586-020-2417-3
Received:

Accepted:

Published:

Issue Date:

DOI: https://doi.org/10.1038/s41586-020-2417-3
Comments
By submitting a comment you agree to abide by our Terms and Community Guidelines. If you find something abusive or that does not comply with our terms or guidelines please flag it as inappropriate.