Abstract
Coordinated skills such as speech or dance involve sequences of actions that follow syntactic rules in which transitions between elements depend on the identities and order of past actions. Canary songs consist of repeated syllables called phrases, and the ordering of these phrases follows long-range rules1 in which the choice of what to sing depends on the song structure many seconds prior. The neural substrates that support these long-range correlations are unknown. Here, using miniature head-mounted microscopes and cell-type-specific genetic tools, we observed neural activity in the premotor nucleus HVC2,3,4 as canaries explored various phrase sequences in their repertoire. We identified neurons that encode past transitions, extending over four phrases and spanning up to four seconds and forty syllables. These neurons preferentially encode past actions rather than future actions, can reflect more than one song history, and are active mostly during the rare phrases that involve history-dependent transitions in song. These findings demonstrate that the dynamics of HVC include 'hidden states' that are not reflected in ongoing behaviour but rather carry information about prior actions. These states provide a possible substrate for the control of syntax transitions governed by long-range rules.
Access options
Subscribe to Nature+
Get immediate online access to Nature and 55 other Nature journal
Subscribe to Journal
Get full journal access for 1 year
$199.00
only $3.90 per issue
All prices are NET prices.
VAT will be added later in the checkout.
Tax calculation will be finalised during checkout.
Buy article
Get time limited or full article access on ReadCube.
$32.00
All prices are NET prices.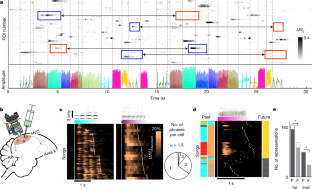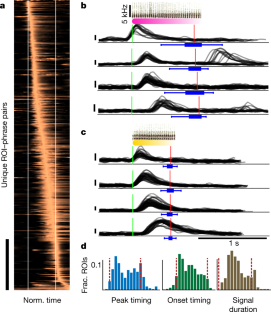 References
Markowitz, J. E., Ivie, E., Kligler, L. & Gardner, T. J. Long-range order in canary song. PLOS Comput. Biol. 9, e1003052 (2013).

Nottebohm, F., Stokes, T. M. & Leonard, C. M. Central control of song in the canary, Serinus canarius. J. Comp. Neurol. 165, 457–486 (1976).

Hahnloser, R. H. R., Kozhevnikov, A. A. & Fee, M. S. An ultra-sparse code underlies the generation of neural sequences in a songbird. Nature 419, 65–70 (2002).

Long, M. A. & Fee, M. S. Using temperature to analyse temporal dynamics in the songbird motor pathway. Nature 456, 189–194 (2008).

Rokni, U., Richardson, A. G., Bizzi, E. & Seung, H. S. Motor learning with unstable neural representations. Neuron 54, 653–666 (2007).

Todorov, E. Optimality principles in sensorimotor control. Nat. Neurosci. 7, 907–915 (2004).

Wolpert, D. M. Computational approaches to motor control. Trends Cogn. Sci. 1, 209–216 (1997).

Leonardo, A. Degenerate coding in neural systems. J. Comp. Physiol. A Neuroethol. Sens. Neural Behav. Physiol. 191, 995–1010 (2005).

Jin, D. Z. & Kozhevnikov, A. A. A compact statistical model of the song syntax in Bengalese finch. PLOS Comput. Biol. 7, e1001108 (2011).

Ohbayashi, M., Ohki, K. & Miyashita, Y. Conversion of working memory to motor sequence in the monkey premotor cortex. Science 301, 233–236 (2003).

Goldman-Rakic, P. S. Cellular basis of working memory. Neuron 14, 477–485 (1995).

Svoboda, K. & Li, N. Neural mechanisms of movement planning: motor cortex and beyond. Curr. Opin. Neurobiol. 49, 33–41 (2018).

Thompson, J. A., Costabile, J. D. & Felsen, G. Mesencephalic representations of recent experience influence decision making. eLife 5, e16572 (2016).

Pastalkova, E., Itskov, V., Amarasingham, A. & Buzsáki, G. Internally generated cell assembly sequences in the rat hippocampus. Science 321, 1322–1327 (2008).

Churchland, M. M., Afshar, A. & Shenoy, K. V. A central source of movement variability. Neuron 52, 1085–1096 (2006).

Mushiake, H., Saito, N., Sakamoto, K., Itoyama, Y. & Tanji, J. Activity in the lateral prefrontal cortex reflects multiple steps of future events in action plans. Neuron 50, 631–641 (2006).

Shima, K. & Tanji, J. Neuronal activity in the supplementary and presupplementary motor areas for temporal organization of multiple movements. J. Neurophysiol. 84, 2148–2160 (2000).

Fujimoto, H., Hasegawa, T. & Watanabe, D. Neural coding of syntactic structure in learned vocalizations in the songbird. J. Neurosci. 31, 10023–10033 (2011).

Hamaguchi, K., Tanaka, M. & Mooney, R. A distributed recurrent network contributes to temporally precise vocalizations. Neuron 91, 680–693 (2016).

Ashmore, R. C., Wild, J. M. & Schmidt, M. F. Brainstem and forebrain contributions to the generation of learned motor behaviors for song. J. Neurosci. 25, 8543–8554 (2005).

Alonso, R. G., Trevisan, M. A., Amador, A., Goller, F. & Mindlin, G. B. A circular model for song motor control in Serinus canaria. Front. Comput. Neurosci. 9, 41 (2015).

Goldberg, J. H. & Fee, M. S. Singing-related neural activity distinguishes four classes of putative striatal neurons in the songbird basal ganglia. J. Neurophysiol. 103, 2002–2014 (2010).

Jin, D. Z. Generating variable birdsong syllable sequences with branching chain networks in avian premotor nucleus HVC. Phys. Rev. E 80, 051902 (2009).

Hinton, G. et al. Deep neural networks for acoustic modeling in speech recognition: the shared views of four research groups. IEEE Signal Process. Mag. 29, 82–97 (2012).

Chen, T.-W. et al. Ultrasensitive fluorescent proteins for imaging neuronal activity. Nature 499, 295–300 (2013).

Bouchard, K. E. & Brainard, M. S. Auditory-induced neural dynamics in sensory–motor circuitry predict learned temporal and sequential statistics of birdsong. Proc. Natl Acad. Sci. USA 113, 9641–9646 (2016).

Wittenbach, J. D., Bouchard, K. E., Brainard, M. S. & Jin, D. Z. An adapting auditory-motor feedback loop can contribute to generating vocal repetition. PLOS Comput. Biol. 11, e1004471 (2015).

Dave, A. S., Yu, A. C. & Margoliash, D. Behavioral state modulation of auditory activity in a vocal motor system. Science 282, 2250–2254 (1998).

Cardin, J. A. & Schmidt, M. F. Noradrenergic inputs mediate state dependence of auditory responses in the avian song system. J. Neurosci. 24, 7745–7753 (2004).

Glaze, C. M. & Troyer, T. W. Development of temporal structure in zebra finch song. J. Neurophysiol. 109, 1025–1035 (2013).

Castelino, C. B. & Schmidt, M. F. What birdsong can teach us about the central noradrenergic system. J. Chem. Neuroanat. 39, 96–111 (2010).

Prather, J. F., Peters, S., Nowicki, S. & Mooney, R. Precise auditory–vocal mirroring in neurons for learned vocal communication. Nature 451, 305–310 (2008).

Okubo, T. S., Mackevicius, E. L., Payne, H. L., Lynch, G. F. & Fee, M. S. Growth and splitting of neural sequences in songbird vocal development. Nature 528, 352–357 (2015).

Zucker, R. S. & Regehr, W. G. Short-term synaptic plasticity. Annu. Rev. Physiol. 64, 355–405 (2002).

Iacobucci, G. J. & Popescu, G. K. NMDA receptors: linking physiological output to biophysical operation. Nat. Rev. Neurosci. 18, 236–249 (2017).

Nagel, K., Kim, G., McLendon, H. & Doupe, A. A bird brain's view of auditory processing and perception. Hear. Res. 273, 123–133 (2011).

Fiete, I. R., Senn, W., Wang, C. Z. H. & Hahnloser, R. H. R. Spike-time-dependent plasticity and heterosynaptic competition organize networks to produce long scale-free sequences of neural activity. Neuron 65, 563–576 (2010).

Abeles, M. Corticonics: Neural Circuits of the Cerebral Cortex (Cambridge Univ. Press, 1991).

Cannon, J., Kopell, N., Gardner, T. & Markowitz, J. Neural sequence generation using spatiotemporal patterns of inhibition. PLOS Comput. Biol. 11, e1004581 (2015).

Hamaguchi, K. & Mooney, R. Recurrent interactions between the input and output of a songbird cortico-basal ganglia pathway are implicated in vocal sequence variability. J. Neurosci. 32, 11671–11687 (2012).

Graves, A., Mohamed, A. & Hinton, G. Speech recognition with deep recurrent neural networks. 2013 IEEE Intl Conf. Acoustics, Speech and Signal Processing 6645–6649 (2013).

Yamashita, Y. & Tani, J. Emergence of functional hierarchy in a multiple timescale neural network model: a humanoid robot experiment. PLOS Comput. Biol. 4, e1000220 (2008).

Santoro, A. et al. in Advances in Neural Information Processing Systems 31 (eds Bengio, S. et al.) 7310–7321 (Curran Associates, 2018).

Chorowski, J. K., Bahdanau, D., Serdyuk, D., Cho, K. & Bengio, Y. in Advances in Neural Information Processing Systems 28 (eds Cortes, C. et al.) 577–585 (Curran Associates, 2015).

Stokes, T. M., Leonard, C. M. & Nottebohm, F. The telencephalon, diencephalon, and mesencephalon of the canary, Serinus canaria, in stereotaxic coordinates. J. Comp. Neurol. 156, 337–374 (1974).

Liberti, W. A., III et al. Unstable neurons underlie a stable learned behavior. Nat. Neurosci. 19, 1665–1671 (2016).

Wild, J. M., Williams, M. N., Howie, G. J. & Mooney, R. Calcium-binding proteins define interneurons in HVC of the zebra finch (Taeniopygia guttata). J. Comp. Neurol. 483, 76–90 (2005).

Wohlgemuth, M. J., Sober, S. J. & Brainard, M. S. Linked control of syllable sequence and phonology in birdsong. J. Neurosci. 30, 12936–12949 (2010).

Zhou, P. et al. Efficient and accurate extraction of in vivo calcium signals from microendoscopic video data. eLife 7, e28728 (2018).

Howell, D. C. Statistical Methods for Psychology (Cengage Learning, 2009).
Acknowledgements
This study was supported by NIH grants R01NS089679, R01NS104925, R24NS098536 (T.J.G.) and R24HL123828, U01TR001810 (D.N.K.) We thank J. Markowitz, I. Davison, and J. Gavornik for discussions and comments on this manuscript, and Nvidia Corporation for a technology grant (Y.C.).
Ethics declarations
Competing interests
The authors declare no competing interests.
Additional information
Peer review information Nature thanks Jesse Goldberg and the other, anonymous, reviewer(s) for their contribution to the peer review of this work.
Publisher's note Springer Nature remains neutral with regard to jurisdictional claims in published maps and institutional affiliations.
Extended data figures and tables
Supplementary information
About this article
Cite this article
Cohen, Y., Shen, J., Semu, D. et al. Hidden neural states underlie canary song syntax. Nature 582, 539–544 (2020). https://doi.org/10.1038/s41586-020-2397-3
Received:

Accepted:

Published:

Issue Date:

DOI: https://doi.org/10.1038/s41586-020-2397-3
This article is cited by
Nature Reviews Neuroscience (2020)
Comments
By submitting a comment you agree to abide by our Terms and Community Guidelines. If you find something abusive or that does not comply with our terms or guidelines please flag it as inappropriate.