Abstract
Animals coexist in commensal, pathogenic or mutualistic relationships with complex communities of diverse organisms, including microorganisms1. Some bacteria produce bioactive neurotransmitters that have previously been proposed to modulate nervous system activity and behaviours of their hosts2,3. However, the mechanistic basis of this microbiota–brain signalling and its physiological relevance are largely unknown. Here we show that in Caenorhabditis elegans, the neuromodulator tyramine produced by commensal Providencia bacteria, which colonize the gut, bypasses the requirement for host tyramine biosynthesis and manipulates a host sensory decision. Bacterially produced tyramine is probably converted to octopamine by the host tyramine β-hydroxylase enzyme. Octopamine, in turn, targets the OCTR-1 octopamine receptor on ASH nociceptive neurons to modulate an aversive olfactory response. We identify the genes that are required for tyramine biosynthesis in Providencia, and show that these genes are necessary for the modulation of host behaviour. We further find that C. elegans colonized by Providencia preferentially select these bacteria in food choice assays, and that this selection bias requires bacterially produced tyramine and host octopamine signalling. Our results demonstrate that a neurotransmitter produced by gut bacteria mimics the functions of the cognate host molecule to override host control of a sensory decision, and thereby promotes fitness of both the host and the microorganism.
Relevant articles
Open Access articles citing this article.
Cell & Bioscience Open Access 16 November 2022

Wei Liu

,

Kah-Leong Lim

&

Eng-King Tan

Translational Neurodegeneration Open Access 17 October 2022

Maximilian J. Helf

,

Bennett W. Fox

…

Frank C. Schroeder

Nature Communications Open Access 10 February 2022
Access options
Access Nature and 54 other Nature Portfolio journals
Get Nature+, our best-value online-access subscription
$29.99 / 30 days
cancel any time
Subscribe to this journal
Receive 51 print issues and online access
$199.00 per year
only $3.90 per issue
Rent or buy this article
Prices vary by article type
from$1.95
to$39.95
Prices may be subject to local taxes which are calculated during checkout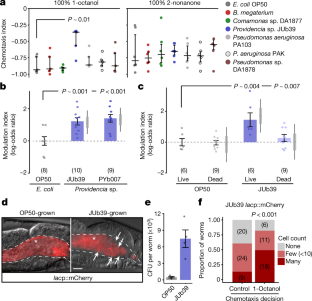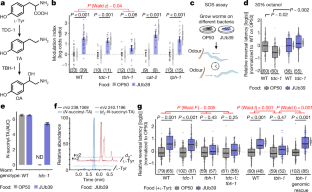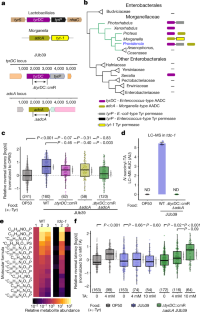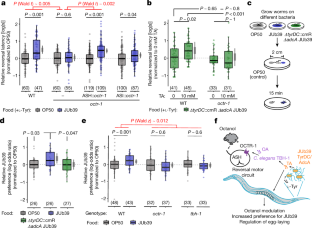 References
Douglas, A. E. Fundamentals of Microbiome Science: How Microbes Shape Animal Biology (Princeton Univ. Press, 2018).

Guo, R., Chen, L.-H., Xing, C. & Liu, T. Pain regulation by gut microbiota: molecular mechanisms and therapeutic potential. Br. J. Anaesth. 123, 637–654 (2019).

Strandwitz, P. Neurotransmitter modulation by the gut microbiota. Brain Res. 1693 (Pt B), 128–133 (2018).

Zhang, J., Holdorf, A. D. & Walhout, A. J. C. elegans and its bacterial diet as a model for systems-level understanding of host–microbiota interactions. Curr. Opin. Biotechnol. 46, 74–80 (2017).

Schulenburg, H. & Félix, M.-A. The natural biotic environment of Caenorhabditis elegans. Genetics 206, 55–86 (2017).

Meisel, J. D. & Kim, D. H. Behavioral avoidance of pathogenic bacteria by Caenorhabditis elegans. Trends Immunol. 35, 465–470 (2014).

Samuel, B. S., Rowedder, H., Braendle, C., Félix, M.-A. & Ruvkun, G. Caenorhabditis elegans responses to bacteria from its natural habitats. Proc. Natl Acad. Sci. USA 113, E3941–E3949 (2016).

Bargmann, C. I., Hartwieg, E. & Horvitz, H. R. Odorant-selective genes and neurons mediate olfaction in C. elegans. Cell 74, 515–527 (1993).

Song, B.-M., Faumont, S., Lockery, S. & Avery, L. Recognition of familiar food activates feeding via an endocrine serotonin signal in Caenorhabditis elegans. eLife 2, e00329 (2013).

Chao, M. Y., Komatsu, H., Fukuto, H. S., Dionne, H. M. & Hart, A. C. Feeding status and serotonin rapidly and reversibly modulate a Caenorhabditis elegans chemosensory circuit. Proc. Natl Acad. Sci. USA 101, 15512–15517 (2004).

Liang, B., Moussaif, M., Kuan, C.-J., Gargus, J. J. & Sze, J. Y. Serotonin targets the DAF-16/FOXO signaling pathway to modulate stress responses. Cell Metab. 4, 429–440 (2006).

Entchev, E. V. et al. A gene-expression-based neural code for food abundance that modulates lifespan. eLife 4, e06259 (2015).

Avery, L. & Shtonda, B. B. Food transport in the C. elegans pharynx. J. Exp. Biol. 206, 2441–2457 (2003).

Avery, L. The genetics of feeding in Caenorhabditis elegans. Genetics 133, 897–917 (1993).

Berg, M. et al. Assembly of the Caenorhabditis elegans gut microbiota from diverse soil microbial environments. ISME J. 10, 1998–2009 (2016).

Dirksen, P. et al. The native microbiome of the nematode Caenorhabditis elegans: gateway to a new host–microbiome model. BMC Biol. 14, 38 (2016).

Tan, M.-W., Mahajan-Miklos, S. & Ausubel, F. M. Killing of Caenorhabditis elegans by Pseudomonas aeruginosa used to model mammalian bacterial pathogenesis. Proc. Natl Acad. Sci. USA 96, 715–720 (1999).

Irazoqui, J. E. et al. Distinct pathogenesis and host responses during infection of C. elegans by P. aeruginosa and S. aureus. PLoS Pathog. 6, e1000982 (2010).

Wragg, R. T. et al. Tyramine and octopamine independently inhibit serotonin-stimulated aversive behaviors in Caenorhabditis elegans through two novel amine receptors. J. Neurosci. 27, 13402–13412 (2007).

Mills, H. et al. Monoamines and neuropeptides interact to inhibit aversive behaviour in Caenorhabditis elegans. EMBO J. 31, 667–678 (2012).

Harris, G. et al. The monoaminergic modulation of sensory-mediated aversive responses in Caenorhabditis elegans requires glutamatergic/peptidergic cotransmission. J. Neurosci. 30, 7889–7899 (2010).

Ezak, M. J. & Ferkey, D. M. The C. elegans D2-like dopamine receptor DOP-3 decreases behavioral sensitivity to the olfactory stimulus 1-octanol. PLoS ONE 5, e9487 (2010).

Ezcurra, M., Tanizawa, Y., Swoboda, P. & Schafer, W. R. Food sensitizes C. elegans avoidance behaviours through acute dopamine signalling. EMBO J. 30, 1110–1122 (2011).

Alkema, M. J., Hunter-Ensor, M., Ringstad, N. & Horvitz, H. R. Tyramine functions independently of octopamine in the Caenorhabditis elegans nervous system. Neuron 46, 247–260 (2005).

Lints, R. & Emmons, S. W. Patterning of dopaminergic neurotransmitter identity among Caenorhabditis elegans ray sensory neurons by a TGFβ family signaling pathway and a Hox gene. Development 126, 5819–5831 (1999).

Sze, J. Y., Victor, M., Loer, C., Shi, Y. & Ruvkun, G. Food and metabolic signalling defects in a Caenorhabditis elegans serotonin-synthesis mutant. Nature 403, 560–564 (2000).

Troemel, E. R., Chou, J. H., Dwyer, N. D., Colbert, H. A. & Bargmann, C. I. Divergent seven transmembrane receptors are candidate chemosensory receptors in C. elegans. Cell 83, 207–218 (1995).

Artyukhin, A. B. et al. Succinylated octopamine ascarosides and a new pathway of biogenic amine metabolism in Caenorhabditis elegans. J. Biol. Chem. 288, 18778–18783 (2013).

Pugin, B. et al. A wide diversity of bacteria from the human gut produces and degrades biogenic amines. Microb. Ecol. Health Dis. 28, 1353881 (2017).

Barbieri, F., Montanari, C., Gardini, F. & Tabanelli, G. Biogenic amine production by lactic acid bacteria: a review. Foods 8, 17 (2019).

Marcobal, A., Martín-Alvarez, P. J., Moreno-Arribas, M. V. & Muñoz, R. A multifactorial design for studying factors influencing growth and tyramine production of the lactic acid bacteria Lactobacillus brevis CECT 4669 and Enterococcus faecium BIFI-58. Res. Microbiol. 157, 417–424 (2006).

Duerr, J. S. et al. The cat-1 gene of Caenorhabditis elegans encodes a vesicular monoamine transporter required for specific monoamine-dependent behaviors. J. Neurosci. 19, 72–84 (1999).

Sandmeier, E., Hale, T. I. & Christen, P. Multiple evolutionary origin of pyridoxal-5′-phosphate-dependent amino acid decarboxylases. Eur. J. Biochem. 221, 997–1002 (1994).

Connil, N. et al. Identification of the Enterococcus faecalis tyrosine decarboxylase operon involved in tyramine production. Appl. Environ. Microbiol. 68, 3537–3544 (2002).

Linares, D. M., Fernández, M., Martín, M. C. & Alvarez, M. A. Tyramine biosynthesis in Enterococcus durans is transcriptionally regulated by the extracellular pH and tyrosine concentration. Microb. Biotechnol. 2, 625–633 (2009).

Zhu, H. et al. Crystal structure of tyrosine decarboxylase and identification of key residues involved in conformational swing and substrate binding. Sci. Rep. 6, 27779 (2016).

Quick, M. et al. State-dependent conformations of the translocation pathway in the tyrosine transporter Tyt1, a novel neurotransmitter:sodium symporter from Fusobacterium nucleatum. J. Biol. Chem. 281, 26444–26454 (2006).

Collins, K. M. et al. Activity of the C. elegans egg-laying behavior circuit is controlled by competing activation and feedback inhibition. eLife 5, e21126 (2016).

Rex, E. et al. TYRA-2 (F01E11.5): a Caenorhabditis elegans tyramine receptor expressed in the MC and NSM pharyngeal neurons. J. Neurochem. 94, 181–191 (2005).

Sun, J., Singh, V., Kajino-Sakamoto, R. & Aballay, A. Neuronal GPCR controls innate immunity by regulating noncanonical unfolded protein response genes. Science 332, 729–732 (2011).

Elgaali, H. et al. Comparison of long-chain alcohols and other volatile compounds emitted from food-borne and related Gram positive and Gram negative bacteria. J. Basic Microbiol. 42, 373–380 (2002).

Worthy, S. E. et al. Identification of attractive odorants released by preferred bacterial food found in the natural habitats of C. elegans. PLoS ONE 13, e0201158 (2018).

Yoshida, K. et al. Odour concentration-dependent olfactory preference change in C. elegans. Nat. Commun. 3, 739 (2012).

Zhang, F. et al. Caenorhabditis elegans as a model for microbiome research. Front. Microbiol. 8, 485 (2017).

Leitão-Gonçalves, R. et al. Commensal bacteria and essential amino acids control food choice behavior and reproduction. PLoS Biol. 15, e2000862 (2017).

Pais, I. S., Valente, R. S., Sporniak, M. & Teixeira, L. Drosophila melanogaster establishes a species-specific mutualistic interaction with stable gut-colonizing bacteria. PLoS Biol. 16, e2005710 (2018).

Henriques, S. F. et al. Metabolic cross-feeding allows a gut microbial community to overcome detrimental diets and alter host behaviour. Preprint at https://www.biorxiv.org/content/10.1101/821892v1 (2019).

Breton, J. et al. Gut commensal E. coli proteins activate host satiety pathways following nutrient-induced bacterial growth. Cell Metab. 23, 324–334 (2016).

Fetissov, S. O. Role of the gut microbiota in host appetite control: bacterial growth to animal feeding behaviour. Nat. Rev. Endocrinol. 13, 11–25 (2017).

Blomfield, I. C., Vaughn, V., Rest, R. F. & Eisenstein, B. I. Allelic exchange in Escherichia coli using the Bacillus subtilis sacB gene and a temperature-sensitive pSC101 replicon. Mol. Microbiol. 5, 1447–1457 (1991).

Jiang, Y. et al. Multigene editing in the Escherichia coli genome via the CRISPR–Cas9 system. Appl. Environ. Microbiol. 81, 2506–2514 (2015).

Marx, C. J. Development of a broad-host-range sacB-based vector for unmarked allelic exchange. BMC Res. Notes 1, 1 (2008).

Barbier, M. & Damron, F. H. Rainbow vectors for broad-range bacterial fluorescence labeling. PLoS ONE 11, e0146827 (2016).

Alegado, R. A. & Tan, M.-W. Resistance to antimicrobial peptides contributes to persistence of Salmonella typhimurium in the C. elegans intestine. Cell. Microbiol. 10, 1259–1273 (2008).

Troemel, E. R., Kimmel, B. E. & Bargmann, C. I. Reprogramming chemotaxis responses: sensory neurons define olfactory preferences in C. elegans. Cell 91, 161–169 (1997).

Koren, S. et al. Canu: scalable and accurate long-read assembly via adaptive k-mer weighting and repeat separation. Genome Res. 27, 722–736 (2017).

Hunt, M. et al. Circlator: automated circularization of genome assemblies using long sequencing reads. Genome Biol. 16, 294 (2015).

Edgar, R. C. MUSCLE: multiple sequence alignment with high accuracy and high throughput. Nucleic Acids Res. 32, 1792–1797 (2004).

Katoh, K., Misawa, K., Kuma, K. & Miyata, T. MAFFT: a novel method for rapid multiple sequence alignment based on fast Fourier transform. Nucleic Acids Res. 30, 3059–3066 (2002).

Lassmann, T. & Sonnhammer, E. L. L. Kalign—an accurate and fast multiple sequence alignment algorithm. BMC Bioinformatics 6, 298 (2005).

Capella-Gutiérrez, S., Silla-Martínez, J. M. & Gabaldón, T. trimAl: a tool for automated alignment trimming in large-scale phylogenetic analyses. Bioinformatics 25, 1972–1973 (2009).

Guindon, S. et al. New algorithms and methods to estimate maximum-likelihood phylogenies: assessing the performance of PhyML 3.0. Syst. Biol. 59, 307–321 (2010).

Darriba, D., Taboada, G. L., Doallo, R. & Posada, D. ProtTest 3: fast selection of best-fit models of protein evolution. Bioinformatics 27, 1164–1165 (2011).

Waterhouse, A. et al. SWISS-MODEL: homology modelling of protein structures and complexes. Nucleic Acids Res. 46, W296–W303 (2018).

Pettersen, E. F. et al. UCSF Chimera—a visualization system for exploratory research and analysis. J. Comput. Chem. 25, 1605–1612 (2004).

R Core Team. R: A language and environment for statistical computing (R Foundation for Statistical Computing, 2019).

RStudio Team. RStudio: integrated development for R (RStudio, 2019).

Bates, D., Maechler, M., Bolker, B. & Walker, S. Fitting linear mixed-effects models using lme4. J. Stat. Softw. 67, 1–48 (2015).

Lenth, R. emmeans: estimated marginal means, aka least-squares means. R package v.1.4.5, https://CRAN.R-project.org/package=emmeans (2020).

Halekoh, U. & Højsgaard, S. A Kenward–Roger approximation and parametric bootstrap methods for tests in linear mixed models – the R package pbkrtest. J. Stat. Softw. 59, 1–30 (2014).

Kuznetsova, A., Brockhoff, P. B. & Christensen, R. H. B. lmerTest package: tests in linear mixed effects models. J. Stat. Softw. 82, 1–26 (2017).

Fox, J. & Weisberg, S. An R Companion to Applied Regression 3rd edn (Sage, 2019).

Goodrich, B., Gabry, J., Ali, I. & Brilleman, S. rstanarm: Bayesian applied regression modeling via Stan, https://mc-stan.org/rstanarm (2020).

Plummer, M., Best, N., Cowles, K. & Vines, K. CODA: convergence diagnosis and output analysis for MCMC. R News 6, 7–11 (2006).

Gabry, J., Simpson, D., Vehtari, A., Betancourt, M. & Gelman, A. Visualization in Bayesian workflow. J. R. Stat. Soc. A. 182, 389–402 (2019).

Kay, M. tidybayes: tidy data and geoms for Bayesian models, https://doi.org/10.5281/zenodo.1308151 (2020).

Venables, W. N. & Ripley, B. D. Modern Applied Statistics with S 4th edn (Springer, 2002).

Helf, M. Metaboseek: an interactive, browser-based tool to analyze your mass spectrometry data, https://doi.org/10.5281/zenodo.3360087 (2019).

Smith, C. A., Want, E. J., O'Maille, G., Abagyan, R. & Siuzdak, G. XCMS: processing mass spectrometry data for metabolite profiling using nonlinear peak alignment, matching, and identification. Anal. Chem. 78, 779–787 (2006).
Acknowledgements
We thank R. Komuniecki for the octr-1 cDNA; M. Alkema for the tbh-1 promoter; multiple members of the C. elegans community for bacterial strains (listed in Supplementary Table 2); the Caenorhabditis Genetics Center for C. elegans strains; the Broad Institute for bacterial genome sequencing; M. Helf for assistance with the Metaboseek software; J. Yu and H. Le for synthesis of N-succinyl neurotransmitter standards; S. Lovett, L. Laranjo, M. Alkema and the laboratory of P.S. for advice; and C. Bargmann, O. Hobert and the laboratory of P.S. for comments on the manuscript. This work was partly supported by the NIH (T32 NS007292 and F32 DC013711 to M.P.O.; R01 GM088290 and R35 GM131877 to F.C.S.; and R35 GM122463 and R21 NS101702 to P.S.) and the NSF (IOS 1655118 to P.S.).
Ethics declarations
Competing interests
The authors declare no competing interests.
Additional information
Peer review information Nature thanks William Schafer and the other, anonymous, reviewer(s) for their contribution to the peer review of this work.
Publisher's note Springer Nature remains neutral with regard to jurisdictional claims in published maps and institutional affiliations.
Extended data figures and tables
Supplementary information
| Group II decarboxylase-encoding genes identified in Gammaproteobacteria. Genes were identified using a hierarchical tblastn approach (see Methods). Blast query sequence, query group, and the presence of putative transporter-encoding genes are shown in the indicated columns.
| Strains used in this work.
About this article
Cite this article
O'Donnell, M.P., Fox, B.W., Chao, PH. et al. A neurotransmitter produced by gut bacteria modulates host sensory behaviour. Nature 583, 415–420 (2020). https://doi.org/10.1038/s41586-020-2395-5
Received:

Accepted:

Published:

Issue Date:

DOI: https://doi.org/10.1038/s41586-020-2395-5
Comments
By submitting a comment you agree to abide by our Terms and Community Guidelines. If you find something abusive or that does not comply with our terms or guidelines please flag it as inappropriate.