Abstract
Neutrophil extracellular traps (NETs), which consist of chromatin DNA filaments coated with granule proteins, are released by neutrophils to trap microorganisms1,2,3. Recent studies have suggested that the DNA component of NETs (NET-DNA) is associated with cancer metastasis in mouse models4,5,6. However, the functional role and clinical importance of NET-DNA in metastasis in patients with cancer remain unclear. Here we show that NETs are abundant in the liver metastases of patients with breast and colon cancers, and that serum NETs can predict the occurrence of liver metastases in patients with early-stage breast cancer. NET-DNA acts as a chemotactic factor to attract cancer cells, rather than merely acting as a 'trap' for them; in several mouse models, NETs in the liver or lungs were found to attract cancer cells to form distant metastases. We identify the transmembrane protein CCDC25 as a NET-DNA receptor on cancer cells that senses extracellular DNA and subsequently activates the ILK–β-parvin pathway to enhance cell motility. NET-mediated metastasis is abrogated in CCDC25-knockout cells. Clinically, we show that the expression of CCDC25 on primary cancer cells is closely associated with a poor prognosis for patients. Overall, we describe a transmembrane DNA receptor that mediates NET-dependent metastasis, and suggest that targeting CCDC25 could be an appealing therapeutic strategy for the prevention of cancer metastasis.
Relevant articles
Open Access articles citing this article.
Yi Wang

,

Kai Conrad Cecil Johnson

…

Zihai Li

Journal of Hematology & Oncology Open Access 28 August 2022

Goodwin G. Jinesh

&

Andrew S. Brohl

Signal Transduction and Targeted Therapy Open Access 23 August 2022

Marianna Ioannou

,

Dennis Hoving

…

Venizelos Papayannopoulos

Nature Communications Open Access 09 August 2022
Access options
Subscribe to Nature+
Get immediate online access to the entire Nature family of 50+ journals
Subscribe to Journal
Get full journal access for 1 year
$199.00
only $3.90 per issue
All prices are NET prices.
VAT will be added later in the checkout.
Tax calculation will be finalised during checkout.
Buy article
Get time limited or full article access on ReadCube.
$32.00
All prices are NET prices.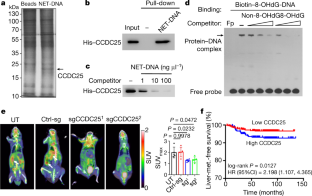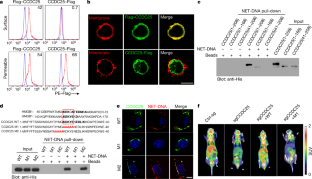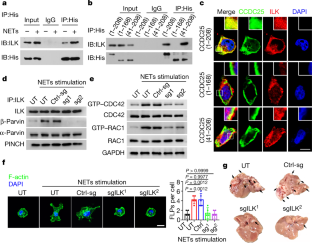 Data availability
Source data are provided with this paper. All other data are available from the corresponding author upon reasonable request.
References
Brinkmann, V. et al. Neutrophil extracellular traps kill bacteria. Science 303, 1532–1535 (2004).

McDonald, B., Urrutia, R., Yipp, B. G., Jenne, C. N. & Kubes, P. Intravascular neutrophil extracellular traps capture bacteria from the bloodstream during sepsis. Cell Host Microbe 12, 324–333 (2012).

Fuchs, T. A. et al. Novel cell death program leads to neutrophil extracellular traps. J. Cell Biol. 176, 231–241 (2007).

Tohme, S. et al. Neutrophil extracellular traps promote the development and progression of liver metastases after surgical stress. Cancer Res. 76, 1367–1380 (2016).

Cools-Lartigue, J. et al. Neutrophil extracellular traps sequester circulating tumor cells and promote metastasis. J. Clin. Invest. 123, 3446–3458 (2013).

Cedervall, J., Zhang, Y. & Olsson, A. K. Tumor-induced NETosis as a risk factor for metastasis and organ failure. Cancer Res. 76, 4311–4315 (2016).

Albrengues, J. et al. Neutrophil extracellular traps produced during inflammation awaken dormant cancer cells in mice. Science 361, eaao4227 (2018).

Park, J. et al. Cancer cells induce metastasis-supporting neutrophil extracellular DNA traps. Sci. Transl. Med. 8, 361ra138 (2016).

Kessenbrock, K. et al. Netting neutrophils in autoimmune small-vessel vasculitis. Nat. Med. 15, 623–625 (2009).

Yu, F. et al. let-7 regulates self renewal and tumorigenicity of breast cancer cells. Cell 131, 1109–1123 (2007).

Li, P. et al. PAD4 is essential for antibacterial innate immunity mediated by neutrophil extracellular traps. J. Exp. Med. 207, 1853–1862 (2010).

van der Windt, D. J. et al. Neutrophil extracellular traps promote inflammation and development of hepatocellular carcinoma in nonalcoholic steatohepatitis. Hepatology 68, 1347–1360 (2018).

Noubouossie, D. F. et al. In vitro activation of coagulation by human neutrophil DNA and histone proteins but not neutrophil extracellular traps. Blood 129, 1021–1029 (2017).

Warnatsch, A., Ioannou, M., Wang, Q. & Papayannopoulos, V. Neutrophil extracellular traps license macrophages for cytokine production in atherosclerosis. Science 349, 316–320 (2015).

Yang, H. et al. New insights into neutrophil extracellular traps: mechanisms of formation and role in inflammation. Front. Immunol. 7, 302 (2016).

Lood, C. et al. Neutrophil extracellular traps enriched in oxidized mitochondrial DNA are interferogenic and contribute to lupus-like disease. Nat. Med. 22, 146–153 (2016).

Gehrke, N. et al. Oxidative damage of DNA confers resistance to cytosolic nuclease TREX1 degradation and potentiates STING-dependent immune sensing. Immunity 39, 482–495 (2013).

Berlow, R. B., Dyson, H. J. & Wright, P. E. Hypersensitive termination of the hypoxic response by a disordered protein switch. Nature 543, 447–451 (2017).

Chen, F. et al. Extracellular vesicle-packaged HIF-1α-stabilizing lncRNA from tumour-associated macrophages regulates aerobic glycolysis of breast cancer cells. Nat. Cell Biol. 21, 498–510 (2019).

Schuberth, C. & Buchberger, A. Membrane-bound Ubx2 recruits Cdc48 to ubiquitin ligases and their substrates to ensure efficient ER-associated protein degradation. Nat. Cell Biol. 7, 999–1006 (2005).

Yipp, B. G. et al. Infection-induced NETosis is a dynamic process involving neutrophil multitasking in vivo. Nat. Med. 18, 1386–1393 (2012).

Nie, M. et al. Neutrophil extracellular traps induced by IL8 promote diffuse large B-cell lymphoma progression via the TLR9 signaling. Clin. Cancer Res. 25, 1867–1879 (2018).

Su, S. et al. CD10+GPR77+ cancer-associated fibroblasts promote cancer formation and chemoresistance by sustaining cancer stemness. Cell 172, 841–856.e16 (2018).

Baer, C. et al. Suppression of microRNA activity amplifies IFN-γ-induced macrophage activation and promotes anti-tumour immunity. Nat. Cell Biol. 18, 790–802 (2016).

Wang, C. Y. et al. ZIP8 is an iron and zinc transporter whose cell-surface expression is up-regulated by cellular iron loading. J. Biol. Chem. 287, 34032–34043 (2012).

Roberts, T. L. et al. HIN-200 proteins regulate caspase activation in response to foreign cytoplasmic DNA. Science 323, 1057–1060 (2009).

Zhang, Z. et al. The helicase DDX41 senses intracellular DNA mediated by the adaptor STING in dendritic cells. Nat. Immunol. 12, 959–965 (2011); correction 13, 196 (2012).

Abe, T. et al. STING recognition of cytoplasmic DNA instigates cellular defense. Mol. Cell 50, 5–15 (2013).

Xu, R. H. et al. NANOG is a direct target of TGFβ/activin-mediated SMAD signaling in human ESCs. Cell Stem Cell 3, 196–206 (2008).

Zhang, Z. et al. DDX1, DDX21, and DHX36 helicases form a complex with the adaptor molecule TRIF to sense dsRNA in dendritic cells. Immunity 34, 866–878 (2011).

Jensen, R. B., Carreira, A. & Kowalczykowski, S. C. Purified human BRCA2 stimulates RAD51-mediated recombination. Nature 467, 678–683 (2010).

Lu, H., Pannicke, U., Schwarz, K. & Lieber, M. R. Length-dependent binding of human XLF to DNA and stimulation of XRCC4·DNA ligase IV activity. J. Biol. Chem. 282, 11155–11162 (2007).

Yamamoto, Y. & Sakisaka, T. Molecular machinery for insertion of tail-anchored membrane proteins into the endoplasmic reticulum membrane in mammalian cells. Mol. Cell 48, 387–397 (2012).

Hotz, M. & Nelson, W. J. Pumilio-dependent localization of mRNAs at the cell front coordinates multiple pathways required for chemotaxis. Nat. Commun. 8, 1366 (2017).

Zhu, Y., Wang, G. Z., Cingöz, O. & Goff, S. P. NP220 mediates silencing of unintegrated retroviral DNA. Nature 564, 278–282 (2018).

Li, M. et al. The histone modification reader ZCWPW1 is required for meiosis prophase I in male but not in female mice. Sci. Adv. 5, eaax1101 (2019).

Tvorogov, D. et al. Effective suppression of vascular network formation by combination of antibodies blocking VEGFR ligand binding and receptor dimerization. Cancer Cell 18, 630–640 (2010).

Shibue, T., Brooks, M. W. & Weinberg, R. A. An integrin-linked machinery of cytoskeletal regulation that enables experimental tumor initiation and metastatic colonization. Cancer Cell 24, 481–498 (2013).
Acknowledgements
This work was supported by grants from the National Key Research and Development Program of China (2016YFC1302300, 2017YFA0106300), the Natural Science Foundation of China (81621004, 81490750, 81720108029, 81930081, 91942309, 81672614, 81802643, 81902688, 81902699, 81972465, 81802645, 91940305), Guangdong Science and Technology Department (2017B030314026), Clinical Innovation Research Program of Guangzhou Regenerative Medicine and Health Guangdong Laboratory (2018GZR0201004), Guangzhou Science Technology and Innovation Commission (201803040015, 201508020008, 201508020249), Natural Science Foundation of Guangdong Province (2016A030306023, 2017A030313878, 2018A030310085, 2019A1515011485), Pearl River S&T Nova Program of Guangzhou (201710010083), Tip-top Scientific and Technical Innovative Youth Talents of Guangdong Special Support Program (2016TQ03R553) and the China Postdoctoral Science Foundation (BX20190396, 2019M663270, 2018M640868, 2019TQ0367, 2019M660228). This research is partly supported by Fountain-Valley Life Sciences Fund of University of Chinese Academy of Sciences Education Foundation.
Ethics declarations
Competing interests
The authors declare no competing interests.
Additional information
Peer review information Nature thanks Ilaria Malanchi and the other, anonymous, reviewer(s) for their contribution to the peer review of this work.
Publisher's note Springer Nature remains neutral with regard to jurisdictional claims in published maps and institutional affiliations.
Extended data figures and tables
Supplementary information
About this article
Cite this article
Yang, L., Liu, Q., Zhang, X. et al. DNA of neutrophil extracellular traps promotes cancer metastasis via CCDC25. Nature 583, 133–138 (2020). https://doi.org/10.1038/s41586-020-2394-6
Received:

Accepted:

Published:

Issue Date:

DOI: https://doi.org/10.1038/s41586-020-2394-6
Comments
By submitting a comment you agree to abide by our Terms and Community Guidelines. If you find something abusive or that does not comply with our terms or guidelines please flag it as inappropriate.