Abstract
The skin is a multilayered organ, equipped with appendages (that is, follicles and glands), that is critical for regulating body temperature and the retention of bodily fluids, guarding against external stresses and mediating the sensation of touch and pain1,2. Reconstructing appendage-bearing skin in cultures and in bioengineered grafts is a biomedical challenge that has yet to be met3,4,5,6,7,8,9. Here we report an organoid culture system that generates complex skin from human pluripotent stem cells. We use stepwise modulation of the transforming growth factor β (TGFβ) and fibroblast growth factor (FGF) signalling pathways to co-induce cranial epithelial cells and neural crest cells within a spherical cell aggregate. During an incubation period of 4–5 months, we observe the emergence of a cyst-like skin organoid composed of stratified epidermis, fat-rich dermis and pigmented hair follicles that are equipped with sebaceous glands. A network of sensory neurons and Schwann cells form nerve-like bundles that target Merkel cells in organoid hair follicles, mimicking the neural circuitry associated with human touch. Single-cell RNA sequencing and direct comparison to fetal specimens suggest that the skin organoids are equivalent to the facial skin of human fetuses in the second trimester of development. Moreover, we show that skin organoids form planar hair-bearing skin when grafted onto nude mice. Together, our results demonstrate that nearly complete skin can self-assemble in vitro and be used to reconstitute skin in vivo. We anticipate that our skin organoids will provide a foundation for future studies of human skin development, disease modelling and reconstructive surgery.
Access options
Access Nature and 54 other Nature Portfolio journals
Get Nature+, our best-value online-access subscription
$29.99 / 30 days
cancel any time
Subscribe to this journal
Receive 51 print issues and online access
$199.00 per year
only $3.90 per issue
Rent or buy this article
Prices vary by article type
from$1.95
to$39.95
Prices may be subject to local taxes which are calculated during checkout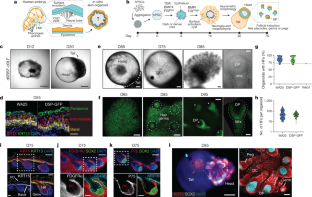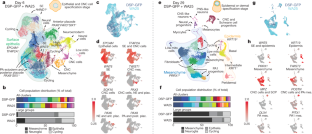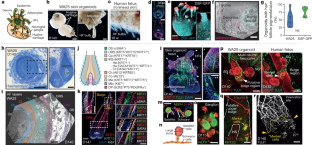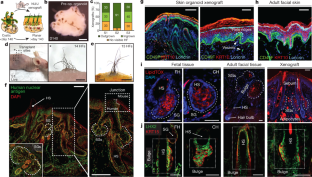 Similar content being viewed by others
Data availability
The scRNA-seq data have been uploaded to the Gene Expression Omnibus with accession code GSE147206. In the Supplementary Data, we have provided HTML files that generate an online interface with which to explore our scRNA-seq analysis pipeline and evaluate additional cell cluster markers for the integrated and non-integrated datasets (Supplementary Data 1–7). In addition, the integrated datasets shown in Fig. 2 can be queried via a data exploration portal hosted on the Koehler laboratory website: https://www.koehler-lab.org/resources. Source data for Figs. 1–4 are provided with the Article.
References
Sun, B. K., Siprashvili, Z. & Khavari, P. A. Advances in skin grafting and treatment of cutaneous wounds. Science 346, 941–945 (2014).

Lee, J. et al. Hair follicle development in mouse pluripotent stem cell-derived skin organoids. Cell Rep. 22, 242–254 (2018).

Yang, R. et al. Generation of folliculogenic human epithelial stem cells from induced pluripotent stem cells. Nat. Commun. 5, 3071 (2014).

Abaci, H. E. et al. Tissue engineering of human hair follicles using a biomimetic developmental approach. Nat. Commun. 9, 5301 (2018).

Gledhill, K. et al. Melanin transfer in human 3D skin equivalents generated exclusively from induced pluripotent stem cells. PLoS ONE 10, e0136713 (2015).

Itoh, M. et al. Generation of 3D skin equivalents fully reconstituted from human induced pluripotent stem cells (iPSCs). PLoS ONE 8, e77673 (2013).

Lei, M. et al. Self-organization process in newborn skin organoid formation inspires strategy to restore hair regeneration of adult cells. Proc. Natl Acad. Sci. USA 114, E7101–E7110 (2017).

Heitman, N., Saxena, N. & Rendl, M. Advancing insights into stem cell niche complexities with next-generation technologies. Curr. Opin. Cell Biol. 55, 87–95 (2018).

Koehler, K. R. et al. Generation of inner ear organoids containing functional hair cells from human pluripotent stem cells. Nat. Biotechnol. 35, 583–589 (2017).

Koehler, K. R., Mikosz, A. M., Molosh, A. I., Patel, D. & Hashino, E. Generation of inner ear sensory epithelia from pluripotent stem cells in 3D culture. Nature 500, 217–221 (2013).

Tchieu, J. et al. A modular platform for differentiation of human PSCs into all major ectodermal lineages. Cell Stem Cell 21, 399–410 (2017).

Wilson, P. A. & Hemmati-Brivanlou, A. Induction of epidermis and inhibition of neural fate by Bmp-4. Nature 376, 331–333 (1995).

Minoux, M. & Rijli, F. M. Molecular mechanisms of cranial neural crest cell migration and patterning in craniofacial development. Development 137, 2605–2621 (2010).

Driskell, R. R. et al. Distinct fibroblast lineages determine dermal architecture in skin development and repair. Nature 504, 277–281 (2013).

Betters, E., Liu, Y., Kjaeldgaard, A., Sundström, E. & García-Castro, M. I. Analysis of early human neural crest development. Dev. Biol. 344, 578–592 (2010).

Lee, R. T. et al. Cell delamination in the mesencephalic neural fold and its implication for the origin of ectomesenchyme. Development 140, 4890–4902 (2013).

Driskell, R. R., Giangreco, A., Jensen, K. B., Mulder, K. W. & Watt, F. M. Sox2-positive dermal papilla cells specify hair follicle type in mammalian epidermis. Development 136, 2815–2823 (2009).

Chuong, C.-M., Yeh, C.-Y., Jiang, T. X. & Widelitz, R. Module-based complexity formation: periodic patterning in feathers and hairs. Wiley Interdiscip. Rev. Dev. Biol. 2, 97–112 (2013).

Velasco, S. et al. Individual brain organoids reproducibly form cell diversity of the human cerebral cortex. Nature 570, 523–527 (2019).

Pijuan-Sala, B. et al. A single-cell molecular map of mouse gastrulation and early organogenesis. Nature 566, 490–495 (2019).

Soldatov, R. et al. Spatiotemporal structure of cell fate decisions in murine neural crest. Science 364, eaas9536 (2019).

Joost, S. et al. Single-cell transcriptomics reveals that differentiation and spatial signatures shape epidermal and hair follicle heterogeneity. Cell Syst. 3, 221–237 (2016).

Zeisel, A. et al. Molecular architecture of the mouse nervous system. Cell 174, 999–1014 (2018).

Sennett, R. et al. An integrated transcriptome atlas of embryonic hair follicle progenitors, their niche, and the developing skin. Dev. Cell 34, 577–591 (2015).

Lanctôt, C., Moreau, A., Chamberland, M., Tremblay, M. L. & Drouin, J. Hindlimb patterning and mandible development require the Ptx1 gene. Development 126, 1805–1810 (1999).

Minoux, M. et al. Mouse Hoxa2 mutations provide a model for microtia and auricle duplication. Development 140, 4386–4397 (2013).

Lim, X. & Nusse, R. Wnt signaling in skin development, homeostasis, and disease. Cold Spring Harb. Perspect. Biol. 5, a008029 (2013).

Zhu, X.-J. et al. BMP-FGF signaling axis mediates Wnt-induced epidermal stratification in developing mammalian skin. PLoS Genet. 10, e1004687 (2014).

Richardson, G. D. et al. KGF and EGF signalling block hair follicle induction and promote interfollicular epidermal fate in developing mouse skin. Development 136, 2153–2164 (2009).

Langbein, L., Yoshida, H., Praetzel-Wunder, S., Parry, D. A. & Schweizer, J. The keratins of the human beard hair medulla: the riddle in the middle. J. Invest. Dermatol. 130, 55–73 (2010).

Gatto, G., Smith, K. M., Ross, S. E. & Goulding, M. Neuronal diversity in the somatosensory system: bridging the gap between cell type and function. Curr. Opin. Neurobiol. 56, 167–174 (2019).

Perdigoto, C. N., Bardot, E. S., Valdes, V. J., Santoriello, F. J. & Ezhkova, E. Embryonic maturation of epidermal Merkel cells is controlled by a redundant transcription factor network. Development 141, 4690–4696 (2014).

Jenkins, B. A. & Lumpkin, E. A. Developing a sense of touch. Development 144, 4078–4090 (2017).

Narisawa, Y., Hashimoto, K., Nakamura, Y. & Kohda, H. A high concentration of Merkel cells in the bulge prior to the attachment of the arrector pili muscle and the formation of the perifollicular nerve plexus in human fetal skin. Arch. Dermatol. Res. 285, 261–268 (1993).

Toyoshima, K. E. et al. Fully functional hair follicle regeneration through the rearrangement of stem cells and their niches. Nat. Commun. 3, 784 (2012).

Horsley, V., Aliprantis, A. O., Polak, L., Glimcher, L. H. & Fuchs, E. NFATc1 balances quiescence and proliferation of skin stem cells. Cell 132, 299–310 (2008).

Roberts, B. et al. Systematic gene tagging using CRISPR/Cas9 in human stem cells to illuminate cell organization. Mol. Biol. Cell 28, 2854–2874 (2017).

Lee, J. & Koehler, K. R. Generation of human hair-bearing skin organoids from stem cells. Protoc. Exch. https://doi.org/10.21203/rs.3.pex-889/v1 (2020).

Butler, A., Hoffman, P., Smibert, P., Papalexi, E. & Satija, R. Integrating single-cell transcriptomic data across different conditions, technologies, and species. Nat. Biotechnol. 36, 411–420 (2018).

Satija, R., Farrell, J. A., Gennert, D., Schier, A. F. & Regev, A. Spatial reconstruction of single-cell gene expression data. Nat. Biotechnol. 33, 495–502 (2015).

Stuart, T. et al. Comprehensive integration of single-cell data. Cell 177, 1888–1902 (2019).

Hama, H. et al. ScaleS: an optical clearing palette for biological imaging. Nat. Neurosci. 18, 1518–1529 (2015).
Acknowledgements
This work was supported by the Ralph W. and Grace M. Showalter Trust (K.R.K.), the Indiana Clinical and Translational Sciences Institute (core pilot grant UL1 TR001108 to K.R.K. and A. Shekhar), the Indiana Center for Biomedical Innovation (Technology Enhancement Grant to K.R.K.) and the NIH (grants R01AR075018, R01DC017461 and R03DC015624 to K.R.K.). Cell lines associated with this study were stored in a facility constructed with support from the NIH (grant C06 RR020128-01). The University of Washington Birth Defects Research Laboratory was supported by NIH award number 5R24HD000836 from the Eunice Kennedy Shriver National Institute of Child Health and Human Development. We thank B. Koh, W. van der Valk, D. O'Day, I. Glass, A. Tward, S. Frumm, D. Spandau, J. Foley, U. Arimpur, E. Longworth-Mills, P.-C. Tang, A. Elghouche, M. Kamocka and C. Miller for their technical assistance, and M. Rendl and N. Saxena for critical comments on the manuscript.
Ethics declarations
Competing interests
J.L. and K.R.K, with the Indiana University Research and Technology Corporation, are inventors on a published patent covering the entire skin organoid induction method and including much of the data presented in this Article (WO2017070506A1). The other authors declare no competing interests.
Additional information
Peer review information Nature thanks Claire Higgins, Valerie Horsley and the other, anonymous, reviewer(s) for their contribution to the peer review of this work.
Publisher's note Springer Nature remains neutral with regard to jurisdictional claims in published maps and institutional affiliations.
Extended data figures and tables
Supplementary information
About this article
Cite this article
Lee, J., Rabbani, C.C., Gao, H. et al. Hair-bearing human skin generated entirely from pluripotent stem cells. Nature 582, 399–404 (2020). https://doi.org/10.1038/s41586-020-2352-3
Received:

Accepted:

Published:

Issue Date:

DOI: https://doi.org/10.1038/s41586-020-2352-3
Comments
By submitting a comment you agree to abide by our Terms and Community Guidelines. If you find something abusive or that does not comply with our terms or guidelines please flag it as inappropriate.